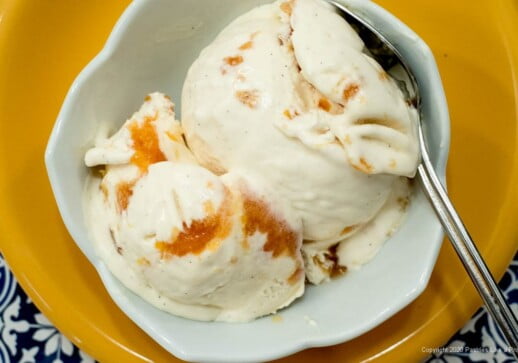 The idea for this Peach Swirl No Churn Ice Cream dawned on me when I bought Georgia Peaches to make my Peach Jam.  I love peach ice cream but it isn't offered as much as it was in the past. So what could be easier than adding it to an ice cream that takes 10 minutes?
How to Keep No Churn Ice Cream Scoopable
The one thing that can be problematic with this type of ice cream is when frozen it can be rock hard. There are a couple of things that can be done to avoid this.
First, if the cream is whipped to a really stiff stage, it will freeze hard.  Whip it until it is firm.  The softer the cream is whipped the less hard it will be when frozen.  If the cream is whipped to the soft peak stage, it will freeze like soft set ice cream.
Second, the alcohol in a a couple of tablespoons of liquor or liqueur will keep the ice cream scoopable.  If all else fails, and you have a rock for ice cream, just leave it out for 15 to 20 minutes and it will soften.
The Peach Swirl
I have used my Peach Jam flavored with Amaretto for my swirl. It offers an intensity of peach flavor because of the reduction that raw peach puree doesn't.  While I highly recommend this step, 1 cup of pureed peaches can also stand in.
Very Lemon Butter Crisps

Although not necessary, a wonderful accompaniment is the Very Lemon Butter Crisps.
Peach Swirl No Churn Ice Cream
1 cup peach jam or 1 cup peeled, pitted, pureed peaches
2 cups heavy cream
1 14 ounce can condensed milk (1 ¼ cups)
2 teaspoons vanilla bean paste or vanilla extract
The jam needs to be made the day ahead and refrigerated.
Whip the cream and vanilla to very firm peaks.  Do not over-whip.
Pour the condensed milk over the cream and fold in.
Pour half of the mixture into a 2 quart pan.
Randomly spoon the jam over the cream.
Top with the remainder of the cream.
Turn the pan 90° and again, randomly spoon the jam over.
With a small spatula or knife, swirl the mixture briefly.
Freeze for about 6 hour minimum in this shallow dish.  It will take longer in a deeper one.
Yield:  About 6 cups of Peach Swirl No Churn Ice Cream.