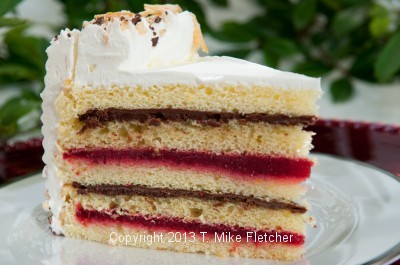 Orange Cranberry Cake is one example of my love of cranberries. Their tartness allows them to be paired with sweet items perfectly. As oranges and cranberries go so well together, I decided this year to come up with a light but intense cake with depths of flavor that also looks stunning. This Orange Cranberry Cake was the answer.
The orange chiffon cake is as light as a feather. It is delicious on its own and can be baked in a tube pan, loaf pan or bundt pan if you want a more simple version. We paired this at the bakery with a passion fruit buttercream for an unusual flavor combination for wedding cakes. As with all chiffons, it is easy, easy to make. Basically all the ingredients except the egg whites and a portion of the sugar are mixed in one bowl. While the egg whites are beaten with the sugar to the soft peak stage. The most important thing to watch with this cake is to make sure your egg whites are not overbeaten. Eight to ten minutes later the layers are done. They will be very thin and that is how they should be. These can be frozen for assembly later if desired. I realize most people don't have 5 cake pans. If you don't see yourself using multiple cake pans very often, consider buying 9" foil cake pans that are disposable. Although I generally don't spray the sides of the pans, if these are rippled or crimped, spray well.
The Cranberry Filling can be made a week ahead of time. If tasted seperately, it seems tart. But every other component in this cake is sweet and the tartness is the perfect addition to cut the sweetness.
The Dark Satin Glaze can also be made a week ahead of time and refrigerated. In any case, it has to be made a day or two ahead to allow it to be spreadable. It can be left on the countertop if holding it for a short time. When ready to use, microwave it in short spurts of about five seconds. It should be spreadable but not liquid.
The Hazelnut Soaking Syrup lends a depth of flavor to the cake that would otherwise be very good but not outstanding. (Modesty has always been my shortcoming when it comes to something I've created that I love!)
Hazelnuts are also referred to as filberts and in the United States come from the northwest. Make sure you buy blanched nuts and they are the devil to skin. If they are not blanched, there are several ways of removing the skins. One is to bring to a boil several quarts of water, depending upon how many nuts you have. Add 2 teaspoons baking soda per quart of water. Add the nuts and simmer for about 5 minutes. The skins should either be left in the water or slip off easily. The second way is to toast them for about 10 minutes @350 degrees then immediately rub them briskly in clean towels. I prefer the oven method because it doesn't water log the nuts and if using the oven method, they will be toasted at the same time.
Last but not least is the hazelnut and chocolate decor as well as the candied orange rind. Although these are all listed as optional, they add a final flourish to the design. I love the candied orange rind and used it in my first book, "The New Pastry Cook". All the parts of this can be made ahead.
This entire Orange Cranberry Cake can be enclosed in a cloud of whipped cream and frozen then thawed to serve. However, I prefer to freeze it without the whipped cream so it doesn't get smudged in the freezer (at least my freezer - which always seems to be overpacked!) Using 40% or heavy cream allows this cream to be used with nothing to stabilize it. We used it this way the entire life of the bakery. The cakes were usually frozen after decorating. They would be thawed in the refrigerator, where they would last for days.
Despite the number of steps, all the component parts are easy to make and can be made ahead to easy the holiday food rush.
I taught this Orange Cranberry Cake a few weeks ago and it was an instant hit. So I hope this encourages you to give it a try.
Cranberry Filling
1 12 ounce bag cranberries, picked over
½ cup sugar (100 grams or 3 ½ ounces)
3 tablespoons water
Place the cranberries in a jellyroll pan and pick over them removing any that seem over the hill. See Cranapple Pie with a Pleated Crust. Add the water to a saucepan with the sugar
then the cranberries.
Bring to a boil over low heat, stirring very frequently
until the cranberries start supplying additional liquid as they break. Lower the heat and cook until thickened, stirring often – about 5 to 10 minutes. A spoon drawn through it should leave a clean trail behind it.
Remove from the heat and transfer to another container. Cover the top directly with plastic wrap. It can be blended while warm, but not hot. The blender is preferred over the processor as it purees completely. However, a processor is fine. There will simply be tiny, tiny specs of the skin. It won't change the taste at all. Cool completely before using.
Yield: Approximately 1 ½ cups
Orange Chiffon Cake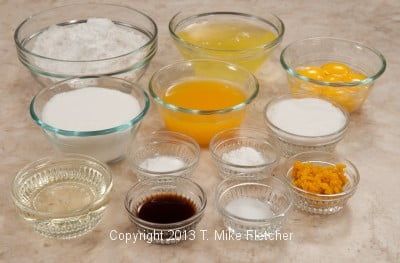 1 ¾ cups sifted cake flour (170 grams or 6 ounces)
1 cup sugar, divided (200 grams or 7 ounces)
1 ½ teaspoons baking powder
½ teaspoon salt
⅓ cup oil
6 large eggs, separated
½ cup orange juice, freshly squeezed
Grated zest of 1 orange
1 ½ teaspoons vanilla
1 teaspoon cream of tarter
Preheat the oven to 325 degrees. Line five 9x2 inch pans with parchment. Spray the centers only. See Cake Pan Prep for How to Get a Flat Layer.
In a large mixing bowl fitted with a paddle attachment, combine the flour,
⅔ cup of sugar (135 grams or 4 ¾ ounces),
baking powder and salt.
Whisk to combine.
Add the oil, egg yolks, juice, zest and vanilla.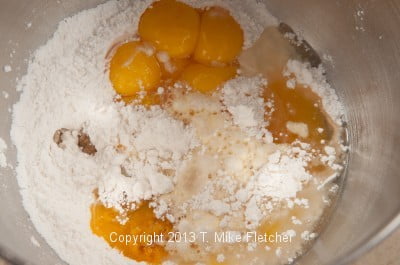 Mix for about 1 or 2 minutes until well combined.
In a clean mixing bowl fitted with the whisk attachment, add the egg whites and cream of tarter.
Beat until the whisk leaves a trail.
Add the remaining ⅓ cup (65 grams or 2 ounces) of sugar gradually
and beat until soft peaks form. Pour the flour mixture over the egg whites
and fold in gently but thoroughly.
Divide the batter between the 5 pans (160 grams each or 5 ⅔ ounces).
Smooth the batter in the pans.
Bake for 10 to 12 minutes or until a tester comes out clean and they spring back when lightly touched. There will be little to no browning. Cool completely. Remove layers from pans and freeze or wrap tightly to use the next day. The layers will be too tender to continue on to assembly.
Dark Satin Ganache
¼ cup 40% or heavy cream
2 tablespoons clear cornsyrup
2 ½ tablespoons butter (35 grams or 1 ⅓ ounces)
5 ounces 58% to 62% semisweet chocolate (140 grams)
See Lamington Torte for how to photographs.
Combine the cream, cornsyrup and butter in a small saucepan. Heat until the butter melts and the mixture just comes to a simmer, but do not let it boil. It should be steamy hot but not boiling. Remove from the heat and submerge the chocolate. Wait for 2 minutes the gently whisk until smooth. Set aside at room temperature until thickened. This may take several hours or a day or two. This may be made days ahead and refrigerated. Bring to room temperature to use. It may have to be microwaved, very briefly to make it spreadable.
Frangelico Soaking Syrup
½ cup water
⅓ cup sugar (65 grams or 2 ounces)
¼ cup Frangelico liqueur
Add the water and sugar to a small saucepan.
Bring to a boil and boil 1 minute.
Remove from the heat and add the Frangelico.
Cool to room temperature to use. This may be made a week ahead and refrigerated.
Yields about ¾ cup
Hazelnut Chocolate Decor, optional
2 tablespoons toasted hazelnuts, cooled, optional
2 tablespoons finely chopped chocolate, optional
Place the hazelnuts in the food processor and pulse until finely cut.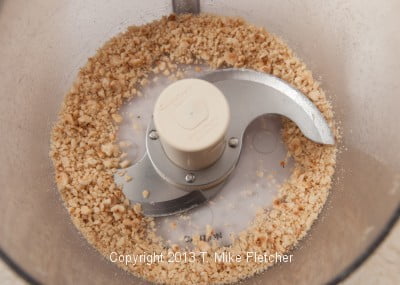 Remove and sift the nuts to remove any powder.
Add the chocolate and pulse until finely chopped.
Remove from the processor and sift.
Combine the two.
This can be done weeks ahead if desired. Hold in the refrigerator.
Candied Orange Zest, optional
1 large navel orange
¼ cup water
½ cup sugar (100 grams or 3 ½ ounces)
Additional sugar as necessary
Have several sheets of waxed paper ready. Set aside.
Pare the rind from the orange. Cut away any of the white pith that might have come off with the rind. Collect the rind in a stack and cut into a fine julienne.
Combine the water and sugar in a small saucepan. Bring to a boil. Wash down the sides of the pan with a brush dipped in cold water. Add the rind, reduce the heat to a simmer and cook for 7 to 9 minutes or until the rind is tender and translucent.
Lift out with a fork, letting as much syrup as possible drip back into the pan but work quickly. Place on the waxed paper and separate the individual pieces of rind with two toothpicks. Cool completely. When cool, toss in the additional sugar to coat.
This may be made weeks in advance and stored in an airtight container at room temperature.
If I hadn't eaten all the leftovers, we would have a photo to show you! Told you I love this!!
Assembly – It is easiest to finish this cake if it is very cold or even frozen.
5 layers Orange Chiffon, partially thawed
Frangelico Soaking Syrup
Cranberry Filling, pureed
Dark Satin Ganache
2 ½ cups 40% or heavy cream
1 cup sifted powdered sugar (120 grams or 4 ounces)
1 tablespoon Frangelico, optional or 1 tablespoon vanilla
Hazelnut Chocolate decor
Candied Orange Rind, see below, optional
Brush layers with about 2 ½ tablespoons of Frangelico syrup.
Top one layer with half of the cranberry filling.
Spread evenly on the layer.
Brush the second layer with syrup and spread with ½ of the Dark Satin Ganache.
Brush the third layer of cake with syrup and top with the remainder of the cranberry filling. Brush the fourth layer of cake with syrup and top with ganache. Top with the fifth layer of cake, brush with syrup; cover with plastic wrap and chill or freeze the cake.
Whip the cream, powdered sugar and Frangelico together to fairly stiff peaks.
The whisk should stand up in the cream.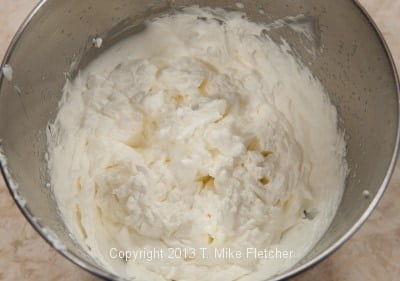 Finish the sides of the cake with the whipped cream.
Place a large blob of cream on top and spread it evenly over the top.
Finish the edges by feathering in. Place an offset spatula at the top edge of the cake
and move the cream in to the center
lifting the spatula up gradually until it is off the cream as you go toward the opposite side. Comb the sides.
Clean the edge of the board with a paper towel wrapped around your finger.
Fill a pastry bag fitted with a number 5 or 6 open star
and finish the top with a "running e" design which is continuous circles around the edge.
Sprinkle the "e" with the hazelnut mixture and then with the candied orange rind.
The bottom can also be finished with the hazelnut mixture.