Peach Jam is a favorite of mine, but only if I make it myself. So often, commercial jams, preserves and jellies are too sweet and stiff to actually taste the fruit. This Peach Jam does not contain pectin and is soft set. While it is thick enough to sit on a scone, toast or biscuit, it also makes a great topping for ice cream.
Some fruits, especially cranberries have enough pectin themselves that they will set up rather stiffly. Not so much with ripe peaches. Cutting back on the sugar allows the flavor the of peaches to come through and adding a bit of amaretto is a background flavor that enhances the peaches as does a bit of almond extract in a pie.
When we moved from the house to the apartment I had to leave behind much of my cooking and baking equipment due to a lack of space. One of the pieces of equipment was my canning pot and the equipment that goes with it except for the jar funnel. I now make refrigerator or freezer jams or preserves which are much quicker without the heat that canning produces in my kitchen. With our weather in the upper 90's much of the time cooler is better around here.
Although I have posted a blog about scones before, I wanted to take a quick trip across the sea to see what the differences were. I love access to the web, but sometimes there are just too many ideas about the same thing. Several articles said the big difference is they use softened butter not cold butter cut in. Most all of them used the processor when adding the butter with the instruction to process until it was so finely cut in it was invisible. I paraphrased but that's the idea. With the small amount of butter, it really doesn't matter if it's cold or soft, the result is the same. What they didn't want was varying size butter pieces as used for pie dough that most American scones use. Some called for whole milk one or two for buttermilk. So I hopped on Jamie Oliver's blog, thinking that surely would be the quintessential recipe. Nope, he used the large pieces of butter.
Finally, I remembered I had one of the books from the Great British Baking Show and there it was – a scone recipe. Tired of trying to decipher the "proper English scone", I decided to go with that. But as fate would have it, it was all metric. So out came the conversion charts. After some quick conversions and a few minor changes since the numbers didn't come out as whole numbers, here is a "proper English scone". At least I think it is.
The recipe called for self-rising flour which I don't have in my kitchen so I used the following substitute. For 1 cup of all purpose flour, add 1 ½ teaspoons of baking powder and ¼ to ½ teaspoon salt. Simply stir that all together and you have self rising flour. I have already done that in this recipe.
With the wonderful peach season this year, I'll be making this jam more than once. Because truthfully, we ate all 5 jars in less than two weeks. I'm thinking of using the jam to flavor homemade ice cream. I haven't found peach ice cream in the stores for a long time. Hmmm, maybe a no-churn peach ice cream.
For my British friends, please feel free to comment on the scones or jam. I'd love to hear what you think. As for Mike and me, we loved them. They were perfect with the Peach Jam.
Peach Jam3 pounds fresh, ripe peaches
2 ¼ cups sugar (450 grams or about 1 pound)
½ cup amaretto*
*If you absolutely have to substitute you can use ⅓ cup water and 1 teaspoon almond extract. I have not done it, but it should get close to the flavor of the peach jam.
Place several small plates in the freezer.
Peel the peaches using the boiling water technique in last week's blog. Pit them, cut them in large pieces and then pulse them in the processor. Don't puree them, but pulse until the pieces are little.Place everything in a large, heavy saucepan and bring to a boil over medium high heat, stirring frequently. This took about 10 minutes. Skim the foam off that rises to the top of the pot so your jam will be beautifully clear.Reduce the heat to medium low. Keep the Peach Jam at a very low boil. Cook for another 20 to 25 minutes until it is thick enough so when a small amount is put on a cold plate very little liquid surrounds the jam and when you pull your finger through it, it stays separated. Basically, you are reducing the liquid to thicken the jam.
Using a canning funnel in the jars, fill the jars leaving about ½ inch if freezing. The jars can be filled a bit more if storing in the refrigerator for a month or so.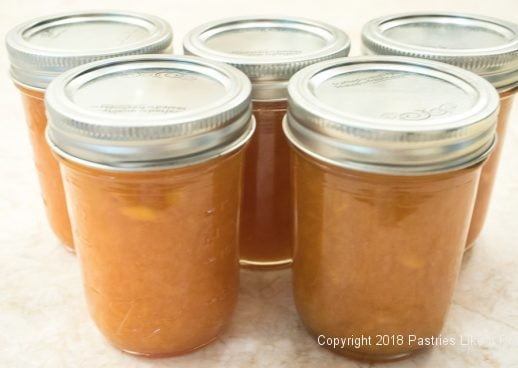 Place lids on, cool and place in the refrigerator or freezer. Ball jars are said to be safe in the freezer. They also make special jars for the freezer. Unfortunately, my jam never lasts long enough.
Yield: 5 – 8 ounce jars.
English Scones1 ¾ cup flour (250 grams or about 8 ¾ ounces)
2 ½ teaspoons baking powder
¾ teaspoon salt
¼ cup cold butter, cut into pieces (60 grams or 2 ounces)
¼ cup sugar (50 ounces or 1 ¾ ounces)
1 egg
⅓ cup buttermilk
Preheat the oven to 425°. Line a baking sheet with parchment paper. Get a 2 ½ inch round cookie cutter ready.
Combine the flour, baking powder and salt in the bowl of a food processor. Pulse several times to mix. Add the cold butter and cut in until indistinguishable.
Add the sugar and pulse in several times. Remove the mixture to a large bowl.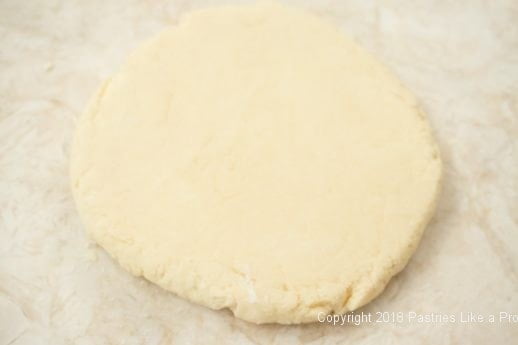 In a smaller bowl, beat the egg and then add the buttermilk. Make a small well in the center of the dry ingredients and pour in the liquid. With a fork, pull the dry edges of the mix into the center over the egg mixture. Mix gently (I switched to a rubber spatula about ⅔ through) to combine into large, moist crumbs.Very lightly flour the work surface. Dump the dough on top and knead about 10 times to bring the dough together. Be gentle and don't overdo it. Pat or roll it out until it is 1" thick.
Cut out rounds with the cookie cutter. Knead the leftover dough together gently and cut out more rounds. There should be 8.Traditionally, they are brushed with a bit of cream or egg mixed with milk. I had leftover cream so used that. Lacking anything else, brush them with milk or don't brush them at all.
Double pan and bake for about 13 minutes.
Serve warm with the Peach Jam.
For another special jam, check out the Strawberry Balsamic Jam.
SaveSaveSaveSave
SaveSave
SaveSave
SaveSave
SaveSaveSaveSae
SaveSave
SaveSave
SaveSave
SaveSave