This recipe contains raw egg yolk and as such may not be the best choice for the elderly or very young. Although, I haven't tried it, I can't think of a reason the egg yolk can't be omitted and still have a good dessert.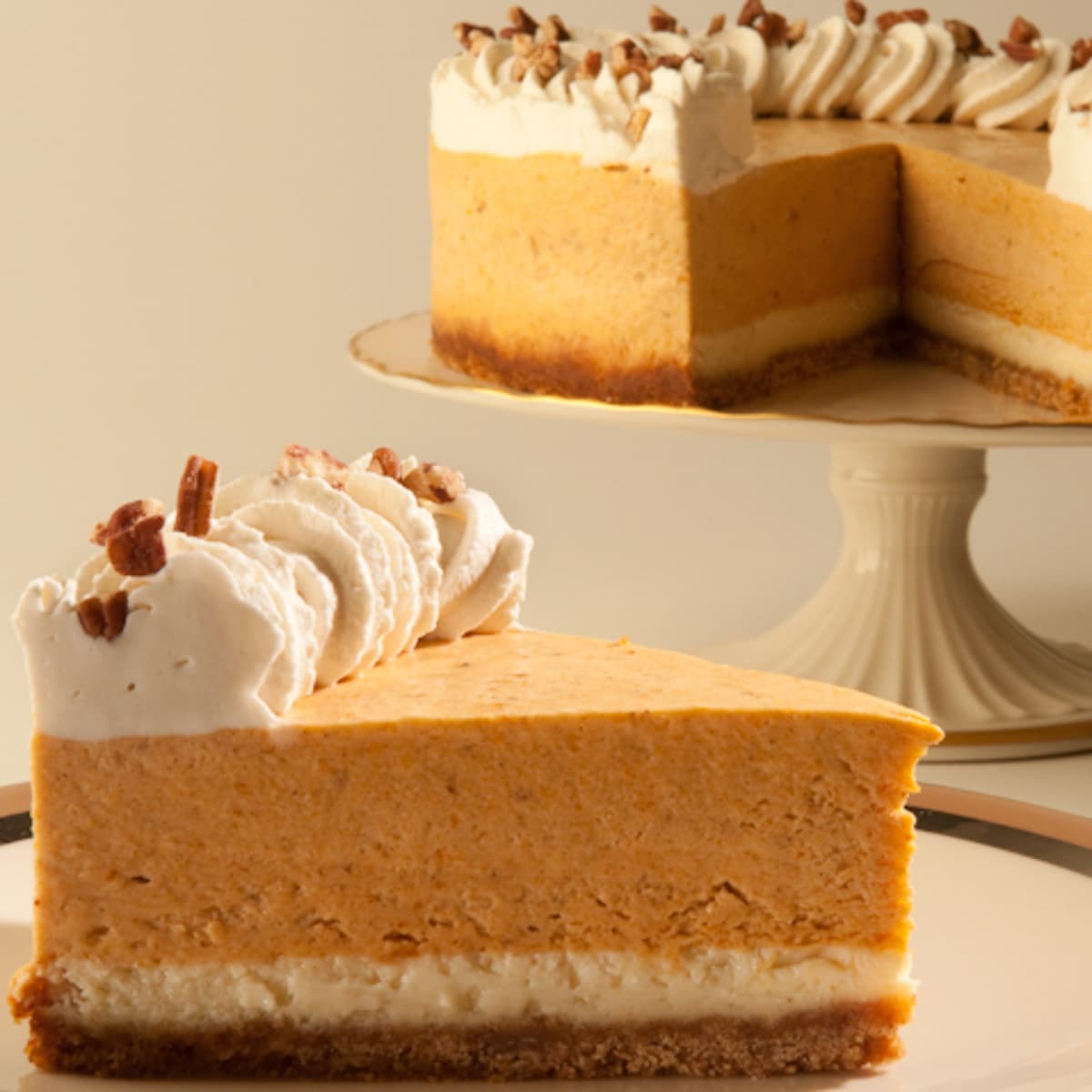 I can't even remember when we started making these at the bakery. I do remember it took many tries to get the amount of gelatin just right so it would keep it firm but not turn rubbery, a sure sign of too much. But I can sure tell you we sold hundreds and hundreds.
As popular as it was with my clients, I don't think anyone could love this more than my grandson, Sam. I do remember we had gone to Chicago to take care of him for a few days so his parents could have a weekend get-a-way. Sam was still in a high chair and was a hugely picky eater - something that dismayed all of us. In an attempt to get something into him, I gave him a bite of my pumpkin mousse. Well, that sure opened the floodgates! I couldn't scoop the dessert into a spoon and offload it into his mouth fast enough. He barely swallowed and his mouth would fly open again for another bite. He reminded me of baby birds being fed by their moms! Sam even requested it for his 7th birthday cake. Not an unusual request, except it was July in St. Louis. Hot, hot, hot and humid! Did I mention it was outdoors?
This is a very straight forward recipe with little to trip you up. Just make sure everything for the pumpkin mousse is at room temperature. Then the warm gelatin needs to be poured in a steady stream while the mixer is running. If the pumpkin mixture is cold, the gelatin can immediately set forming undesireable rubbery blobs. Very unappetizing!
A cheesecake pan is, as always, my recommendation over a springform pan.
A reader brought to my attention the need to do something with the leftover pumpkin. If you go Streusel Topped Pumpkin Muffins and you make 1 ½ times the recipe you will use the remaining ¾ can of pumpkin. If you are a tad short, that's fine. They also freeze beautifully.
Crust1 ¼ cups graham cracker crumbs*
¼ cup packed brown sugar
½ stick butter, melted
Preheat oven to 350 degrees and spray the bottom of a 9" cheesecake or springform pan with Pam or a similar releasing agent. Set aside.
*9 double graham crackers (I used Nabisco Graham Originals – this equals one of the 3 cellophane wrapped units) or use bought crushed crumbs.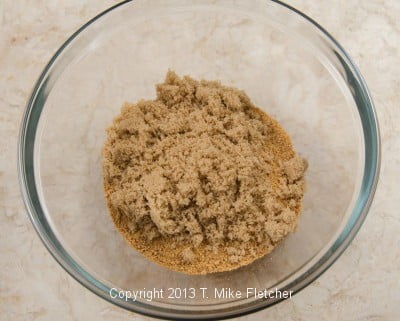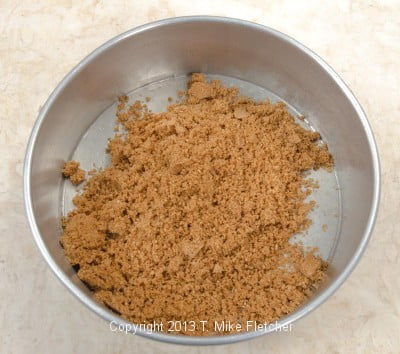 If using whole crackers, crush them between your hands and put then in the bowl of the food processor. Process to crumbs, but do not turn it to a powder. Add the brown sugar and pulse several times to mix well. Transfer to a bowl. If using purchased crumbs, add the crumbs and brown sugar to a bowl and mix together. I use my hand to do this.Whichever method you are using, add the butter to the crumbs and sugar and stir with a fork until all of the crumbs are equally moistened. Or just use your hand. Pour the crumbs into the pan and spread out evenly.Press them in evenly and firmly into the bottom.Press in well around the edges using your finger tips.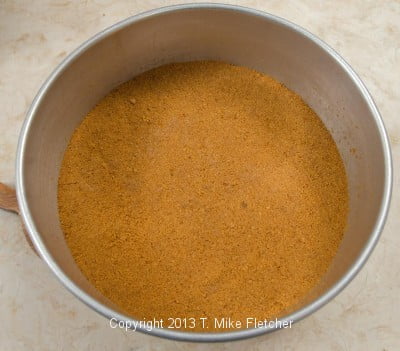 Tp keep the edges even, I press them down with the tip of a spoon. Bake for 10 minutes; remove from oven.Cream Cheese Layer
8 ounces cream cheese, room temperature
¾ cup sugar
2 eggs
1 teaspoon vanilla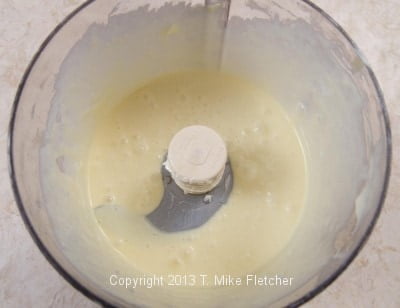 Cut cream cheese into 4 or 5 pieces and place in the food processor. Process until smooth; add the sugar and vanilla. and process until smooth; scrape down as necessary. Add the eggs and process until smooth. Make sure you scrap really well as often there is unmixed cream cheese lurking around. Put it back into the processor and process until smooth.Pour over the crumb crust in the pan.and bake for 20 to 25 minutes until set. It should not color. It will be puffy when it comes from the oven but flatten out after a few minutes. Cool completely before proceeding.
Mixer Method
If you use a mixer, mix the cheese and sugar until very light and smooth. Scrape down often. Add the eggs one at a time, mixing each time until the egg is completely absorbed. Scrape down often. Lastly add the vanilla. It is important to scrape down and mix completely at each point as once lumps occur it is very difficult to get them out which is why I prefer the processor - no lumps ever.
Cool completely before going to the next step.
Pumpkin Mousse1 tablespoon gelatin
5 tablespoons cold water
1 ½ cups heavy cream (usually says 40% cream)
1 ¼ pounds canned pumpkin (1 can plus ¼ of another)
⅔ cup powdered sugar
3 egg yolks
2 teaspoon vanilla
¾ teaspoon salt
1 ¼ teaspoon cinnamon
½ teaspoon ginger
¼ teaspoon nutmeg
⅛ teaspoon cloves
Combine the gelatin and cold water in a small bowl. Stir well.Set aside.
In a mixing bowl, beat the cream with a whisk attachment if possible until fairly stiff peaks form.
To keep the cream from flying everywhere when beating on high, cover the mixer with a towel.Remove the cream to another bowl.
In the same mixing bowl in which the cream was beaten, add all of the remaining ingredients except the gelatin. Beat on low speed until completely mixed. Heat the gelatin in the microwave for 30 to 40 seconds to liquefy. With the mixer going, pour the gelatin in a steady stream; beat 1 to 2 minutes to make sure the gelatin is completely mixed in.
Remove the bowl from the mixer and fold in the whipped cream.
Pour over the cream cheese layer. Smooth the top
and refrigerate overnight. The next day release the torte by heating the outer sides of the pan with a hair blower and transfer to a serving plate or cardboard round. See Apple Crisp Cheesecake for how to photos.
Decoration
1 cup heavy cream
3 tablespoons powdered sugar
1 teaspoon vanilla
3 tablespoons chopped, toasted pecans
Combine all the ingredients in a mixing bowl with a whisk attachment if possible until stiff peaks form. Pipe around the top edge of the torte with a #5 open star tip in a running e pattern. Sprinkle the whipped cream with the pecans. Store in the refrigerator.
To Make Ahead: Do not finish with the whipped cream. Freeze the Pumpkin Mousse in its' pan. When it is frozen, cover tightly with foil and store in the freezer for up to 1 month. Release it while still frozen (see "Removing Sides of Cheesecake Pan" in the Technique Section). Finish with the whipped cream as above and store in the refrigerator a day or two before serving. I was surprised how long it took to thaw in the refrigerator so don't short the time.
Store in the refrigerator.
Sam's Big Bite!