THIS MIXER IS NO LONGER AVAILABLE.
If you're hinting for a gift of a new mixer for the holidays or thinking of giving a mixer, my recommendation is more than ever the Breville Stand Mixer 800BXL.
In the six months I have used it, it continues to perform each task efficiently and quickly.
I don't know if it is the design of the whisk or the power of the machine, but egg whites and cream whip faster and attain more height than with other mixers I have used. As a result, I will not be giving times to whip, but visual and written cues to how something should look.
I use my Breville stand mixer extensively and I have not had a problem in these six months of the mixer walking or moving around a lot even with a heavy load. The head will bobble somewhat, but so does every other mixer I've ever used.
I did obtain the extra bowl, flat beater and whisk to speed my baking along. If you bake a lot, these extra attachments are a worthwhile investment. Especially considering the machine is less expensive than most heavy-duty stand mixers. Having to wash the bowl and beater before being able to finish a recipe is a bummer and I am happy not to have to do that anymore. In the spirit of full disclosure, I have to say I ordered another bowl, whisk, paddle and scraper paddle. The order wasn't shipped and I had to re-order after I realized the order wasn't coming. Breville sent the order, plus the smaller bowl without charge.
The Breville stand mixer scraper beater works as advertised.
I had my doubts since the scraper I used professionally was a much different design and had a tendency to catch some dough behind it that didn't always mix in properly. However, this is a beater as well as a scraper and it works beautifully. It is also extremely inexpensive – around $10.00 so it is well worth getting it.
It looks similar to the paddle beater but has a flexible rubber or plastic edge to it that really does do the scraping for you. I'm not sure I would use it for heavy doughs but it has worked perfectly for everything with which I used it.  The scraper beater is to the left, the regular beater is on the right.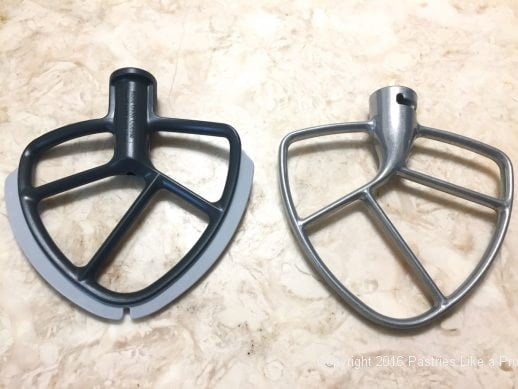 There is also a smaller bowl which is perfect when mixing a small amount of cream or egg whites.
It was always a problem to beat ½ cup of cream or several egg whites in the 5-quart bowl of any mixer. This solves that problem. It fits on the machine just like the larger bowl, but it is just smaller as you can see above.  The smaller bowl has 2 side handles.  It also stacks nicely inside the large bowl for storage.
The only other thing I had to get used to was the tilt-back head. I had a lift bowl mixer before. The Breville Stand Mixer tilt-back head can make it a bit difficult to add ingredients if you don't know what to do. Simply make sure the beater is stopped to the back of the bowl. It is easy to do because the speed dial is very sensitive so just move it a tad to get it in the correct position. By positioning it this way, it becomes easy to add ingredients to the front of the bowl. Problem solved!  
Breville came to America just in time for me and I wouldn't go back to another mixer, including the Kitchen Aid for anything. My baking life has been easier and a lot more fun since changing.
So if you're hinting for a new mixer, don't hint – give them a piece of paper that says
"Breville BEM800XL Scraper Mixer Pro 5-Quart Die-Cast Stand Mixer". It normally sells for $300.00 but can be found for less. It comes with the attachments shown in the photo at the top of the article.  The additional items have to be ordered from Breville direct.  Here is their site.  However, it had a maintenance note on it when I looked at it.  Hopefully, they got it done.
See my original comparison of the Breville and the Kitchen Aid mixers.
You'll have to excuse me now, I'm off to the kitchen to do some testing with my Breville mixer.
This page contains affiliate links.  If you purchase a product through one of them, I will receive a commission (at no additional cost to you). Please be assured I only endorse products that I approve of and recommend.  If you decide to buy the product, I would appreciate it if you would purchase it through the link on this page.  Thank you.