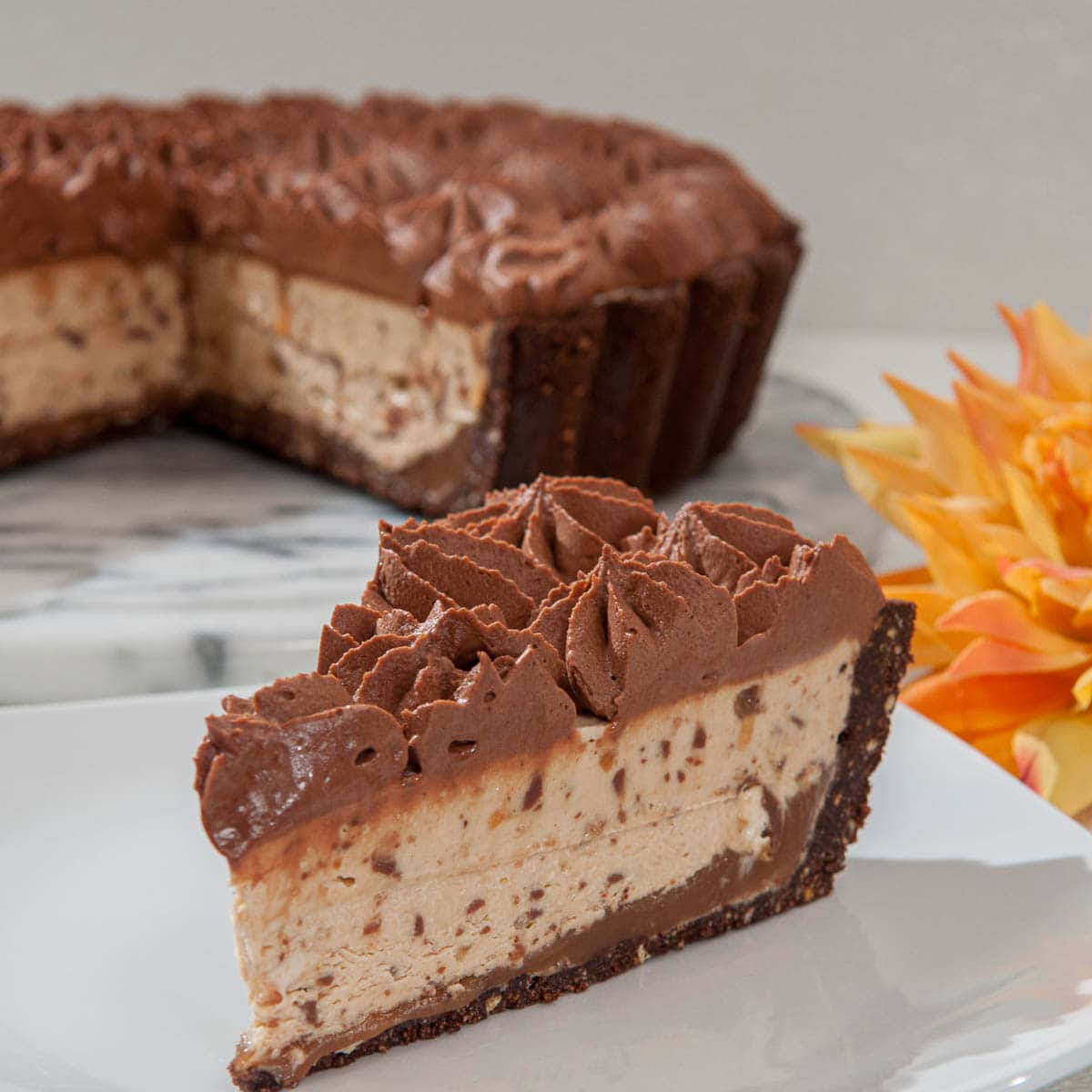 I honestly don't remember when I came up with this Snicker-ama Tart, but I was sure happy I did. It has several steps, but half have to be done the day or several days before, if desired. It is the perfect dessert for a summer celebration when you don't want to turn those ovens on.
I have found in the ensuing years since closing the bakery, that all graham cracker crumbs are not the same. Some take a little more butter, some a little less. So my recommendation is to add ¾ of the butter, stir with a large fork (like a meat fork) and if the crumbs won't stick together add more butter. If you accidentally add too much butter, add a few more crumbs. Using a large fork helps mix the crumbs and butter more evenly.
About ⅔ of the crumbs are used for the sides and ⅓ for the bottom.
The caramel needs to be made at least the day ahead as does the beaten ganache. I have no idea why, but if this ganache doesn't sit overnight in the refrigerator, it seems to know it and won't beat decently. Speaking of beating, it is important to beat it with the paddle attachment until it holds stiff peaks. But over beating will cause it to granulate and at that point it is ruined and can't be brought back. If you have doubts, stop beating with the machine and use a hand whisk to finish. It will be easier to control this way.
I used this ganache at the bakery for a filling as well as a finish. While it will sit for several hours at room temperature just fine, it does have to be refrigerated to hold it longer.
When I was making this Snicker-Ama for photography I totally forgot to put the caramel in. So much for not making mistakes! If this happens to you and I hope it doesn't, just scoop out the filling and add the caramel layer as I did below. No one will know if you don't tell them! They will be so busy eating this they couldn't possibly notice.
Ganache - for how to photos go to chocolate ganache
Using the ingredients below, prepare the ganache and refrigerate. This can be made several days ahead if desired.
1 ½ cup cream
6 ounces (170 grams) chocolate
Heat cream to simmering. Off heat, add chocolate. Let sit for a few minutes. Whisk to incorporate chocolate. You may have to whisk every few minutes until no chocolate specks show. Refrigerate overnight. This must be made at least the day before, or several days before or it won't whip.
Caramel - Make as called for on the Caramel blog. Make as called, including the ingredients for at least the day before.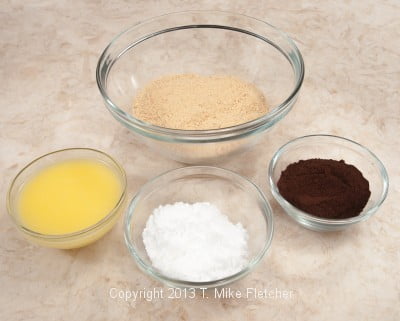 Chocolate Crumb Crust
⅔ cups (7 ounces or 210 grams) graham cracker crumbs (buy them in crumbs or run the crackers through a food processor)
⅓ cup (1 ½ ounce or 45 grams) cocoa - dutched or regular
½ cup (2 ounces or 60 grams) powdered sugar
10 tablespoons butter, melted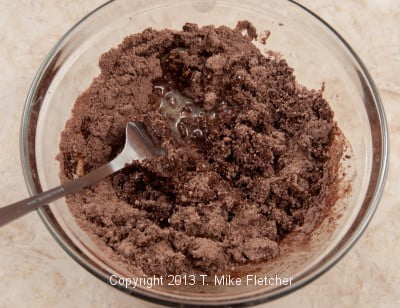 Mix crumbs, cocoa and powdered sugar together, rubbing between hands until cocoa and sugar lumps are gone. Add butter and toss with a fork until crumbs are completely coated. Spray a 10 inch deep dish tart pan with removable bottom. Pour ⅔ of the crumbs into the pan. Spread out evenly in the pan. Scoot the crumbs evenly around the side of the pan. Press the crumbs against side. Press the remainder over the bottom of the pan. The sides are a bit thicker than the bottom. A 10" deep dish pie pan can be substituted but the tart cannot be removed to serve.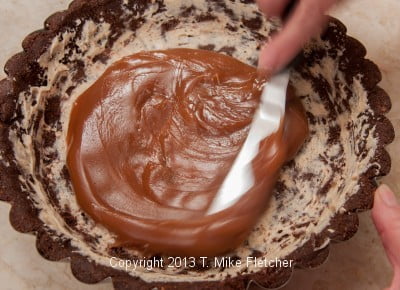 Spread the caramel (warm first in microwave for 10 to 20 seconds if necessary) evenly over the bottom of the crust. Set aside.
Snickers Mousse Filling
½ pound (225) Snickers pieces*
1 cup cream
½ pound (225 grams) smooth peanut butter
½ pound (225 grams) cream cheese, softened
4 tablespoons butter, softened (60 grams or 2 ounces)
⅔ cup (3 ounces or 85 grams) powdered sugar
1 teaspoon vanilla
*If snickers pieces are not available, use fun size snickers. I cut them in fourths, freeze them, and place in a food processor to pulverize them. Alternately, place in a plastic bag and then smash them with a meat mallet or hammer. Don't get the pieces too small. They can vary in size.
In a mixing bowl, beat the cream until stiff. Remove the cream to another bowl.
In the same mixing bowl combine the peanut butter, cream cheese, butter, powdered sugar and vanilla. Beat until smooth on medium. Scrape down and raise mixer to high; beat until light in color. Add the snickers pieces, mix to incorporate. Scrape down and fold in the cream.Spread the caramel over the bottom of the crust (microwaving it for 10 to 20 seconds to make is spreadable if necessary). Or, if like me you realized you forgot the caramel, scoop out the mousse,add the carmel and continue.
Pour the mousse into the crust and spread evenly.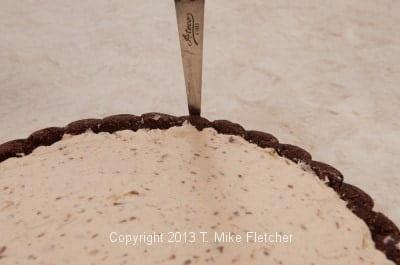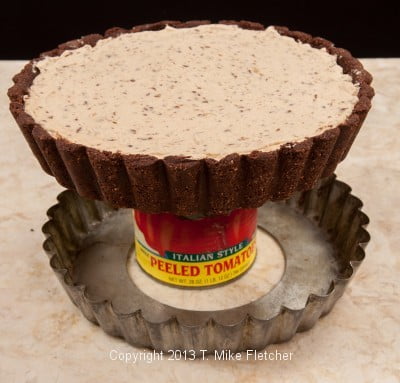 To release the tart, we used a pointed offset spatula. We placed it between the crust and the edge of the pan about ever 6 to 8 scallops. Place it on a can and lower the side.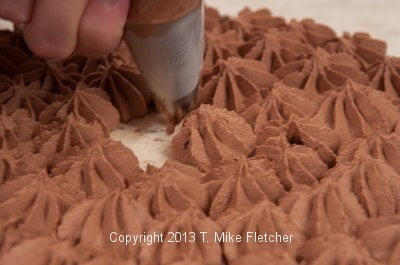 Beat the ganache on medium just until stiff enough to hold its shape well. Do not overbeat or it will become granular and unusable. Fit a piping bag with a number 8 open star tip and fill the bag with beaten ganache. Starting on the outside edge, pipe stars on the line between the filling and the crust. Continue to pipe stars moving in toward the center. If you were overly generous and run out of ganache for the middle that's fine. It will become part of the design.
This Snicker-ama should be refrigerated until about thirty to forty minutes before serving.