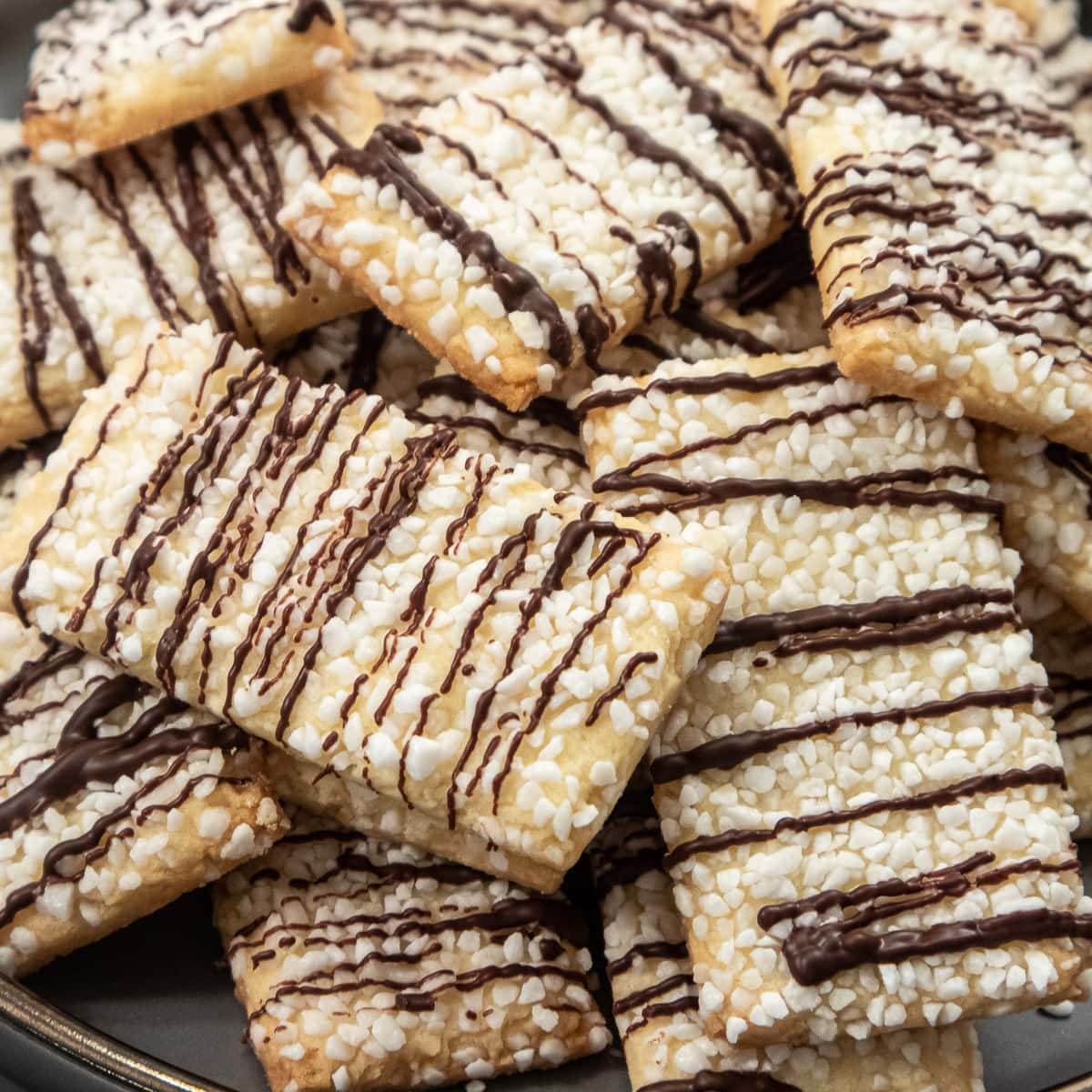 Spritz Bars are a faster way to make Spritz cookies all dressed up with Swedish Pearl Sugar and drizzled in chocolate. With October being cookie month, I wanted to bring you a cookie that's not in my new book, Craving Cookies.
Because I wanted the Spritz Bars to hold their shape, they require a bit more flour. Other than that, they are the same.
Swedish Pearl Sugar
I love using Swedish Pearl sugar for its pure white pebbles that don't melt under heat. They add a wonderful crunch to cookies. They can be found online. I use Lars, but there are other brands available. Don't confuse the Swedish Pearl Sugar with the Belgium Pearl Sugar as those sugar crystals are much larger.
These Spritz Bars will make a great addition to your Christmas Cookies.
Ingredients
1 cup unsalted European butter, softened (225 grams, 8 ounces or 2 sticks)
½ cup granulated sugar (100 grams or 3 ½ ounces)
1 tablespoon almond extract
2 egg yolks
3 cups cake flour (375 grams or 13 ⅛ ounces)
Swedish Pearl sugar (about 225 grams or 8 ounces)
2 to 3 ounces semisweet chocolate (85 grams)
Instructions
Preheat the oven to 350°F / 175°C. Line several baking pans with parchment paper and set aside.
Cream the butter, sugar, and almond extract until combined. Add the egg yolks and beat until light. Add the cake flour gradually. The dough will be a bit sticky.
Cut off two pieces of wax paper or foil large enough to overhang the pan by a couple of inches on both sides. Roll the dough between wax paper to 18"x13". It will be about ⅛" thick. Alternatively, divide the dough in half and roll each piece into a 9x13" rectangle. The dough will be on the sticky side.
Whichever you decide, cover the dough with the pearl sugar and press in firmly.
Cut the dough into 2 ½ x 1 ¼ inch rectangles. I used my cookie dough cutter that I talked about in the Oreo Tacos post. I love it for it's ease of cutting identical size bars. Just cut lengthwise into 1 ¼" strips, adjust the size to 2 ½" and cut crosswise. Done! The bars can also be cut with a ruler and knife. In either case, the dough must be cold and firm.
Freeze the Spritz Bars until hard. When ready to bake, run a spatula under the cookies to free them from the paper.Most likely, they will come off about 2 to 4 at a time. Break them along the cutting lines and place them 4 wide x 4 down on half sheet pans.
Bake for 12 to 14 minutes until just browning on the edges. Do not overbake.
Cool in the pans.
To Finish
Melt the semisweet chocolate at half power in the microwave or over simmering water. Drizzle it over the cookies. Allow the chocolate to set up before storing them.
Yield: Approximately 48 Spritz Bars
Storage: Let the chocolate set up completely. Stack with paper between them in a closed tin where they will last for weeks.
Note: These Spritz Bars are actually better if they are stored for a few days in the tin. The size of the bars can be made larger or smaller as you choose. When you break them apart, some of the Swedish Pearl sugar will fall off. Save this as it can be used later.
The bars can also be cross cut again to make square cookies. Adjust the size as desired.