Just in time for the Upcoming June  Class featuring summer's bounty, this class  include two tarts that never failed to please and that were always popular in my take-out shop.
To sign up, please click here.
All of my classes are demonstration so you just need to show up. They usually last about 2 to 2 ½ hours.  Recipes and the link to the class will be sent several days before the class takes place.
Saturday June 19   
2:00 PM CDT
This class includes two tarts featuring summer's bounty that really deliver on taste and looks..  Both of these were featured in my take out shop and never failed to please.  Perfect for entertaining, lunch, dinner or even brunch both of these can be made ahead.
French Onion Tart features an easily made yeast crust  covered with a smattering of mustard, deeply caramelized onions, nutty Guyere cheese, fresh tomatoes, kalamata olives and fresh basil.  This tart can be baked a day or two ahead and simply reheated making it perfect for a summer dinner on the patio.  We also made in sheet pans, cut it into small pieces and served it as an appetizer when we catered.
Goat Cheese Pesto Tart with Roasted Peppers sits inside an asiago crust that is simply pressed into the shell.  When the crust isn't being used as a shell, it makes the best crackers ever.  The bottom of the crust is covered with a fresh basil pesto over which roasted red and yellow peppers are placed.  Three cheeses in a quickly made topping finishes this best of all summer tarts.  This tart can be frozen or refrigerated for several days.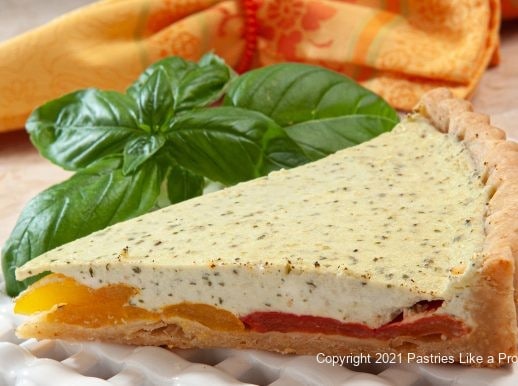 Both of these can be served warm or room temperature for easy entertaining.
Please click here to join me for the Upcoming June Class.