Georgia Peaches showed up early in my market and our local peaches aren't far behind. For me, there is nothing like fresh peaches. I use them in everything from soup to pizza including a very special drink.
There are two types of peaches. Freestone and Clingstone. The terms refer to the stones of the peaches. If the peach is of the clingstone variety, the flesh of the peach is very hard to separate from the stone. The freestone peaches are my favorite as they separate cleanly and easily. However, telling which are which is difficult since they aren't usually marked. However, if they say, "freestone', those are the easiest to work with. My favorite peach is Red Haven but any ripe peach will due.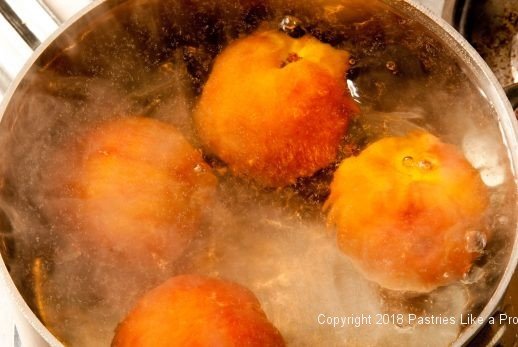 Years and years ago I found the perfect way to peel ripe peaches. The key is using ripe peaches. This method will not work with unripened peaches. Bring a large pot of water to a rolling boil. Putting a lid on the pot while it heats up will save some heat in your kitchen and speed the process. Once the water is boiling, add as many peaches as fit well into the pot.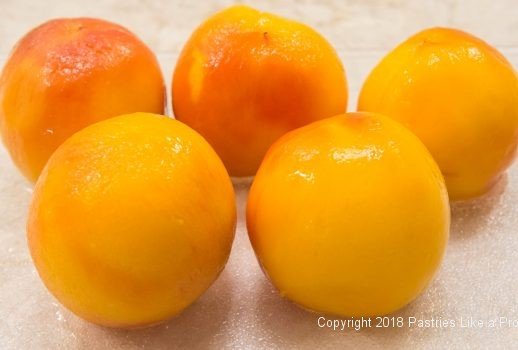 Many recipes will tell you to let them boil for 30 to 40 seconds. I'm not sure if it's my water, my peaches or me, but that has never been adequate. Depending upon the ripeness, boil them until the skin will slip off easily. Sometimes this will take several minutes. Test one by running it under cold water and then try peeling it. When they are ready place them in a colander and run cold water over them to stop the cooking. The skins will practically slip off with no problem leaving smooth, beautiful peaches that are picture perfect. Repeat with additional peaches if necessary.
To easily separate the peaches from the stones, cut along the equator of the peach. There will be a line on the peach where it looks like two halves meet. Cut along that line and simply pull the two sides apart. If the peach is a freestone as in the photo, the stone will easily pull out. If the peach is of the cling variety, it will not pull apart as easily. You may have to cut the peach away from the stone.
I have pulled recipes from past blogs featuring peaches as well as a couple of new ones. If you love peaches, you will find something here for every part of the day.
Peachy Keen Mascarpone Parfait - This was my first blog for Pastries Like a Pro five years ago. This started my love affair with peaches and amaretti cookies.
Peach Pizza - This is a dessert to remember. A pate brisee crust, topped with a slightly sweet goat cheese filling and topped with peaches glazed with a chardonnay amaretto reduction.
Peach Pecan Bread - I made this for the TV show I appeared on for six years. Peaches and pecans are a Southern favorite duo.Peach Sauce - This sauce serves as the basis for several desserts including the Peach Pizza. It's great to make a batch of this and keep it on hand for impromptu desserts.
Peach Soup
For this soup to be most flavorful, use ripe peaches. If they are not ripe when you buy them, let them sit at room temperature for a few days. Peaches vary in sweetness. Start with ⅓ cup sugar. After the soup is blended, taste it for sweetness. Add the additional sugar if necessary.
Blanched Peaches
3 large peaches or 4 medium peaches
Bring a large pot of water to a boil. Add the peaches and blanch them for 3 to 4 minutes until the skin comes off easily. As soon as they are done, run cold water over them and peel the skin off. Cut them in half and remove the seed. Set aside.
White Wine Base
2 ½ cups dry white wine
¼ cup Amaretto
⅓ to ½ cup sugar
2 tablespoons honey
2 teaspoons Tahitian Vanilla
½ cup water
Place all ingredients in a medium size saucepan and bring to a boil. Add the peaches, seed side down. Bring to a boil, reduce the heat and simmer the peaches until they are very soft.
Place the peaches in a blender and blend until they are completely smooth. Remove to a bowl. Add the liquid to the blender and blend it. Combine the two. Store in the refrigerator. Yield: 5 cups
Note: This can be made days ahead and refrigerated. Stir before serving as it will separate. This needs a crisp cookie to accompany it.
Variation: Besides the cookie, a scoop of vanilla bean ice cream placed in the middle of the soup is a fantastic addition.
Peach Melba Royal - The perfect drink for a wedding, shower, brunch or really, anytime. And it couldn't be easier.
Fresh Raspberries
Peach Schnapps
Champagne, cold
Place 3 or 4 fresh raspberries in the bottom of each champagne flute. Add about 1 tablespoon of Peach Schnapps (more if you like). Top off with cold champagne. Enjoy!!
SaveSave
SaveSave
SaveSave
SaveSave
SaveSave
SaveSave