This Perfectly Easy Angel Food Cake is fat free and the fastest, loftiest, most tantalizing Angel Food Cake recipe to be found. It's a standout among homemade angel food cakes. If you struggled with the getting the egg whites just right and then watched them deflate as you folded the flour in, that's all in the past. Why? Because this is not your Betty Crocker angel food cake since there is no folding in of the flour. It's all done in the mixer and if you don't believe it, just give this recipe a whirl. It's absolutely foolproof and you won't be disappointed.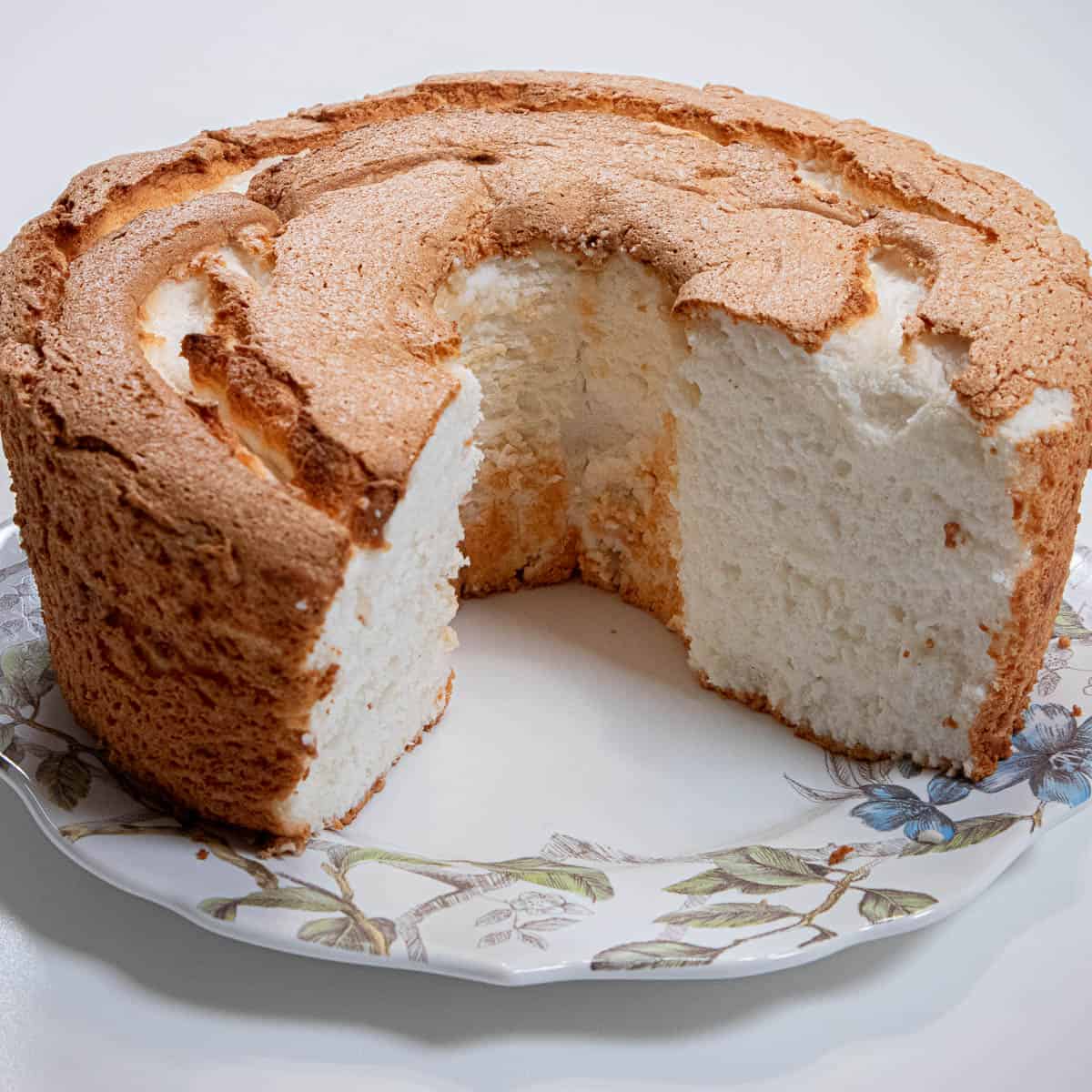 With no fat and only a few ingredients, this is an ideal treat for anyone on a low fat diet. While it can be iced, it's perfect as is.
Ingredients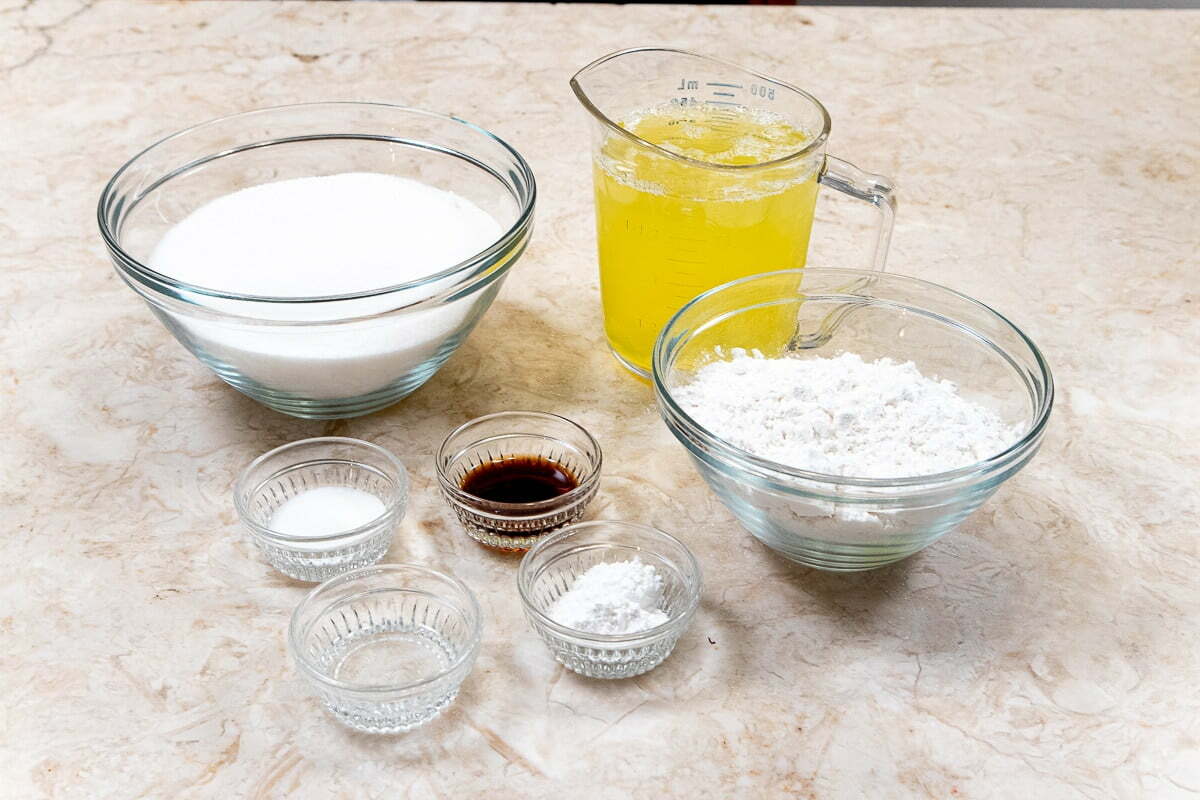 Top Row: Baker's Sugar, Egg Whites. Middle Row: Salt, Vanilla Extract, Cake Flour. Bottom Row: Almond Extract, Cream of Tartar
Baker's Sugar is very finely ground granulated sugar. It dissolves faster and more completely when used with egg whites or when creaming with butter, yolks or eggs. While it can be difficult and/or expensive to find in grocery stores or online it is easily made at home.
Egg whites can be freshly separated from the yolks or can be accumulated over time and frozen. If frozen, thaw in the refrigerator for a day or two until completely liquid. There are different opinions as to whipping them at room temperature or cold. Because the air bubbles created when whipping stay tighter when beaten cold, I used this method at the bakery and recommend it.
Cake Flour is used because it contains less gluten than other flours such as pastry, all-purpose or bread flour and yields a very tender cake. It is important to sift it as little lumps don't incorporate well in the finished batter.
Cream of tartar is an acid that helps stabalize the egg whites. Lacking it, lemon juice or white vinegar can be used since they are both acidic. Neither will affect the taste after baking.
Vanilla and Almond extracts - This is a favorite flavor combination I used at the bakery. However, all of either one can be used if preferred. Check the ingredient list to make sure there is no oil in the flavoring. If there is, the flavoring must be added at the end of the beating.
Salt - A bit of salt helps elevate the flavor of the cake.
See recipe card for quantities.
Instructions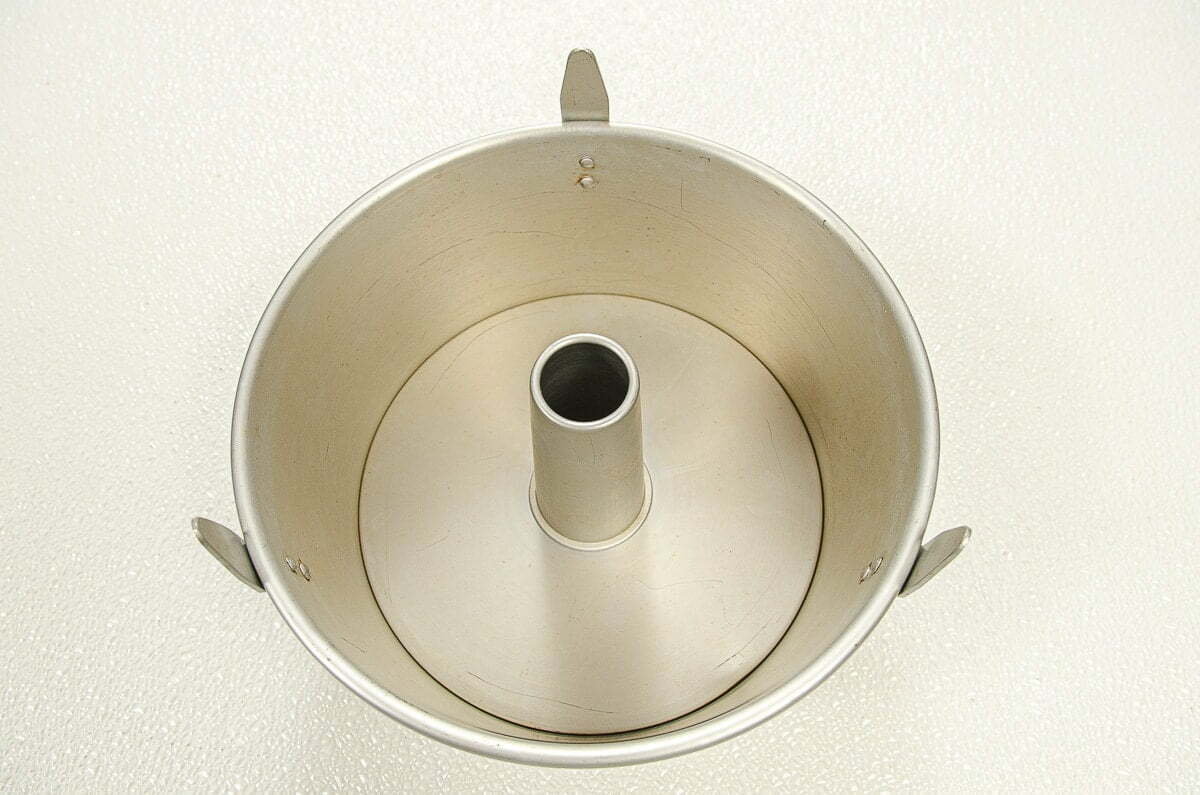 An Angel Food Tube Pan is about 4" deep, has a removable bottom and legs extend from the top. The tube in the middle allows the heat to come up and bake the cake from the middle as well as the outside.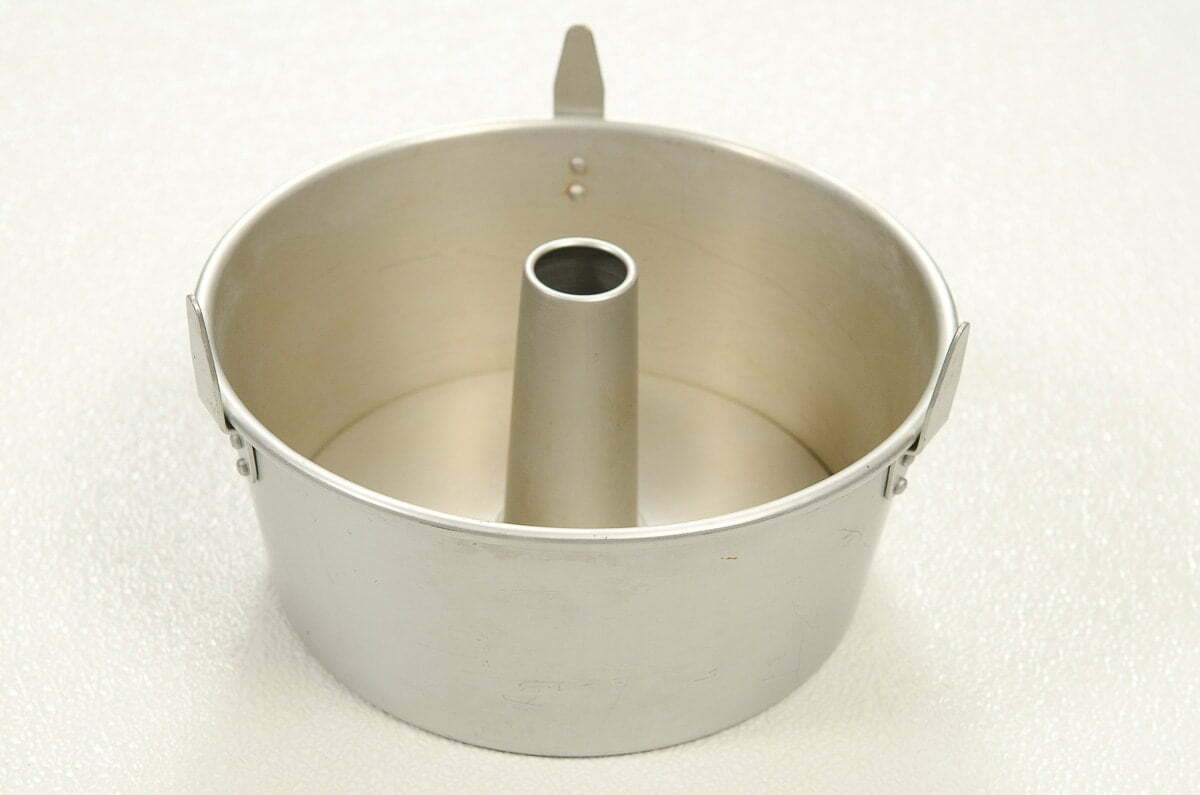 The pan should not be prepared in any way. Do not butter or spray it.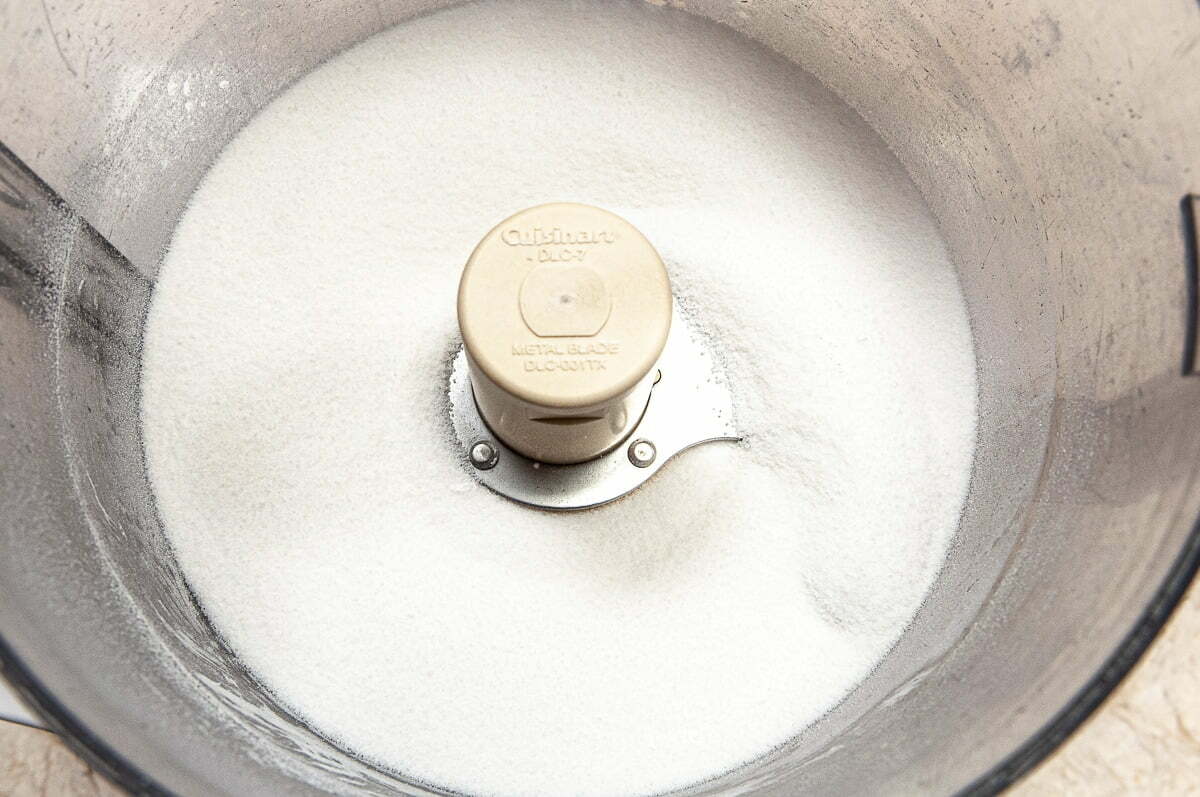 Granulated sugar processed to make baker's sugar.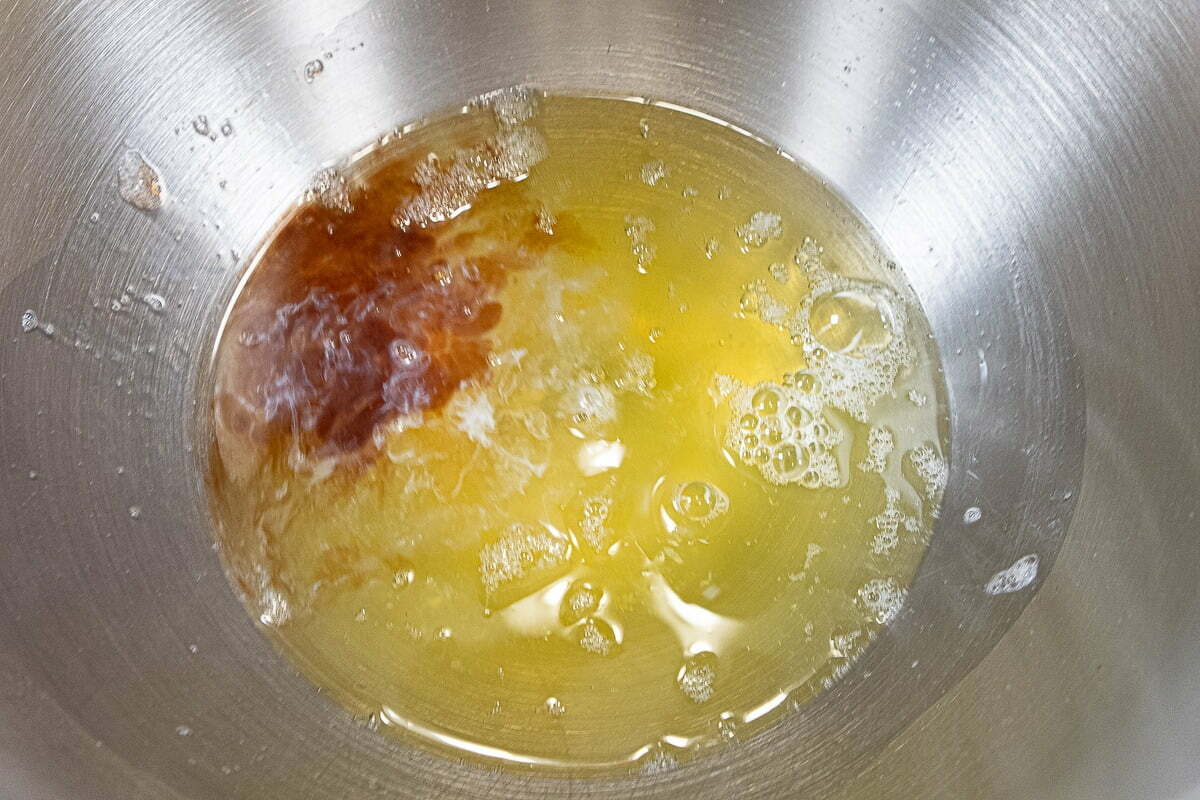 Egg whites, vanilla and almond extracts, in the mixing bowl.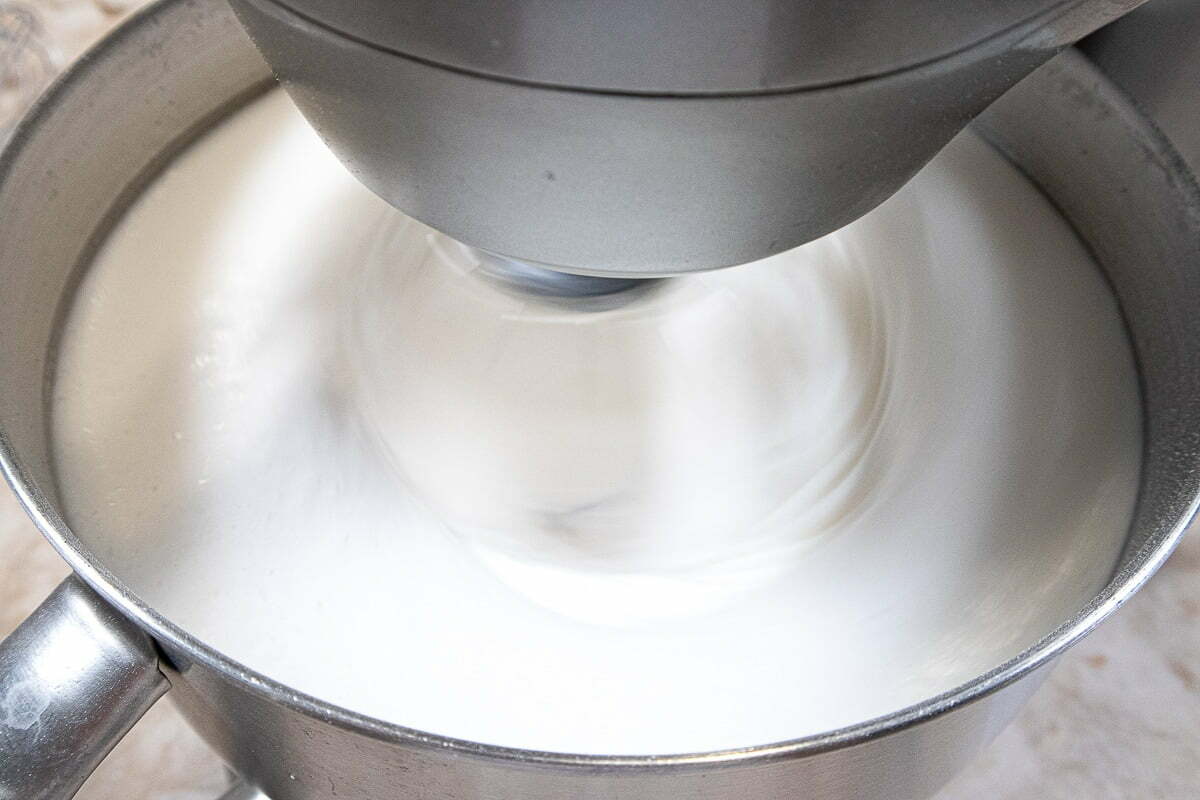 Egg whites whipped to the soft peaks stage and ready to add the sugar. The whites should be very high but not stiff.
Blend half the sugar, salt and cream of tartar together.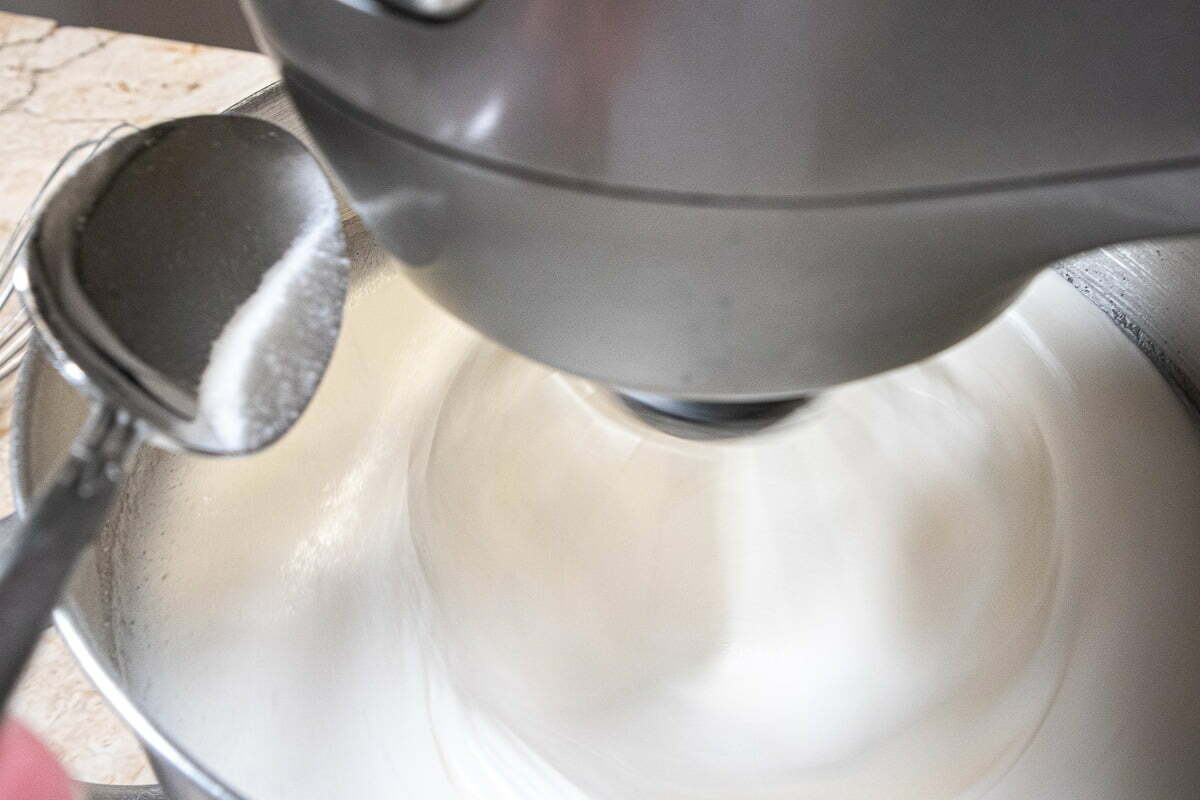 Adding a heaping spoon of ½ the sugar mixture at a time to the egg whites. Beat 10 to 15 seconds after each addition. Repeat until all of the sugar is gone.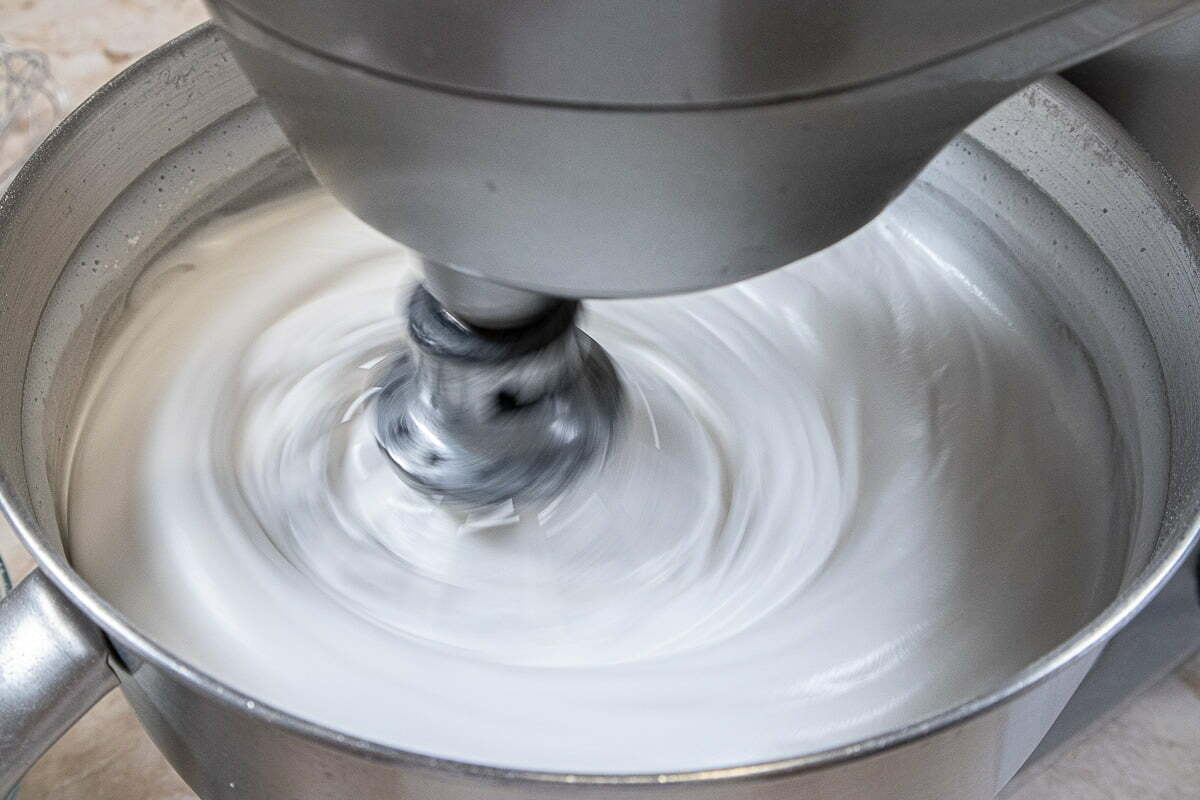 Half the sugar added to the egg whites. They will be very glossy and high in the bowl.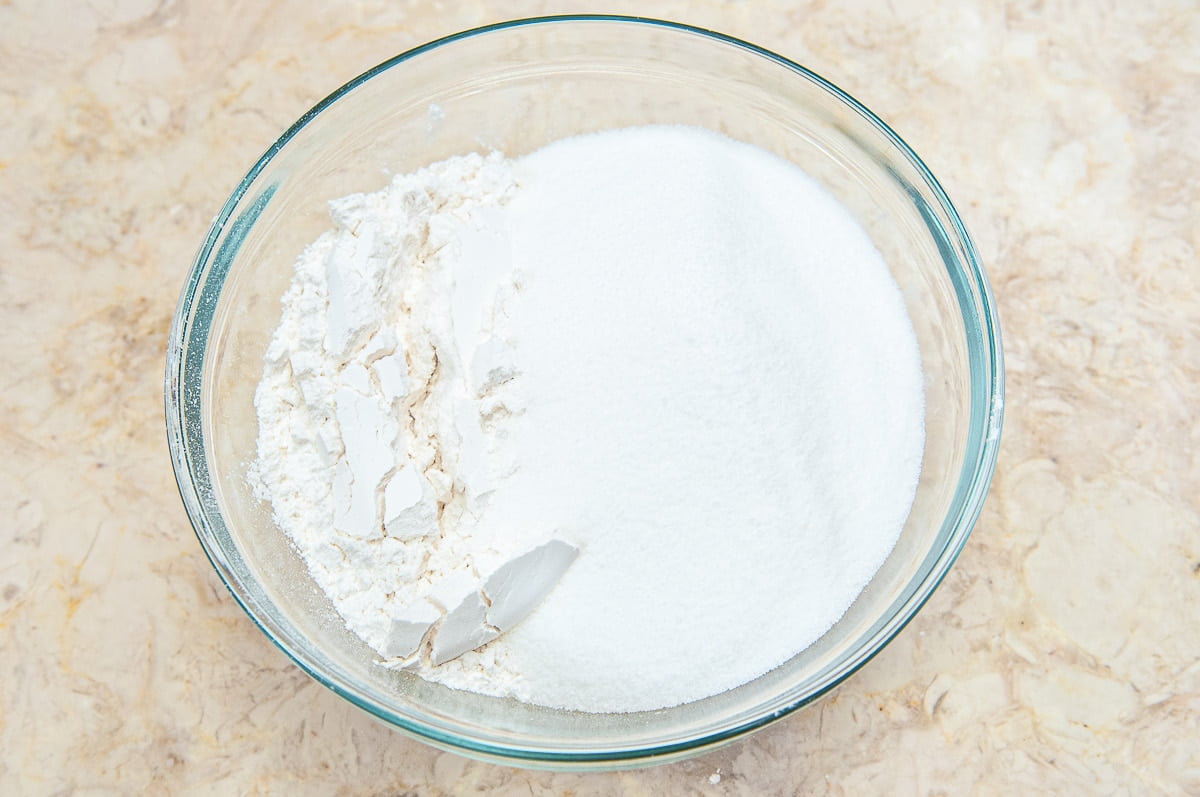 Sift together the remaining sugar and cake flour to be added.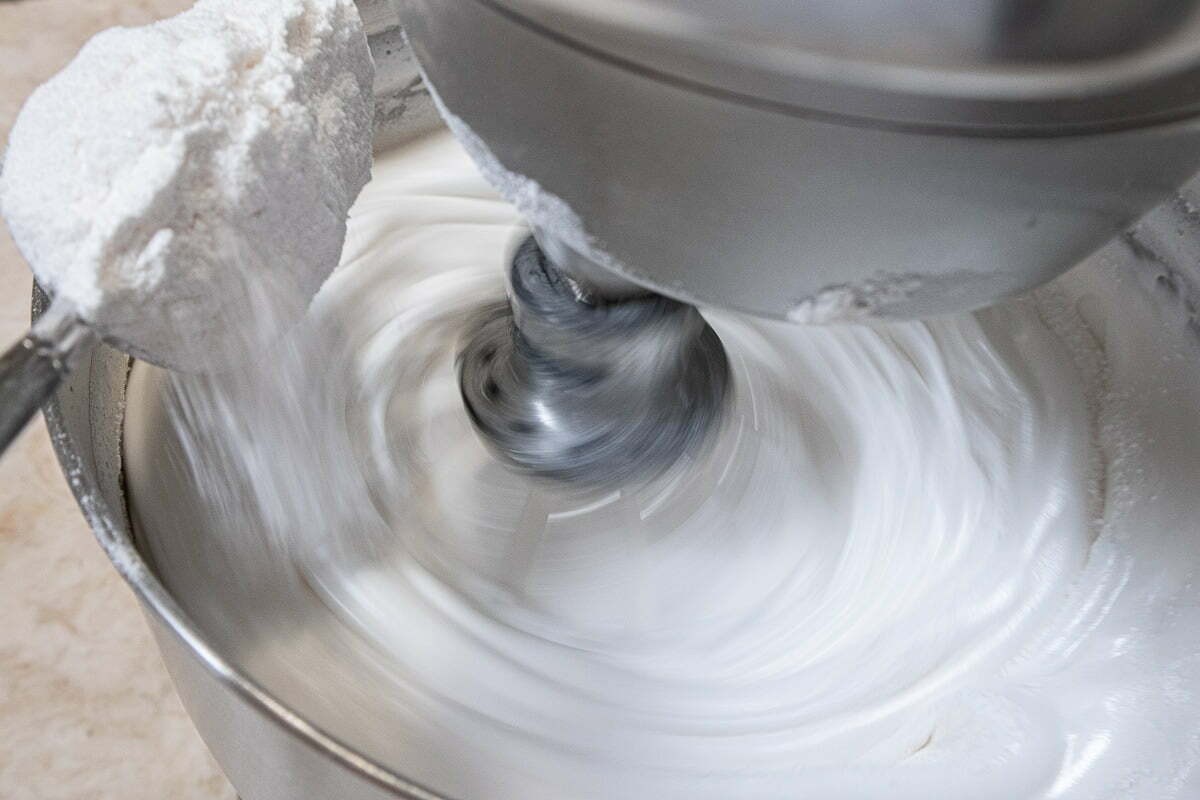 Sugar/flour mixture being added in four additions on low speed. Beat just until flour mixture is incorporated each time.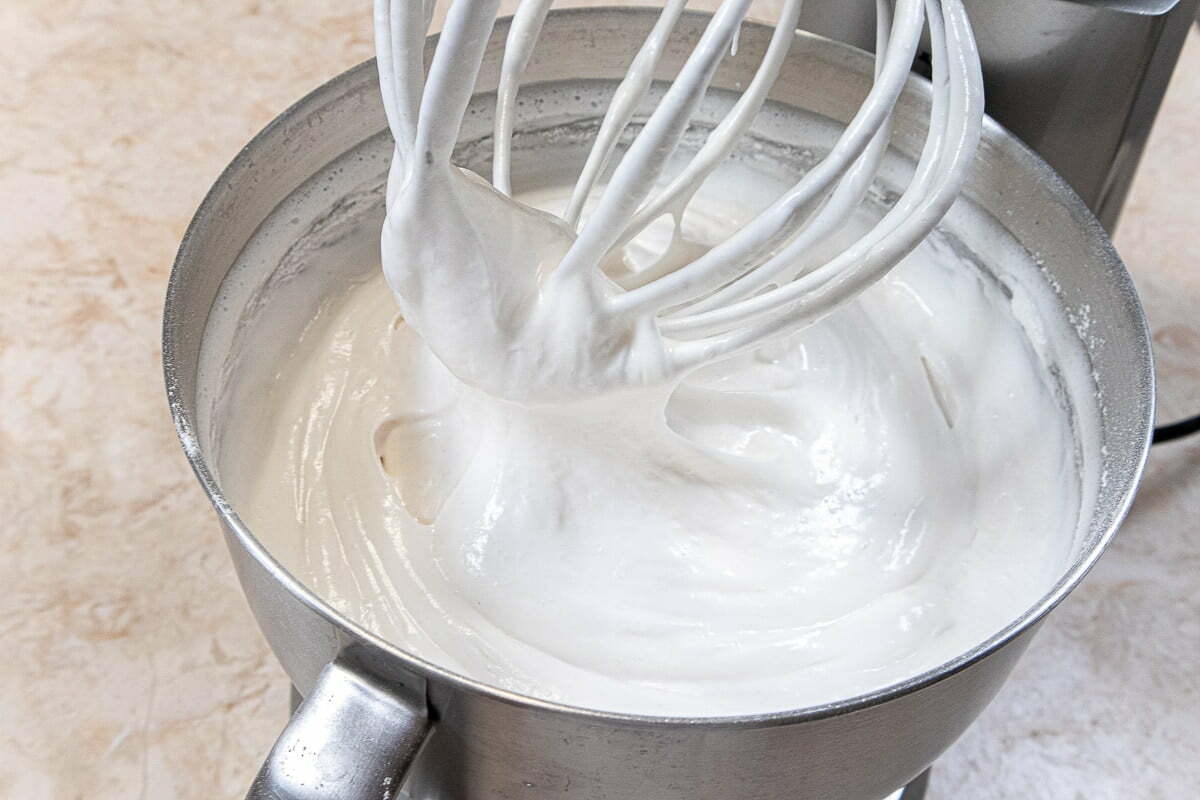 All of the sugar/flour mixture added.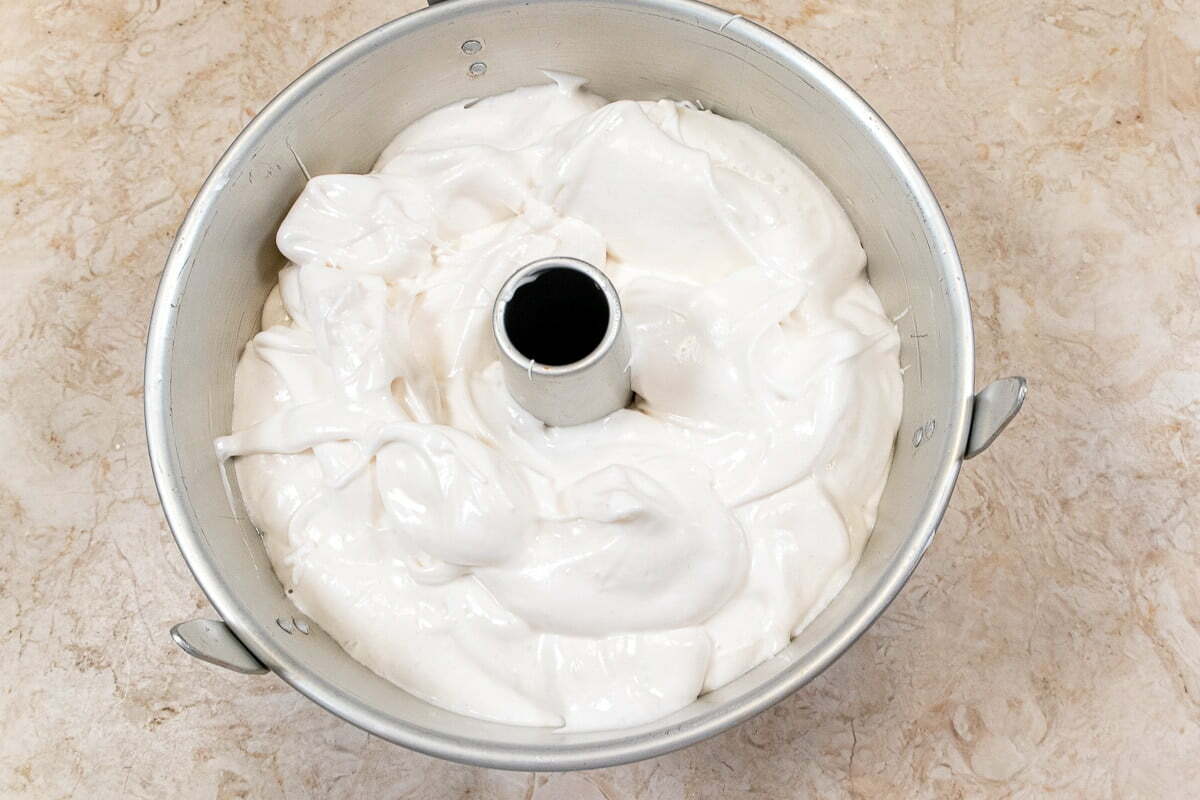 Perfectly Easy Angel Food Cake mixture in the pan.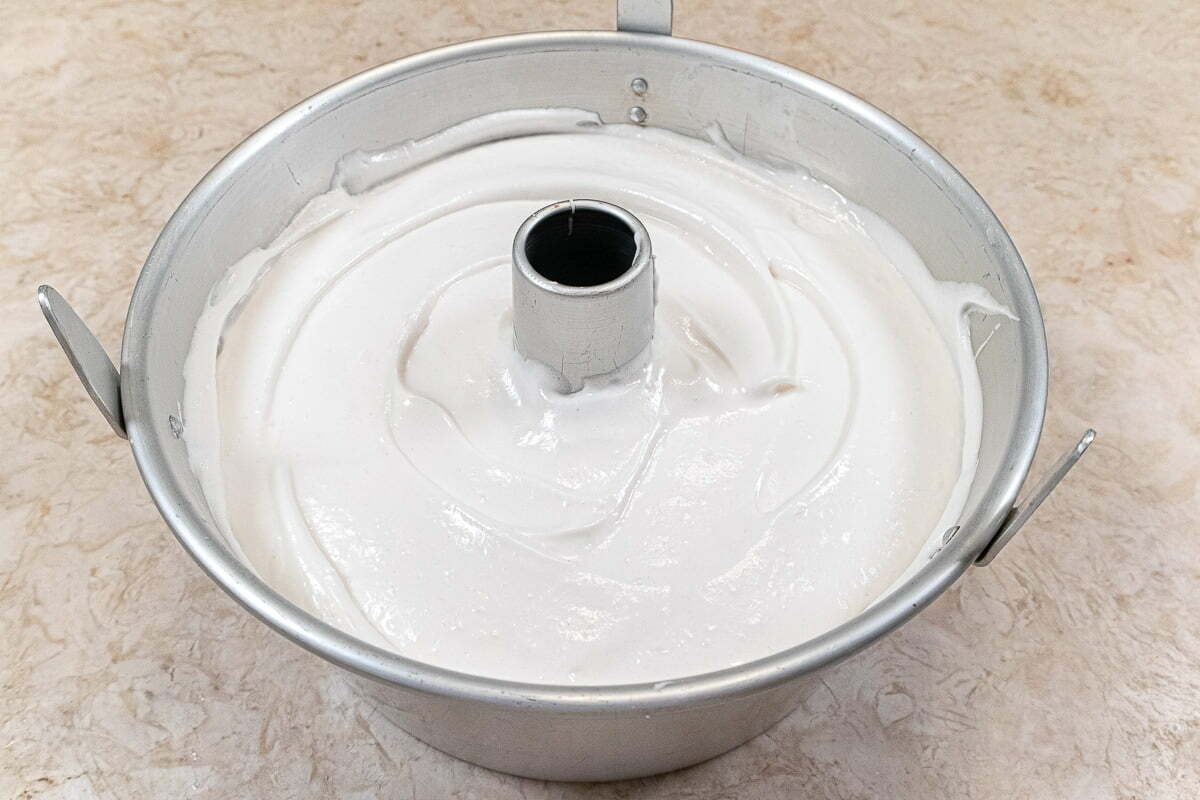 Mixture smoothed out.
Cooling and Releasing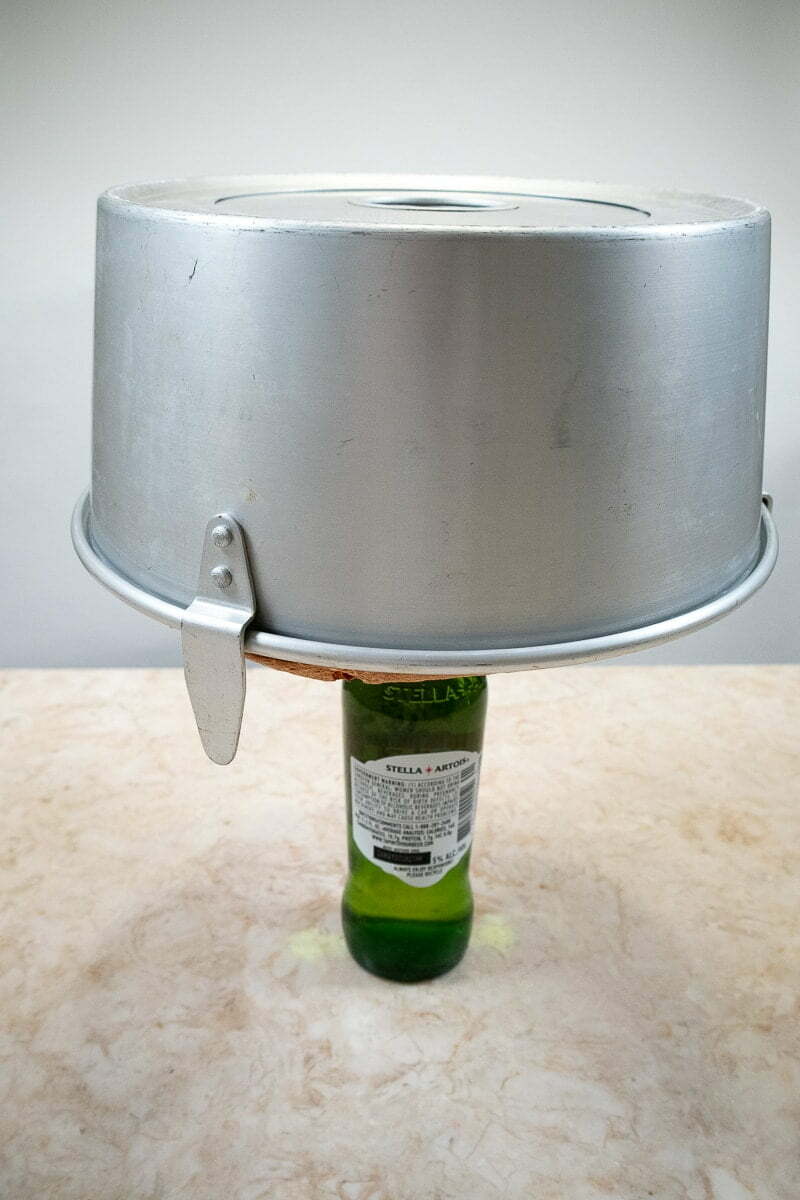 After baking, it is important to cool the cake upside down so it retains it height. If the Angel Food Cake pan has feet on it, simply turn it upside down. If not, hang it on a bottle.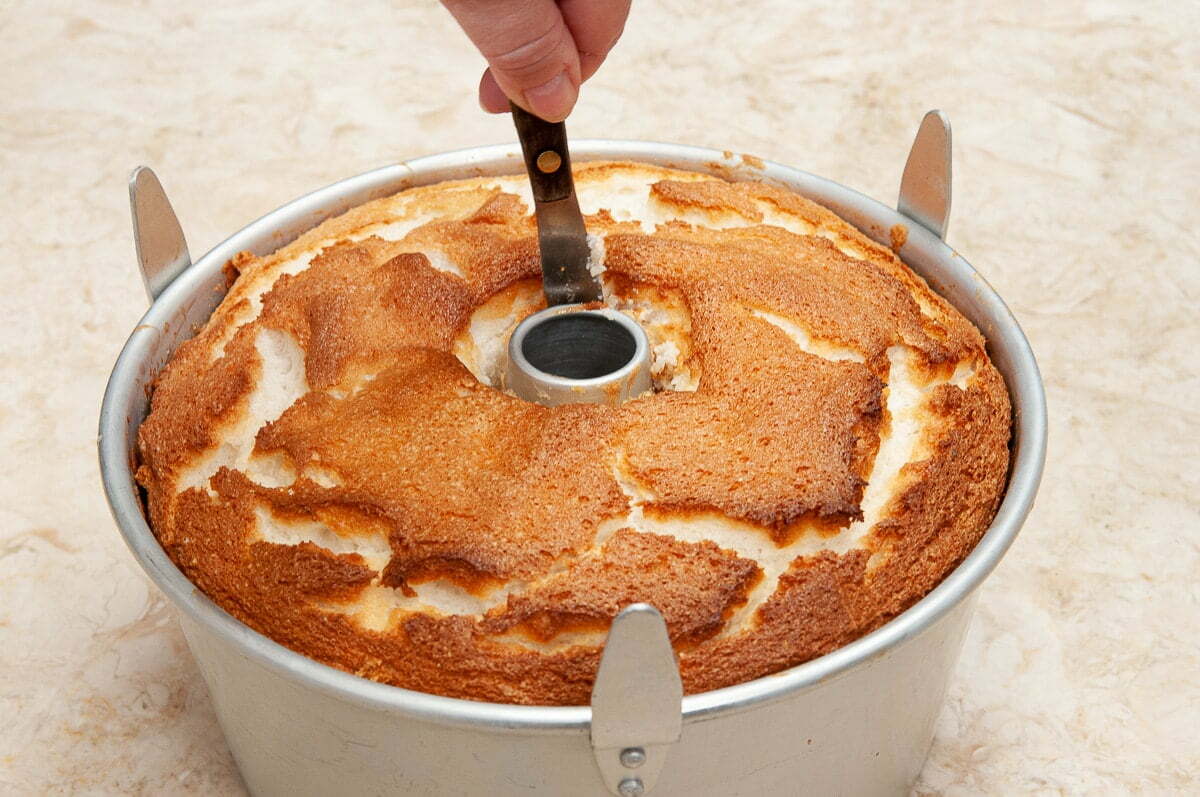 After the Angel Food Cake has cooled, use a small, flexible,metal spatula to go around the tube in the middle. Tall isn't it? Over 4 inches of perfection!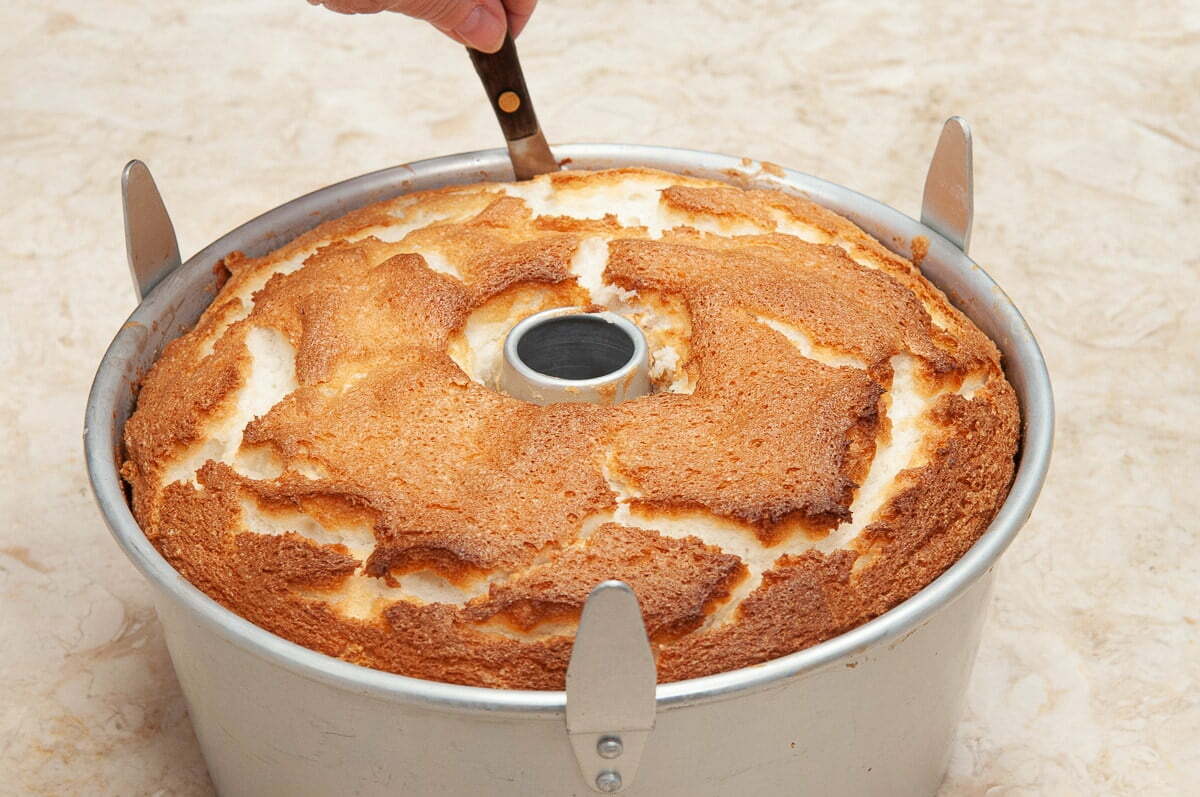 Release the outer edge of the cake with the metal spatula. Make sure to keep the spatula pressed against the edge of the pan and not the cake.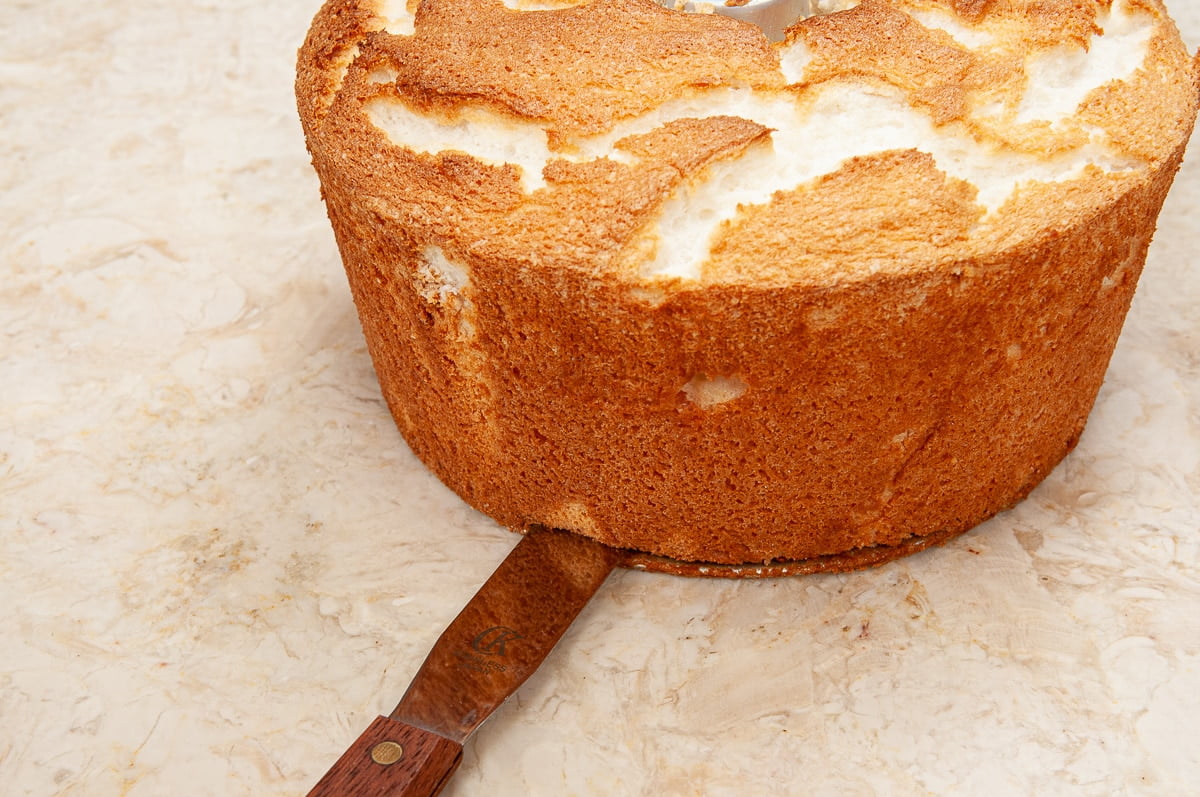 After removing the side, go under the bottom of the cake to release it.
Hint: The key to a perfect Foolproof Angel Food Cake is beating the whites to the correct consistency at each stage. If they are initially under beaten, it will be difficult for them to attain the lofty heights needed for this cake since the air beaten in is the only leavening agent. If over beaten, they will be dry and some of the air will be knocked out because they will have to be beaten longer when adding additional ingredients.
Beating to the soft peak stage is important.
Variations
Variations can be found in my original post, A Trio of Angel Food Cakes.
Equipment
Angel Food Cake Pan
Scale
Measuring Cup and spoons
Strainer or Sifter
Mixer with whisk attachment
Rubber Spatula
Small metal spatula
Storage
The cake will last for three or four days kept covered. It can also be baked and frozen. Thaw at room temperature.
Top tip
When adding the sugar/flour mixture to the egg whites, make sure the mixer is on low and beat only until each addition is incorporated.
Print
Perfectly Easy Angel Food Cake
This Perfectly Easy Angel Food Cake requires no folding in of the flour making it as easy as it gets. Couple that with a high rising, super moist cake and all the problems with making an Angel Food Cake in the traditional manner disappear.
Author: Helen S Fletcher
Prep Time:

25 minutes

Cook Time:

45 minutes

Total Time:

70 minutes

Yield:

14 servings

Category:

Cake

Method:

Baking

Cuisine:

American
2 ½ cups

sugar, divided (

500 grams

or

17.5 oz

.)


14

large egg whites, preferably room temperature (

2 cups

,

450 grams

are about

16 ounces

)


1 teaspoon

vanilla extract


1 teaspoon

almond extract


1 ½ cups

sifted cake flour (

150 grams

or 5 .

33 oz

.)

1 ¼ teaspoon

salt


1 ½ teaspoons

cream of tarter

Instructions
Preheat the oven to 350 degrees.
Have the angel food pan ready but do not prepare it in any way. Do not butter or spray it. To obtain its full height, the cake needs to cling to the side of the pan. Set aside.
Place the sugar in a food processor and process for 1 to 2 minutes until more finely ground. Regular granulated sugar can be used but make sure to beat it long enough to dissolve the sugar.
Place the egg whites, vanilla and almond extracts in a mixer bowl. Fit the mixer with a whisk attachment. Beat on medium just to a soft peak stage.
Blend half the sugar (1 ¼ cups, 250 grams or 9 ounces), salt and cream of tarter. Gradually add a heaping tablespoon at a time to the egg whites. Beat 10 to 15 seconds after each addition. Repeat until all of the sugar has been added.
Sift together the remaining half of the sugar and the flour. Set the mixer to low speed and add to the egg whites in four additions. Beat just until the flour mixture is incorporated each time.
Pour batter into cake pan and smooth out with a spatula.
Bake for 35 to 40 minutes until risen, nicely browned and a tester comes out clean. Don't over bake. Cool upside down in the pan. If the Angel Food Pan doesn't have feet, hang the pan on a bottle.
When cold, go around the tube and the edge of the pan with a flexible spatula. Release the rim of the pan.
Release the bottom of the cake with a spatula and turn it out onto a cake board. Turn it right side up to serve.
Notes
I'll admit 14 egg whites is a lot and what, you ask, do I do with 14 egg yolks left over. If you google "what to do with extra egg yolks", there are plenty of suggestions.
Egg yolks can also be frozen for several months if they are weighed and 10% sugar is whisked in to keep them from gelling in the freezer and becoming hard. A close measurement would be ¼ teaspoon sugar per large egg yolk which weighs 17 grams. For the 14 large egg yolks, whisk together 1 tablespoon plus ½ teaspoon sugar. Thaw in the refrigerator overnight or until completely thawed.
At the bakery, we bought frozen egg yolks and frozen egg whites. The yolks contained the 10% sugar as called for above. When we used them, we did not deduct the sugar in the egg yolks from the recipe we were using. We simply used them as egg yolks and never had a problem.
Nutrition
Serving Size:
Calories:

229

Sugar:

36 g

Sodium:

263.4 mg

Fat:

0.2 g

Saturated Fat:

0 g

Trans Fat:

0 g

Carbohydrates:

51.5 g

Fiber:

0.3 g

Protein:

5.2 g

Cholesterol:

0 mg
Keywords: Perfectly Easy Angel Food Cake, Angel Food Cake, Angel Food cake recipeeasy Angel Food Cake, Foolproof angel food cake, cake, white cake, fat-free cake, egg whites, how to make an angel food cake, best angel food cake,