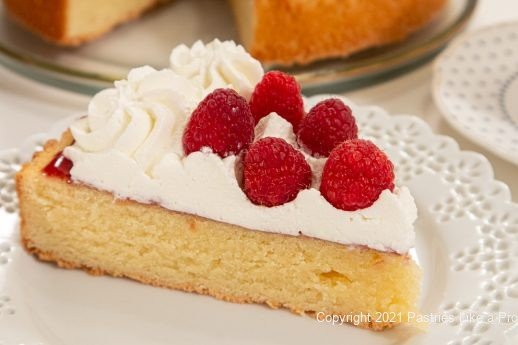 This Quick and Easy Teacake could easily be offered at a high tea service. An easily made cake topped with a smattering of jam, whipped cream and fresh fruit.  Any flavor jam and any fruit can be used.
Teacakes are usually simple, single layered affairs so named because they are served with afternoon tea.
Even better, the almond paste called for can be whipped up in the food processor in the matter of minutes, avoiding the need to spend a small fortune buying it in the store.  The almond paste is used for flavor, but just as importantly, for moisture in this cake which is made in a processor - or the mixer.  How easy is that?  I have a post that gives you two ways to make the almond paste.  I prefer the one with the simple syrup because it doesn't require an egg white.  This almond paste would be great for marzipan.
One more thing, the cake freezes beautifully so a great dessert is just minutes away.  This teacake goes from an elegant finish to a party or just as easily to the end a barbecue.
Versatile, easy, quick, make ahead and beautiful, what more could anyone ask for?  Speaking of versatile add the rind of an orange, or a lemon or mix it up and make a citrus teacake by adding the rind of all three.
The recipe for this Almond Teacake is based on my Orange Almond Teacake.  Just omit the orange.
Simple Syrup
½ cup water
⅓ cup + 1T sugar (75 grams or 2 ⅔ ounces)
2 tablespoons corn syrup
Combine the water, sugar and corn syrup in a small saucepan.  Bring to a boil and boil for 3 minutes. Remove from the heat and cool.  Leftover syrup may be stored in the refrigerator.  It is great for soaking cakes with or without adding liqueur or fruit juice to flavor it.
Almond Paste
For how to pictures go here.
1 cup + 2 tablespoons almond meal or almond flour (140 grams or 5 ounce)
1 cup + 2 tablespoons powdered sugar (140 grams or 5 ounces)
3 tablespoons simple syrup from above
1 tablespoon almond extract
Combine the almond flour and powdered sugar in the processor bowl.  Process briefly to mix well.
Combine the simple syrup and almond extract.  Stir well.  Pour over the dry ingredients in the processor in a circle.  Process until a ball forms.
Use where almond paste is called for except in cookies.
This can be stored well wrapped at room temperature for a week or so.  Store in the refrigerator or freeze for longer storage.
Continue to the teacake without cleaning the processor bowl.
Yield:  330 grams or about 11 ½ ounces
Almond Teacake
For how to photos, go here.
1 cup + 2 tablespoons almond paste, packed tightly (290 grams or 10 ¼ ounces)
1 cup +1 tablespoon sugar (215 grams or 7 ½ ounces)
⅔ cup butter, softened (140 grams or 5 ounces or 1 ¼ sticks)
4 eggs
½ cup +2 tablespoons flour (85 grams or 3 ounces)
½ teaspoon baking powder
Preheat the oven to 350 degrees.  Line the bottom of a 9x2 inch round baking pan with parchment paper; spray the center only and set aside.
Mixer Method
Place the almond paste and sugar in a mixing bowl fitted with the paddle.  Beat until large crumbs form.  Add the butter and beat until well combined.  Add the eggs, one at a time and beat until smooth.  Combine the flour and baking powder, whisking to mix.  Add all at once to the above and mix on low just until completely combined.  Pour into the prepared pan, level and smooth the top and bake for 35 to 40 minutes until a tester comes out clean.
Cool for 15 minutes, release the edges and remove from the pan.  Place on a rack,bottom side up  to cool completely.
Processor Method 
Place the almond paste and sugar in the processor bowl.  Process until mealy.  Add the butter; process until mixed.  Add all the eggs at once and process until smooth.  Lastly, add the flour mixture and process until completely combined.  Pour into the prepared pan and bake as above.
Yield:  935 grams.   1 - 9 inch single layer cake about 2 inches tall.
Assembly
1 cup heavy whipped cream
3 powdered sugar (22 grams or ¾ ounce)
½ cup seedless red raspberry jam
Fresh raspberries as needed
Whip the cream and powdered sugar together to the medium stiff peak stage.  Set aside.
Spread the jam over the cake layer.
Pipe the cream on or alternatively spoon it on.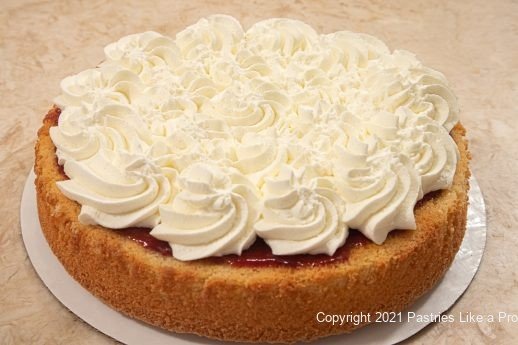 Top with the fresh raspberries.
Store in the refrigerator.
Make Ahead Notes
The cake can be made and frozen, well wrapped, for a couple of months.  Thaw at room temperature.  Assemble the cake early in the day and refrigerate.