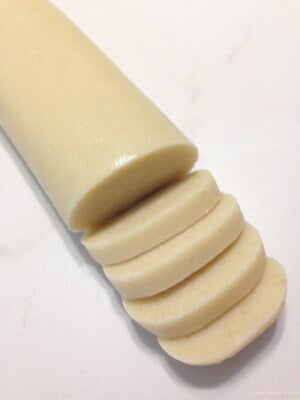 Last week I posted a recipe using almond paste. One of my regular readers asked me if I had a recipe to make almond paste since it is so expensive. At the time I remembered seeing such recipes so I hopped on the internet and found quite a few.
Most of them featured blanched almonds, powdered sugar and egg whites as the binder.
Armed with a pound of almonds, plenty of powdered sugar and egg whites, off I went.
The first hint of a problem was getting the almonds fine enough. Processor blades dull after a while and I don't know if they can be sharpened. I generally just replace mine. However, since my processor is on it's last leg, I haven't and the blade is not as sharp as i would like it. So I restorted to placing them in a blender with the powdered sugar and it did a great job after a lot of scraping and blending. After the nuts were finely ground, I transferred the mixture to the processor and added the egg white. It balled up into a gorgeous mass and when shaped into a log it looked spectacular.
I went to bed that night happy with my conquest. Almond Paste – DONE!!! When I woke up the next morning I had a nagging feeling of needing to test my perfect product.
The Almond Macaroons were my test. Following my instructions, I added the egg white and instead of the mixture standing up so it could be piped, it oozed. Not a good sign. But I continued on (remember this is a test) and piped them. After a 30 minute wait I baked them where they spread into large, round amaretti like cookies. Not bad, but I was looking for Almond Macaroons.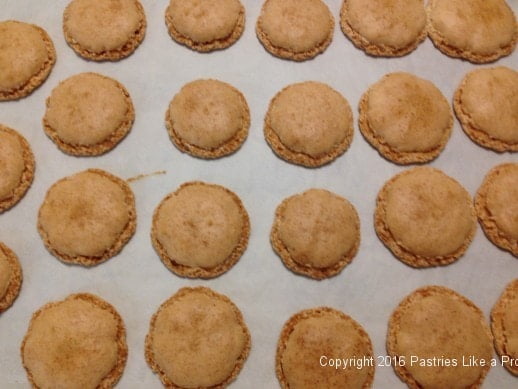 Undaunted, I went old school and referred to my professional books. Bo Friberg's, "The Professional Pastry Chef" had a recipe using a simple syrup as a binder which I much preferred over the egg white.
I also used almond flour instead of grinding the nuts. According to Nuts.com " Almond flour is a low-carb, gluten-free baking alternative to standard wheat flour. As you might have guessed, this flour is made of almonds (and only almonds), which are first blanched to remove the skin and then ground up to a very fine consistency, similar to that of wheat or cornmeal."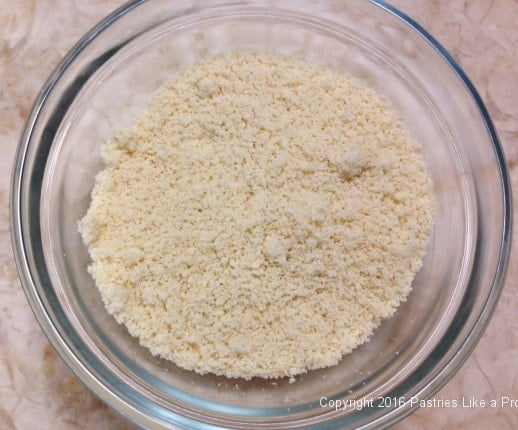 After making and cooling the simple syrup, I put the ingredients in the processor and watched happily as the almond paste came together. More firm, I thought. Much more like the real thing. In keeping with my need to test, I made another batch of Almond Macaroons. They held their shape and looked gorgeous on the tray as I waited the 30 minutes before baking them.
When I opened the oven, I was astounded. Although not quite as bad as the first batch, these too, spread out and seemed to melt before setting. These did retain some of their piped shape but, in a couple of words, were really ugly! I did nothing but take these out of the oven - even though some look like I took bites out of them. That was later. However, the good news is they taste fantastic. As good or better than the original recipe made with the purchased almond paste.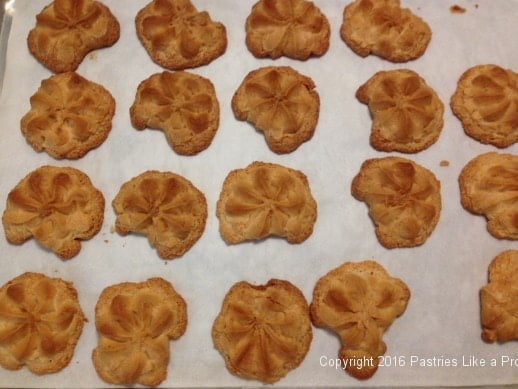 This version would be fantastic for marzipan if you were making marzipan since it doesn't contain egg white. And the cookies would be good in a crumble or crisp. Maybe even in fillings if bolstered by other ingredients. But for baked, stand alone products, not so much.
Finally, I went back to the computer and read about how Solo makes their almond paste. There it was – they cook it. That makes perfect sense as it would dry out the moisture in the paste allowing it to keeps it shape when used in stand-alone products such as cookies.
What I have figured out is there are some things that are better bought, even though expensive.
So here are the recipes and the results. If anyone figures this out and can make my Almond Macaroons with their version, please share with the rest of us. I will happily run it and give you credit.
Almond Paste with Simple Syrup and Almond Flour
1 cup +2 tablespoons almond meal or almond flour (140 grams or 5 ounces)
1 cup +2 tablespoon powdered sugar (140 grams or 5 ounces)
3 tablespoons simple syrup – recipe below
1 tablespoon almond extract
Combine the almond flour and powdered sugar in the processor bowl. Process briefly to mix well.
Combine the simple syrup and almond extract. Stir well. Pour over the dry ingredients in the processor in a circle. Process until it looks like sand. It will not ball up.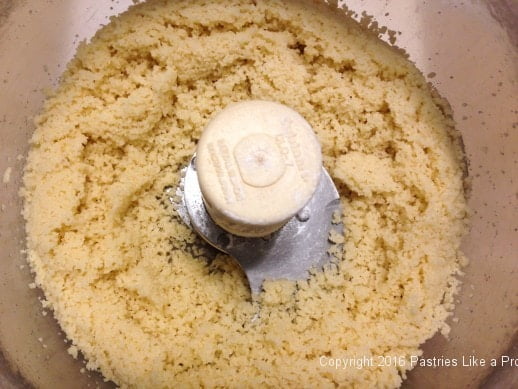 However, it should come together when a small amount is pinched. If it is too dry, add more simple syrup very sparingly, just a bit at a time.
Pour it our onto a work area and push it together. Knead it several times; then shape into a log. It can be used immediately as it is very firm.
Use where almond paste is called for.
This can be stored well wrapped at room temperature for a week or so. Store in the refrigerator or freeze for longer storage.
Yield: 300 grams or 10 ½ ounces
Simple Syrup
½ cup water
2 tablespoons light corn syrup
⅓ cup +1 tablespoon sugar (75 grams or 2 ½ ounces)
Put the water and cornsyrup in a small saucepan. Add the sugar and stir to combine. Bring to a boil and boil for 2 minutes. Remove from the heat and cool.
Yield: About ½ cup
Almond Paste with Almonds and Egg White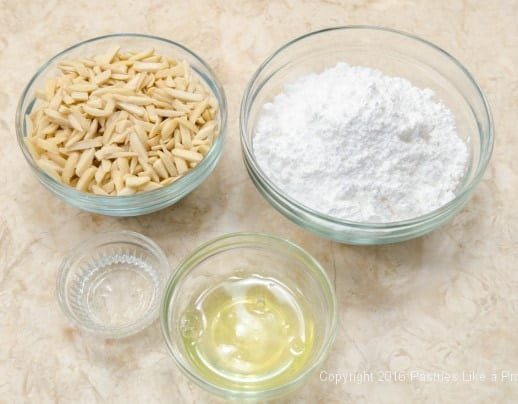 1 ½ cups blanched slivered almonds (170 grams or 6 ounces)
1 ½ cups unsifted powdered sugar (195 grams or 7 ounces)
1 egg white
1 tablespoon almond extract
Place the almonds and powdered sugar in a blender.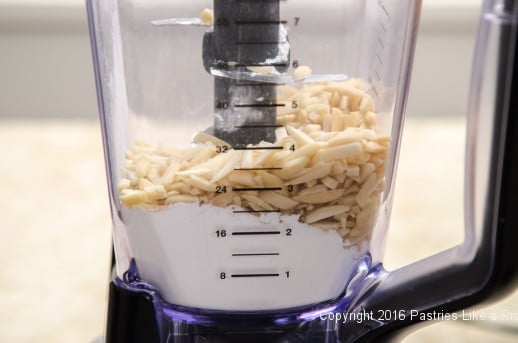 Blend until there are no lumps of nuts when rubbed between your fingers. Scrape down often. I poured my mixture into a bowl several times because it cakes on the bottom. It is important to get this mixture silky smooth.
Transfer the mixture to a food processor. Add the egg white and almond extract.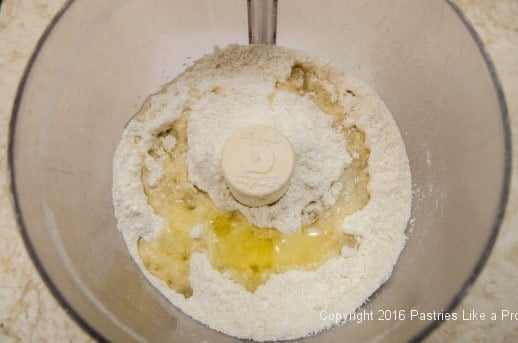 Process until a ball forms.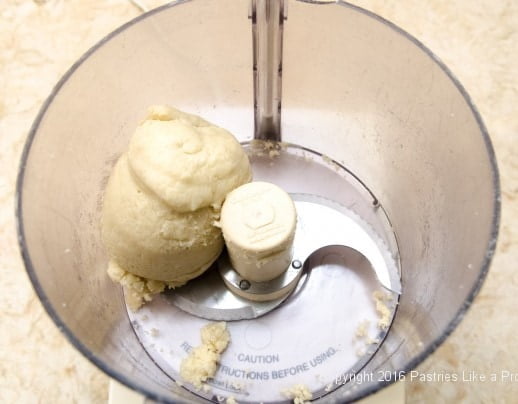 Remove from the processor and place on a piece of plastic film. Shape into a log.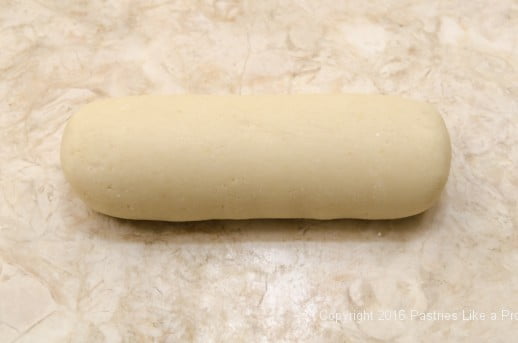 Wrap in the film and refrigerate until firm.
Use as directed in recipes where almond paste is an ingredient.
Yield: 14 ounces or 400 grams.