This post is about the technique of making pastry cream. See Pastry Cream Recipe for an in depth discussion of this French pastry essential. This photograph features swirls of lightened pastry cream on top.
We thickened ours with flour so it could be frozen or used in frozen desserts. Cornstarch breaks down if frozen and thawed.
This is a base recipe and can be cut in half or scaled up as necessary.
The base recipe can be flavored with coffee, liqueurs, liquor, citrus zest, or chocolate for just a few ideas.
One of my readers let me know that she used this pastry cream in a pastry shell, topped it with pears, baked it for 40 minutes, and it didn't break.
Basic Pastry Cream
Note - The amount of ingredient shown in the pictures is half of this Basic Pastry Cream
1 ½ cups milk, hot
4 large egg yolks
½ cup granulated sugar (100 grams or 3 ½ ounces)
¼ cup all purpose flour (35 grams or a heavy ounce)
2 teaspoons vanilla or 1 vanilla bean
If using the vanilla bean, scrape out the seeds and add to the milk along with the pod; heat the milk until hot but not boiling.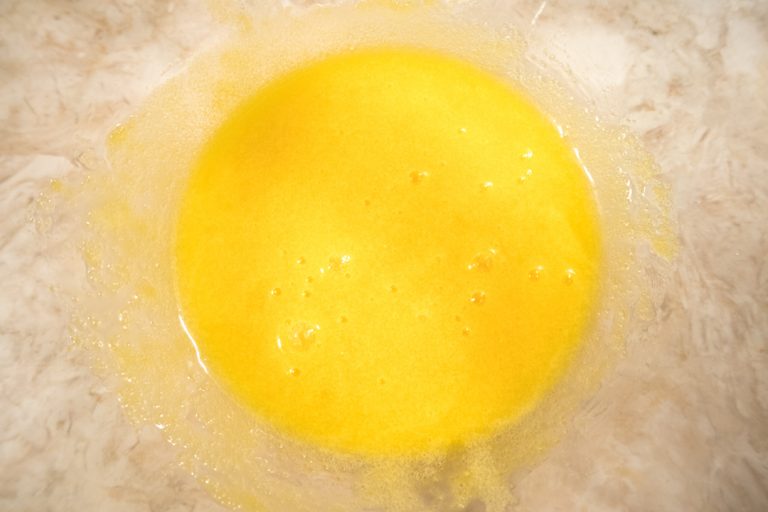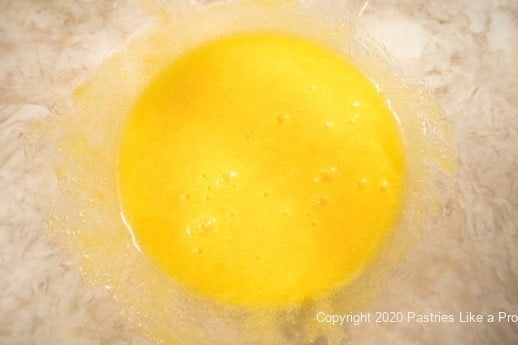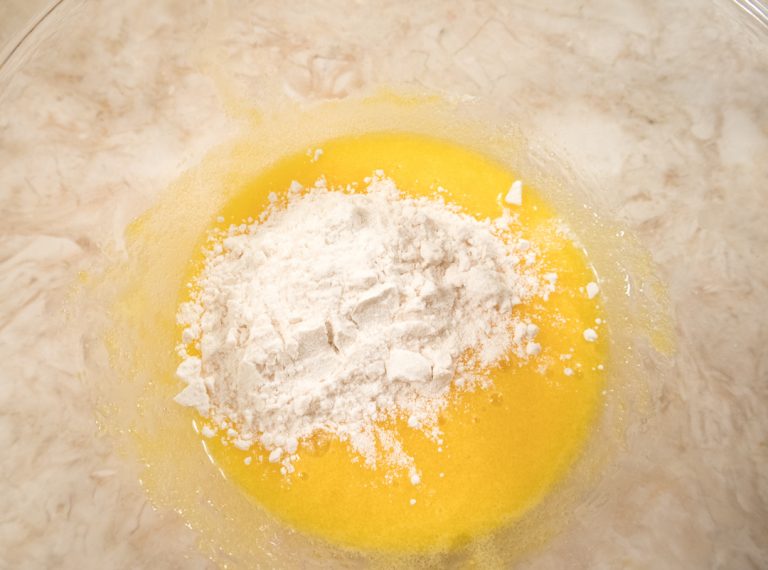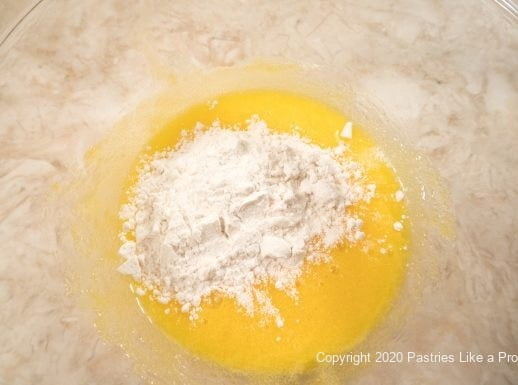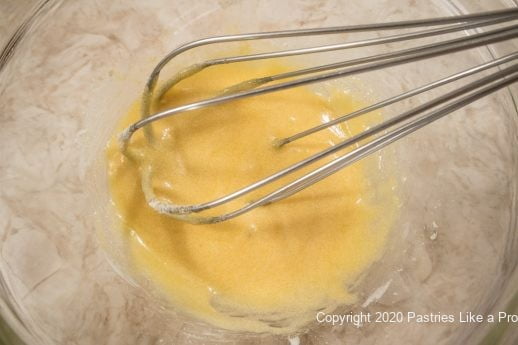 Whisk the egg yolks and sugar together in a bowl. Whisk in the flour.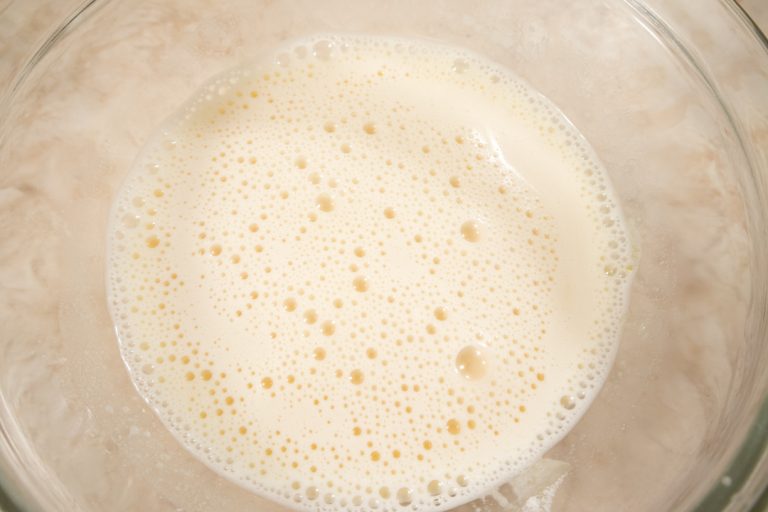 Remove the pod from the milk if using. Add the milk slowly, whisking well and scraping the corners of the pan with a rubber spatula to make sure all of the egg yolk mixture is incorporated.
Strain the mixture into a saucepan and place over medium heat.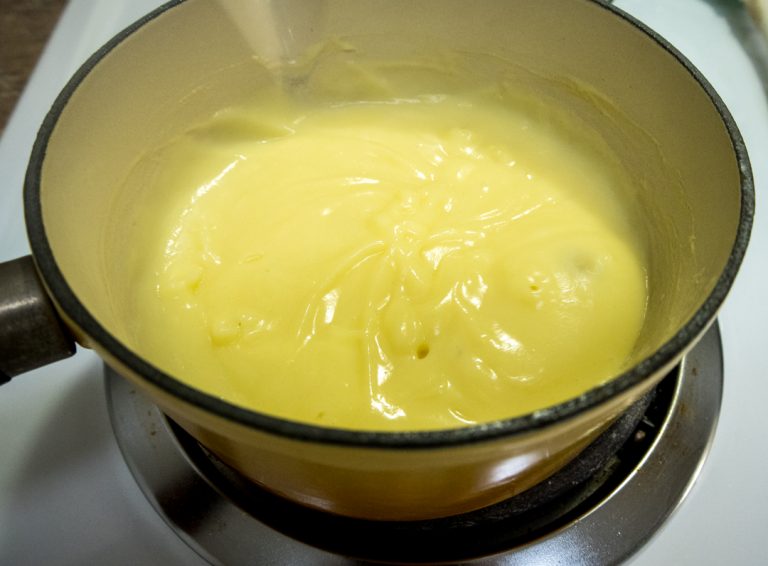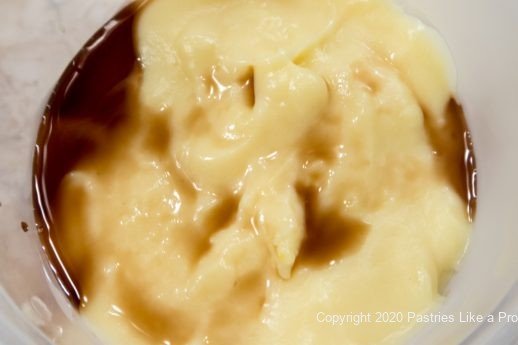 Stirring constantly, bring to a boil. Boil for 1 minute, stirring constantly. Remove from the heat and add the vanilla (if using extract).
It will be very thick and will leave a trail when a spatula is run through it.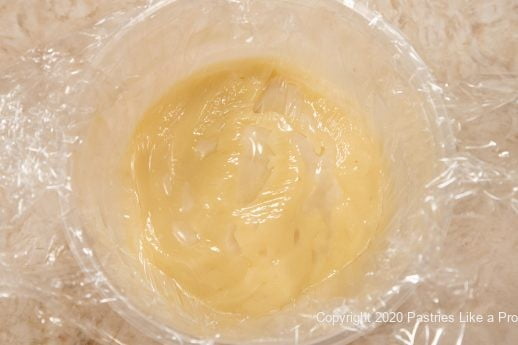 Pour into a storage container, cover the surface with plastic wrap, poke a few holes in it and let it cool. Refrigerate overnight to chill or freeze.
When ready to use, the cream will be very stiff. Whisk it to loosen it.
Yield: 2 cups (About 454 grams or 16 ounces)
Stabilized Pastry Cream with Gelatin
At the bakery, we would stabilize the pastry cream when it would be lightened with whipped cream. This allowed it to hold its shape when piped and not soften if left at room temperature.
Additions to the Basic Recipe
1 ½ teaspoon gelatin
2 teaspoons cold water
Stir the gelatin into the cold water, making sure all of it has been incorporated. Set aside.
When it is fully cooked, tear the gelatin into pieces and sir it into the hot mixture. There is no need to liquefy it. The hot pastry cream will liquefy it.
Lightened Pastry Cream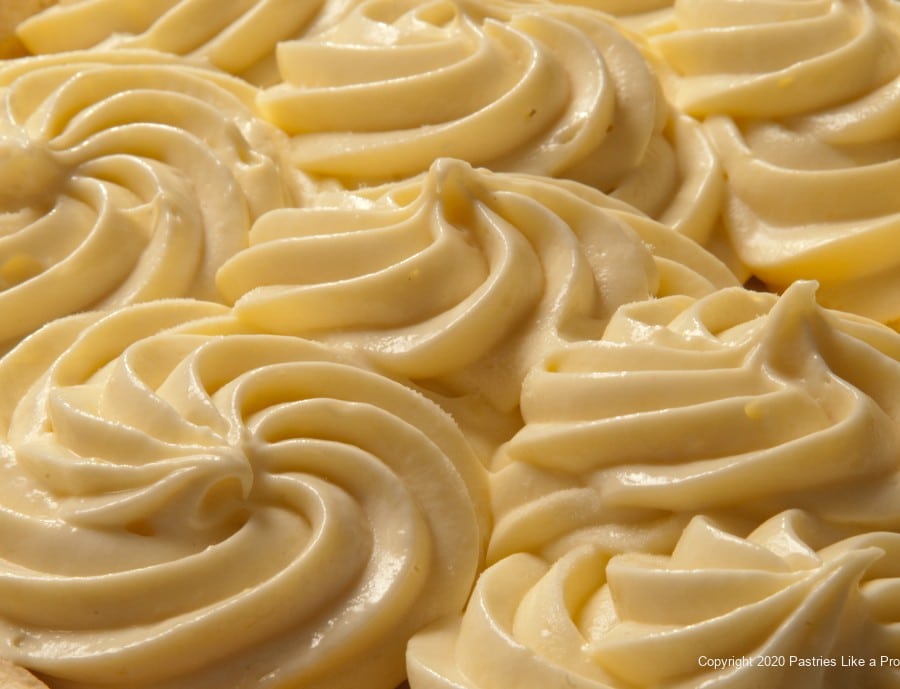 Often we wanted a lighter, softer pastry cream. To the basic recipe with gelatin, add ½ cup heavy cream, whipped to soft peaks. Whisk the chilled pastry cream to soften it and fold in the whipped cream.
The lightened pastry cream with gelatin will keep these swirls stable without any detectin of the gelatin, even if at room temperature.