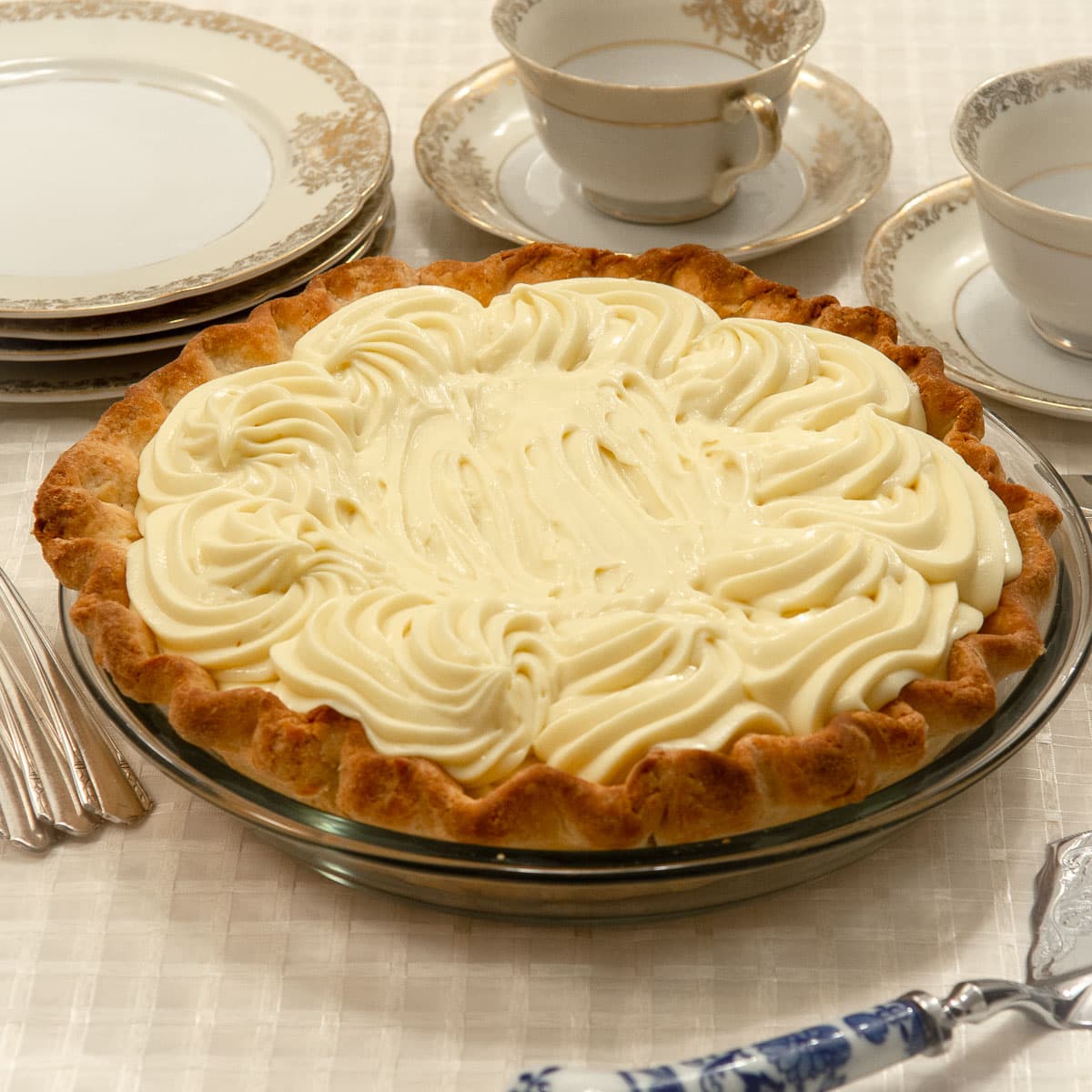 My love of baking was undoubtedly a gift from my mother among very many others that have sustained me, not only throughout my lifetime, but also throughout my business career.
This Double Banana Caramel Cream Pie would have pleased her immensely. My mother was a fantastic cook and baker. To support us while my father returned to college for his second degree, we had 16 people for dinner at our house every night during the week and two teachers lived with us. Mother cooked all of those meals without help, and on Sunday she pulled out all the stops for her family. She was an amazing woman!
My favorite desserts were anything with custard, pudding or pastry cream as a component. Mother was an interesting combination of scratch cooking (I ate croissants at every important occasion, including holidays, before anyone in the states ever heard of them) and little shortcuts she learned along the way. One of her shortcuts was combining Jello to vanilla pudding mix which she made, reducing the amount of milk slightly and combining it with whipped cream. This was one of my favorites. She would use it in cream puffs, banana cream pie and all manner of desserts calling for pastry cream. I loved every one of them.
This Double Banana Caramel Cream Pie is an expanded version of one of her specialties. It features a flaky pie crust, pastry cream lightened with whipped cream, a layer of caramel and two layers of bananas. While I chose to flavor my pastry cream with dark rum, this may be omitted if desired. For those of you who love the banana/chocolate combination, you could substitute a chocolate ganache such as the one used in the L'Opera Petit Fours for the caramel, making it a Double Banana Chocolate Cream Pie. Then again, if you're craving a banana cream pie without the accouterments, then omit the caramel and there you have it – but twice as good.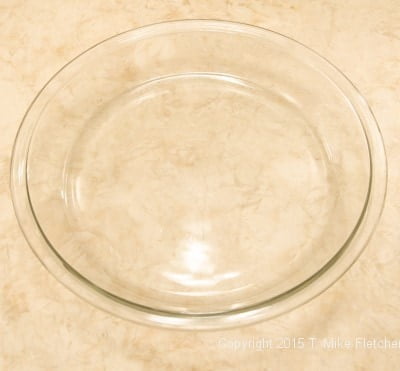 The 9" Pyrex glass pie plate is my favorite and is the most inexpensive there is. I think I paid $2.79 for it at Walmart just a few months ago. I like it because I can see if the bottom is browning. If it isn't, I move it to the bottom rack of the oven to finish baking.
The beauty of this banana cream pie is that all the parts need to be made ahead and just assembled in the freshly baked and cooled pie crust. The pie crust can be made and frozen, but not baked. Bake just before using. The caramel and pastry cream, without the whipped cream added to it, can be made days ahead and held in the refrigerator.
The entire Double Banana Caramel Cream Pie needs to be assembled and refrigerated very early in the day it is to be served or the day before serving. Store any leftover pie in the refrigerator.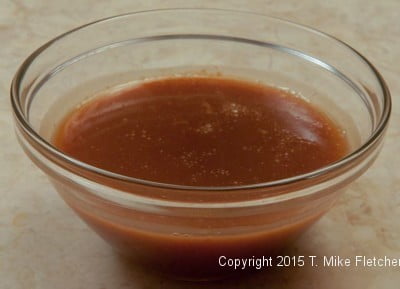 Caramel – using the ingredients listed below, for how to photo's for the Caramel. Be sure to watch the temperature closely as if it goes above 230°F, it will be too hard to cut and eat when cold.½ cup cold water
¾ cup sugar (150 grams or 5 ⅓ ounces)
1 tablespoon corn syrup
3 ½ tablespoons unsalted butter (52 grams or about 1 ¾ ounces)
½ cup 40% cream, hot
½ teaspoon vanilla
Place the water, sugar and the corn syrup in a 2-quart saucepan. Stir over heat until the sugar is dissolved completely. Bring to a boil; wash sides of pan down with a natural bristle pastry brush dipped in cold water, then boil without stirring until the mixture becomes a medium golden color. Off heat, immediately add the butter and stir until it is melted. Combine the cream and vanilla then stir in all at once. If some of the cream lumps up don't worry. Return to medium high heat and bring to a boil. Boil to 230 degrees on a candy thermometer. Pour into a bowl. Do not stir at this point as it can become granular if you do. Allow it to come to room temperature. Refrigerate for longer storage.
Yield: ¾ cup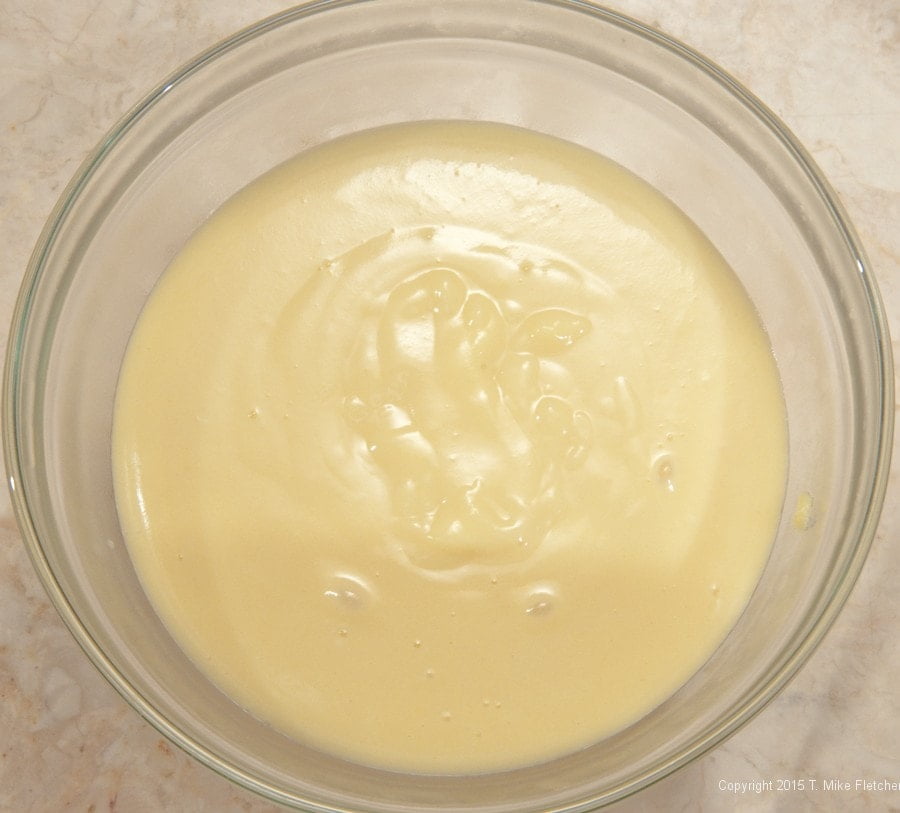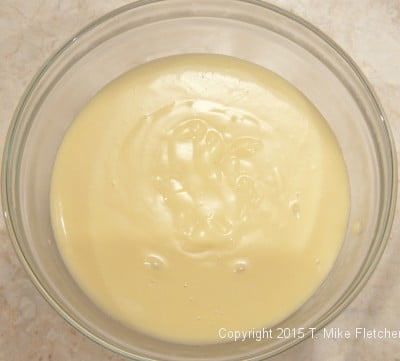 Pastry Cream - using the ingredients listed below, for pastry cream how to photo's.1 ½ teaspoons gelatin
1 tablespoon water
1 ½ cups milk
6 egg yolks
¾ sugar (150 grams or 5 ⅓ ounces)
⅓ cup flour (40 grams or about 1 ½ ounces)
3 tablespoons dark rum or water
Soften the gelatin in the water and set aside.
Heat the milk until hot but not boiling.
Whisk the egg yolks and sugar together in a non-reactive saucepan. Whisk in the flour. Add the milk slowly, whisking well and scraping corners of pan with a rubber spatula to make sure all of the egg yolk mixture is incorporated. Place over medium heat and, stirring constantly, bring to a boil. Boil for 1 minute, stirring constantly. Remove from the heat and add the vanilla. Tear the gelatin into small pieces and stir it into the pastry cream. There is no need to liquefy it, the heat of the mixture will do this for you. Pour into a storage container, cover the surface with plastic wrap, poke a few holes in it and refrigerate overnight to chill.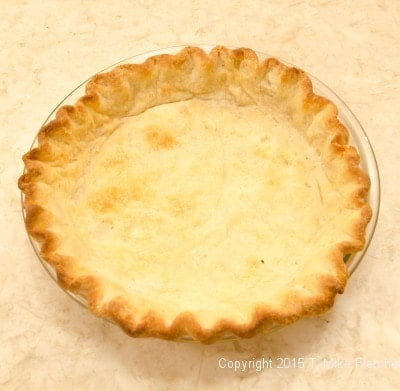 9" Fully Baked Pie Crust – Pie crust recipe and how to photo's.
Assembly
¾ cup 40% or heavy cream
Pastry cream
Completely baked 9" pie shell
Caramel
3 Bananas ripe but firm and not brown inside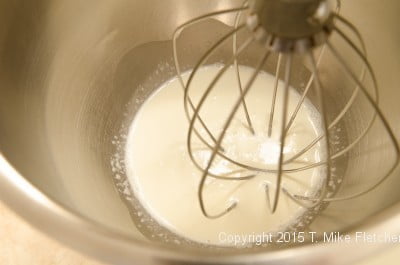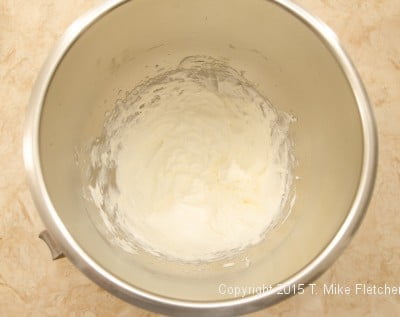 Whip the cream to medium stiff peaks.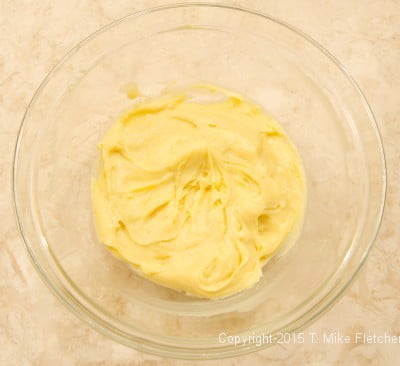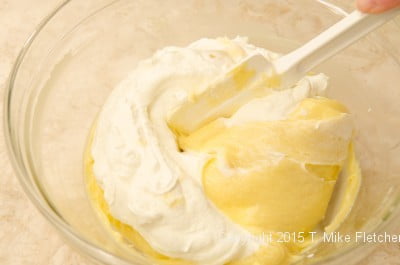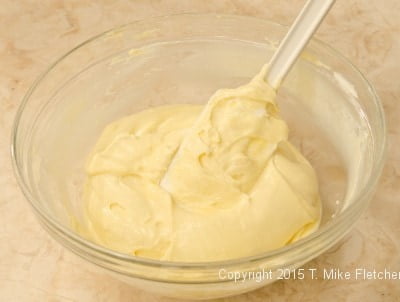 Stir the pasty cream to loosen it. Fold the whipped cream into the pastry cream. Set aside.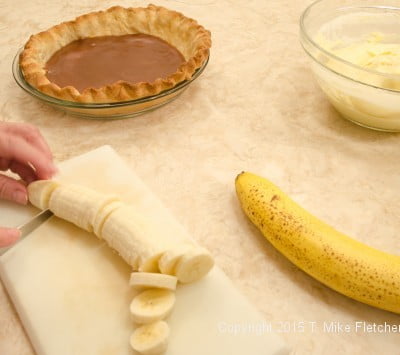 Soften the caramel briefly in the microwave if chilled. Spread the caramel in the bottom of the shell. Slice the bananas about ¼ inch thick.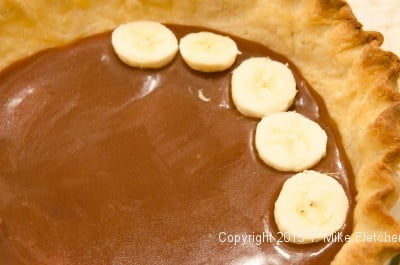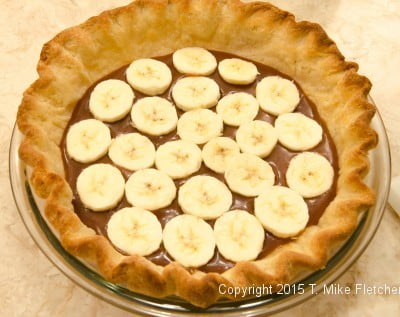 Press bananas into the caramel in a single layer.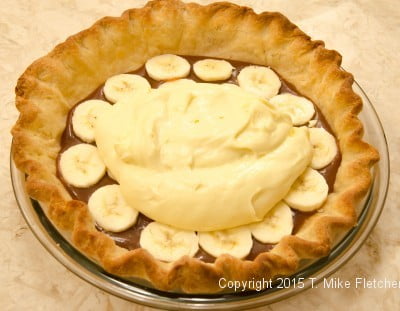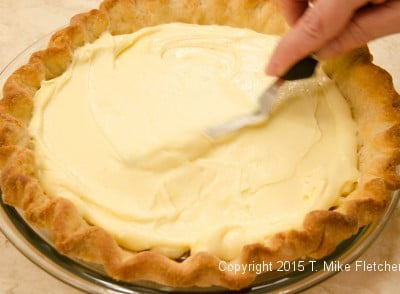 Cover the bananas with half of the pastry cream, spreading it to the edge.Cover the pastry cream with the remaining bananas in a single layer.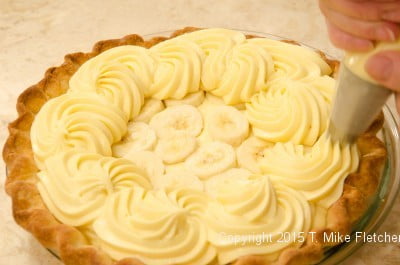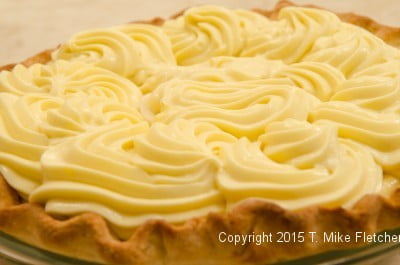 Place the remaining pastry cream into a pastry bag fitted with a #8 or #9 open star and pipe the pastry cream on top of the bananas. Alternately spread it on top to finish the pie. If making ahead of time, cover loosely with film and refrigerate. Room temperature for about 1 hour if made ahead of time.
Store in the refrigerator.