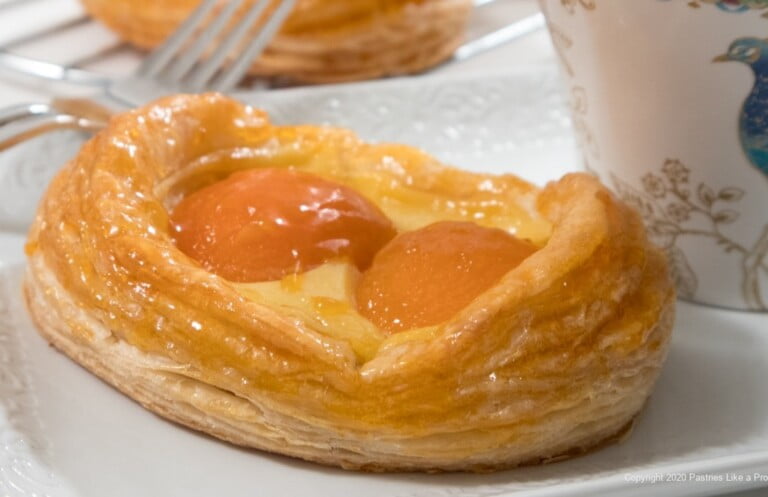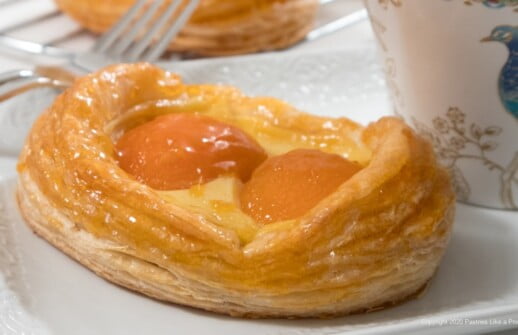 You might recognize Sunny Side Up Apricot Pastries if you own "Baking with Julia" by Julia Child. Michel Richard, the consummate baker contributed the recipe. These are a playfull French pastry featuring puff pastry, pastry cream and apricots. The finished pastries look just like sunny side up eggs. I told you he is the consummate baker!
I made a few changes by using my puff pastry which doesn't require butter blocks or days to make as well as my pastry cream. Canned apricot halves in light syrup are used since they are unavailable fresh this time of year.
A Few Changes
It's interesting how recipes change over the years. In my original book, The New Pastry Cook I used a combination of all purpose and cake flour which is more like pastry flour for the puff pastry. Then, at some later date, I changed it to bread flour which is a much stronger flour. While both rose nicely, I decided that the bread flour was rather a sturdy dough when baked. So I am back to the original flours. They bake up crisp but more tender.
While many recipes for pastry cream have the finished product being pushed through a sieve or strainer after it is cooked, I find this to be a cumbersome. The only reason I can see for straining it is to remove the possibility of lumps caused by the cooked chaleze which is the white cord that attaches the yolk to the white in the egg.
So, I strain my mixture before it is cooked when it liquid and easily goes through the strainer without pushing it through after it is cooked. If there are lumps after cooking, it wasn't stirred the whole time and the starch coagulated in lumps. So just stir the whole time.
Making the Sunny Side Up Apricot Pastries Ahead
Although this recipe may seem daunting when first looked at, it can be broken into parts making it very easy to make. The puff pastry can be made a month ahead, frozen and thawed. Likewise, the pastry cream can also be made and, because it uses flour as a thickener instead of cornstarch, it can also be frozen.
The entire Sunny Side Up Apricot Pastries can be assembled, frozen for several weeks and then baked off from the freezer. Since they should be eaten warm, this is the ideal solution to warm French pastries for breakfast or brunch.
A Tip for Success
It would be helpful to read the posts on puff pastry and pastry cream before starting.
Puff Pastry
For how to pictures go here but use the ingredients listed below. I strongly suggest using a scale for the measurements.
1 cup unsalted butter (225 grams, 8 ounces or 2 sticks)
1 ¼ cups all purpose flour (170 grams or 6 ounces)
¾ cup cake flour (85 grams or 3 ounces)
1 teaspoon salt
⅔ cup + 1 tablespoon cold water
Cut each stick of butter into small pieces and freeze until hard.
Combine the all purpose, cake flour, and salt in the bowl of a food processor. Pulse several times to mix.
With the processor running pour the water down the feed tube. Process until a ball forms. The dough will be soft. If it isn't, add additional water a teaspoon at a time.
Remove the dough and knead it a few time to make a smooth ball. Flatten to about 1". Wrap in plastic wrap and freeze until the edges of the dough are hard about 1 ½" in toward the center.
Do not freeze the entire dough.
Divide the dough into 4 pieces and divide each of those piece into 3 more pieces. Place 3 piece of dough in the processor with ¼ of the frozen butter. Pulse to cut the dough and the butter into pieces. I pulse very quickly about 20 to 25 times. The dough and butter will be cut into varying size pieces which as it should be. Empty the contents of the bowl onto your work surface and repeat 3 more times.
Push the dough together into a block about 8x6 inches. Lightly flour under and on top of the dough and roll out to 18x6 inches. Square the sides up by pushing them inward with a ruler or bench scraper. Lightly re-flour as necessary. Use a pastry scraper to scrape away the dough and flour from under the pastry from time to time. Be sure to wipe your rolling pin clean with paper towels to keep it from sticking.
Brush off any flour on the rolled out dough. Fold both ends to meet in the center. Brush off flour again and fold in half.
Roll and fold again in the same manner. Wrap in plastic wrap and chill for at least an hour or two. Repeat the rolling and folding twice again as above. After this, the puff pastry can be refrigerated for 3 days or frozen up to 6 months. Defrost in the refrigerator if frozen before using. Do not thaw at room temperature.
Use as directed.
Yield: About 625 grams or 1 ⅓ pounds
Pastry Cream for Sunny Side Up Apricot Pastries
While the ingredients remain the same for this version of my pastry cream, I made it slightly easier to make. Take note that my pastry cream, now as in the past, uses flour as the thickener so it can be frozen. Cornstarch breaks down when thawed after freezing, flour does not. So this can be made ahead and frozen.
This recipe makes about a cup of pastry cream. The recipe can be doubled or tripled if more is needed.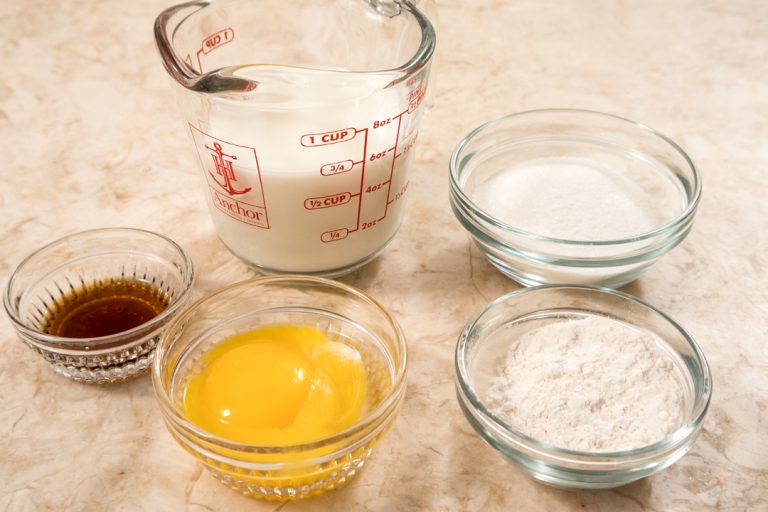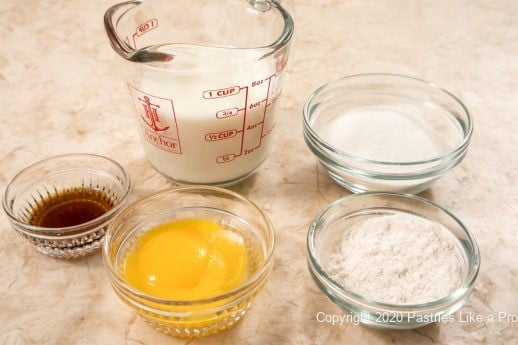 ¾ cup milk
2 large egg yolks
¼ cup granulated sugar (50 grams or 1 ¾ ounces)
2 tablespoons all purpose flour (14 grams or ½ ounce)
1 teaspoon vanilla
Heat the milk until hot but not boiling. Set aside.
Whisk the egg yolks and sugar together in a small bowl.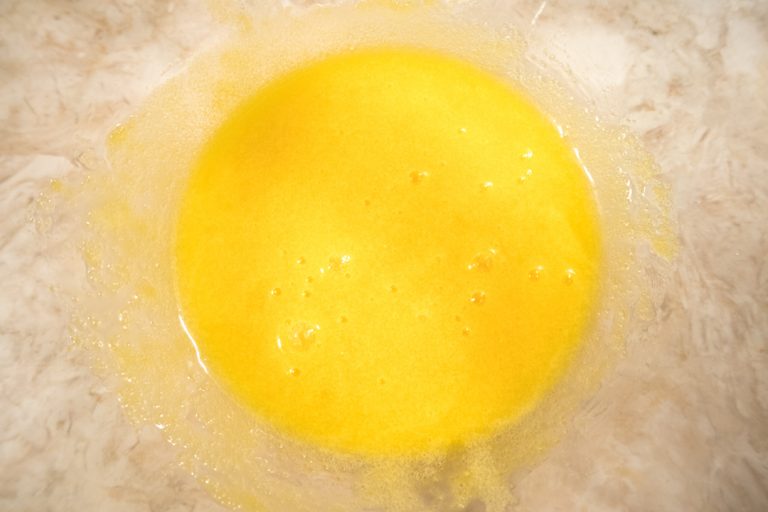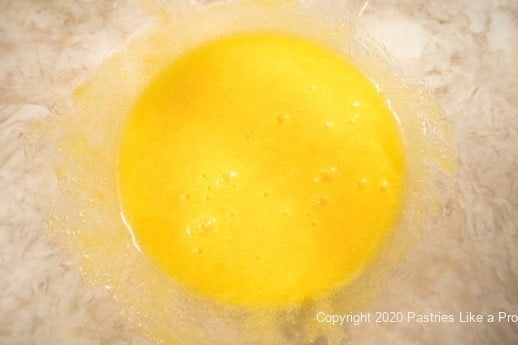 Add the flour and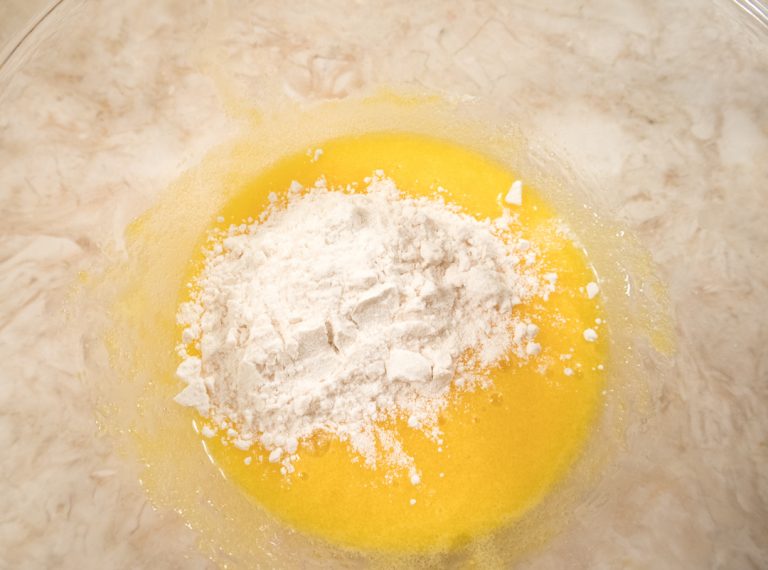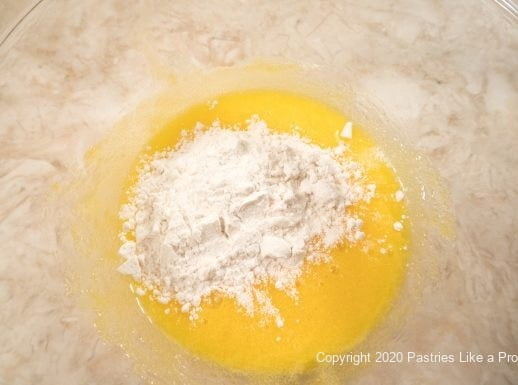 whisk until smooth.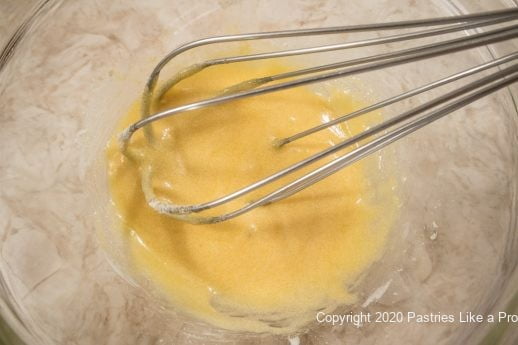 Pour the milk in, whisking together. Be sure to get into the edges of the bowl.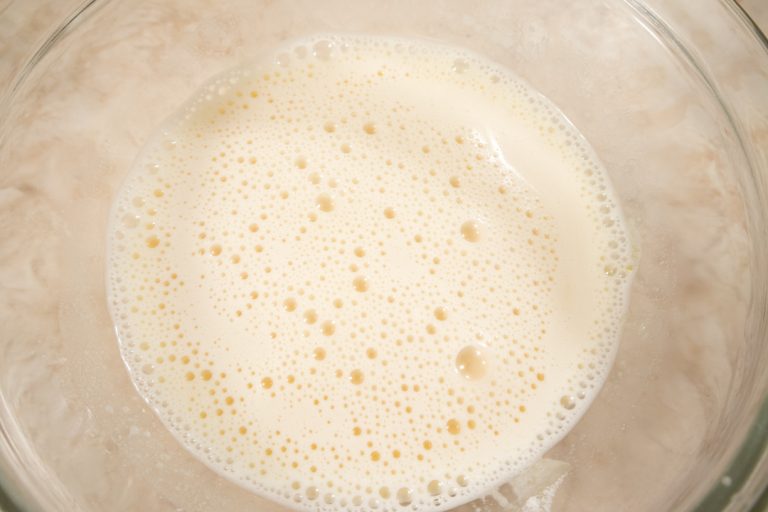 Pour through a strainer or sieve into a small pan to remove the chaleze. The chaleze is the hard white cord attaching the yolk to the white. When separating eggs it can stay attached to either the yolk or the white. It becomes hard when cooked.
Over medium heat whisking constantly, bring the mixture to a boil and cook for 1 minute.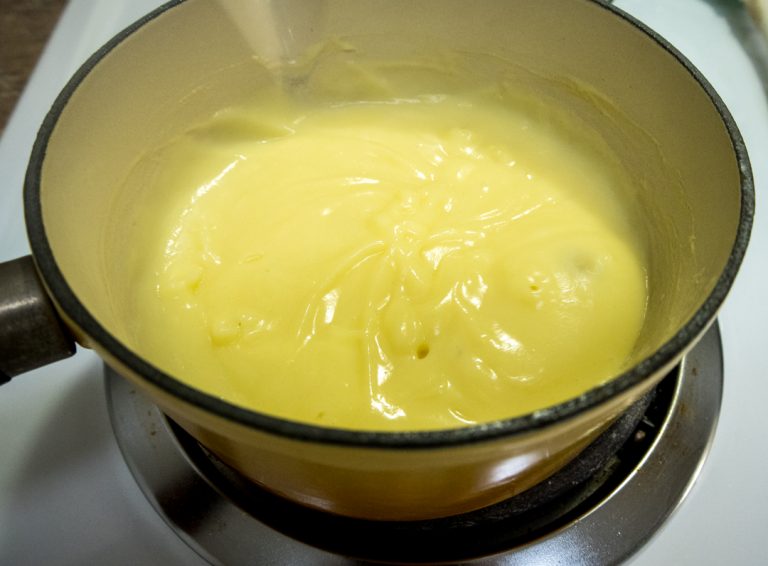 Remove from the heat and whisk in the vanilla.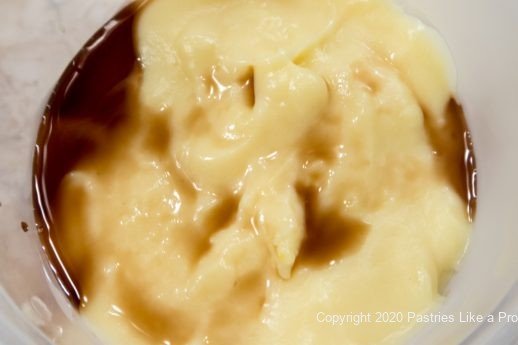 Pour into a storage container, place plastic wrap directly on top of the pastry cream and cool to room temperature. Cover and refrigerate up to a week or freeze for several months. Thaw in the refrigerator if frozen.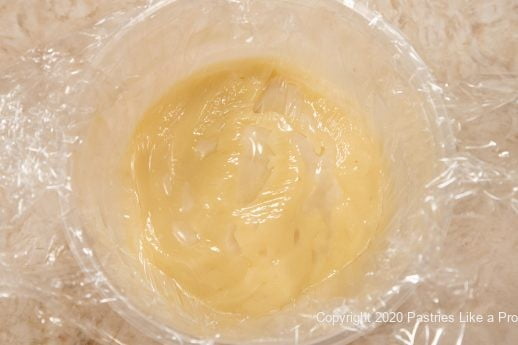 Yield: 225 grams, 8 ounces or about 1 cup
Assembly
Puff Pastry
Canned Apricot halves in Light Syrup, well drained
¾ cup apricot jam or preserves
1 teaspoon water
The puff pastry should be very cold and cut with a round cookie or pastry cutter. Do not use a glass or a bowl and cut around it. This would risk sealing the edges of the pastry and prevent them from expanding as they should.
When ready to use roll out to a 7 ½ x 11x½ inch rectangle. Chill or freeze to firm up before cutting. Using a 3 ½ round cutter, cut 6 rounds straight down (2 across – 3 up). Do not twist the cutter or the pastry can puff up lopsided.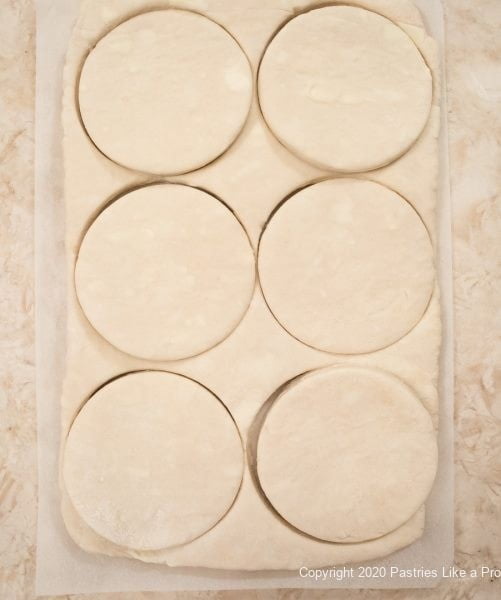 These should be firm enough to roll immediately. However, it is best to roll one piece at a time and keep the others refrigerated.
Place a round in front of you and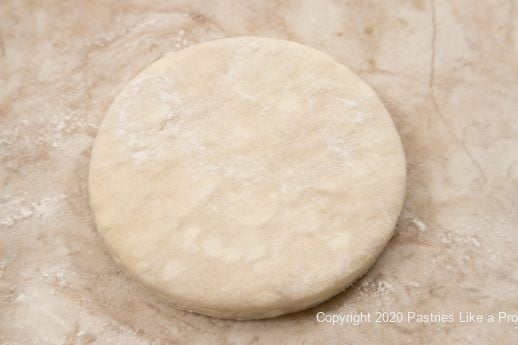 roll from the center to within about ½" from each side creating a 5 ½ inch oval. Do not roll over the ends. They have to be higher to puff up and enclose the apricots.
Place them on a baking sheet about an inch apart and refrigerate while rolling the remaining 5 rounds.
Whisk the pastry cream to smooth it out.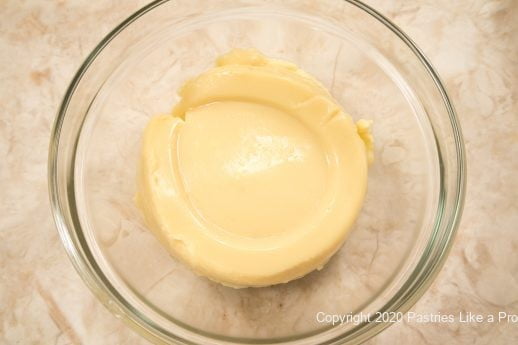 Spread 2 tablespoons over the flat part of the puff pastry.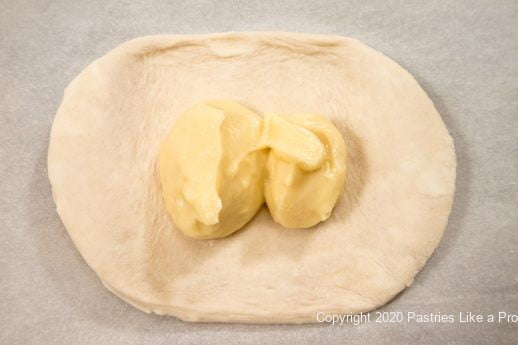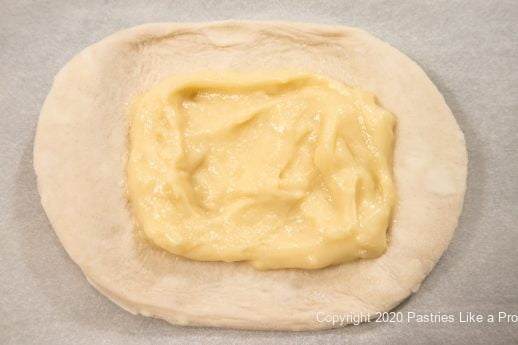 Place 2 apricot halves side by side on top of the pastry cream.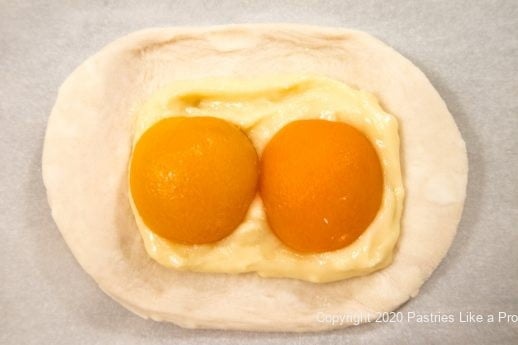 Place in the freezer until completely frozen through. At this point they can be wrapped well and kept frozen for at least a month.
Baking and Finishing the Sunny Side Up Apricot Pastries
When ready to bake, preheat the oven to 350°F. Double pan the pastries and bake for 35 to 40 minutes until golden brown.
In the meantime, heat the jam until hot. Strain it to remove any solids. Stir in 1 teaspoon of water.
Remove the pastries to a parchment covered cooling rack. Cool for 5 to 10 minutes.
Brush the pastries with warm apricot jam all over.
These are best eaten warm the day they are made.
Yield: 6 Sunny Side Up Apricot Pastries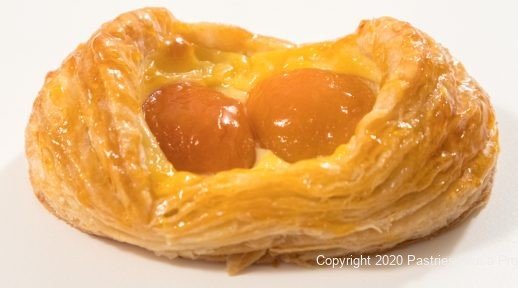 If you enjoyed this post, here are several ohers:
60 Second Brioche
Cuccidati Coffeecake
Chocolate Spiced Coffeecake