Cuccidati Coffeecake came about because of my love of this Italian cookie. When I was researching cookies for my cookie book, a co-worker told me about Cuccidati cookies. I have loved them ever since.
The dough for this coffeecake is a delight to work with. However, it is very soft and needs to be worked really cold to keep it rolled out to the dimensions called for and to spread the filling out without stretching it.
The look of the cut coffeecake is achieved by cutting the filling topped dough into strips and then arranging them in the pan so they stand up in a circle. When the Cuccidati Coffeecake is cut the filling is vertical instead of the normal horizontal. It's like magic!
Pronounced "Koo-cha-dot-ee", this coffeecake features the same filling as in the cookies – figs, raisins and dates, almonds, walnuts, lemon and orange zest with just a touch of honey, rum and cinnamon. Buy the moistest mission black figs and raisins you can find. Pitted medjool dates round out the trio of fruits.
Every part of this recipe can be made up to three days ahead and refrigerated which is ideal if you're short on time. The baked coffeecake can also be frozen. I particularly love that it stays moist for days and is perfect with a cup of coffee or tea.
Cuccidati Coffeecake Dough
¼ cup butter (½ stick, 60 grams or 2 ounces)
¼ cup sugar (50 grams or 1 ¾ ounces)
¼ cup water
½ teaspoon salt
½ cup sour cream (114 grams or 4 ounces)
1 large egg
1 teaspoon vanilla
2 cups all purpose flour (280 grams or 10 ounces)
1 teaspoon instant yeast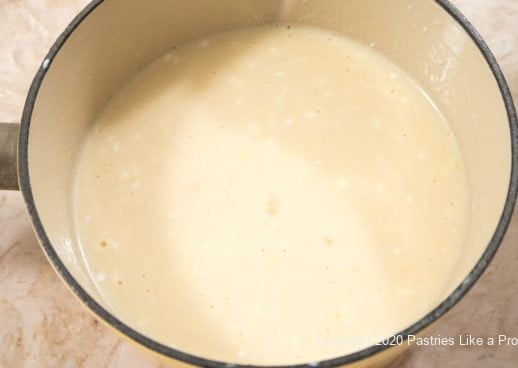 Cut the butter into pieces and place it in a small saucepan along with the sugar, water and salt. Heat until the butter is melted. Remove from the heat and let it sit until it is lukewarm. When it comes to temperature, whisk in the sour cream, followed by the egg and vanilla.
Add the flour and yeast to the bowl of a mixer. Mix it to combine them.
Add the liquid and beat on low until it comes together. Knead on medium or whatever setting your machine suggests for 3 minutes, rearranging after about 1 ½ minutes as the dough will adhere to the top of the dough hook and not get beaten. The dough will be very soft and more of a batter.
Place it in a greased bowl or container, cover with plastic wrap and mark the time on it. Allow it to rise until doubled, about 1 ½ to 2 hours.
After it has risen, punch it down, re-cover it and refrigerate overnight or up to 3 days so the butter can firm up. It will probably rise again in the refrigerator and that is fine.
Cuccidati Coffeecake Filling
6 ounces Mission black figs, stems cut off (170 grams)*
¼ cup raisins (40 grams or 1 ⅓ ounces)
¼ cup pitted Medjool dates (50 grams or 1 ¾ ounces)
¼ cup slivered almonds, toasted (30 grams or 1 ounces)
¼ cup walnuts (30 grams or 1 ounces)
3 tablespoons honey
2 tablespoons dark rum
1 teaspoon cinnamon
Zest from ½ orange
Zest from ½ lemon
*I used moist figs and raisins but if yours are really dry, place the figs in a small pan. Cover with hot water. Simmer for about 10 to 15 minutes until plumped. Add the raisins for the last few minutes to plump them also. Drain very well. Squeeze out any excess water before processing.
If the figs do not need to be rehydrated, cover the raisins with very hot water and let them sit while gather the remaining ingredients.
Place the almonds and walnuts in the bowl of a processor. Process them until finely ground. Squeeze the excess water from the raisins and add them and all of the remaining ingredients including the figs and dates to the processor. Process until a spreadable paste forms. Add water, a tablespoon at a time or less, if necessary, but keep it thick. Refrigerate up to a week if not using.
Bring to room temperature to use.
Crumb Topping
Go here for how to photos.
½ cup unsalted butter, softened (114 grams, 4 ounces or 1 stick)
⅓ cup granulated sugar (65 grams or 2 ¼ ounces)
⅓ cup packed dark-brown sugar (65 grams or 2 ¼ ounces)
¾ teaspoons ground cinnamon
¼ teaspoon salt
1 ½ cups cake flour (190 grams or 6 ⅔ ounces)
Combine the butter and both sugars in a mixer. Cream until very light. Combine the cinnamon, salt and flour; add all at once and beat on medium just until large crumbs form. Scrape down the sides and the bottom for unincorporated flour. Mix briefly.
Do not over mix or you will end up with a really thick cohesive mixture. Store the crumbs in the refrigerator while you make the cake or up to 3 days covered.
Cuccidati Coffeecake Assembly
Line a 9x3 inch cheesecake or springform pan with parchment paper. Spray the paper and sides of the pan with a non-stick release. Set aside.
Yeast dough
Cuccidati Filling, room temperture and spreadable
1 egg, well beaten
Crumb Topping
Powdered sugar
Note: The dough is very soft and it is easiest to roll out and fill if it is almost frozen. Return it to the freezer anytime it becomes too soft to work.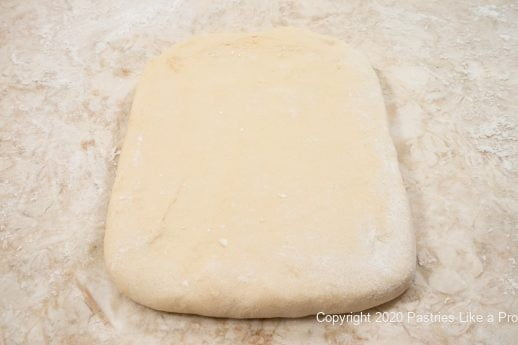 Turn the dough out and deflate it. Roll it into a rectangle, approximately 8x6 inches. Freeze until quite firm but not frozen.
Roll dough into a 10 ½ x13 inch rectangle. Place it on a parchment lined baking sheet. If it has become soft, return it to the freezer to firm up.
Spread the filling evenly over the dough.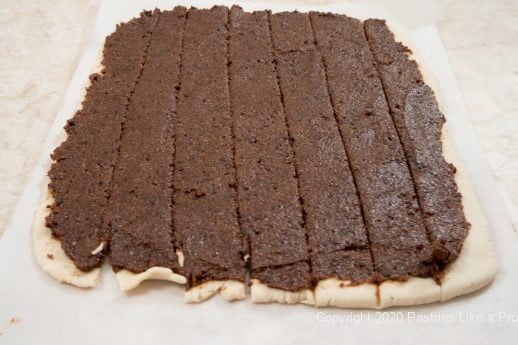 Cut it into seven 1 ½ inch strips from the 10 ½ inch side. It is easiest to do this with a pizza cutter.
Roll one piece into a tight coil. Place it in the middle of the pan.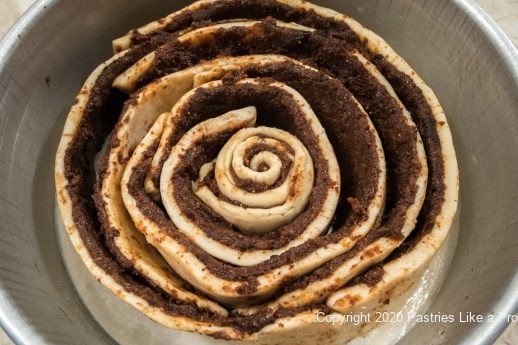 Take another strip of dough and place it next to the end of the coiled dough and roll it loosely around the coil. Continue in this manner until the dough is completely used. Don't be concerned about the area between the strips of dough. It will all come together.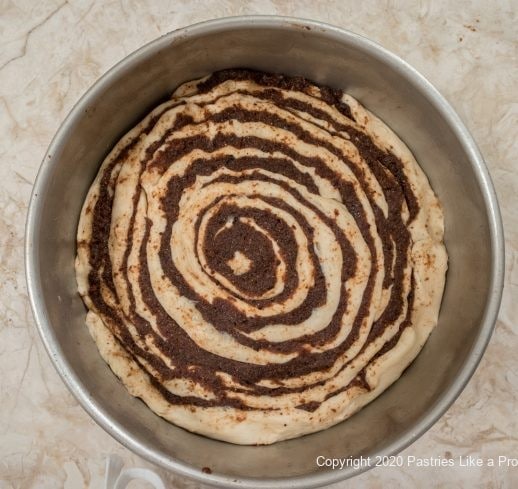 Press down lightly to fill the pan. Cover and let rise until doubled, about 1 to 1 1/1 hours.
Preheat the oven to 350°F.
Brush the egg wash on top of the coffeecake. Distribute the Crumb Topping evenly. Press down lightly.
Bake for 30 to 35 minutes until the crumbs are golden brown and a tester comes out clean. If the middle humps up during baking, just press it down with a pot holder when it comes from the oven. Cool. Go around the edge of the pan with a spatula.
Remove the Cuccidati Coffeecake from the pan. Turn it over to remove the parchment paper. Turn it right side up.
To serve, dust with powdered sugar.
The coffeecake will last several days when well covered and kept at room temperature. Or it can be frozen without the powdered sugar and well wrapped for several months. Thaw at room temperature. To freshen, wrap in foil, leaving an opening at the top. Heat the oven to 350°F and warm for about 20 minutes. Dust with powdered sugar when cool.
I think you might also like these:
New York Style Crumb Cake
Pina Colada Coffee Cake
Chocolate Spiced Coffee Cake