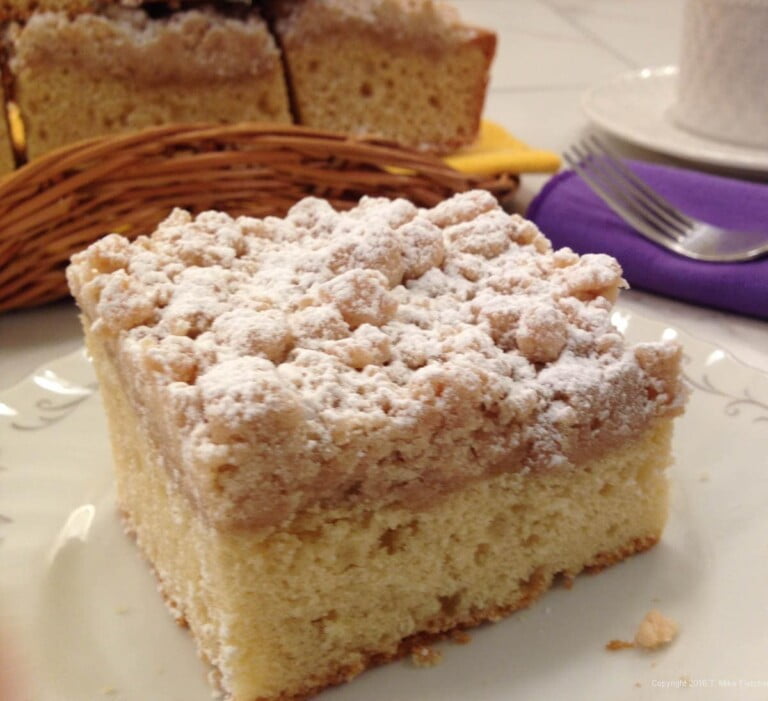 New Yorker's like to take credit for the New York Crumb Cake. But it actually made it's way over from Germany. In any case the New York Style Crumb Cake is a wonderful breakfast treat that is easy to put together and wonderful served slightly warmed with coffee or tea.
Recently, Tony's took over the last of the food services in the building. While only breakfast and lunch are served, they are made with the same care and attention that is brought to the restaurant and indicitive of the Tony's name.
I make a lot of the cookies, fruit breads and bars as well as the quiches. I am always on the hunt for something new. I was looking for coffeecakes on the net when I ran into the New York Crumb Cake. I have always loved crumb cakes and thought it would be a good addition for Tony's A.M.
There is basically one recipe for the New York Crumb Cake done by a bunch of different people. From what I can glean, Cook's magazine had it first but Martha's is the most mentioned and copied. Martha's is twice as big as Cook's. Mine is a variation of the standard and makes a really light coffeecake with lots of big crumbs dusted with powdered sugar.
My biggest change is how everyone puts the crumb topping together. I was amused by the various descriptions of the melted butter poured over the sugar/flour mixture and tossed in with a fork. When I tried this, mine turned into a thick, heavy blob but it definitely wasn't crumbs. Some had a heavy dough they put in the refrigerator and pinched off pieces to make the crumb topping, others had a goopy topping they dropped by bits onto the batter. It may have all worked but why go through all of that? There's no magic to making crumbs for a cake in the mixer. Fast, efficient and big fat crumbs with no stress. You don't even have to clean the mixer to make the cake!
I used the topping for the crumb cake with no change in the ingredients but did make a couple of changes to the cake. I increased the baking soda to give the cake a better texture, added more vanilla and used 3 eggs instead of 2 eggs and 2 yolks. I am not particularly fond of separating eggs so as far as I am concerned, 2 yolks equals 1 whole egg. I am aware there is a slight difference in weight but it really doesn't matter.
It is important to use cake flour in this recipe. Since you will be using 5 ½ cups, there won't be much left over out of a two pound box if you are only making this cake.
So here is the St. Louis variation of the New York Crumb Cake via Germany.
Crumb Topping
2 sticks unsalted butter, softened (225 grams, 8 ounces or 1 cup)
⅔ cup granulated sugar (130 grams or 4.5 ounces)
⅔ cup packed dark-brown sugar (130 grams or 4.5 ounces)
1-½ teaspoons ground cinnamon
½ teaspoon salt
3 cups cake flour (not self rising) [375 grams or 13.5ounces]
Combine the butter and both sugars in a mixer.
Cream until very light.
Combine the cinnamon, salt and flour; add all at once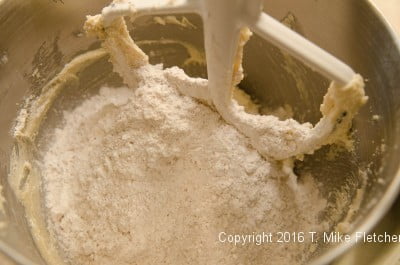 and beat on medium just until large crumbs form.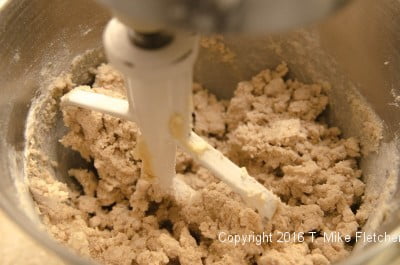 Scrape down the sides and the bottom for unincorporated flour. Mix briefly. Do not over mix or you will end up with a really thick cohesive mixture. Store the crumbs in the refrigerator while you make the cake.
Cake
2-½ cups cake flour (not self rising) [310 grams or 10.75 ounces]
1 teaspoon baking soda
½ salt
1 cup granulated sugar (200 grams or 7 ounces)
1-½ sticks unsalted butter, room temperature (170 grams, 6 ounces or ¾ cup)
3 large eggs
2 teaspoons pure vanilla extract
⅔ cup low-fat buttermilk
Powdered sugar for dusting
Preheat the oven to 325°F. Line a 9x13 inch pan with parchment. Spray under the parchment to hold it in place and spray the parchment and sides of the pan. Set aside.
Whisk together the flour, baking soda and salt in a medium bowl. Without cleaning the bowl in which the crumbs were made, beat the butter and sugar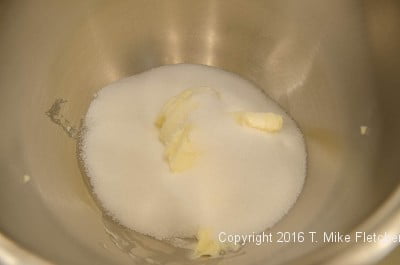 on medium speed until pale and fluffy.
Beat in eggs one at a time and then the vanilla.
If it curdles, that is fine.
Add flour alternating with buttermilk, beginning and ending with flour. Beat until well combined.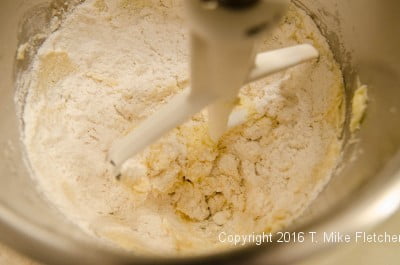 Spoon batter into pan and
spread evenly using an offset spatula.
Spread the crumbs evenly over the batter.
Bake until golden brown and a cake tester inserted into the center comes out clean, about 45 minutes. Transfer the crumb cake to a rack and cool about 15 minutes. Dust with powdered sugar.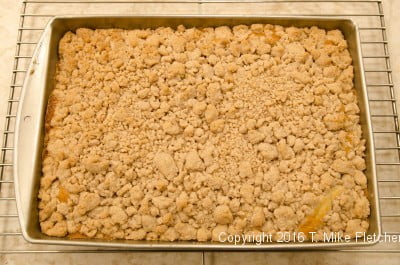 This crumb cake also freezes well. Just wrap it well and freeze. To use, I would recommend unwrapping it and thawing it completely first. Rewrap it in foil and reheat it in a 350 degree oven for 15 to 20 minutes - just to warm it all the way through.