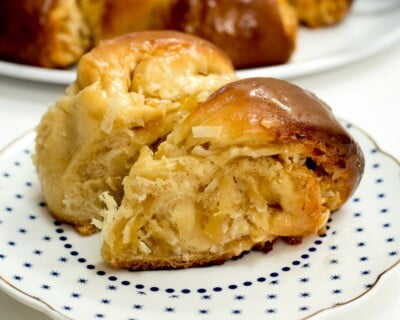 This Pina Colada Coffeecake was one of the most fun ideas I have had in a while. I am so bogged down with cookie ideas and cookie testing, I sometimes get stuck for other ideas.
I took a recipe for Hawaiian Buns from King Arthur, changed it here and there, filled it with pineapple and coconut, then finished it with a Malibu rum and coconut glaze. I used crushed pineapple in pineapple juice and unsweetened shredded coconut to control the sweetness of the filling. Additionally, by draining the juice from the pineapple, I used it in the bread recipe.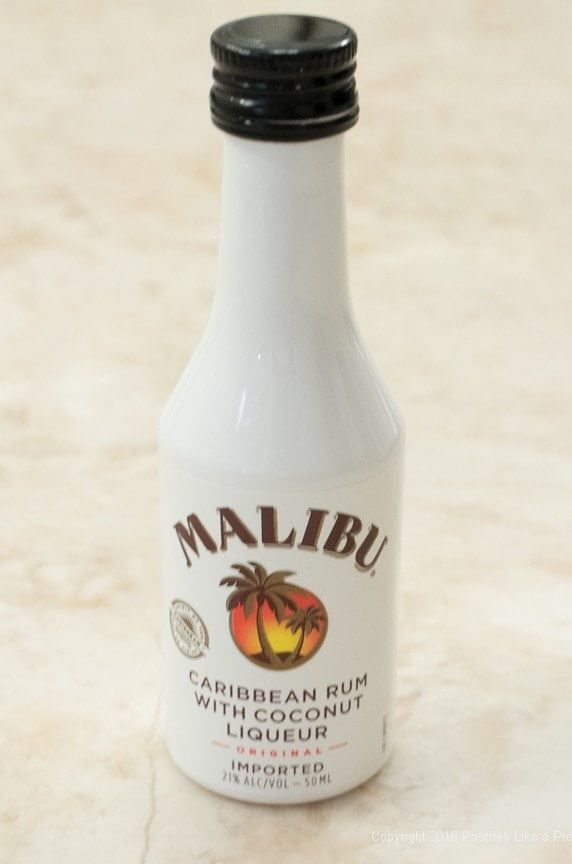 To avoid buying a big bottle of the Malibu Liqueur I found small airline bottles at my grocery store. One is just enough for this recipe. Be sure to get the plain Malibu Coconut Rum. It is offered in a variety of flavors.
The dough is a joy to work with. It is actually more of a batter. As such, it is best to let it chill overnight so it becomes firm. It can be refrigerated up to 3 days before filling and shaping. When chilled, it rolls beautifully without a lot of spring back.
This is one of the few times I use a cookie sheet as opposed to a half sheet pan because of the way this coffeecake is shaped. The coffeecake is large and the cookie sheet is wider with no rims on two sides.
I have to admit, I was so excited rolling the dough I had it rolled and filled before I remembered I was supposed to be taking pictures. But it is easy to do and you shouldn't have trouble.
This Pina Colada Coffeecake is not too sweet. It can start or end your day on a happy note. I hope you enjoy this as much as we do!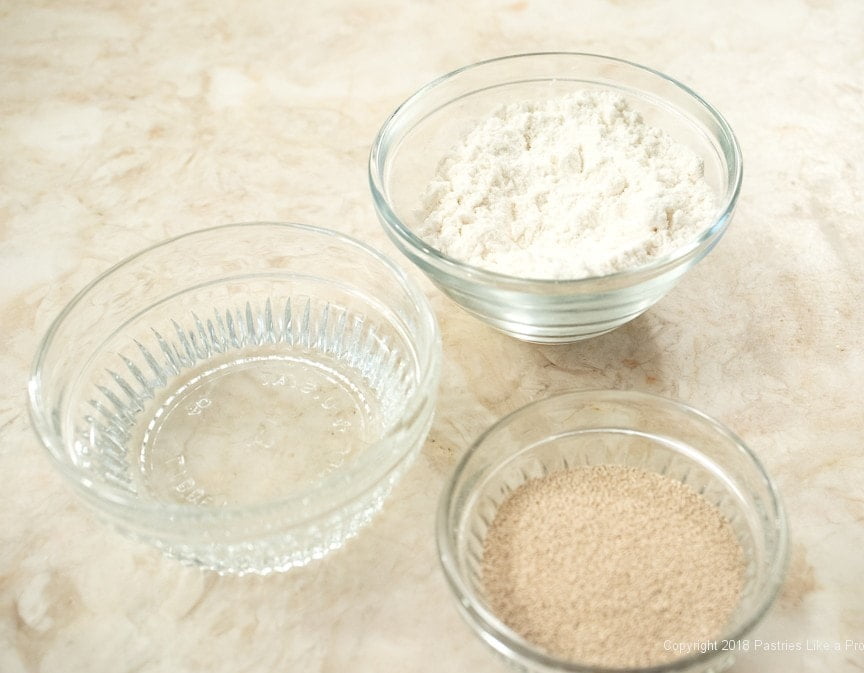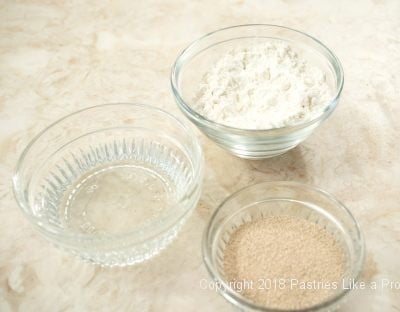 Pina Colada Coffeecake Sponge
¼ cup bread flour (35 grams or about 1 ¼ ounce)
1 tablespoon instant yeast, also known as bread machine yeast
2 tablespoons water
Combine the ingredients in the bowl of a mixer. Beat until mixed. It will be very stiff. Cover with plastic wrap and let sit for 15 to 20 minutes.
Pina Colada Coffeecake Dough (photo includes sponge ingredients)
1 – 15 ounce can crushed pineapple in pineapple juice
2 ¾ cups bread flour (385 grams or 13 ½ ounces)
1 teaspoon salt
½ cup pineapple juice from the crushed pineapple
¼ cup butter, melted (60 grams, 2 ounces or 4 tablespoons)
⅓ cup packed light or dark brown sugar (65 grams or 2 ¼ ounces)
2 eggs + 1 egg yolk
1 teaspoon vanilla extract
1 teaspoon coconut extract
Drain the crushed pineapple very well. Reserve the juice. Set both aside.
Whisk together the flour and salt. Set aside.
In the same bowl with the sponge, add the pineapple juice, butter, sugar, eggs and yolk, and both extracts. Fit the mixer with the paddle attachment and mix together completely.
Add the flour, mixing until it comes together. Change to the dough hook if you have one and continue mixing for about 3 minutes when a smooth batter will form.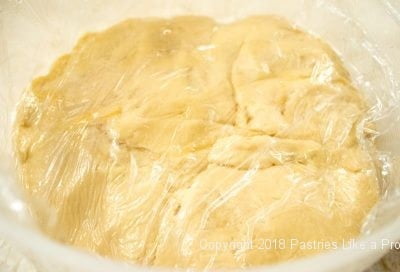 Spray a 2 quart container with cooking spray and place the dough in it. Cover directly with plastic wrap and then cover the container. Let it rise for about 1 ½ to 2 hours until doubled. Punch down, re-cover, place the lid on and refrigerate overnight or up to 3 days.
Pina Colada Coffeecake Filling
1 ½ cups very well drained crushed pineapple
1 ½ cups unsweetened flaked coconut (70 grams or about 2 ⅕ ounces)
⅓ cup packed light or dark brown sugar (65 grams or 2 ¼ ounces)
Squeeze small portions of the crushed pineapple between your hands to remove excess juice.
Continue until all of it is done. There should be about 1 ¼ cups pineapple.
Combine all the ingredients in a bowl and set aside.
Assembly– the dough will be easy to roll and handle as long as it is cold. So, no phone calls or distractions before finishing.
Line a cookie sheet with parchment paper, overlapping it if necessary. Set aside.
Roll the dough into a 24" wide x 10 " tall rectangle horizontally in front of you. Spread the filling over the dough. It will not completely cover the dough, but even it out leaving about 1" uncovered on both side edges. Roll up the dough and pinch the seam together.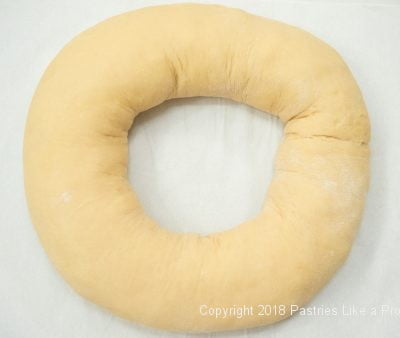 Turn the dough so the seam is on the bottom. Shape into a circle. Moisten the ends of one piece of the end dough and slip it into the other to form the circle. Press down lightly to seal the ends together. Place it on the prepared cookie sheet. There should be about a 4" circle in the center.
Mark the Pina Colada Coffeecake every 1 ½". Slice ¾ of the way through from the outside to the inside of the circle. Cutting with scissors makes this easy. Turn every other slice on its side and pull it into the middle.Spray a piece of plastic wrap and place it loosely over the coffeecake. Let it rise until puffy and about doubled – 45 minutes to an hour.
Preheat the oven to 350°F. Double pan and bake for about 40 to 45 minutes until deep golden brown, covering it loosely with foil if it browns too quickly. Pina Colada Coffeecake Glaze
3 tablespoons butter
¼ cup Malibu Coconut Liqueur
½ cup sugar (100 grams or 3 ½ ounces)
Shortly before the coffeecake is finished baking, combine the glaze ingredients in a small saucepan. Bring to a hard boil and boil for 2 minutes.
Remove from the heat.
Immediately after removing the coffeecake from the oven, brush it with half of the glaze. Let it cool for about 30 minutes and then brush it with the remainder of the glaze which will have thickened at this point.
Cool completely.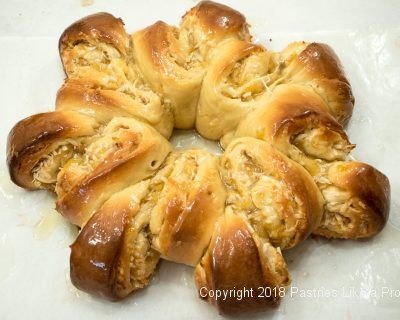 Note: The coffeecake can be frozen without the glaze for several months if well wrapped. Thaw at room temperature on a rack. Heat in a 350°F oven for about 20 minutes. Apply half the glaze. Cool; apply the rest of the glaze.
Here's another coffee cake you're sure to love: