Curdled Cake Batter can be alarming but it is easily fixed. Have you ever creamed butter and sugar together into a light fluffy mixture? And then, when eggs are added one at a time or all at once, the light, fluffy mixture breaks down separating into clumps that look like rice in liquid? Depending upon how much butter and sugar have been creamed one or two eggs might not do it. However, the third or fourth cause the dreaded curdling or breaking of the mixture.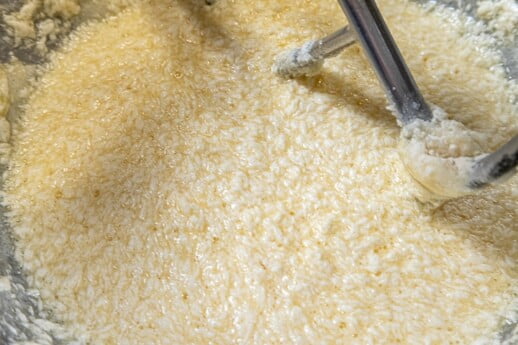 Emulsions
Many articles will tell you it's the temperature of the eggs and butter. When you beat the butter and sugar then add eggs an emulsion is created. Most emulsions occur in baking when fat is suspended in water. Eggs contain water in the whites. However, at some point, the mixture will curdle or break if too many eggs are added because the fat from the butter cannot hold any more water. This won't happen when adding yolks alone, because they don't have water. Since yolks are fat, adding fat to fat isn't a problem.
Avoiding Curdled Cake Batter
Having the butter and eggs around 72° to 74°F helps since adding cold eggs to a warmer creamed mixture can cause the butter to seize breaking into little clumps which isn't curdlig. Covering the refrigerated eggs in hot water while the other ingredients are being assembled will ensure they will be warmed when needed.
Although room temperature ingredients are helpful, I rarely remember and it honestly doesn't matter.
Remember too much water will cause the curdling also as will not beating the eggs long enough for the water and fat to come together.
Easy Fixes for Curdled Batter
There are basically two ways to fix the problem. The first is to simply raise the speed of the mixer. But this isn't the best solution because it can ramp up the gluten in the cake batter making it less tender.
The best way to fix curdled cake batter is simply to add the flour and mix on low. It will all come together in a beautifully emulsified batter with no hint of curdling.
At the end of some cake recipes they will add the flour and liquid alternately to the mixture in the bowl, starting and ending with the flour. That's to prevent the mixture in the bowl from curdling. If you added the liquid first, chances are it would curdle, so the flour always goes in first and last.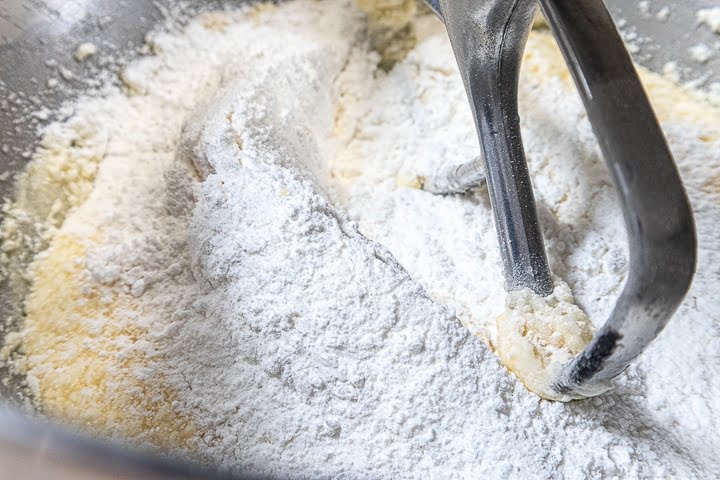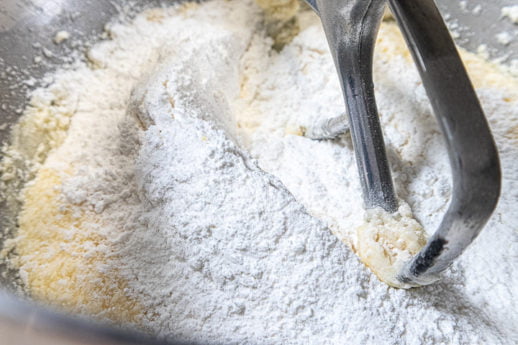 Recently, I've seen a number of articles that suggest adding a couple of tablespoons of flour as the curdling appears. But this isn't necessary. As you can see by the photos, add all the flour after the eggs have been added and it will come together as if there had been no curdling at all. Just remember to beat on low to medium low.