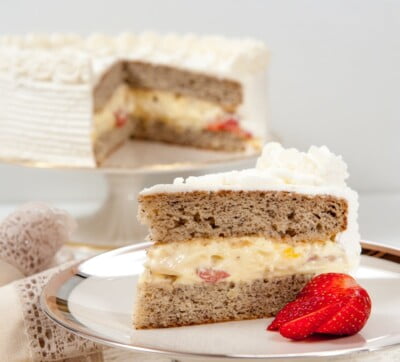 Bananas, strawberries and pineapple team up to make the Fruit Basket Banana Cake. It is the perfect cake if you are looking for something light but with lots of flavor and it is a great summertime dessert.
The banana cake is one I worked on for a while. Most banana cakes are heavy and I wanted one that was lighter but still had plenty of banana flavor. It is unusual in that it uses both oil and butter. Other than that, it is a straight forward, easy to make banana cake. The cake also makes great cupcakes with a browned butter buttercream.
The pastry cream is lightened with a bit of whipped cream. Crushed pineapple is folded in and after it is spread between the layers, strawberries cover the cream. The Fruit Basket Banana Cake is finished in whipped cream with a piped lattice design on top.
Pastry Cream - see https://europeantarts.com/2012/08/05/pastry-cream/ for how to photos
1 teaspoon unflavored gelatin
1 tablespoon cold water
1 cup milk
3 egg yolks
½ cup sugar (100 grams or 3 ½ ounces)
3 tablespoons flour
1 teaspoon vanilla extract
Soften the gelatin in the water and set aside.
In a small saucepan, heat the milk until very hot but not boiling.
Whisk the egg yolks and sugar together in a non-reactive saucepan. Whisk in the flour. Add the milk slowly, whisking well and scraping the corners of the pan with a rubber spatula to make sure all of the egg yolk mixture is incorporated. Place on top of a double boiler, whisking constantly. Heat until very hot and beginning to thicken. Remove from the top of the double boiler and place directly over heat. Whisk constantly until it comes to a boil; cook for 1 minute.
Remove from the heat and add the vanilla. Tear the gelatin into small pieces and whisk into the hot liquid until completely incorporated. Transfer to a bowl. Cover directly with film, cool to room temperature then refrigerate for at least 6 hours or overnight.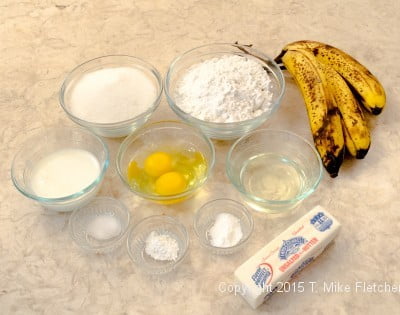 Banana Cake
2 cups sifted cake flour (200 grams or 7 ounces)
1 teaspoon baking soda
¾ teaspoon baking powder
¼ teaspoon salt
1 cup banana puree – about 2 large bananas (225 grams or 8 ounces)
⅓ cup buttermilk
⅓ cup oil
½ cup butter, softened (1 stick or 115 grams or 4 ounces)
1 ¼ cups sugar (250 grams or 8 ¾ ounces)
2 eggs
Preheat the oven to 350°F. Line two 9x2 inch cake pans with parchment.
Combine the flour, baking soda, baking powder and salt. Whisk to combine. Set aside.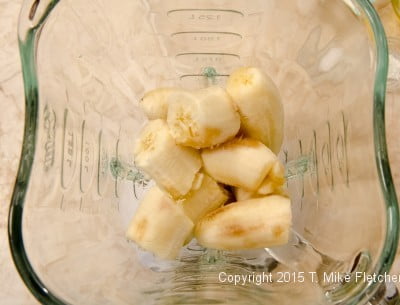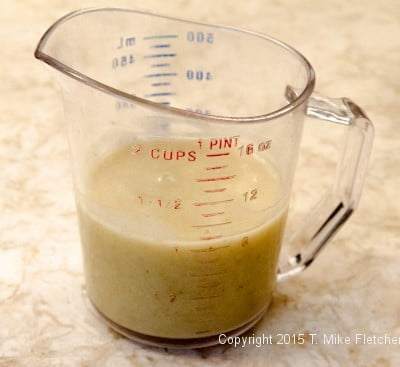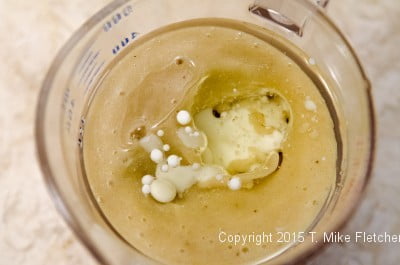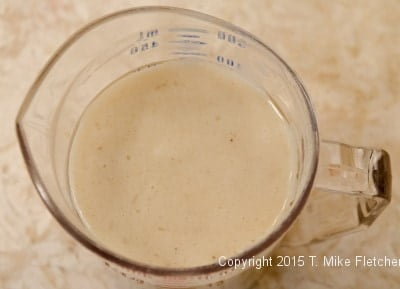 Puree the bananas in a blender or processor. Measure to make 1 cup.Add the buttermilk and oil. Mix well.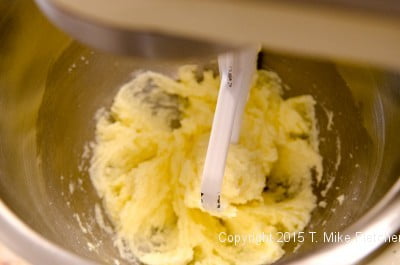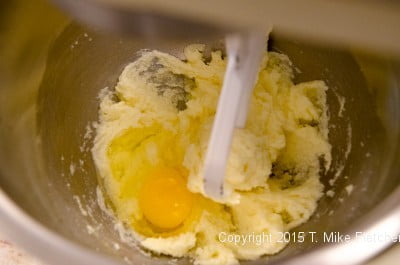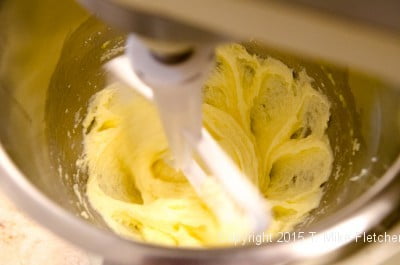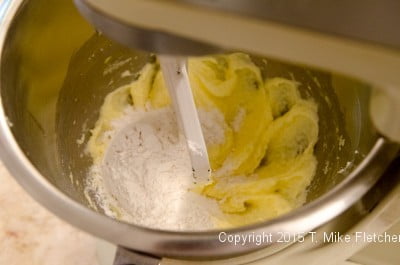 Cream the butter and sugar until combined. Add the eggs, one at a time. Alternate the flour and puree, starting with flour.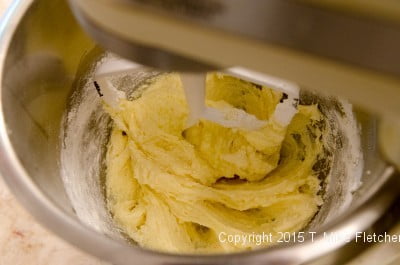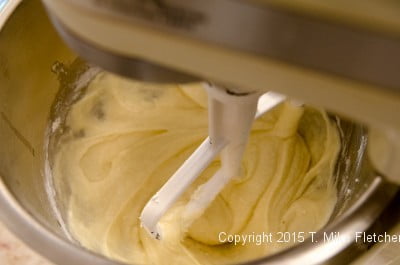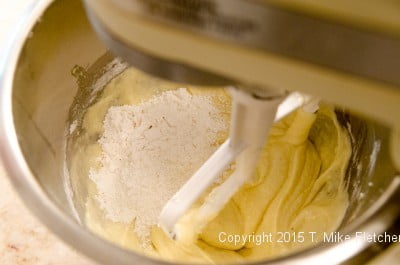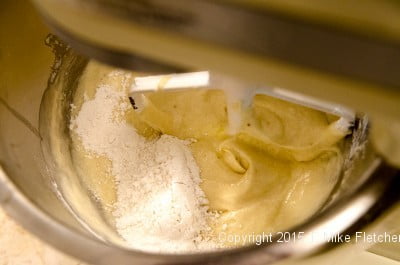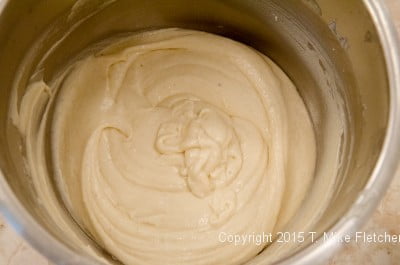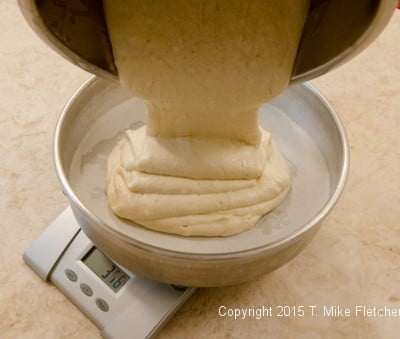 Add the puree.Repeat with the flour and puree once more.Finally add the remainder of the flour. Scrape down and mix well. Divide equally between the 2 pans (475 grams or 16 ½ ounces).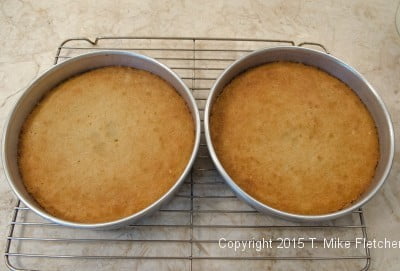 Bake for 20 to 25 minutes until the center springs back when lightly touched and the layers are an even medium golden brown.
Filling and Assembly
l recipe pastry cream (from above)
⅓ cup 40% whipping cream, beaten very stiff
½ cup very well drained crushed pineapple
l pint strawberries, sliced thickly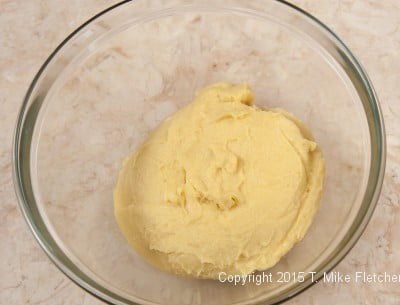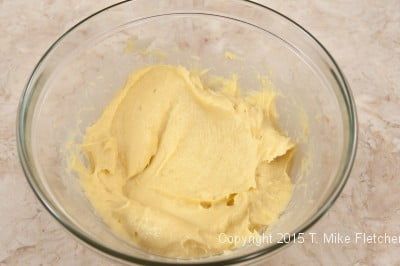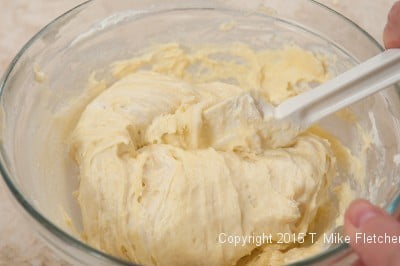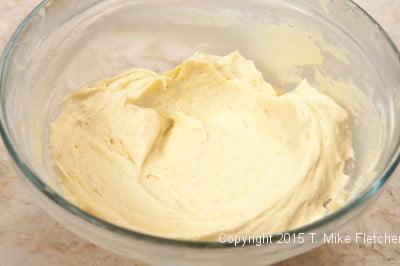 Remove the pastry cream from the refrigerator. Remove the plastic wrap. Stir it to loosen it up a bit. Place whipped cream on top of the pastry cream and fold together until smooth. Squeeze the remaining liquid from the pineapple. Fold in the crushed pineapple.
For how to photos of the next part, please see Carrot Cake Cheesecake.
Place l layer of banana cake in a 9 inch cheesecake pan. Spread ⅔ of pineapple mixture onto the layer. Place strawberries within ½ inch of edge of filling. Spread remainder of pastry cream over strawberries. Place the second layer of cake over filling. Press down lightly. Cover with plastic film and refrigerate a minimum of 4 hours or overnight.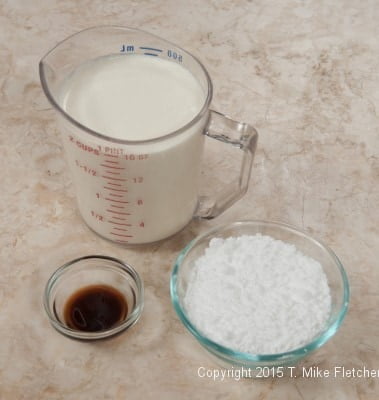 Whipped Cream Frosting
2 ½ cups 40% cream
¾ cup unsifted powder sugar, sifted (95 grams or 3 ¼ ounces)
1 teaspoon vanilla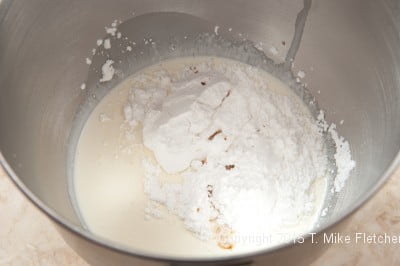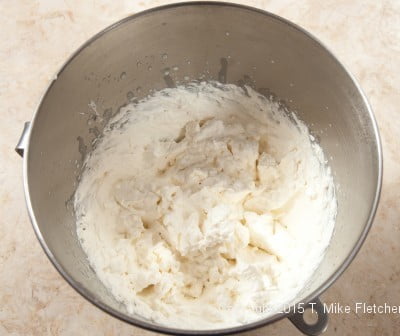 Whip cream, powdered sugar and vanilla until firm.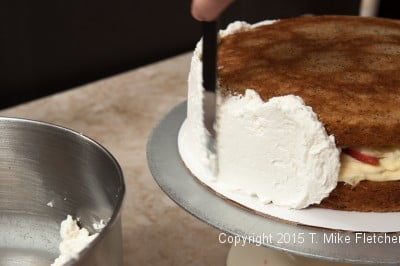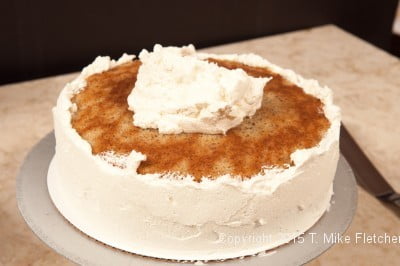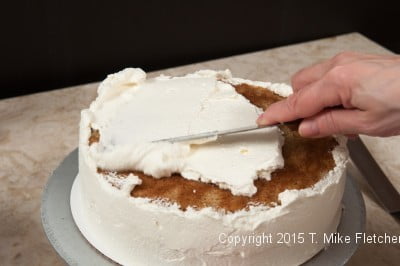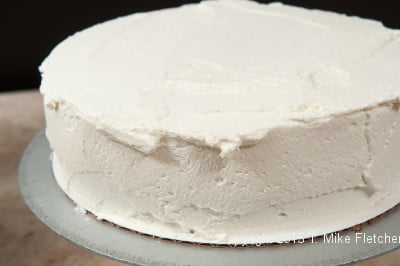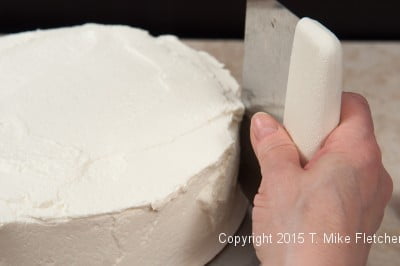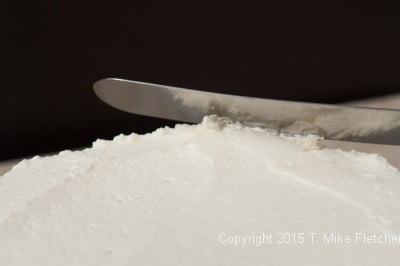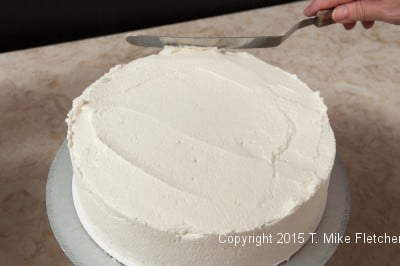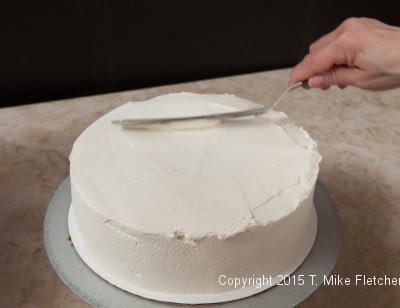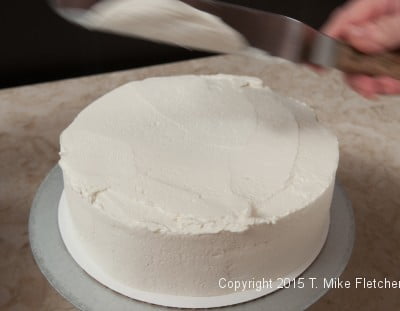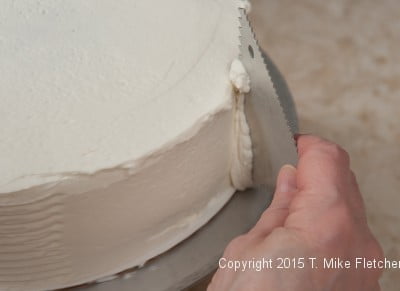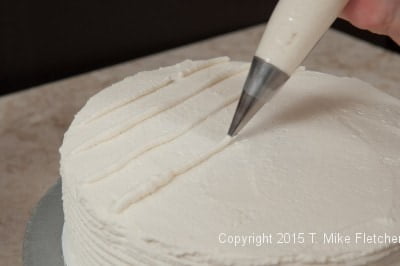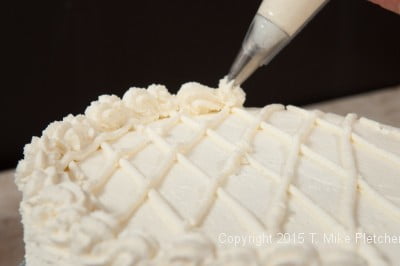 Release the sides of the pan by placing on a can and moving the sides down. See Carrot Cake Cheesecake for how to photos. Spread cream over sides of cake. Because this cake is not undercoated, use enough to enclose the sides well.Next finish the top, leaving enough cream for decoration. Smooth the sides of the cake with a bench scraperand then smooth the top. using a large off set spatula. Scrape the excess cream towards the center lifting the spatula as you go. Continue in this manner around the top. Comb the sides of the cake. With a number 1 or 2 plain tip and make a lattice design on top of cake to within ½ inch of the top edge.Finish edges with #4 closed star tip.
Refrigerate until serving. May be made, assembled and refrigerated overnight.