This easy Plum Crisp recipe uses readily available fresh plums and is ideal for beginners. It's much like a pie but with with no crust. The crispy topping stays crunchy under sweet-tart softened plums while a heavy dose of vanilla, turns a ho-hum crisp into a delicious dessert.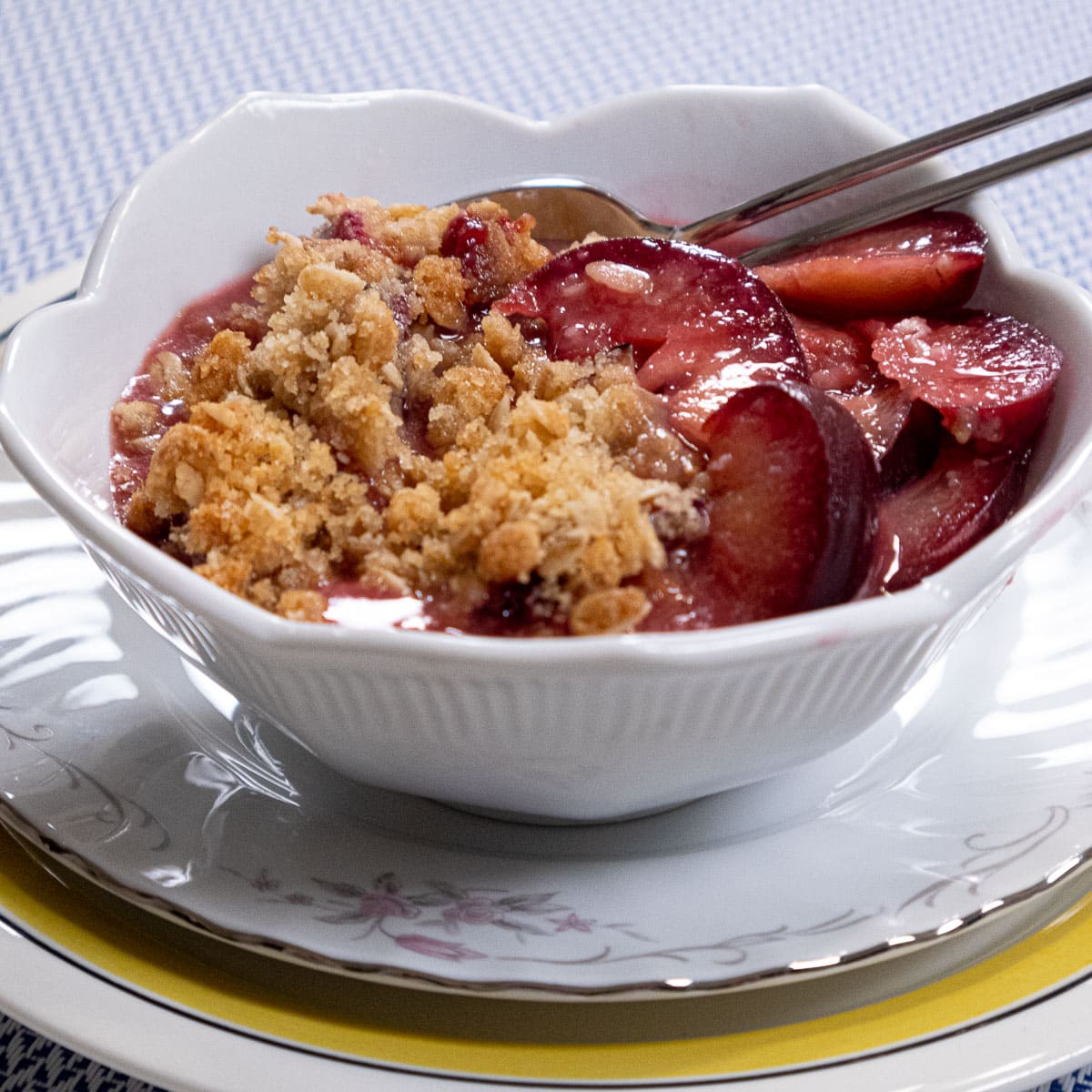 There are yellow plums, red plums, black plums and green plums. They come in all sizes for all tastes. Mirabelles are considered the sweetest, while Italian prune plums are exactly that – especially sweet when dried into prunes. There are American, Japanese, and European plums. All About Gardening has an interesting article with photos about the variety of plums.
My Best Plum Dumplings uses fresh Italian Blue Plums while the Gateau Breton uses them dried as prunes. Both are worth a look!
I used black plums for this recipe. They aren't actually black but a deep purple which I suppose looked black to whomever named them. They are of the larger variety and hold their shape well when baked. Santa Rosa's work well also. While plums aren't peeled, the stones can be a challenge to remove but I'm going to show you an easy way to do that.
Jump to:
Why You'll Love This Recipe
Simple and Quick to Make - There is nothing complicated about this recipe. It comes together literally in a matter of minutes and is a great finish for any meal. Just stir the topping together, the fruit together, into the pan it goes and bake. That's it!
Not too Much Sugar - At the bakery, we reduced the sugar in all of our pies so the flavor the the fruit is forward, not the sugar. I continue to make my fruit desserts this way and think you'll enjoy the enhanced flavor.
The crisp topping is plentiful and the crunchy texture blends perfectly with the soft fruit underneath.
A plum sauce is how I like to describe the looser than pie juiciness that bakes up.
This plum crisp is so delicious on it's own, I don't serve ice cream or anything else with it. Just enjoy the full flavor of the plums and the crisp for an old fashioned dessert that is just as popular today as ever it was.
The recipe uses Pantry Ingredients that are probably on hand with the exception of the plums.
This dessert is a great family dessert and especially good after barbecue.
Recipe Ingredients
Crisp Topping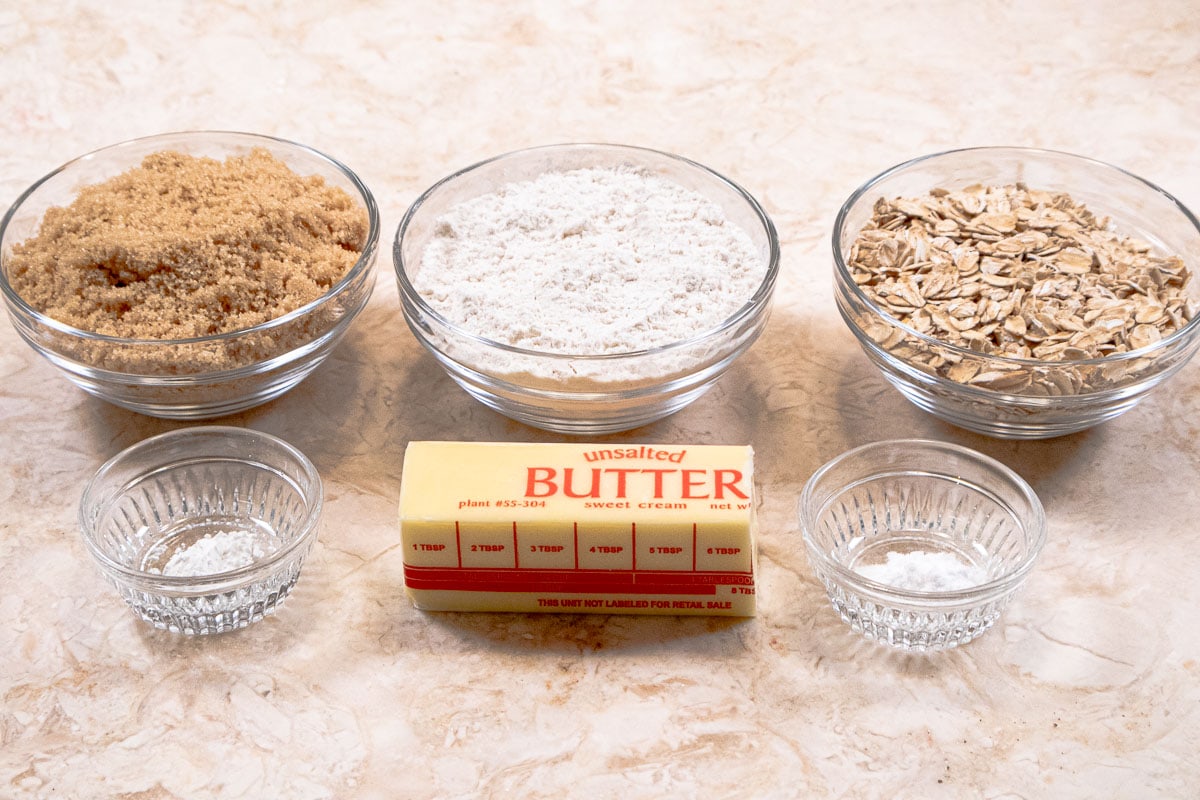 Ingredients read left to right.
BACK ROW: Brown sugar, flour, rolled oats
FRONT ROW: Baking powder, unsalted butter, baking soda
Plum Ingredients
BACK ROW: Plums, granulated sugar
FRONT ROW: Salt, flour, vanilla
Be sure to see the recipe card below for the full ingredients list and instructions.
Variations
Use half plums and half apricots for a change.
Substitute all fresh apricots for the plums in equal amounts.
Make individual crisps in 6 or 8 ounce ramekins. Place them on a tray and bake until the fruit is soft and the crisp is golden.
Step by Step Instructions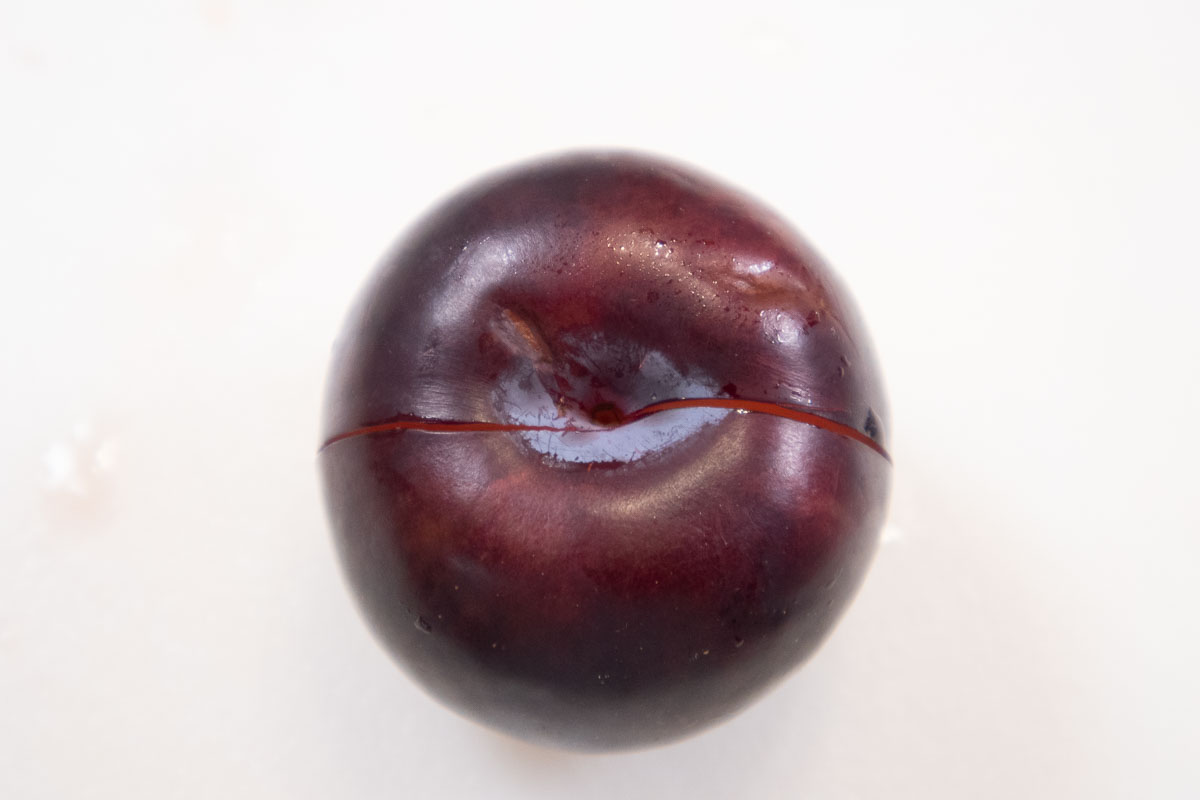 Step 1. Cut the plum through its equator and twist in opposite directions to separate them.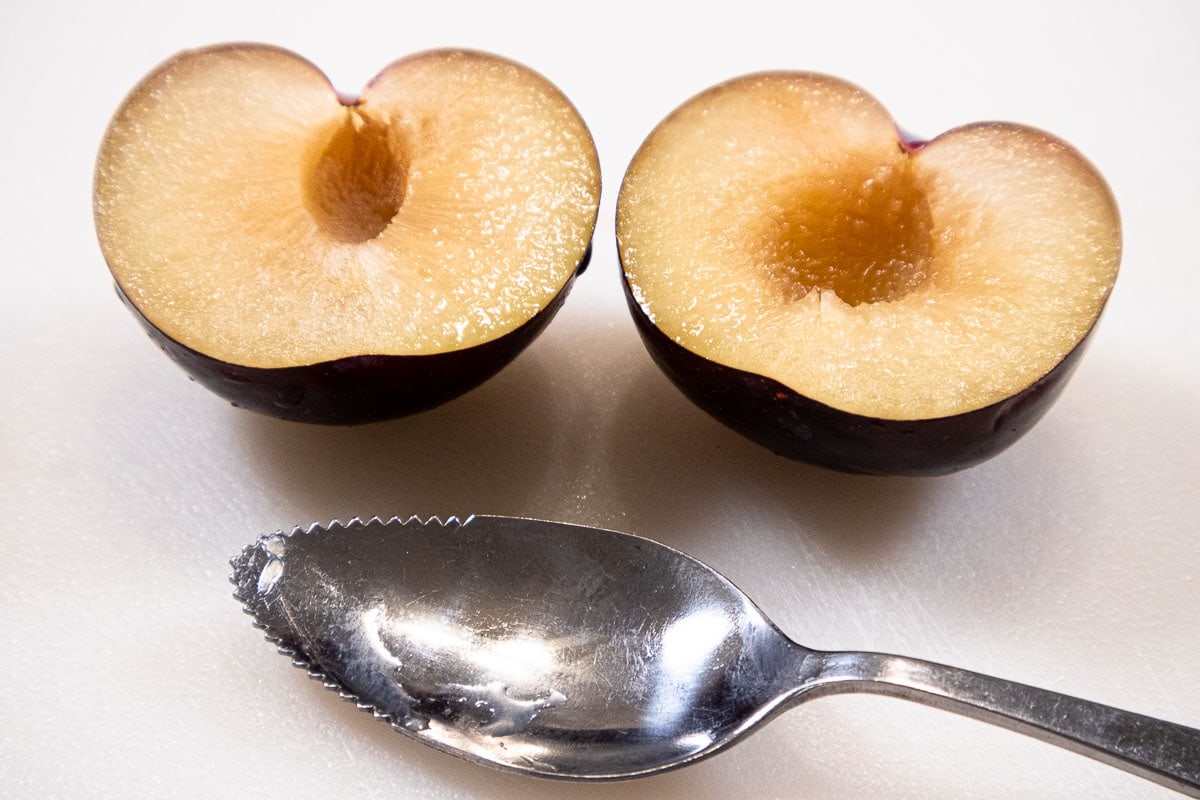 Step 2. Using a spoon with a serrated tip makes removing the pit of the plum much easier. Just go around the pit and lift it out.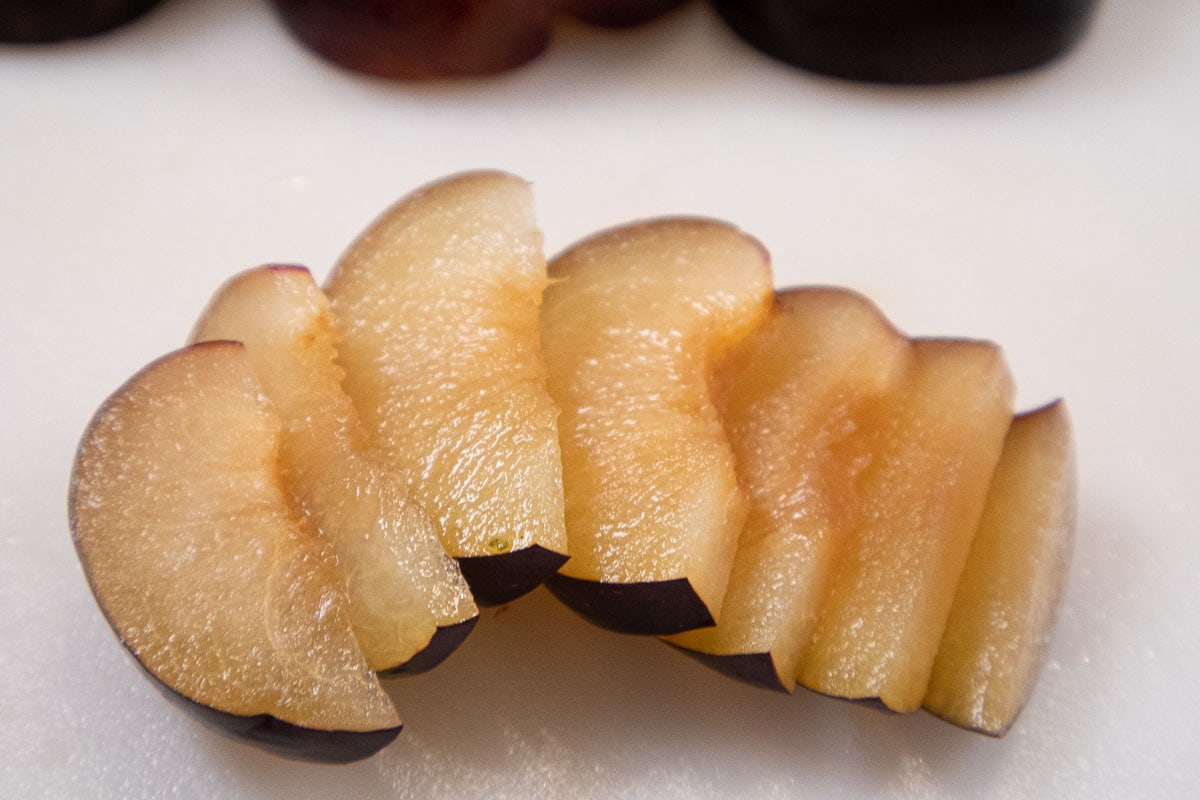 Step 3. Cut the plums in about ¼" slices. This is easiest done by turning the plum halves over and cutting from the skin side. Place in a large bowl.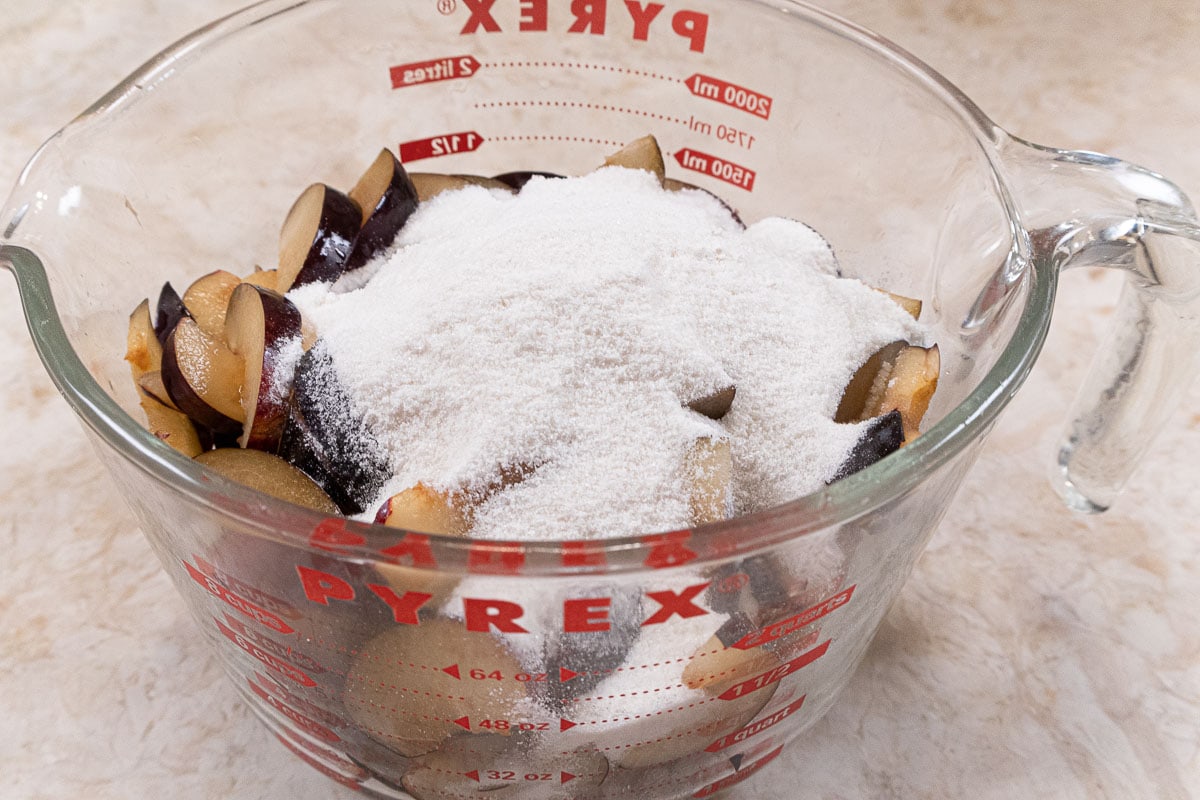 Step 4. Mix the dry ingredients together and add to the plums. Stir to coat them evenly. Set aside.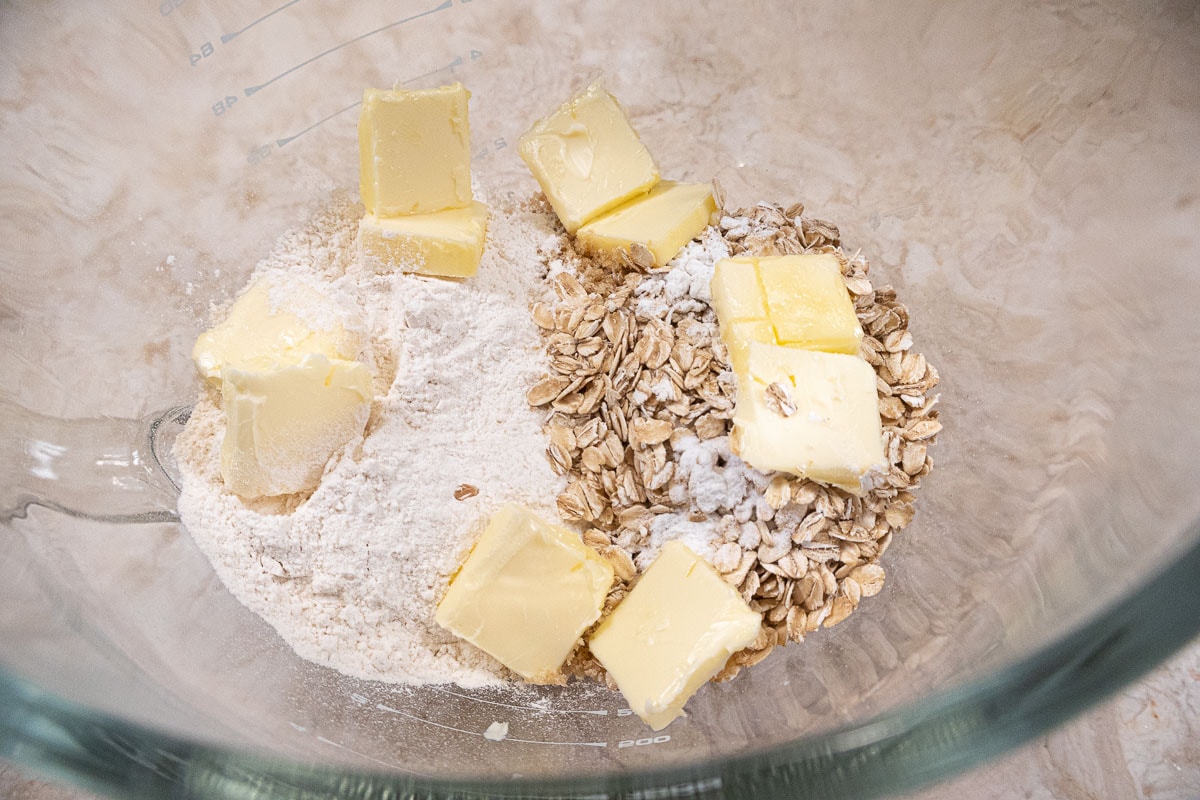 Step 5. Place all of the ingredients for the crisp in a mixing bowl.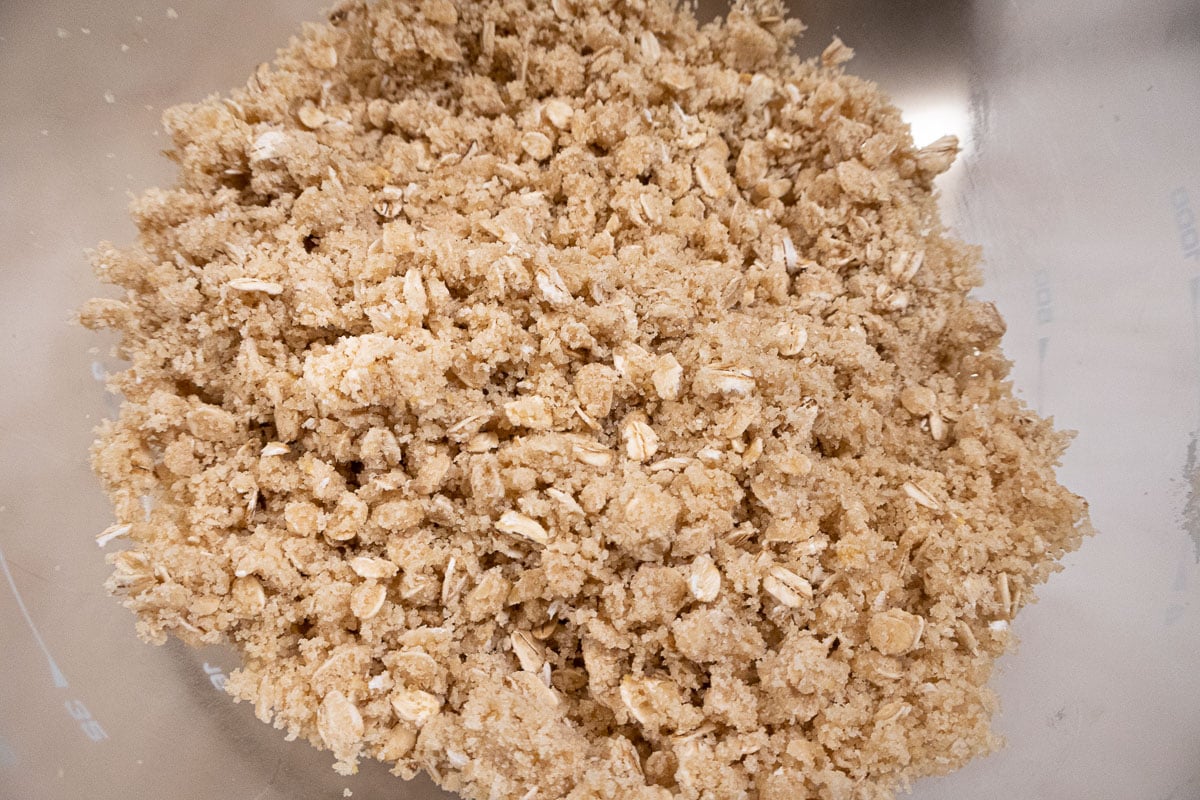 Step 6. Mix on low to bring ingredients together, then on medium to form the crumbs. Do not mix past the crumbs or it will become a paste.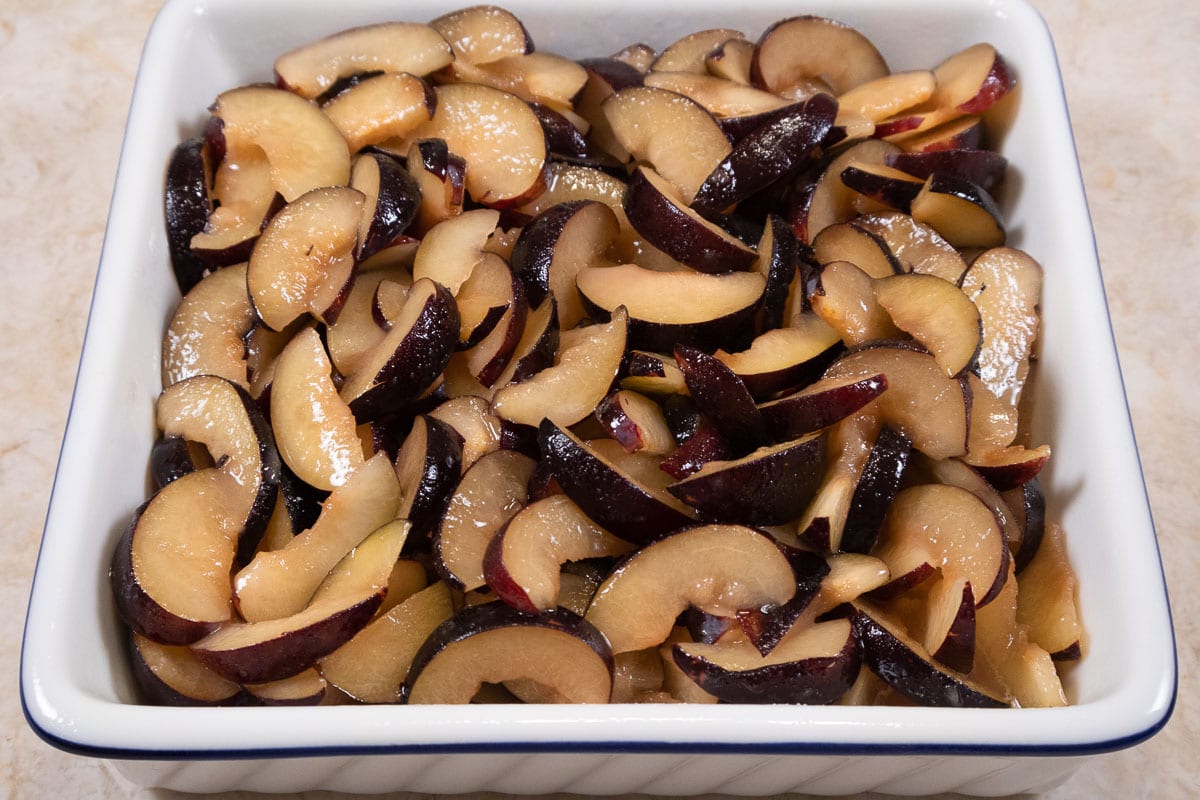 Step 7. Pour the prepared plums into the baking dish.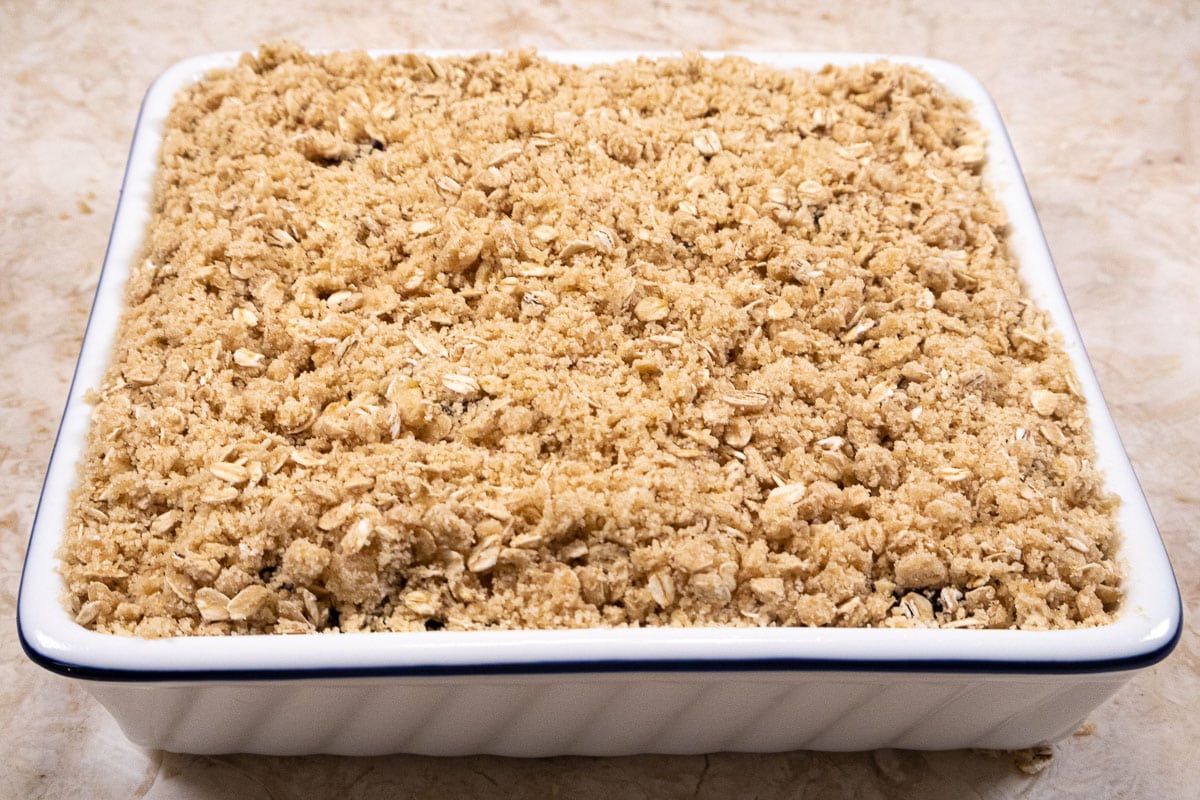 Step 8. Cover the plums evenly with the crisp. Bake as directed.
Do plums have to be peeled?
The good news is they don't. Their skins are thin and they add texture to the baked dish.
How ripe should plums be for baking
Slightly under ripe or just ripe plums are best so they don't become mushy when baked as fully ripened fruit would do.
What months to plums come into season
Late June or early July to September. Asian plums usually ripen earliest in the season, followed by complex cross varieties, and then European plums - some of which will continue ripening into the beginning of fall. The Italian prune plum has a very short season in late August or early September close to the end of the plum season.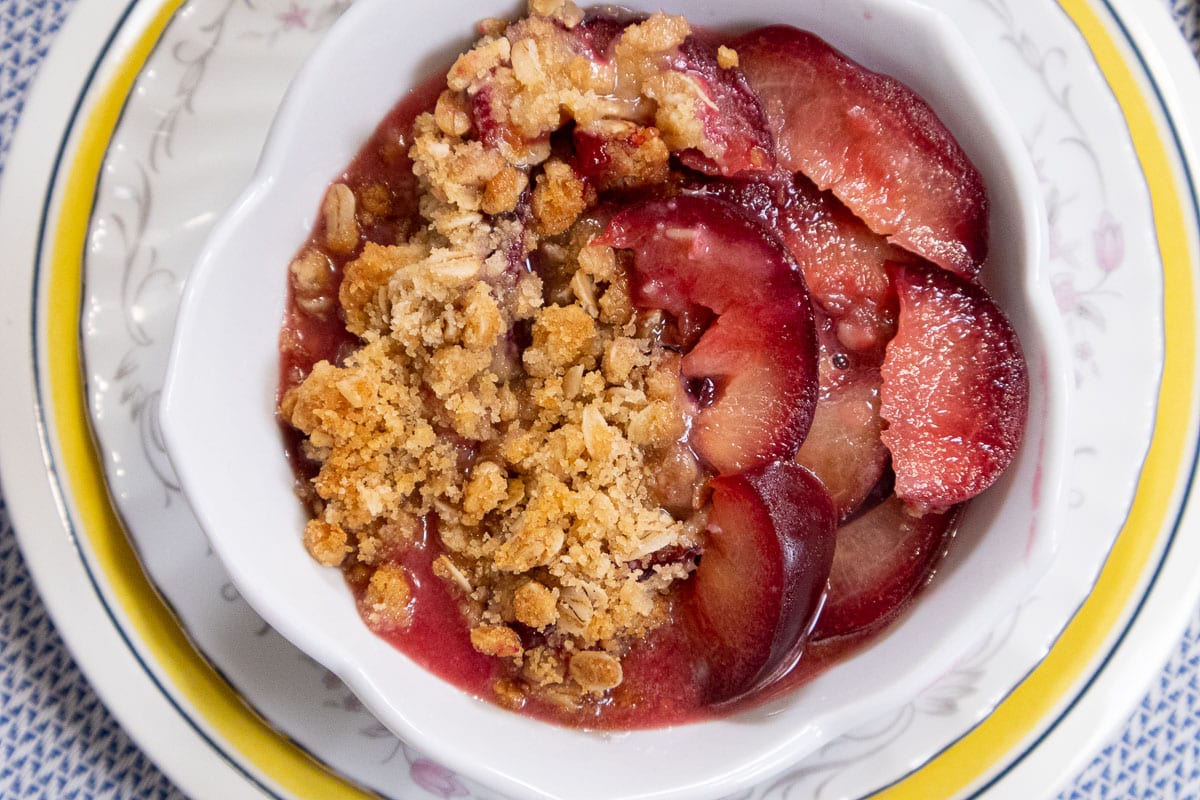 More Fruit Desserts
If you love this Plum Crisp or any other recipe on my website, please leave a 🌟 star rating in the recipe card and let me know how it went the in 📝 comments below. I appreciate each of you being here!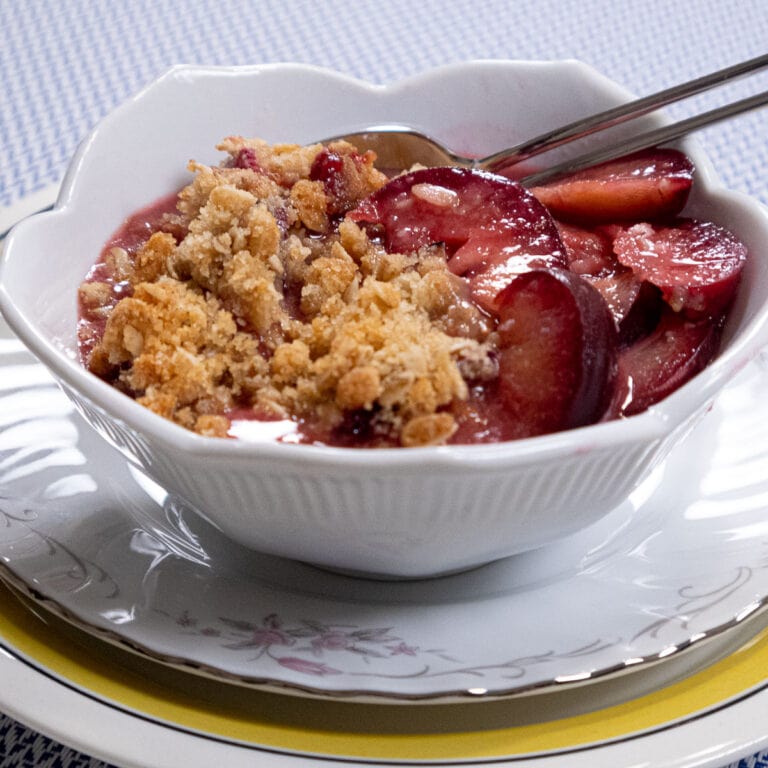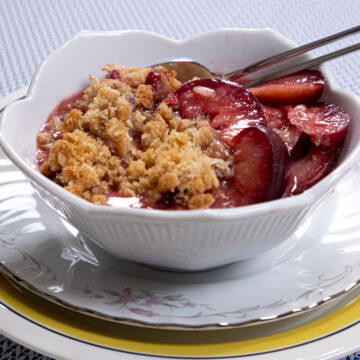 Plum Crisp
This easy Plum Crisp recipe uses readily available fresh plums and is ideal for beginners. It's much like a pie but with no crust. A heavy dose of vanilla, turns a ho-hum crisp into a delicious dessert.
Ingredients
Plums
2

pounds

black or santa rosa plums

¾

cup

granulated sugar (150 grams)

3 to 4

tablespoons

all-purpose flour (40 grams)

¼

teaspoon

salt

2

teaspoon

vanilla extract
Crisp Topping
¾

cup

oatmeal (75 grams)

¾

cup

brown sugar (150 grams)

¾

cup

all-purpose flour (105 grams)

¼

teaspoon

baking soda

¼

teaspoon

baking powder

6

tablespoons

unsalted butter, softened (85 grams)
Instructions
Plums
Preheat the oven to 375°F. Spray a 9x9 in square pan or the equivalent size with a non-stick baking release. Set aside.

The amount of flour to use depends upon how loose you like the plums. Use more if you like a tighter filling.

Cut the plums in half along their equator. Twist them in opposite directions to separate. Remove the pit. It is easy to do by going around the pit with a serrated spoon and scooping it out. Prepare all of the plums.

Turn the plums, skin side up and slice them about ¼ inch thick. Put them in a large bowl. Add the vanilla.

Combine the dry ingredients and stir the into the plums. Let the sit while you prepare the crisp, stirring once in a while.
Crisp Topping
Place all of the ingredients in a mixing bowl. Mix on low speed to bring together. Raise the speed to medium to medium high and mix until crumbs form.
Assembly
Stir the plums well and pour them into the prepared dish. Top with the crisp, spreading it evenly over the plums.

Place the dish on a parchment line rimmed sheet pan and place in the oven for 35 to 45 minutes until the plums are soft, the crisp is a medium golden brown and the juices are bubbling out.
Notes
I have included step by step instructions with photos to guide you.
This recipe calls for regular oatmeal or rolled oats. Do not use quick oats.
If you don't have brown sugar, substitute granulated sugar. Also, either light or dark brown sugar can be used.
For safety, place the pan with the plum crisp on a parchment line rimmed sheet pan. This makes it much easier and safer to move it in and out of the oven, especially when it is hot.
If black plums are not available, substitute Santa Rosas or another similar plum.
This is good served warm or room temperature.
Store the crisp at room temperature for a day or two if it lasts that long.
Nutrition
Serving:
8
servings
Calories:
349
kcal
Carbohydrates:
66
g
Protein:
3
g
Fat:
9
g
Saturated Fat:
6
g
Polyunsaturated Fat:
1
g
Monounsaturated Fat:
2
g
Trans Fat:
0.3
g
Cholesterol:
23
mg
Sodium:
128
mg
Potassium:
241
mg
Fiber:
2
g
Sugar:
50
g
Vitamin A:
654
IU
Vitamin C:
11
mg
Calcium:
38
mg
Iron:
1
mg