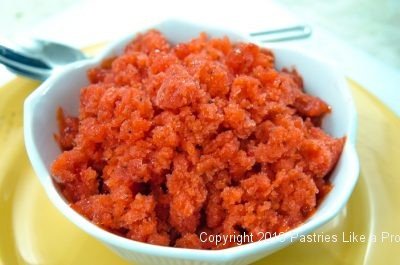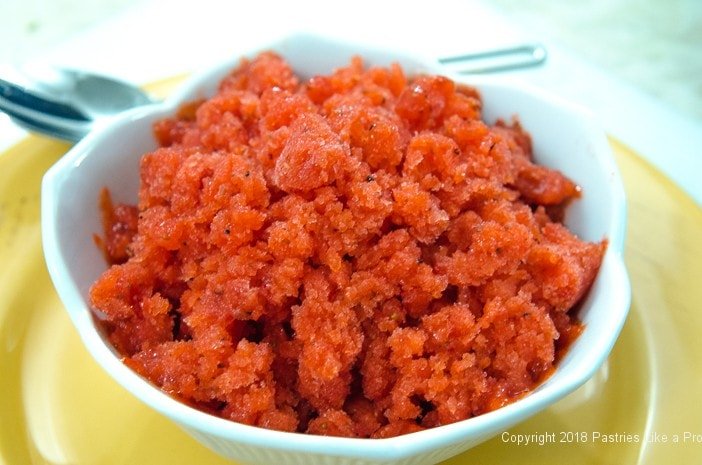 Ummm, frozen strawberries on a hot summers day. What could be more comforting? How about an easy strawberry granita with a bit of black pepper and balsamic vinegar to add a bit of zip to it.
The use of white balsamic vinegar as opposed to the normal dark is to keep the strawberries a vibrant red. The main difference between the white and dark balsamic vinegars is the grapes used and the amount of aging. Italians have been making balsamic vinegar for a thousand years. Balsamic vinegar is sweeter than the more robust vinegars. Some dark balsamic vinegars are aged up to 100 years in different barrels for a complexity of taste. However, these balsamics are very expensive, just like a fine wine and are used as a finishing vinegar and not as an ingredient. All dark balsamics are thicker and sweeter than the white balsamic which can be aged in barrels or stainless steel tanks for a shorter amount of time. The white is usually used when you don't want to discolor the food with which it is being used as would dark balsamic vinegar.
Granita is an Italian specialty and is simply an ice that is scraped with a fork to fluff it up and make it melt in your mouth. Any fruit such as nectarines, pineapple or peaches can be substituted for the strawberries. Just make sure the fruit is good and ripe for the best taste.
The use of black pepper with strawberries has become a classic and enhances the taste of the strawberry.
This recipe was originally posted from my TV series in 2015. It is the perfect finish for the last summer holiday dinner.
Strawberry Balsamic Black Pepper Granita
⅔ cup water
⅔ cup sugar (130 grams or 4 ½ ounces)
2 tablespoons white balsamic vinegar
¾ teaspoon coarse ground black pepper
4 cups sliced strawberries
Combine the water and sugar in a small pan. Bring to a boil. Boil for 1 minute. Add the vinegar and black pepper. Cool.
Place the sugar syrup and strawberries in a blender and blend until smooth. Pour into a 9x9 inch square pan, preferably glass. Freeze for several hours until it's about ¾ frozen. Scrape with a fork to fluff it up.
Store in the freezer.
Yield: 1 quart
SaveSave
SaveSave
SaveSave
SaveSave