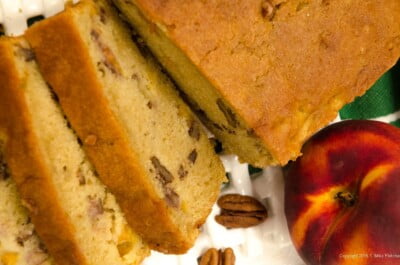 It's amazing how quickly the time is going by.  It's TV time again (Tuesday, the 4th, Great Day St. Louis on KMOV) and this recipe takes advantage of the amazing peaches we have had this year by using them in this really easy Peach Pecan Quick Bread.
This recipe is from the whisk and a bowl series of quick breads. You basically just have to whisk together the dry ingredients and separately whisk together the wet ingredients, then combine them.
This Peach Pecan Quick Bread requires a bit more since you have to skin the peaches. I find the easiest way to do this is to drop them in boiling water for 1 to 3 minutes if the peaches are ripe. Remove from the water with a slotted spoon and immediately place them in cold water to stop the cooking. The skins will just slide right off. Remove the pit and you're ready to go.
If using large peaches the puree will take about one and a half peaches. The remainder of the peach is diced up and added to the batter along with the pecans. The peach pieces give a pleasant burst of flavor.
To keep the pecans and peaches from sinking to the bottom, I layer them into the batter of this Peach Pecan Quick Bread.
Peach Pecan Quick Bread
2 large peaches fully ripened
½ cup pecan pieces (60 grams or 2 ounces)
1 cups sugar (200 grams or 7 ounces)
½ cup oil
1 egg
1 egg yolk
1 cup peach puree
1 teaspoon almond extract
1 teaspoon vanilla extract
¼ teaspoon salt
½ teaspoon baking soda
¼ teaspoon baking powder
1 ½ cups flour (210 grams or 7 ⅓ ounces)
Preheat oven to 325 degrees. Line the bottom of a 9x5" loaf pan with parchment. Spray the pan and set aside.
Remove the skin of the peaches. Puree just enough of the peaches to make 1 cup. Dice the remainder into ½ inch pieces.   Set aside.
Whisk sugar and oil until combined. Add egg and yolk, whisking to combine
Add the peach puree and extracts.
Combine the salt, baking soda, baking powder and flour. Mix together.
Pour one third of the batter into the prepared pan.   Sprinkle ½ of the peaches and ½ of the pecan pieces over the batter. Spread another one third of the batter over the beaches and pecans and repeat the peach pieces and pecans. Top with the last third of the batter spreading it to the edges covering the peaches and pecans.
Bake for 60 to 75 minutes or until a tester comes out clean. If it browns too much lightly cover with a piece of foil that has been sprayed and placed sprayed side down over the bread.
Cool 30 minutes and turn out of the pan to cool on racks.