Cake doughnuts can be as good and interesting as deep-fried doughnuts. Now don't get me wrong, I love fried doughnuts and wrote a blog about them. However, cake doughnuts are so much faster and, as I found out, ten times easier.
Doughnut Pans
I am not one to buy a lot of new equipment. So when I went online to look for doughnut pans, I was amazed at the number of pans and the disparity in the pricing. There are 6 well pans all the way up to 24 wells.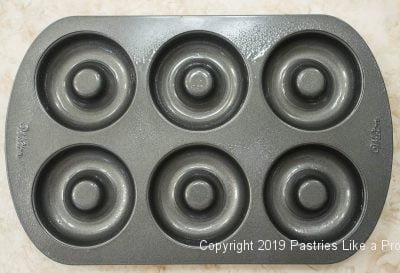 Prices ranged from $13.95 for two 6 well pans to 22.95 for just one. They also come in silicone. Then there were individual silicone doughnut molds that looked difficult to fill one at a time as I think they would be a bit wobbly when filling. I went for the two for $13.95 pans from Wilton. They work just fine and for as many times as I will use them they are perfect.
Types of Doughnuts
I am giving you recipes for two different cake doughnuts. The first one is an Apple Cake Doughnut and uses oil as its fat. I love oil-based recipes for their moistness and staying power. They lasted 4 days without covering and were as good on the fourth day as the first.
The second doughnut is butter based and my knock-off of the Entenmann's® Crumb Donuts. I once bought a package of these that was super fresh. I could have eaten the whole box if I didn't have any self-control. As it was, I didn't have much. So when I started thinking about what I was going to make, I had to give these a go. And I love how they came out. They are light and fluffy, flavored with nutmeg. If you are not a fan of nutmeg, substitute cinnamon.
These are one of the fastest treats I've ever made and they are worth the little effort they take for fresh cake doughnuts.
Apple Cake Doughnuts

1 ¼ cups flour (175 grams 6 ⅛ ounces)
1 teaspoon cinnamon
½ teaspoon nutmeg
2 teaspoons baking powder
1 teaspoon salt
½ teaspoon baking soda
⅓ cup oil
2 eggs
¾ cup brown sugar, packed (150 grams or 5 ¼ ounces)
¾ cup applesauce
2 teaspoons vanilla
½ cup peeled, shredded and chopped apple (Granny Smith), squeezed dry
350°F. Lightly spray 2 6-hole doughnut pans. Set aside.
Whisk the flour, cinnamon, nutmeg, baking powder, salt, and baking soda together. Set aside.
Combine the oil, eggs, sugar, applesauce, and vanilla in the bowl of a mixer. Add the apples, mixing well. Beat the flour in all at once on low until completely blended.
This batter is loose and is easiest to spoon into the wells ¾ full. Bake for 12 to 15 minutes until a tester comes out clean or they spring back when lightly touched.
Cool for a few minutes, turn out and then shake them in the cinnamon sugar to coat completely.
Cinnamon Sugar
½ cup granulated sugar
2 teaspoons cinnamon
Mix together. Use as directed.
Yield: 12 doughnuts. These doughnuts freeze very well even with the sugar coating. Thaw at room temperature.
Crumb Topped Cake Doughnuts
Crumb Topping
¼ cup unsalted butter, softened (60 grams, 2 ounces or ¼ cup)
2 tablespoons granulated sugar (25 grams or 1 scant ounce)
2 tablespoons packed dark-brown sugar (25 grams or 1 scant ounce)
⅛ teaspoon salt
¾ cup cake flour (not self-rising) [90 grams or 3 ounces]
Combine the butter and both sugars in a mixer. Cream until very light. Add the flour and salt; beat on medium just until large crumbs form. Scrape down the sides and the bottom for unincorporated flour. Mix briefly.
Do not over mix or you will end up with a really thick cohesive mixture. Store the crumbs in the refrigerator while you make the cake.
Crumb Topped Cake Doughnuts
1 cup all-purpose flour (140 grams or 5 ounces)
1 ½ teaspoons baking powder
¼ teaspoon baking soda
¼ to ½ teaspoon nutmeg, depending upon taste
¼ teaspoon salt,
4 tablespoons unsalted butter, softened (60 grams or 2 ounces)
¼ cup granulated sugar (50 grams or 1 ¾ ounces)
¼ cup brown sugar, packed (50 grams or 13/4 ounces)
1 egg
1 teaspoon vanilla
½ cup milk
Powdered sugar, as needed
Preheat the oven to 350°F. Spray two 6-hole doughnut pans and set aside.
Whisk together the flour, baking powder, baking soda, nutmeg, and salt. Set aside.
Beat the butter and sugars until very light. Add the egg and vanilla. If the mixture curdles, turn the mixer on high and keep beating. It should come together. If it doesn't the next step will bring it together. Alternate adding the flour and milk starting and ending with the flour. I usually do 3 flour and two milk additions.
Divide the crumbs between 9 holes. Press them down slightly.
The batter will be thick so it is most easily piped into the wells with a ¾" pastry tip in a piping bag or snip the corner off a heavy plastic bag. Pipe the batter on top of the crumbs. The batter will come slightly over the top.
Bake for 12 to 15 minutes until a tester comes out clean and the edges of the doughnuts are browning. It is important to cool them completely in the pans. To keep the crumbs intact, carefully go around the edges of the wells with a small flexible metal spatula. Lift each doughnut out of its well and turn over. The crumbs are now on top.
Alternatively, pipe the batter into holes and put the crumbs on top. Bake as directed. Although the crumbs aren't as attractive but the doughnuts are just as good.
Sprinkle heavily with powdered sugar.
Yield: 9 doughnuts
Other blogs of this type you might enjoy are:
New York Style Crumbcake
Dutch Peach Pie
Blueberry Crumb Coffeecake