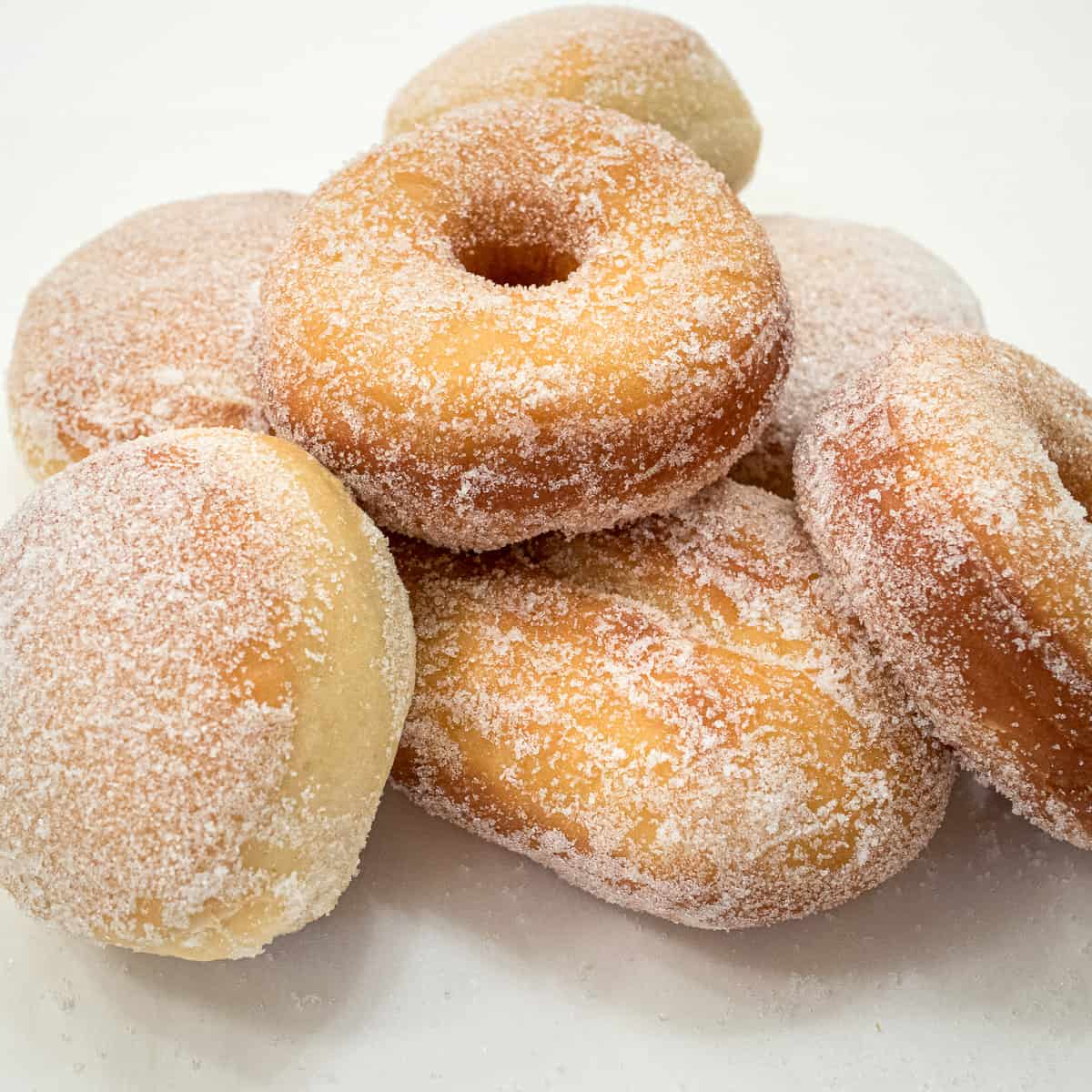 There are two different types of doughnuts – baked or fried. All the recipes I have seen have distinctly different recipes for them. The fried doughnuts are yeast recipes that rise to great heights, light in texture and medium brown. The baked doughnuts are smaller, baking powder driven and more compact. There is no right or wrong. I have to quickly pass by Entenmann's Crumb doughnuts in the grocery store because I can eat all eight by myself.
I recently made a discovery which I found interesting. Every once in a while (too often actually) I go off on tangents where I like to experiment. I wondered one day what would happen if you baked a doughnut meant to be fried, in other words, a yeasted doughnut. So of course, I tried it.
I used my Fresh as a Daisy Doughnuts recipe exactly as written. I fried half and baked half.
Fried vs. Baked Doughnuts
The fried doughnut is on the left and the baked doughnuts on the right. Fried doughnuts were wonderful – always my favorite. Just follow the directions as written.
One of the things that make fried doughnuts so good is they are fried. Americans love the crispiness and taste of almost anything fried. Teaming that with a sugar-coated outside and a soft pillowy inside makes these hard to beat.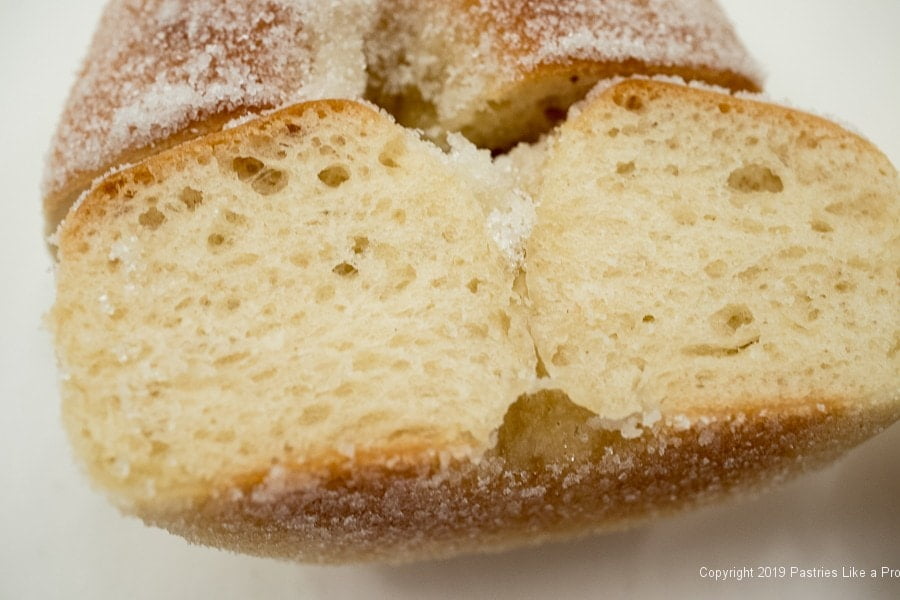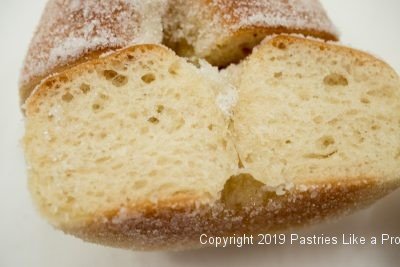 The baked doughnuts were interesting. They look a bit different. The hole in the middle filled in a bit and looked rather like a belly button and the overall shape was different. The doughnuts are brushed with butter immediately upon coming from the oven and dipped in a sugar/nutmeg topping. They are soft inside and out. The texture is more compact and there isn't the distinctive taste of deep frying. The color is also much paler. The taste overall was good and if you aren't into the calories of deep frying and the extra step and clean up, these are an acceptable substitute. The baking temperatures insure they bake through but don't form much of a crust.
You will notice the bottom of this baked doughnut is almost burned, by double panning you will avoid this.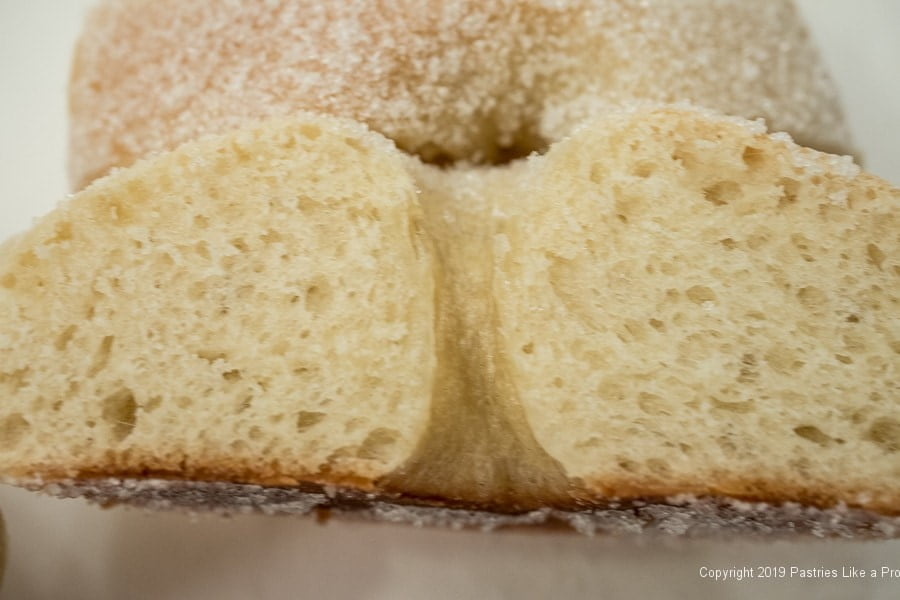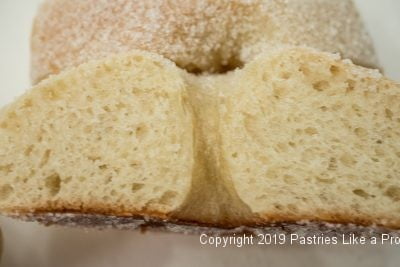 Shapes of Doughnuts
While doughnuts with holes are the most prevalent, they can be cut out without holes or cut into long johns. When I was experimenting, I had a bit of dough left over so I could only get a medium john, not a long john out of the scraps. The round without the hole and the long johns can be eaten plain, or, using a plain piping tip inserted into the middle of the doughnut on the side, pipe in jelly, pastry cream, lemon curd – whatever comes to mind.
Recipe for Baked Doughnuts
Make a batch of Fresh as a Daisy Doughnuts. After cutting them into the desired shape, place six on a tray with the holes if you have them. Cover with a towel and let them rise. Make sure when risen, they are very light and doubled. This is crucial.
Preheat the oven to 375°F.
Double pan and bake for 14 to 16 minutes until lightly browned.
In the meantime, melt 3 tablespoons butter. Set aside.
Combine 1 cup granulated sugar (200 grams or 7 ounces) and ½ to 1 teaspoon nutmeg depending upon your preference.
When the doughnuts are baked, immediately brush with butter (I was pretty generous here) and dip into the sugar mixture. I rolled the entire doughnut, sides, and bottom, in the sugar. Place on a rack to cool.
So there you are, fried or baked, doughnuts are delicious.
If you enjoyed this recipe, you might be interested in these:
Pina Colada Coffeecake
Cream Biscuits with Strawberry Balsamic Jam
Very Easy Blueberry Crumb Coffeecake
Belgium Waffles with Berry Compote