This Belgian Waffles with Berry Compote blog was posted years ago. Sometimes it is fun to revisit recipes I had forgotten about and this is one of them. It came directly from the International Food and Wine Festival at Epcot when we visited Disney World in Florida ten years ago.
The runaway favorite was the Belgian Waffles with Berry Compote. Belgian waffle makers have been around for years but what is put into them is not always Belgian waffles. Some recipes refer to any recipe made in a Belgiun waffle iron which makes deeper waffles as Belgian waffles.
However, authentic Belgian waffles contain yeast. These waffles were crisp on the outside and very tender and light on the inside. What differentiates the Belgiun waffle from a regular waffle is the depth of the waffle. They are deeper so hold more compote or syrup than a regular waffle.
Although I hadn't heard of it at the time I wrote the article, years ago, but a sprinkling of Belgian Pearl Sugar adds a great crunch and finish to the waffles. Belgian Pearl sugar is chunky, white, sugar that doesn't melt under heat. It is larger than Swedish Pearl Sugar but oh so good as a finish!
I initially thought egg whites were beaten and folded into the batter. Ugh! But these actually have two surprise ingredients that make them what they are – yeast and beer. So these become not just easy to make, but ridiculously easy!
All you need is a big bowl, a whisk and some measuring cups. The dry ingredients go into the bowl and the wet ones are poured on top. A few turns of the whisk and they are done. Making these perfect for a morning brunch is the fact they have to be refrigerated overnight. In the morning all you have to do is heat up the waffle iron and pour the batter in.
The batter will have a grayish tinge the next day and will have a sweet but faint twang to it which is as it should be. The yeast and beer give them a sourdough taste which is fantastic.
The berry compote is just as easy and can be made while the waffles are finishing or it can be made ahead and reheated. Fresh or frozen fruit can be used. I generally use a frozen berry mix found in my grocers freezer. It is so much less expensive than the fresh fruit.
At the festival these were served with sweetened whipped cream. I have made that an option here.
This is the official Belgian Waffles recipe from Disney and I can't tell you how many times we returned for one more of these waffles. I am happy to be able to relive that event at home now because these truly are a different take on waffles.
I have included some links to other blogs featuring yeasted Belgian Waffles. None of them contain beer but I think it adds to the crispness just as a beer batter for fried food does.
Belgian Waffles
2 ½ cups all purpose four (350 grams or 12 ⅓ ounces)
2 tablspoons granulated sugar (25 grams or 1 ounce)
1 teaspoon active dry yeast
1 ½ cups water
½ cup milk
2 tablespoons beer
1 egg
1 tablespoon vanilla extract
½ cup butter, melted (114 grams, 4 ounces or 1 stick)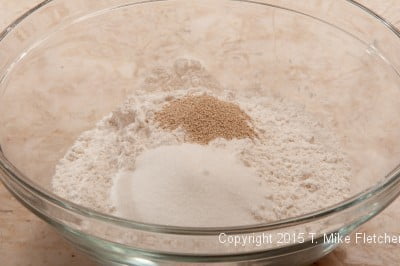 Place the flour, sugar and yeast in a large bowl.Mix them together and make a well in the center. Set aside.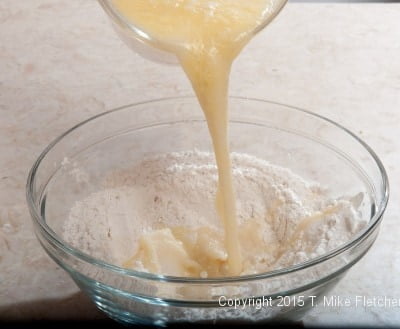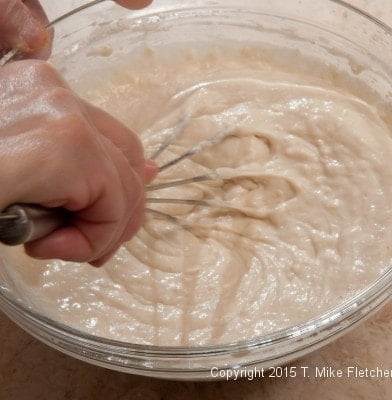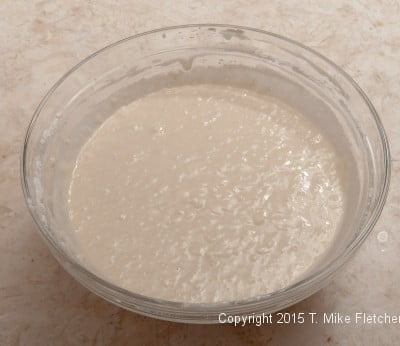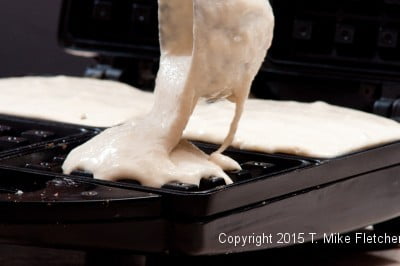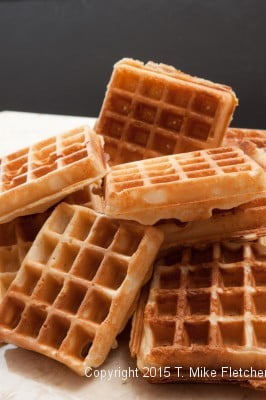 Beat all of the remaining ingredients together and pour into the well.Whisk, just until blended. Do not worry about small lumps – they will disappear as it rests. Cover with plastic wrap and refrigerate overnight.To make the waffles: Bring the batter to room temperature. Ladle into the waffle maker and cook according to the manufacturers directions. Serve warm with berry compote and whipped cream if desired.
Berry Compote and Whipped Cream
1 tablespoon cornstarch
1 tablespoon red wine vinegar
½ cup apple, orange or cranberry juice
¼ cup sugar (50 grams or 1 ¾ ounces)
1 cup fresh blueberries
1 cup fresh blackberries
1 cup chopped fresh strawberries
1 cup fresh raspberries
OR
1 – 1 pound bag of frozen mixed berries as they are
1 cup 40% or heavy cream, optional
¼ cup powdered sugar (30 grams or 1 ounce), optional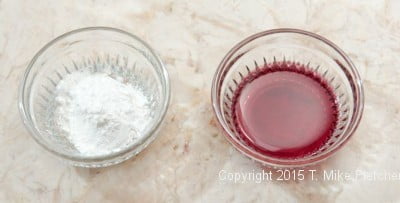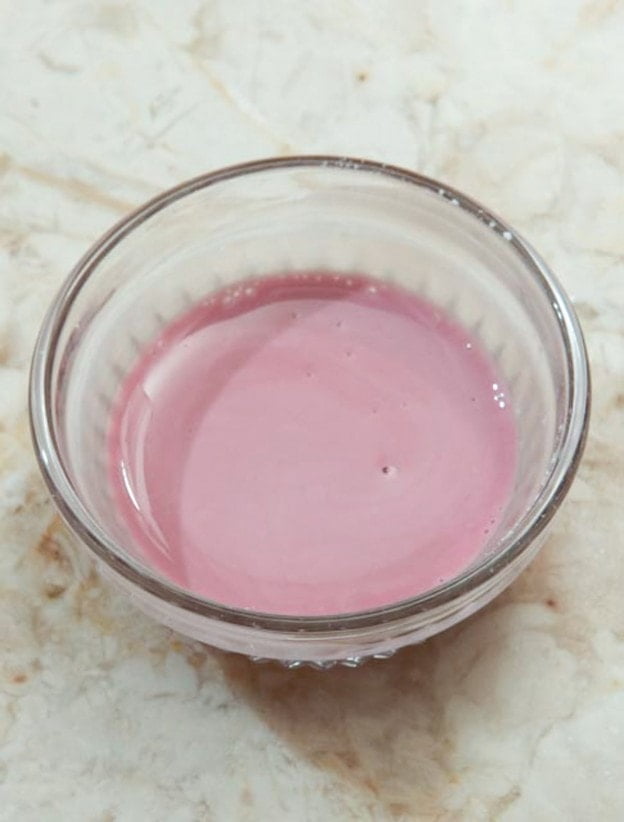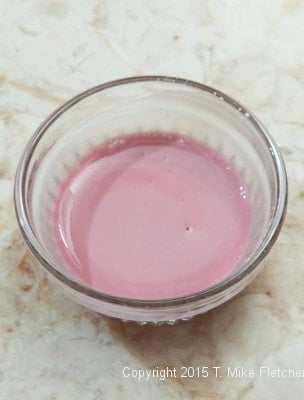 Frozen Fruit Directions
Combine the cornstarch and red wine vinegar in a small bowl; stir to combine. Set aside.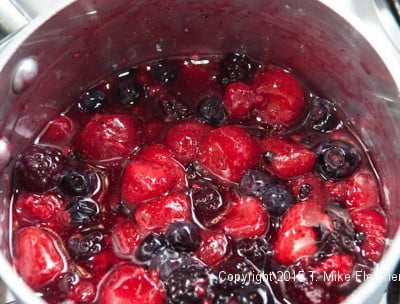 Place the frozen fruit in a saucepan along with the sugar. Heat to thaw the fruit. When it is thawed and juiced, add the cornstarch mixture. Bring to a boil and cook for 1 to 2 minutes until slightly thickened. Cool to warm and serve.
Fresh Fruit Directions
Combine the cornstarch and red wine vinegar in a small bowl; stir to combine. Set aside.
Combine the fruit juice, sugar and lemon juice in a saucepan. Bring to a simmer. Add the cornstarch mixture along with the blueberries and blackberries. Cook 1 to 2 minutes until slightly softened. Add the strawberries and stir to combine. Remove from the heat and fold in the raspberries. Cool to warm and serve.
Whipped Cream
Combine the cream and powdered sugar. Whip to the chantilly stage which is just thickened and holding its shape.
Other variations for Belgian Waffles can be found at:
https://cooking.nytimes.com/recipes/1016179-simple-yeasted-waffles
https://www.foodnetwork.com/recipes/ina-garten/overnight-belgian-waffles.html
https://smittenkitchen.com/blog/2013/05/essential-raised-waffles/- interesting background here.
If you enjoyed these waffles here are some others:
Stuffed Cinnamon French Toast with Orange Sauce
Heavenly French Toast with Blueberry Compote
Cream Biscuits with Strawberry Balsamic Jam