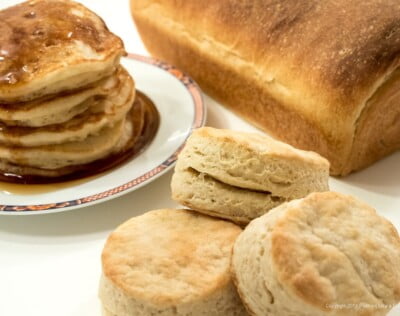 Buttermilk is what we call a "rounder" in food service. It is a person, or in this case an ingredient, that can do almost everything. Buttermilk makes unbelievably tender pancakes, the flakiest biscuits, superior bread, and extraordinarily moist cakes. It can do all of this because of the presence of lactic acid.
How Buttermilk is Made
While buttermilk was originally the milky liquid left from churning cream into butter. Today it is made using low fat or skim milk to which active cultures are added and heated. The cultures convert some of the sugar in the milk into lactic acid. Because of this acid, the milk proteins are not as soluble and cause clabbering or thickening of the milk. The lactic acid also causes tartness in the buttermilk.
Buttermilk also increases the leavening of baked goods. However, it is important to remember that because buttermilk is acidic and that baking soda is needed to produce carbon dioxide gas leading to increased lightness in products made with buttermilk.
Types of Buttermilk
While liquid buttermilk can be found in the dairy section of a grocery store, there is also a dried buttermilk powder. While it can't be reconstituted into liquid buttermilk it works well for baking. I use is it in my Croissant recipe, which a Frenchman once proclaimed it the best he had ever eaten.
When using buttermilk, always shake it before pouring it out as the milk solids usually sink to the bottom of the carton. It lasts a very long time, up to a month, in the refrigerator.
Substitutions for Buttermilk in Baking
While none of these match the taste of pure buttermilk, these substitutes can work when baking to a more or less degree. However, if making ranch dressing for marinating chicken, you need to use the real thing.
Combine 1 tablespoon of vinegar or lemon juice to a cup of whole or low-fat milk. Let sit for up to 10 minutes when it will separate and thicken. The acid in the lemon juice or vinegar emulate the cultures used to make buttermilk. In reality, this is "sour milk".
Plain yogurt can be used. To make one cup, combine ¼ cup milk or water with ¾ cup plain, non-sweetened yogurt.
Because the cream of tartar is an acid, whisk 1 ¾ teaspoon cream of tartar into 1 cup of milk.
I am including several recipes using buttermilk. Each of these is made better with buttermilk.
Buttermilk Bread
I have made this bread for over 40 years since my son brought it home when he was in the third grade. While the paper on which the original recipe was written, I still have it with Dirk's notes on it. It is my favorite everyday bread. After the dough is made and risen once, it can be frozen unbaked. Thaw in the refrigerator overnight and proceed as instructed.
3 tablespoons butter, melted
½ cup buttermilk
1 ½ tablespoons sugar
1 ½ teaspoons active dry yeast
½ cup hot water
2 ½ cups bread flour (350 grams, 12 ounces)
1 ¼ teaspoon salt
¼ teaspoon baking soda
Whisk together the melted butter, buttermilk, sugar, and yeast in a mixing bowl. Add the hot water and let rest for about 5 minutes. Fit the mixer with a dough hook if you have one.
In the meantime, combine the flour, salt, and baking soda.
Add the dry ingredients and beat on low to combine everything, then turn to medium or whatever your mixer suggests and beat for 3 minutes. Spray a large container with cooking spray and turn the dough into it. Cover with plastic wrap. Set in a warm place and allow to rise for about 1 ½ hours or until doubled in bulk. At this point, it can be frozen if desired. See above.
Spray an 8x4 ½ inch loaf pan with cooking spray. Punch dough down and pat into an 8"x13" rectangle. Roll up from the 8" side and place in the loaf pan. Flatten somewhat Let rise for about 45 minutes until doubled.
Preheat the oven to 375 degrees (350 degrees if the pan is glass or dark metal). Bake for 30 to 35 minutes until nicely browned and it sounds hollow when thumped.
Fluffiest Pancakes
These are truly the lightest and best pancakes I have ever made. I doubt I will ever make anything but these again. So that Mike and I can eat together, I cover a baking pan with foil and place the cooked pancake cakes on it. I cover the pan lightly with foil and place them in the oven set on the lowest heat where they will stay hot.
1 ½ cups all purpose flour (210 grams or 7 ⅓ ounces)
2 tablespoons sugar (25 grams or 1 scant ounce)
1 ½ teaspoon baking powder
½ teaspoon baking soda
½ teaspoon salt
1 ¾ cup buttermilk
1 egg
2 tablespoons vegetable oil
1 teaspoon vanilla
Whisk the dry ingredients in a medium-size bowl.
Measure the buttermilk in at least a 2 cup container. Whisk in the egg, vegetable oil and vanilla.
Pour into the dry ingredients and whisk together.
Heat a skillet or griddle over medium heat. To see if it is hot enough, sprinkle a few drops of water on it. If it dances around the pan or griddle and then evaporates, it is ready.
Add a bit of butter or spray the pan. Ladle about scant ¼ cup batter for each pancake, spreading it gently into a 4-inch circle.
Flip the pancake when bubbles appear on top and the edges look dry. Cook another couple of minutes until lightly browned in brown in the center.
Serve with syrup, fresh fruit, fruit sauce or simply dusted with powdered sugar.
Makes about 12 pancakes. If we have leftovers, I freeze them. I place them on a foil covered baking sheet, cover them with foil and put them in a 350°F oven for 12 to 15 minutes or until piping hot.
Grandma's Flaky Buttermilk Biscuits
Go here for these scrumptious biscuits. The unbaked biscuits can be frozen. Add a few extra minutes when baking.