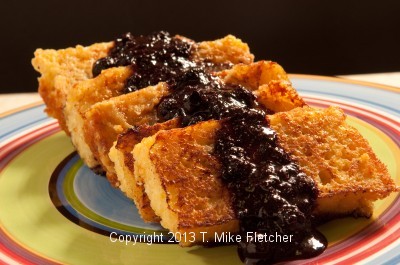 This recipe for Heavenly French Toast was originally posted in May of 2014 but it is the perfect brunch dish for the first of January. When I was recently in Chicago, my family took me to Heaven on Seven for a get together with some friends. I'd heard about this restaurant for years – especially from my son Dirk – who loves it. In fact, I was given their cookbook as a gift. As we approached an office building, I thought perhaps we were making a quick stop, but as we entered the elevator I watched as the number seven was punched. As we exited the elevator, I still had no clue. A few steps later, we entered Heaven on Seven and I was awestruck by the hundreds and hundreds of hot sauce bottles from ceiling to floor covering wall after wall. There couldn't be a better wall covering for one of the countries premier Cajun restaurants,
We were led to a long table that seated all 16 of us and we began looking at the menu. So many choices, all with great promise. Although it was to be brunch, gumbo was had by many. I asked about the Bayou Blueberry Blast and after a quick explanation placed my order. What could be better for brunch than their very special cornbread with blueberries, dipped in French Toast batter and deep fried. Heaven on Seven heavenonseven.com indeed.
Weeks went by and I couldn't get triple B out of my mind. I have to admit, I love deep fried French toast. So what to do? It was then I remembered the cookbook! Cornbread, cornbread where was the recipe for cornbread? Ahh, there it was on page 106. Could it be as good I wondered? As I read the recipe, corn flour stood out. Cornmeal I know about, but corn flour, not so much. I decided it had to be a very fine version of cornmeal so I put the prescribed amount in the food processor and ran it for 3 to 4 minutes to pulverize the cornmeal to some extent. I have no idea if using regular corn meal makes a difference, but I like to think I made a great improvement.
The recipe couldn't be easier with wet ingredients whisked into dry ingredients.
Poured into an 8x8x2 inch square pan, it rises to majestic heights in the oven. In the introduction to the recipe it is noted this is a moist, sweet cornbread. All true and more.
I make this a day ahead of using it for French toast so it can firm up a bit. The big trick is to hide it from my husband. He absolutely loves this and would happily make an all day meal of it. I cut it in half vertically and then each piece into ¾ to 1 inch slices.
Dipped into the regular French Bread egg and milk soak, I add some nutmeg, a bit of sugar and some vanilla to enhance it. I dip these golden planks into the mixture and leave it as long as I dare before it disintegrates turning it quickly to soak the other side. A large non stick pan with a bit of butter melted in it awaits this bounty. Fried to a golden brown on one side, flipped and repeated on the second side, this is no regular French Toast.
Waiting at the table is a pitcher of warm blueberry compote. Although not deep fried, this is my version of the Bayou Blueberry Blast. I think it might just pass Heaven on Seven's high standards – at least I hope.
This is a perfect breakfast or brunch dish since most of it can be prepared ahead of time.
Cornbread1 ⅓ cups all purpose flour (185 grams or 6 ½ ounces)
1 cup plus 2 tablespoons cornmeal (180 grams or 6 ⅓ ounces)
½ cup sugar (100 grams or 3 ½ ounces)
1 tablespoon plus 2 teaspoons baking powder
½ teaspoon salt
1 egg
1 ⅓ cups milk
5 tablespoons unsalted butter, melted (75 grams or 2 ½ ounces)
Preheat the oven to 350 degrees if using an aluminum pan or 325 degree if using a dark or glass pan. Grease or spray an 8x8x2 inch baking pan. Set aside.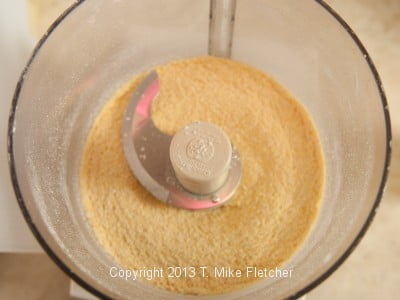 Place the cornmeal in a food processor and process for 3 to 4 minutes to grind as finely as possible. In a large bowl, combine the flours, sugar, baking powder and salt.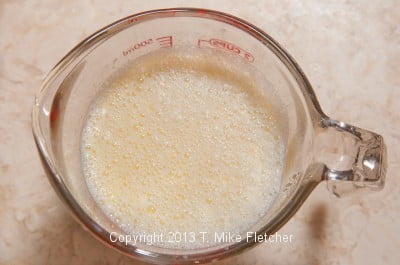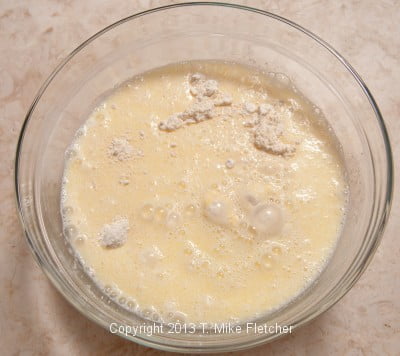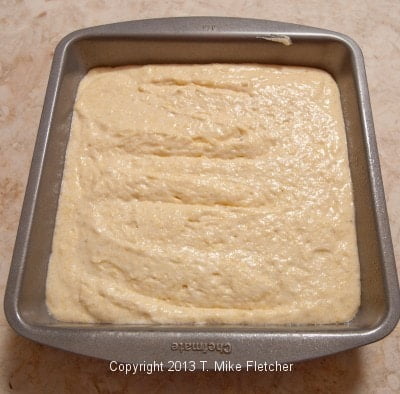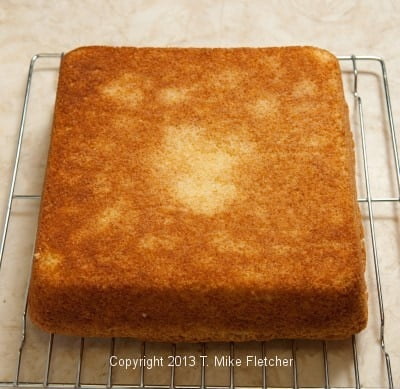 In a small bowl, lightly beat the egg and whisk in the milk and butter. Pour the over the dry ingredients and whisk to combine. Pour into the prepared pan and bake for 45 to 50 minutes until golden brown and a tester comes out clean.
This may be may be frozen if desired. Thaw completely before slicing.
Blueberry Compote
½ cup water
½ cup sugar
1 – 12 ounce bag frozen blueberries
Place the water and sugar in a saucepan. Whisk well. Add ⅔ of the blueberries and bring to a boil. Lower to a simmer and cook until the a few drops of the liquid is somewhat thickened when poured from the spoon. Remove from the heat. Puree in a blender or food processor. Add the remaining blueberries.
This can be made a week ahead if desired. Heat to serve.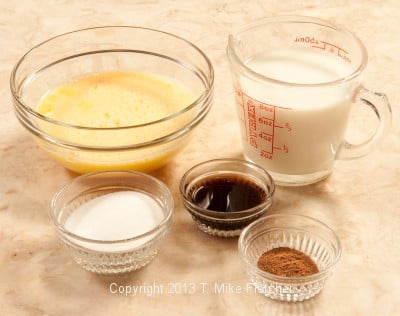 Heavenly French ToastCornbread from above
4 eggs
1 cup milk, whole or 2%
3 tablespoons sugar or to taste
½ teaspoon nutmeg or to taste
1 tablespoon vanilla
Butter as needed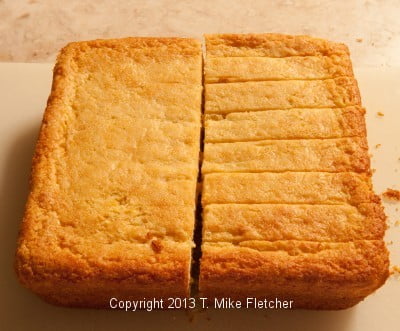 Slice the bread vertically. Trim both edges. Slice each half into ¾ inch slices.
Place a pat of butter into a non stick pan. Heat to melt but do not brown.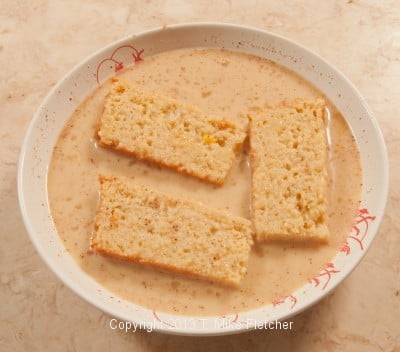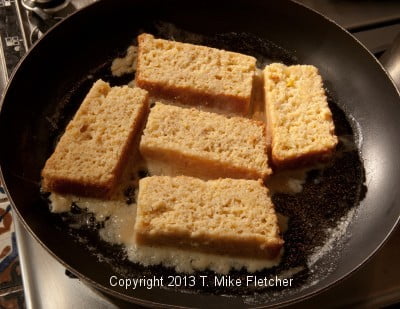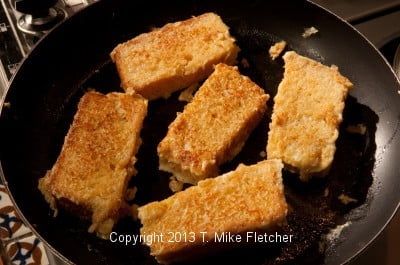 Whisk the eggs until completely blended. Add the remaining ingredients and whisk to combine. Dip each piece of bread into the mixture on both sides. Place in the hot pan. Saute until golden flip over and sauté the other side.
Serve with warm blueberry compote.
Yield: 18 slices.
Note: If you want to hold the French Toast, heat the oven to 150 degrees. Place the toast on a baking sheet and lightly cover with foil.
For another special breakfast treat, go to Cream Biscuits.