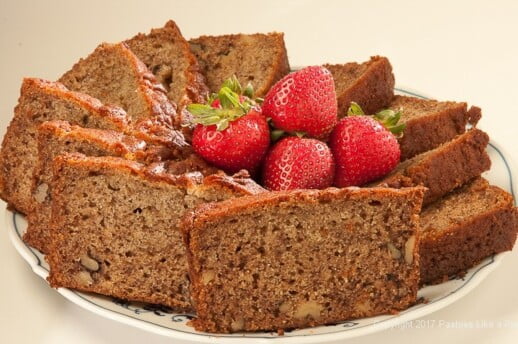 I've often wondered if the first person to make banana bread actually started out to make it or if the bananas sat in a corner, got overly-ripe and something had to be done with them, which is usually what happens in my house. That doesn't make it any less wonderful – just necessary.
This Two Step Banana Bread is great as a quick gift to someone on your list or to yourself. it is sure to be well received and appreciated. It's also great to have tucked away in the freezer for those times you need to have a bit of something for drop in guests or as a morning treat for house guests.
Bananas are actually one fruit that is picked green and best allowed to ripen off the tree. Produce wholesalers often have "banana rooms" where the fruit is purchased really green and then ripened in these 70 degree rooms to a yellow color with green tips.At home, left on the countertop, they will turn completely yellow and then, over a number of days, develop tiny brown specs which get more pronounced as they become fully mature as the flesh sweetens. The longer they ripen the sweeter the flesh – to a point.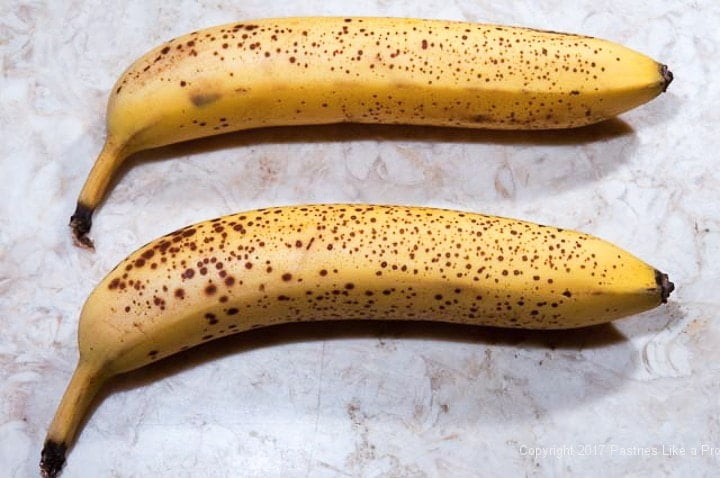 As the ripening continues the brown becomes more predominant and overly ripe bananas have a mushy flesh and turn brown. While they are ripening, bananas should not be refrigerated. However, once ripened, they can be held for several days in the refrigerator where the skin will turn brown to black but the flesh remains firm and not mushy.
I love this bread, not just for its ease of making but for its very tender texture. The cake flour, buttermilk and oil are the keys to keeping this bread moist for days – if it last that long. It also freezes well.
Two Step Banana Bread
1 cup banana puree (2 large fully ripened bananas)
½ cup buttermilk
2 eggs
2 teaspoons vanilla extract
⅔ cup vegetable oil
2 cups cake flour*, lightly spooned into a measuring cup
1 cup sugar
1 teaspoon baking soda
¾ teaspoon baking powder
½ teaspoon salt
½ cup chopped walnuts
Line the bottom of a 9x5 inch loaf pan with parchment paper. Spray the bottom and sides well with cooking spray. Set aside.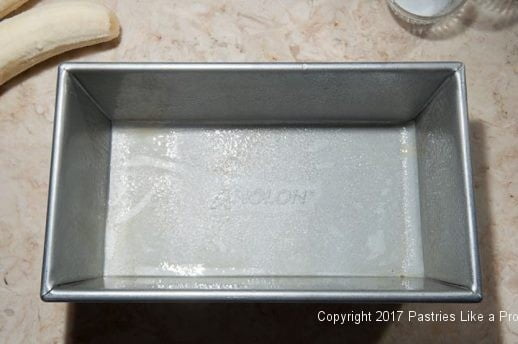 Preheat the oven to 350 degrees.
Puree the bananas in a food processor or blender.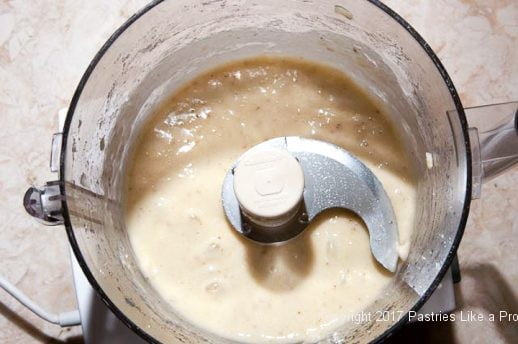 Measure 1 cup puree. If you are short add water to make 1 cup (this should be no more than a couple of tablespoons at most). Return to the processor or blender and add the buttermilk, eggs, vanilla and oil.
Process to blend the liquids.
In a medium size bowl, place the remaining ingredients except the walnuts. Add the liquid ingredients and whisk until combined.
Add the walnuts and mix in. Pour into the prepared loaf pan and bake for 45 to 55 minutes or until a tester comes out clean.
Cool for about 10 minutes and turn the bread out onto a cooling rack to finish cooling.
This bread freezes really well. Thaw at room temperature.
Yield: 1 – 9x5 loaf
*If you don't bake a lot and don't use cake flour much you can use all purpose flour. Measure the flour, remove 2 tablespoons and replace with 2 tablespoons of cornstarch.
SaveSave
SaveSave