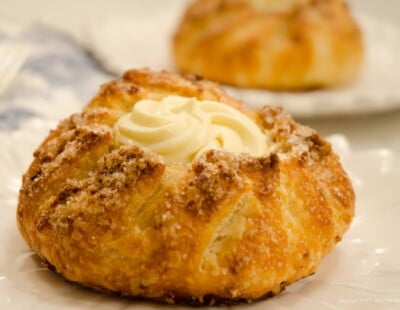 The Italians call them crostatas and the French call them croustades but they are basically the same item. Individual Apple Crostatas with Pastry Cream is a meeting between the pastry worlds of Italy and France.
Traditionally, a butter crust that is pleated is used as the vessel for the apple crostatas but in researching this, phyllo seems to be a second choice. When it comes to the restaurant, I stick with tradition when making the crostatas. Tony's serves them with vanilla ice cream and caramel sauce. While I love this version, my accompaniment of choice is pastry cream piped into the warm crostata. The chill of the pastry cream softening in the warm apple pastry is truly special and looks so much more difficult than it is.
As far as I am concerned, there is no crust for the crostatas that beats the French Pate Brisee a L'Oeuf Crust for this type of pastry. Now don't get me wrong, I love American Pie Crust, but they are two different crusts, each with its own use. I have seen cooked fruit used inside the crostatas, but because the baking time is fairly long to insure a crisp crust, I prefer a very simple filling of apples, butter, and sugar. Can you add cinnamon or other spices, raisins or dried fruit? Of course, but sometimes I prefer the simplicity of purity.
The pastry cream has to be made ahead by at least a day to allow it to chill and set up. However, it can be made and frozen for a month. Just thaw it a day or so before using it and you are halfway through.
It is best to make the Pate Brisee a L'Oeuf Crust the day before you need it. It can also be made a month before if you freeze it. Portion it into the individual crusts, wrap them in plastic wrap and freeze them. Gather them into a freezer proof bag or container when frozen, and you are ahead of the game. Simply thaw them in the refrigerator, and you are ready to roll them out when needed. Even that can be done the day before so the butter is good and cold, firming the pastry. I always roll the pastry for the crostatas out the day before using them at the restaurant.
The only thing left is to peel the apples and slice them. I use one half of a medium size apple for the crostatas. A bit of butter is put down first and covered with sugar, followed by the apples on top. I love pleating the pastry and after one or two times, it is a quick finish to a fine dessert.
Crostatas can be rustic or elegant and go with any menu. They can be made early in the day and rewarmed to serve. Just pop them into a 350°F oven for about 10 to 15 minutes. The crostatas should be warm but not hot when eaten.
Pastry Cream
How to photo's for pastry cream. Omit the gelatin and water used in this recipe.
1 ⅓ cup milk, very hot
4 egg yolks
½ cup sugar (100 grams or 3 ½ ounces)
¼ cup flour (35 grams or 1 ounce)
1 teaspoon vanilla extract or 1 vanilla bean split
If using the vanilla bean, scrape out the seeds and add to the milk along with the pod; heat the milk until hot but not boiling.
Whisk the egg yolks and sugar together in a non-reactive saucepan. Whisk in the flour. Remove the pod from the milk if using. Add the milk slowly, whisking well and scraping the corners of pan with a rubber spatula to make sure all of the egg yolk mixture is incorporated. Place over medium heat and, stirring constantly, bring to a boil. Boil for 1 minute, stirring constantly. Remove from the heat and add the vanilla (if using extract). Pour into a storage container, cover the surface with plastic wrap and poke a few holes in it. Cool it and refrigerate overnight to chill or freeze.
Yield: 2 cups (490 grams or 17 ounces)
Lightened Pastry Cream
½ cup 40% or heavy cream
Whisk the cold pastry cream to smooth it out. Whip the cream to fairly stiff peaks and fold into the cold pastry cream. This can be made the day ahead and refrigerated.
Pate Brisee
1 ¼ cup all purpose flour (170 grams or 6 ounces)
½ cup cake flour (70 grams or 2 ¼ ounces)
1 teaspoon salt
1 cup butter, cold, cut in small pieces (2 sticks or 225 grams or 8 ounces)
1 egg well beaten
2 teaspoon lemon juice
4 to 5 tablespoons ice-cold water
Place flours and salt in a processor bowl. Pulse to mix. Add butter and pulse to cut in until the size of peas. Combine egg, lemon juice, and water. Pour over the flour and butter. Pulse to wet the dry ingredients. It should clump when pressed together. Do not over process and do not let it form into a ball.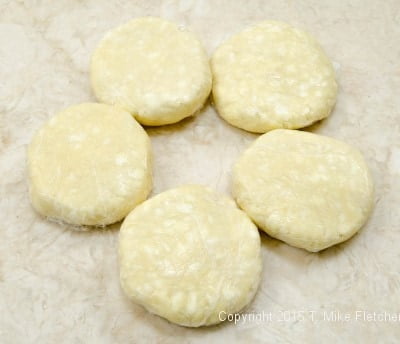 The pastry will divide into 5 balls of 105 grams each. There will be one ball that will be smaller. When you roll the crusts, save the scraps as they are trimmed and there will be enough to add to the smaller portion to make the sixth crust. Flatten each ball into a disc. Wrap each one in film and refrigerate several hours or preferably overnight.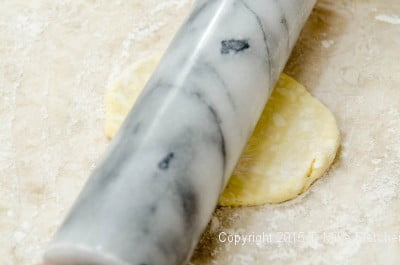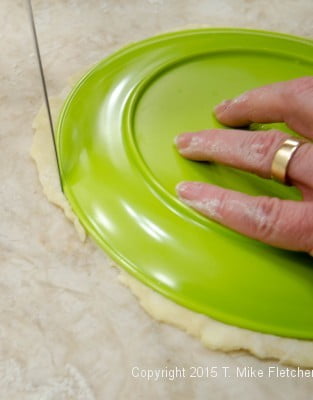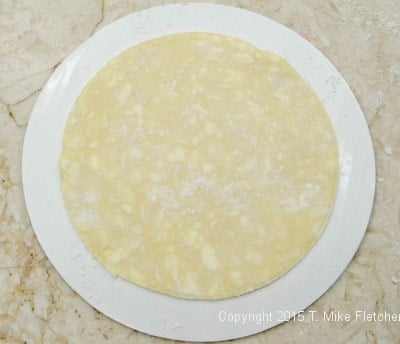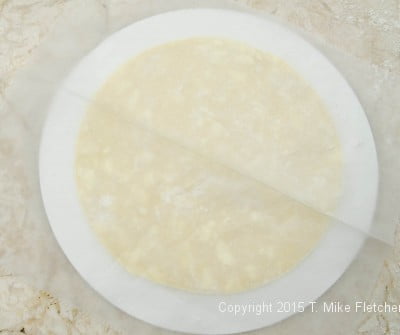 Roll each disc into a roughly 8" round. Place an 8" plate or cardboard circle on top of the pastry and cut around it. (If I lose my green plastic plate, I'm in trouble.) Place the first one on a cardboard round or a plate. Stack on top of each other with waxed, parchment or deli paper in between them. Refrigerate for several hours or overnight.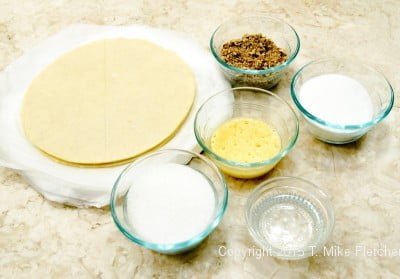 Apple Crostatas
3 medium size apple (I use Granny Smith apples)
Granulated sugar
6 small pats of butter
1 egg, beaten well
Pecans, chopped finely
Sanding Sugar
Peel the apples.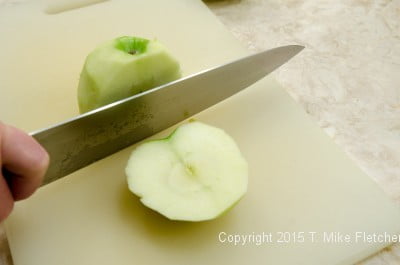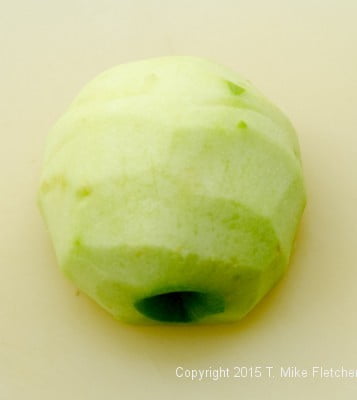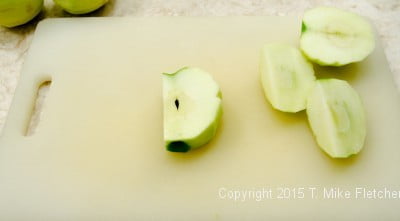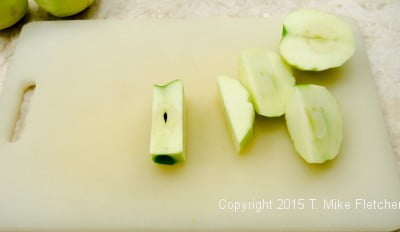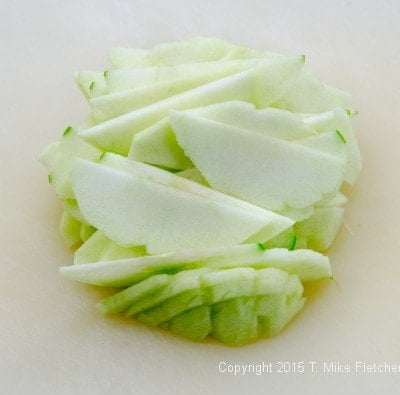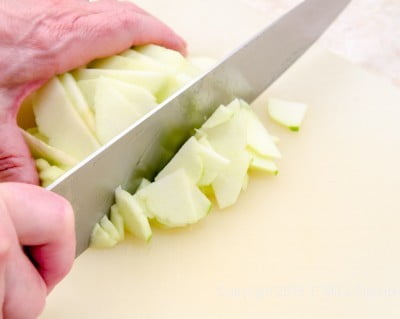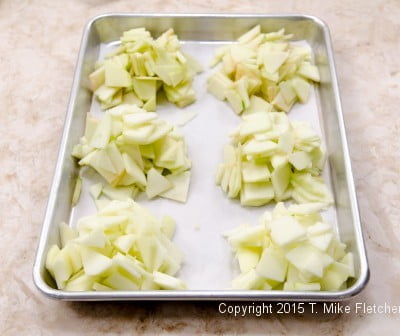 One at a time, cut the apples. Slice them thinly and gather them together. Chop them roughly. Divide each half of the apple into two piles. Repeat for the other two apples, resulting in 6 piles of one half apples each.
Preheat the oven to 350°F. Line a half sheet with parchment paper. Spray the paper. Set aside.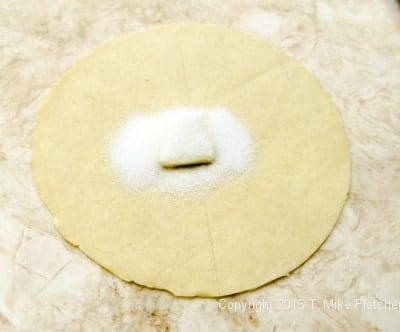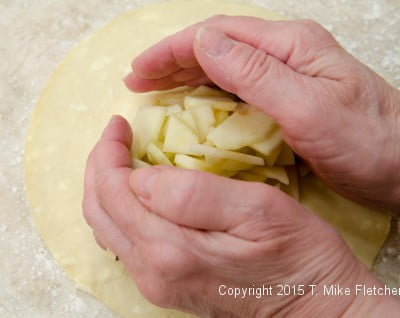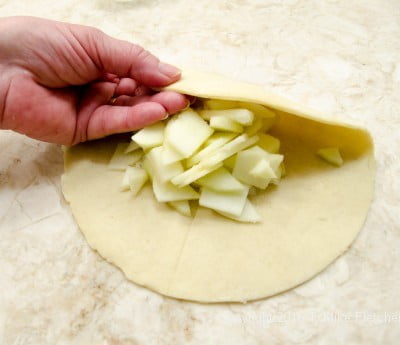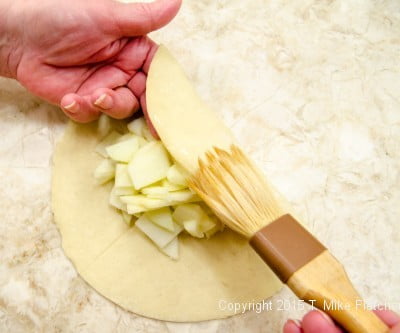 Place one 8" pastry in front of you. Place the butter in the center and cover with about 1 tablespoon of sugar. Place a pile of apples over the sugar. Turn the top of the pastry down and brush the edge with water. Pull the pastry up around the apples, pleating the crust as necessary. Brush with water as you pleat so the crust glues together. Leave an opening in the center.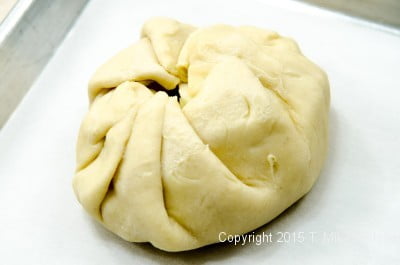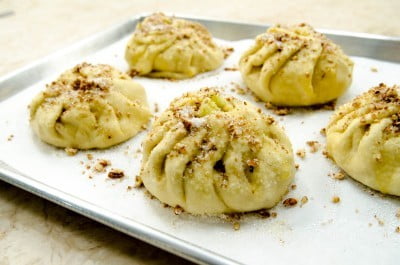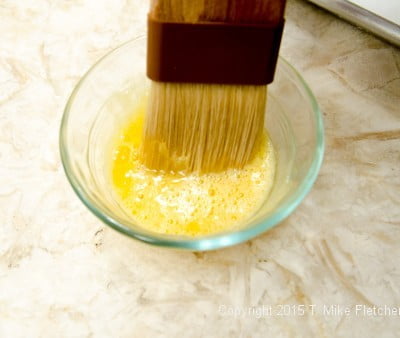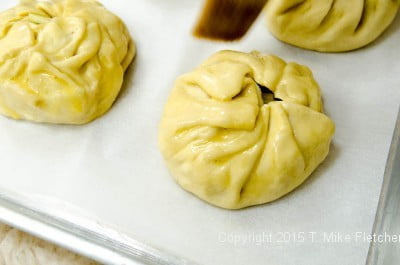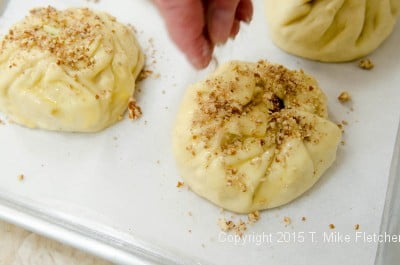 Brush the pastry with beaten egg. Sprinkle with pecans and sanding sugar.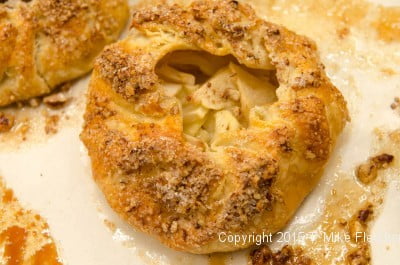 Bake for 35 to 40 minutes until golden to medium brown. Serve warm. If made ahead, warm in a 350°F oven for 10 to 15 minutes.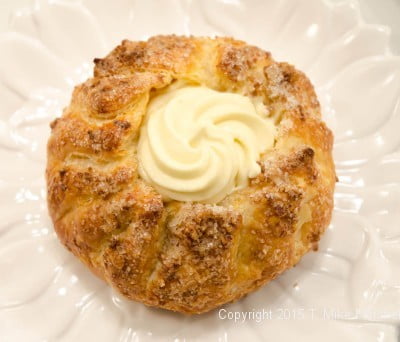 To Serve:
Pipe the Lightened Pastry Cream into the openings of the crostatas just as you serve them. Any unused pastry cream can be refrigerated to use with the remaining crostatas when served.
Several other versions can be found at:
Food and Wine - Apple Crostatas
Epicurious - Apple Crostatas