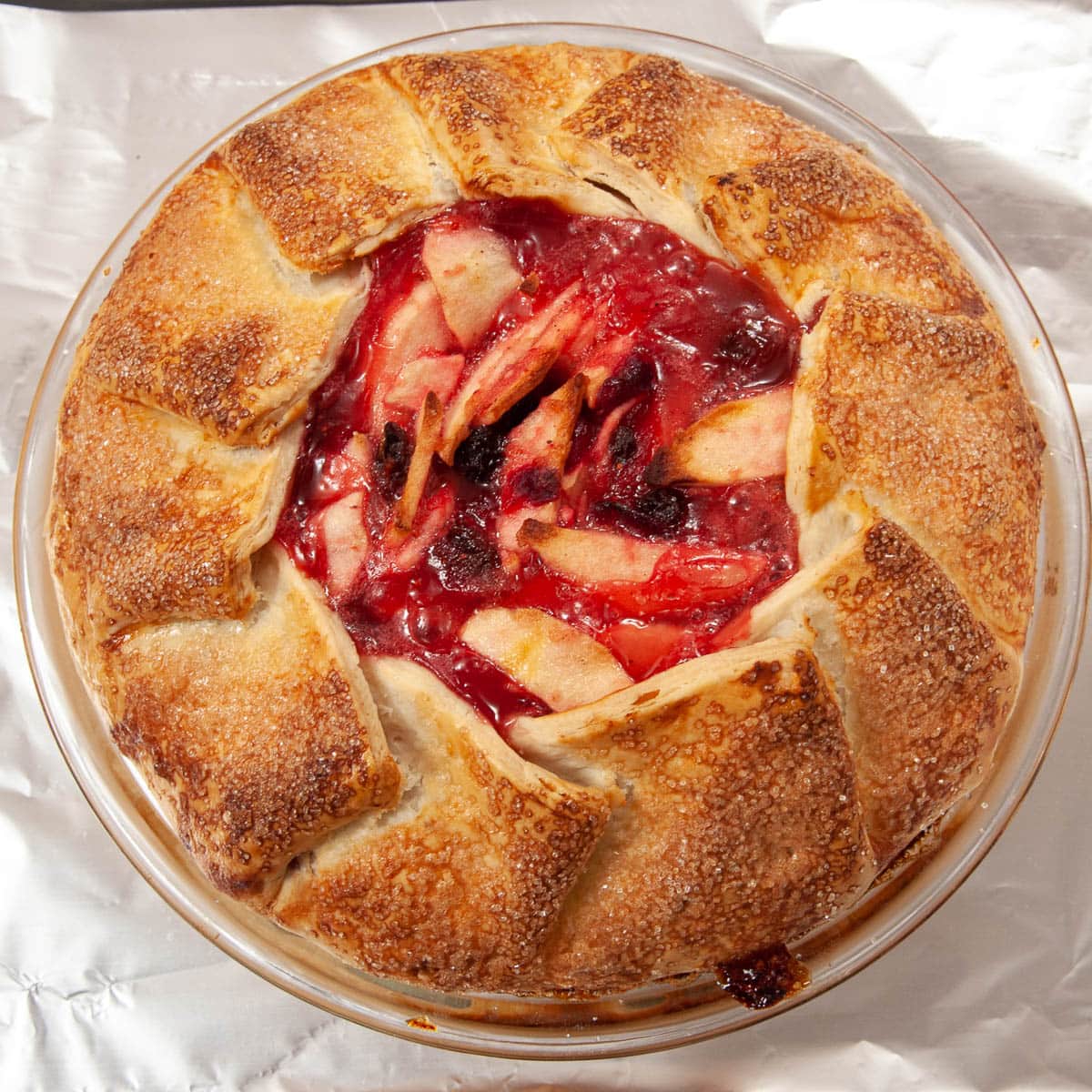 This Cranapple Pie was one of of the favorite dessert combinations at the bakery. The only change I have made is the crust and how it is finished before baking. This pie uses a galette style crust which is a usually freeform and finished in one piece, without an upper crust. This leaves the filling exposed and makes a beautiful presentation.
Before picking over the cranberries, pour them into a rimmed baking sheet. When I first started working with cranberries at the shop, I just dumped them out onto my work area ----where they rolled off and promptly under everything. We were still finding dried cranberries six months later under hard to get to shelves! By containing them, you won't have to chase them all over the kitchen. There are usually a few wrinkled or soft berries in the packages - just pitch those. Cranberries have a ton of natural pectin, so they will thicken quite nicely without any help. There is no sugar in the cranberry portion as it is all with the apples. I use Gala apples in this pie as I like the consistency and the taste. They stay together nicely when baked and don't get mushy. You want to have 1 ½ pounds of apples, after they are cored and peeled. Because this pie has no upper crust, it is really quick and easy to put together.
I used a 9" glass pie plate because I like to see the color of the bottom crust. The filling will come to the top as it finishes baking where it will bubble away. However, it will sink as it cools. I wanted you to be aware of this so you don't think you made a mistake with your Cranapple Pie with a Pleated Crust.
Pie Crust - Use the Double Crust from my American Pie Crust recipe. Put it together exactly as in the photos. It can be made the day ahead and refrigerated. I like to do this so it is cold when I want to roll it out.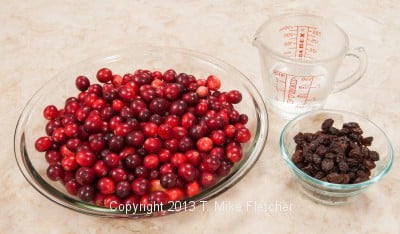 Cranberries
1 12 ounce bag of cranberries, picked over
85 grams raisins (3 ounces)
½ cup water
Pour cranberries into a rimmed baking sheet. Pick through them to remove any iffy ones.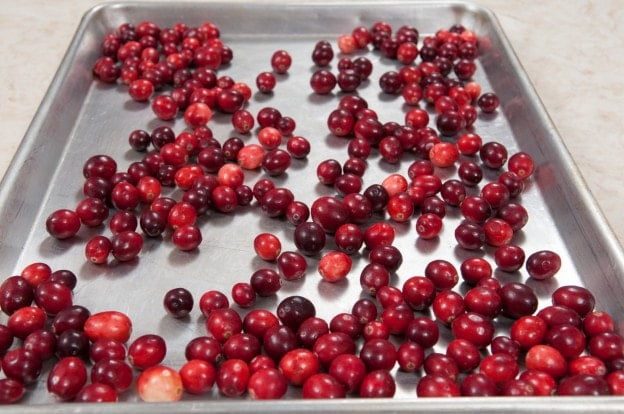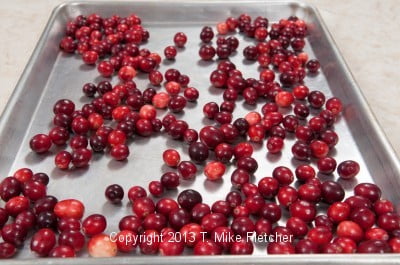 Place in a sauce pan with the raisins and water.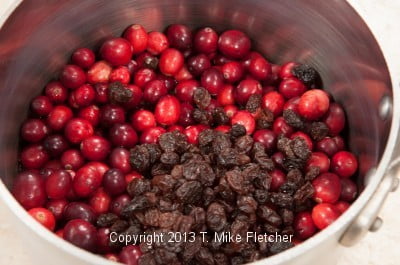 Bring to a boil in a medium saucepan. Reduce heat and simmer 3 to 5 minutes until softened.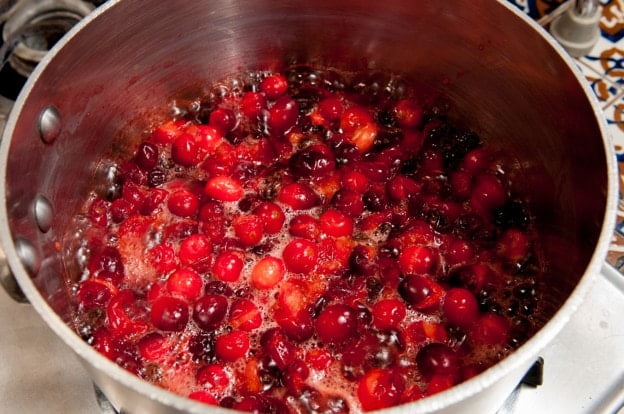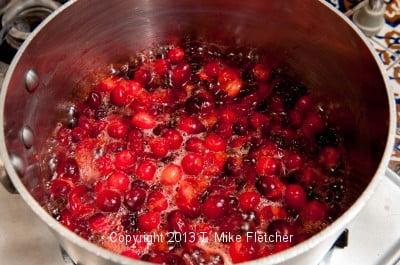 Cranapple Filling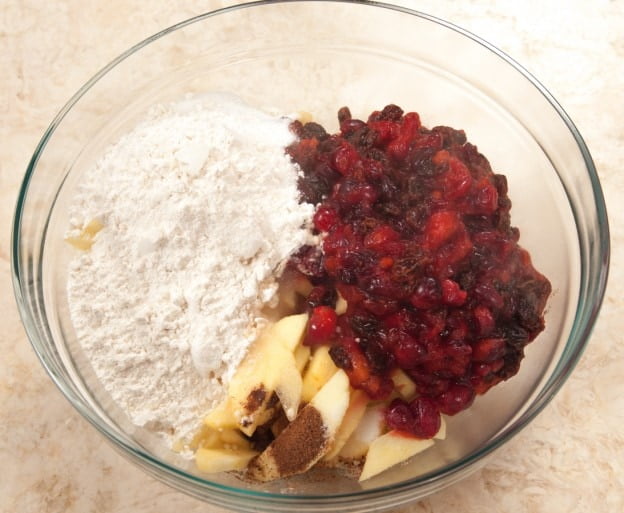 350 grams sugar (1 ¾ cup sugar or 12 ¼ ounces)
⅓ cup flour (45 grams flour)
½ teaspoon nutmeg
3 liquid ounces brandy
1 ½ pounds peeled and sliced apples (about 6 medium apples)
Cooked Cranberries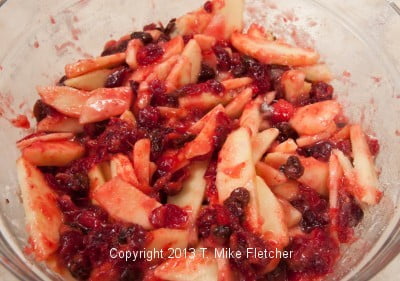 Combine the sugar, flour, salt and nutmeg. Stir in the brandy and apples. Add the cranberry mixture Let sit for 10 to 15 minutes.
Assembly - This is a bit difficult to explain. The photos will help where words fail.
Pie Crust Filling
1 egg, beaten
Coarse sugar, optional
Preheat oven to 375 degrees. or 350 degrees if using glass. Roll the piecrust into a 15 inch round.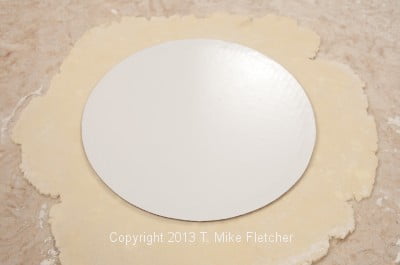 Cut it into a 14 inch round and place in a 9 inch pie pan and let the the excess dough overhang the pan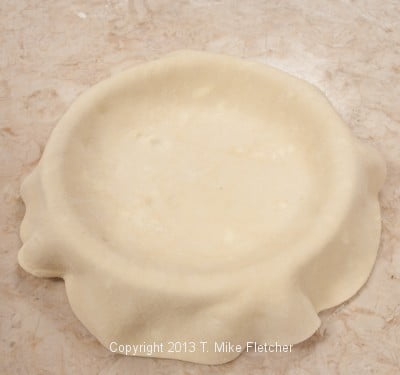 Fill the pie shell with the cranapple filling.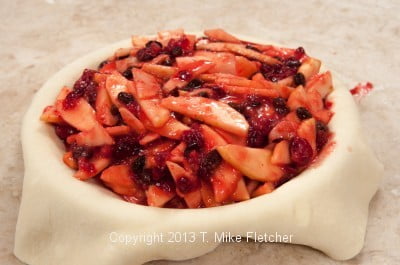 Turn the very top of the dough down over the filling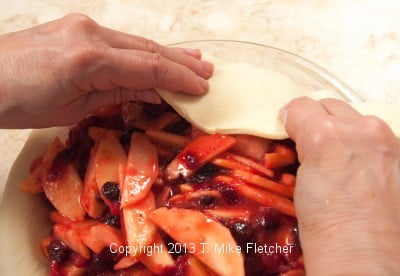 Pleat the crust from the right by folding it down and over the first piece you turned down.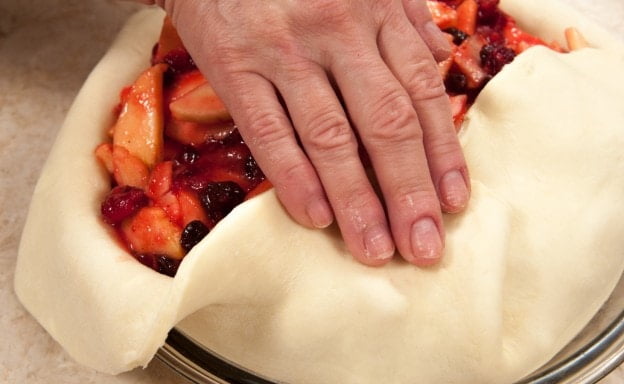 Keep turning the pie plate so the unpleated part is on top. Continue pleating until you get to the end.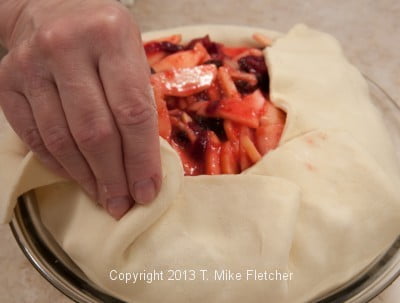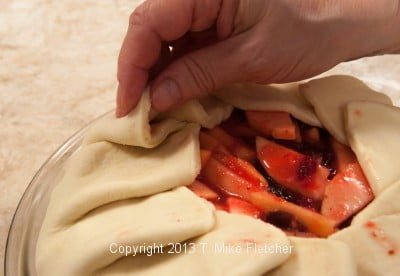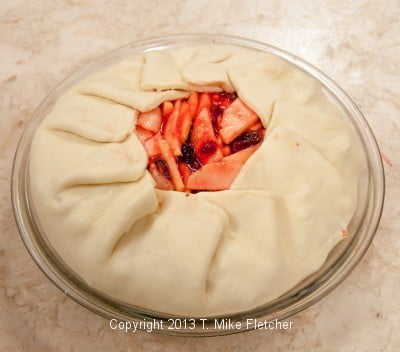 Beat and egg until the yolk and white are completely mixed.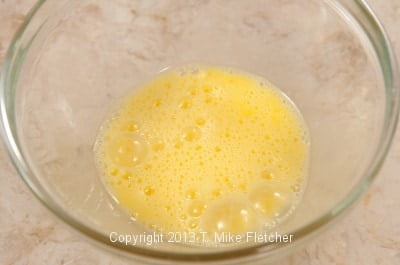 Brush the crust with the egg and sprinkle with coarse sugar if desired.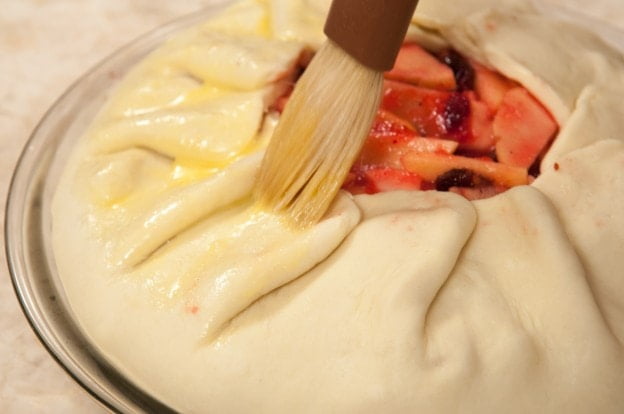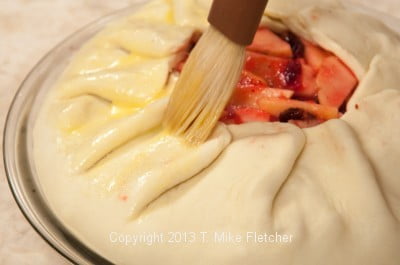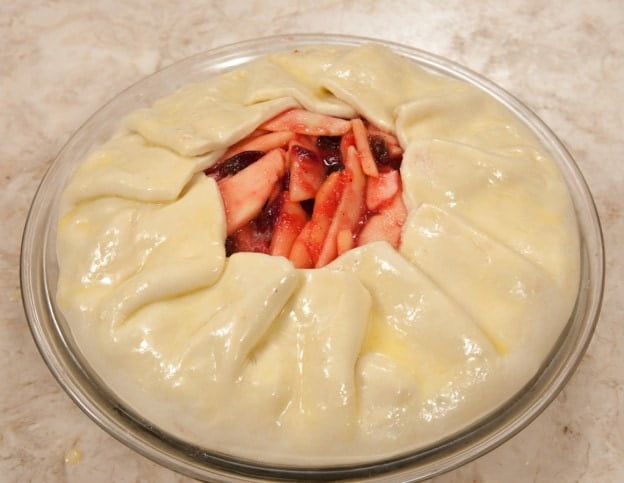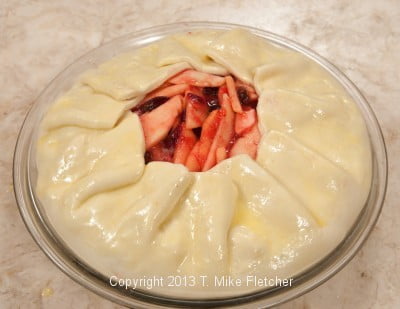 Place on a foil lined rimmed baking sheet (this just makes it easier to get into and out of the oven).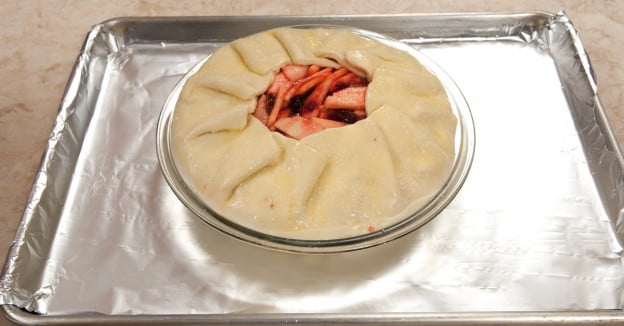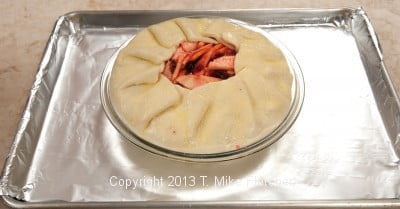 Place on a foil lined rimmed baking sheet (this just makes it easier to get into and out of the oven). Bake for about 1 hour and 10 to 15 minutes. Cover the top loosely if browns too much.
Allow to sit until lukewarm. Cut and enjoy! Vanilla ice cream is particularly good when this is served warm. This has a serious yum factor!!!