When I told Mike (my husband) that this week's blog was Peach Pizza, he was visibly skeptical. And that is really unusual. He normally eats anything I make and tells me it's good. Undaunted, we started the photography. It didn't get any better. I could see the confusion on Mike's face. Granted peach pizza isn't something you run across in pizza shops but with peaches hitting their stride, this is the perfect time to try something new with this not too sweet dessert. While you want the peaches to be ripe, you don't want them too soft or they will turn to mush when you poach them.
The crust for this pizza is the best of all possible crusts - the French all butter Pate Brisee a L'oeuf which is unequalled in taste. The combination of flours emulates pastry flour which is more tender than all purpose alone. The egg yolk strengthens the pastry while the lemon juice adds crispness and color. Ice cold water is important and I generally fill a measuring cup with ice and add water while I prep the other ingredients. It is easy to measure from the cup. However, a friend of mine just gave me a great tip. Put the water and ice cubes in a gravy separator and the ice stays behind when you pour out the water. (Thanks, Hilda.) To see if the dough will come together, take a bit between your fingers and squeeze it together. If it stays together and doesn't feel dry, it is done. Otherwise, add water a teaspoon or so at a time. Normally a very flaky crust, here it is weighted down to keep if from rising too much and over powering the filling.
I love goat cheese but I have to moderate it with cream cheese as it is so astringent. A bit of sugar and Tahitian vanilla if available - otherwise Madagascar is fine - makes up the filling on which the poached peaches sit.
My favorite peaches are freestone. Unfortunately, when you buy them they are not marked as such. Freestone peaches simply have seeds that don't cling to the peach. Basically they look a lot nicer when stoned and cut. If the peaches are not ripe when you buy them, let them sit at room temperature for a few days as they continue to ripen. White wine, or even better, Champagne goes really well with peaches. So the basis of the poaching liquid is white wine bolstered by a bit of Amaretto, honey and vanilla. After the peaches are poached, the syrup is reduced to drizzle over the peaches.
The last component for the Peach Pizza is the Amaretti crumble that tops the pizza. These crisp, almondy Italian cookies are the perfect finish. Although this sounds like a lot of components, almost everything can be made in advance to be assembled just before serving. It would be the perfect ending to a poolside party or a grilled dinner. It can be fully assembled the day it is served and heated just before guests arrive as it should be served warm.
If you need more encouragement, Mike ate it warm when it was just baked and also loved it for breakfast! In fact, except for one piece, he ate all of it and is hinting he would like another.
I recently taught this Peach Pizza at a class featuring peaches. It was a huge hit!
Amaretti Crumble
Make this first and just wipe out the processor to make the pate brisee crust.
6 to 7 amaretti cookies (25 grams or 1 ounce)
3 tablespoons toasted almonds (25 grams or 1 ounce)
3 tablespoons packed brown sugar (35 grams or 1 ⅓ ounce)
⅛ teaspoon salt
1 ½ tablespoons butter,cold, cut in small pieces (22 grams or ¾ ounce)
Place all but the butter in the bowl of the food processor.
Process to break up cookies and almonds.
Add the butter in a circle
and pulse to form crumbs.
Remove to a bowl and refrigerate while preparing the rest of the recipe. Wipe out the bowl and continue for the crust. The crumble will last a will last a week in the refrigerator or months in the freezer.
Pate Brisee a L'Oeuf Crust
1 ¼ cups all purpose flour (175 grams or 6 ounces)
½ cup cake flour (50 grams or 1 ¾ ounces)
1 teaspoon salt
¾ cup butter, cold, cut into small pieces (1 ½ sticks or 170 grams or 6 ounces)
2 tablespoons beaten egg
1 teaspoon lemon juice
5 tablespoons ice cold water (possibly a bit more)
Place the flours and salt in the processor bowl.
Process to mix.
Arrange the butter in a circle on top of the flours
and process until the butter is cut in the size of peas.
Mix the egg, lemon juice and water together.
Pour over the flour mixture.
Pulse the mixture until large clumps form.
Do not let it ball up. If it doesn't clump together, add a bit more water. If the flour is very dry, add additional water by the teaspoon. Pour out onto a work surface.
Push together to form a ball.
Lightly flour the surface and knead the dough together a few times until it is smooth. Do not over knead. Flatten to a 1" round.
Wrap in plastic wrap and chill for 60 to 90 minutes in the refrigerator or about 30 in the freezer.
This may be made the day ahead and refrigerated or up to a month ahead and frozen. Thaw in the refrigerator overnight to use.
Poached Peaches
4 medium size peaches (about 1 pound)
1 cup dry white wine (I use a chardonay)
2 tablespoons Amaretto
3 tablespoons sugar (35 grams or 1 ⅓ ounce)
1 tablespoons honey
I teaspoon Tahitian vanilla
¼ cup water
Bring a large pot of water to a boil. Add the peaches and blanch them for 4 to 5 minutes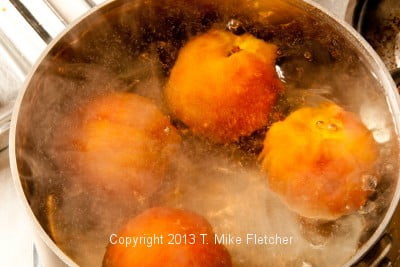 until the skins easily slip off as in the photo of the ingredients. As soon as they come from the hot water, run cold water over them and slip the skins off. Cut them in half
remove the seed and set the peaches aside.
Place the remaining ingredients in a medium size saucepan and bring to a boil.
Add the peaches, cut side down,
reduce the heat and simmer for about 5 to 7 minutes. Turn them over and poach for another 5 to 7 minutes.
They should have softened somewhat but still retain their shape. Cool. Slice about ¼ inch thick. Reduce the poaching liquid to a syrup.
Set aside.
Goat Cheese Filling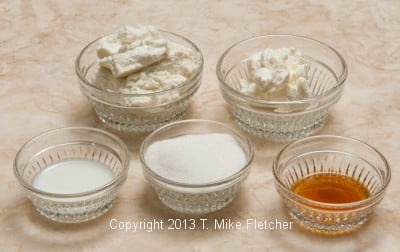 5 ounces goats cheese, room temperature (⅔ cup)
2 ounces cream cheese, room temperature (¼ cup)
¼ cup sugar
1 teaspoon Tahitian vanilla
2 teaspoons milk
Place all in a bowl
and mix together with a spoon or whisk. Set aside.
Assembly
Pate Brisee a L'Oeuf Pastry
Goat Cheese filling
Sliced Peaches
Reduced Poaching Liquid
Amaretti Crumble
Spray a 12 inch pizza pan and set aside. Preheat the oven to 400 degrees.
Roll the pastry to about 13 to 14 inches.
Place in the pizza pan.
Make sure it is pushed into the side of the pan.
Cut off the excess.
Prick with a fork
and freeze for about 10 to 15 minutes. Spray a large piece of foil and place it, sprayed side down,
directly on the pastry.
Fill to the top with beans to weight down the crust as it bakes.
Bake for 20 minutes, remove the foil and beans by bringing up the 4 corners of the foil.
and bake another 8 to 10 minutes until golden brown and fully baked.
Cool to room temperature. Leave the oven on if baking immediately. Spread the goat cheese filling over the crust.
Arrange the peaches on top of the cheese.
Drizzle with the reduced poaching syrup. (If the syrup is too thick, add water to obtain the right consistency.) Top with the amaretti crumble.
At this point you can refrigerate it for several hours or bake it immediately. If baking right away, bake for about 15 to 18 minutes just until everything is very warm. Cool and serve at room temperature. If baking from the refrigerator, add a few more minutes. Store any left overs in the refrigerator.
SaveSave