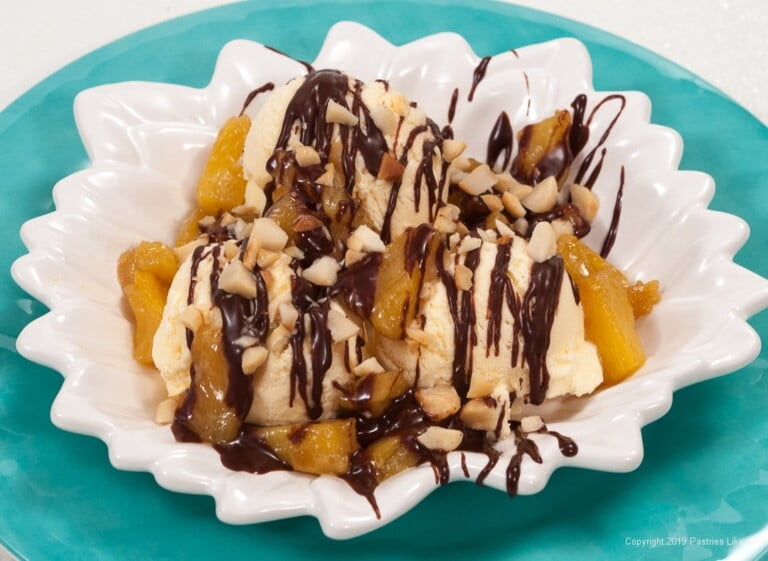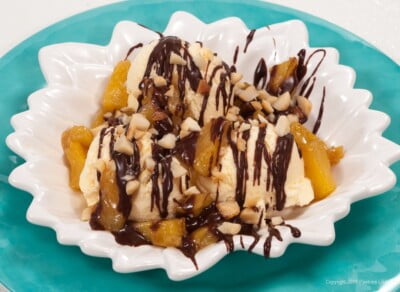 This Easy Hawaiian Sundae, is a special endding for a grilled dinner. Fresh pineapple and a coconut cream chocolate sauce are topped with salted, toasted macadamia nuts which can be found in the snack aisle of my grocery store.
It is important to use coconut cream which can be found in the liquor department of most grocery stores. There are several brands including Coco Lopez and Roland Cream of Coconut. Do not use coconut milk. It is a different product and will not work here.
Everything for this Easy Hawaiian Sundae can be made ahead.
Caramelized Pineapple
2 cups fresh pineapple chunks
3 tablespoons butter
2 packed tablespoons brown sugar
Place the butter and brown sugar in a skillet large enough to hold the pineapple. Melt the butter and the brown sugar together and continue cooking until the pan is covered in bubbles. Add the pineapple. Continue cooking at a boil until the sauce reduces and coats the pineapple. Serve warm. Store in the refrigerator if made ahead. Bring to room temperature before serving.
Chocolate Coconut Sauce
¾ cup coconut cream (such as Coco Lopez or Roland Coconut Cream)
4 ounces bittersweet or semisweet chocolate
Place in a small saucepan and heat over a slow fire until it is smooth, stirring constantly. Warm before serving.
Assembly of Easy Hawaiian Sundae
Toasted, salted macadamia nuts
Vanilla ice cream
Caramelized Pineapple
Chocolate Coconut Sauce
Place several scoops of ice cream in a bowl. Add pineapple, drizzle with the chocolate coconut sauce and top with the macadamia nuts.
If you enjoyed this recipe, you might also enjoy the following:
Tropical Shortbread Cookies
Salted Macadamia Rum Toffee
This recipe was originally posted as part of my Great Day TV appearances