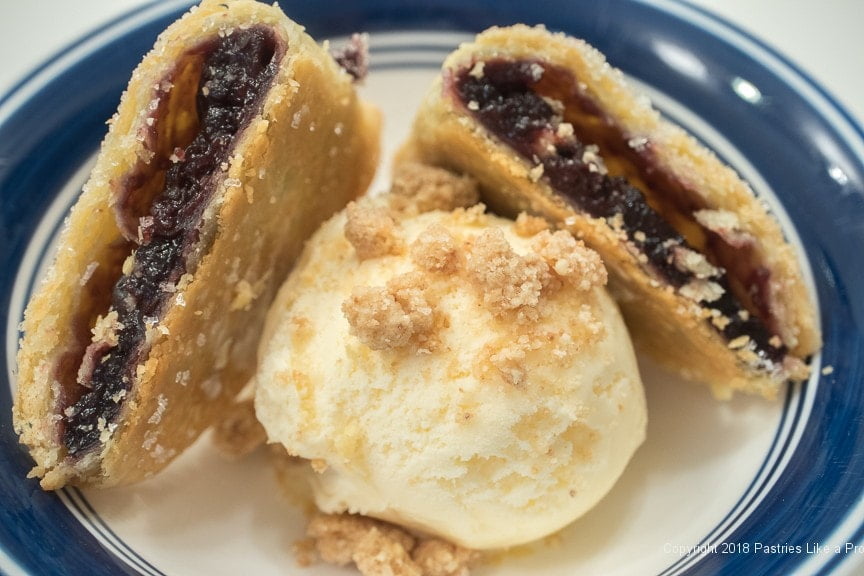 These Sweet Cherry Calzones came about when I was asked for a new dessert featuring dark, sweet cherries. I find it interesting that there are desserts using the sour cherries but not a lot using the dark sweet cherries. I make them for the weekends and we consistently sell out the first night.
While sweet cherries are in season, it is important in this recipe to use the frozen sweet dark cherries. Thaw them completely so they juice out. Fresh, pitted cherries will not have the same amount of juice. The filling should be made at least a day ahead and refrigerated to completely set up. While it will seem quite stiff when used in the calzones, it has a wonderful texture in the baked pastries.
While the mock puff pastry is easy to put together, keeping it chilled while working with it is the key to success. Because of the large amount of butter and the sour cream, it becomes soft but chilling makes it easy to use. It can be refrigerated or popped in the freezer for a few minutes and it is ready to go again. The sanding sugar is the key to a bit of a crunchy texture while making the calzones sparkle and shine.
Notice the flakiness of the pastry when baked. This pastry can be used for many other desserts calling for such a dough.
All of the component parts of these Sweet Cherry Calzones need to be made ahead which makes this impressive pastry easy to assemble.
It is important when storing leftovers (if you have any), to leave them at room temperature uncovered. If you cover them they will lose their crisp finish which is so important.
At the restaurant, we serve these Sweet Cherry Calzones with vanilla ice cream and the Amaretti Crumble.
Amaretti Crumble – For how to photos go here
6 to 7 amaretti cookies* (1 ounce or 30 grams)
3 tablespoons coarsely chopped or slivered almonds (1 ounce or 30 grams )
3 tablespoons packed brown sugar (1.33 ounce or 35 grams)
2 tablespoons flour
⅛ teaspoon salt
3 tablespoons butter, unsalted preferably, cold and cut into ½ inch pieces
*My regular grocery store does not carry these but any Italian grocery store will have them. They can also often be found at specialty food stores.
Make at least a day ahead or up to a week ahead. It can be stored at room temperature in a plastic bag.
Preheat the oven to 350°F. Line a baking sheet with parchment paper.
Place the cookies, almonds, sugar, flour and salt in the processor and pulse to make crumbs. Add the butter and pulse to form crumbs.
Spread the baking sheet in a single layer. Bake at 350 degrees for 8 to 10 minutes.
Cool and crush into crumbs.
Mock Puff Pastry
1 ¾ cup all purpose flour (245 grams or 8 ⅔ ounces)
¾ teaspoon salt
½ teaspoon baking powder
1 cup frozen unsalted butter, cut into small pieces (225 grams or 8 ounces)
½ cup cold sour cream (114 grams or 4 ounces)
Place the flour, salt and baking powder in the bowl of a processor or a mixer. Process or mix on low briefly to combine. Place the butter over the flour and process with pulses or beat in the mixer until the butter is cut into pea-size pieces.
Add the sour cream and pulse or beat until the dough is equally moistened.
In the processor, it will look rather like sand at first. But process a bit longer and it will clump up. In the mixer it will come together in clumps. Either case is fine. However, do not bring it completely together.
Pour out onto a work surface and push together to form a rectangle.
Roll into a 16x8 rectangle on a lightly floured surface. Brush off any loose flour.
Bring the bottom to the middle of the dough and the top down to the middle.
Fold in half. This is a book fold.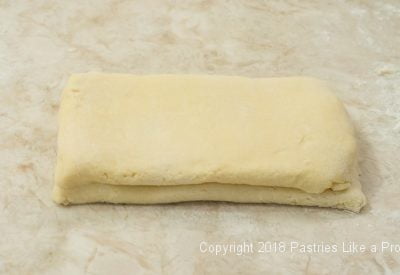 Turn one quarter to the right.
Repeat rolling and folding.
Wrap in film and refrigerate up to 2 days or place in a freezer bag and freeze for several months. Thaw in the refrigerator overnight before using.
Weight: Approximately 600 grams.
Sweet Cherry Calzone Filling
2 tablespoons + 1 ½ teaspoons cornstarch
3 tablespoons cherry juice from thawed cherries
12 ounces frozen pitted sweet cherries, thawed
½ cup sugar (100 grams)
½ teaspoon almond extract
Combine the cornstarch and 3 tablespoons of cherry juice. Set aside.
Place the cherries including the remaining juice and sugar in a heavy saucepan. Add the cornstarch mixture.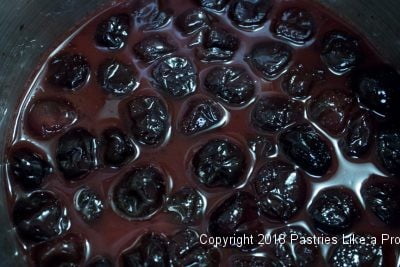 Stir over medium heat until it comes to a boil. Cook 2 minutes or until a spoon drawn through it leaves a path that does not close in.
Add the almond extract. Cool completely. Refrigerate up to 3 or 4 days until needed.
This should be made at least a day or two in advance to chill.
Assembly of the Sweet Cherry Calzones
6" rounds of pastry
1 egg, well beaten
Sanding sugar as needed
Preheat oven to 350°. Line a half sheet pan with parchment paper. Set aside.
Divide the pastry in half. Refrigerate the half not being used.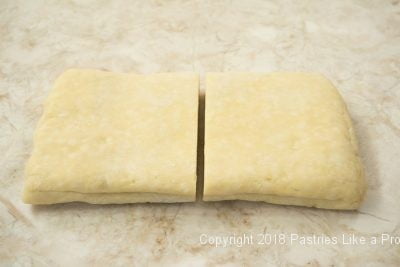 Roll one half into an 18 ½ inch x 6 ½ inch rectangle.
If the pastry has softened, place it in the refrigerator or freezer for several minutes to firm. Cut three 6" rounds out. I used a 6" cake pan but a saucer or anything will do,
Refrigerate the rounds while repeating this with the second half of the pastry.
Spread ¼ cup filling over the bottom half of a round to within about ¾" from the edge.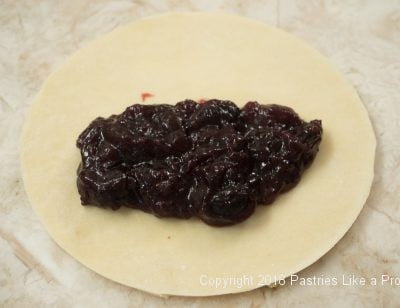 Wet the edge lightly with water. Fold the top half over the filling and press the edges together.
Press the tines of a fork into the edge of the pastry to seal it.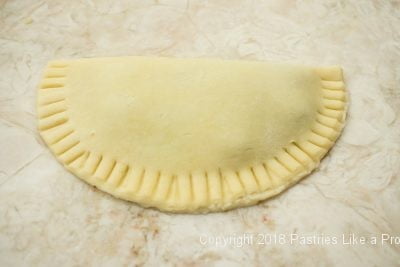 Make a small vent hole in the top with a toothpick or cake tester.
Brush with beaten egg and sprinkle liberally with sanding sugar. Place in freezer for 10 to 15 minutes - just long enough to harden the pastry but not freeze the filling. These are thickened with cornstarch will break down if frozen and thawed or baked.
Bake for 25 to 30 minutes until a deep golden brown. Cool on a rack.
Yield: 6 Sweet Cherry Calzones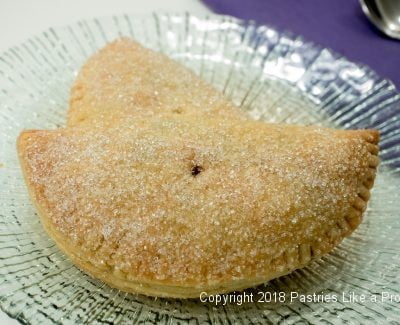 SaveSave
SaveSave
SaveSave
SaveSave
SaveSave
SaveSave
SaveSave
SaveSave
SaveSave