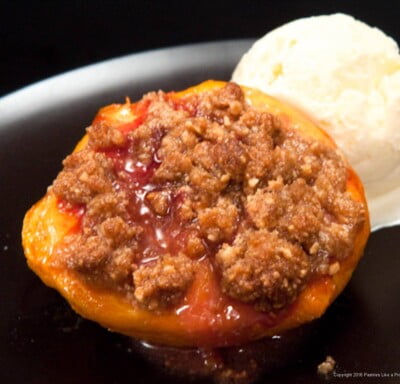 The original recipe for the Roasted Peaches with Amaretti Crisp came from "Bon Appetit" and, of course, I had to dink with it a bit. This topping is so versatile it can be used over other fruit, ice cream or anywhere you want a bit of sweet crunch.
The cookies are readily available in Italian stores (think The Hill in St. Louis) and are great on there own. Low in calories too! If you are a purist, see my recipe for Amaretti Cookies.
Peeling the peaches for the Roasted Peaches with Amaretti Crisp can be a chore, but if the peaches are ripe, as they should be, the simple trick of popping them into boiling water for a couple of minutes, makes removing the skins a snap. Cut an X in the bottom of the peach skin before dunking it. Leave it in until you can feel the skins loose. Run it under cold water as soon as it is done and just slip the skin off.
Roasted Peaches with Amaretti Crisp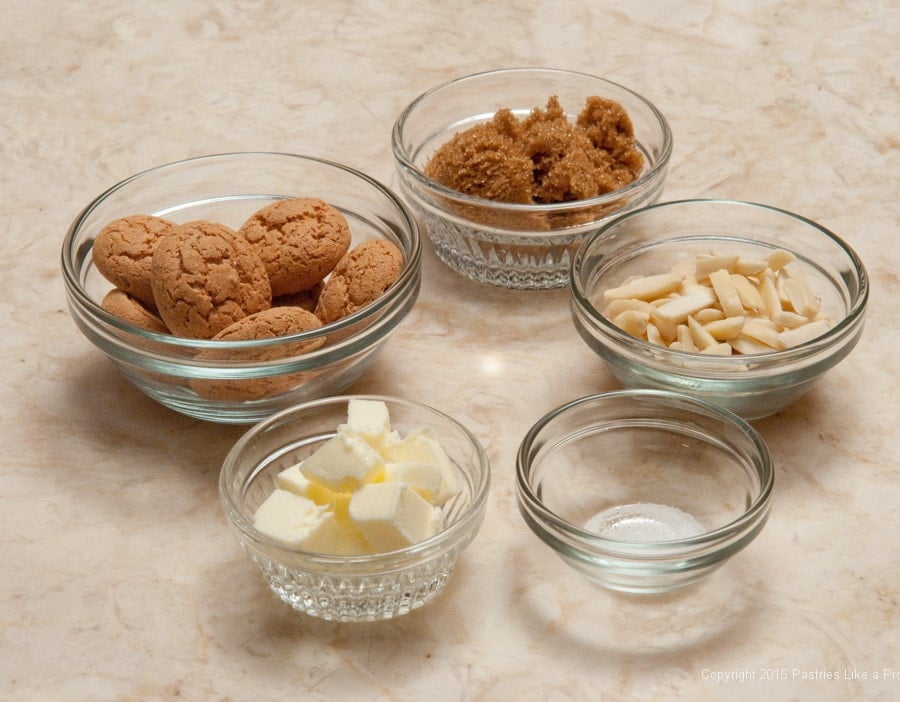 6 to 7 amaretti cookies (1 ounce or 30 grams)
3 tablespoons coarsely chopped or slivered almonds (1 ounce or 30 grams )
3 tablespoons packed brown sugar (1.33 ounce or 35 grams)
2 tablespoons flour
⅛ teaspoon salt
3 tablespoons butter, unsalted preferably, cold and cut into ½ inch pieces
Up to 4 ripe peaches
Vanilla Ice Cream
Preheat the oven to 350 degrees. Line a baking sheet with parchment or foil, spray and set aside.
Place all but the butter in a processor bowl.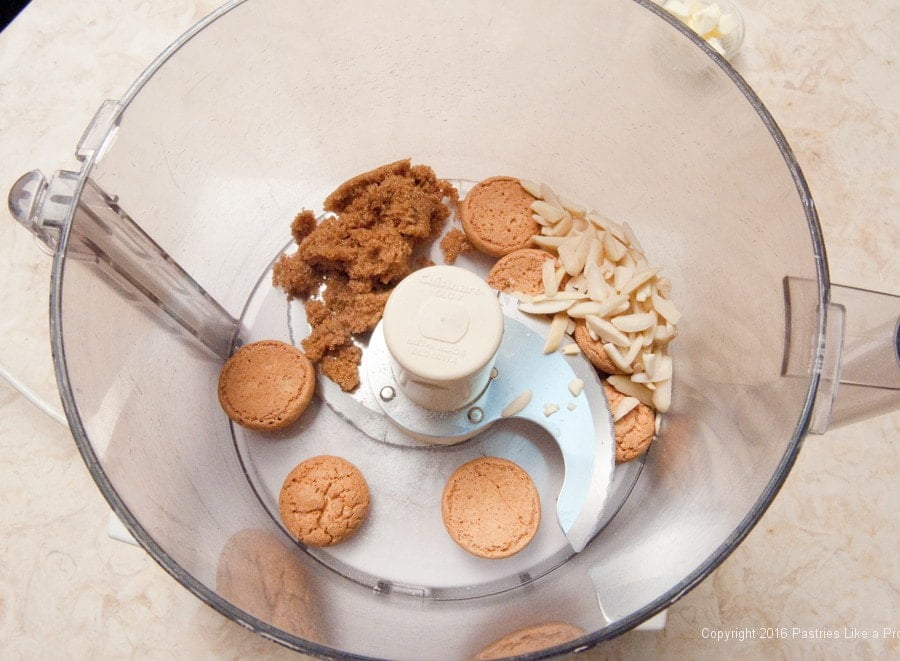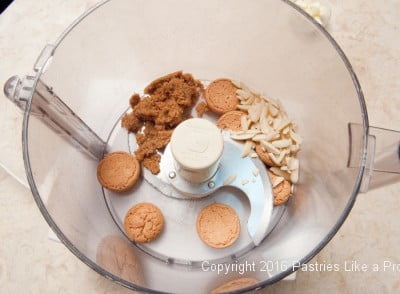 Process until large crumbs form.
Cut the butter into several pieces and add to the bowl.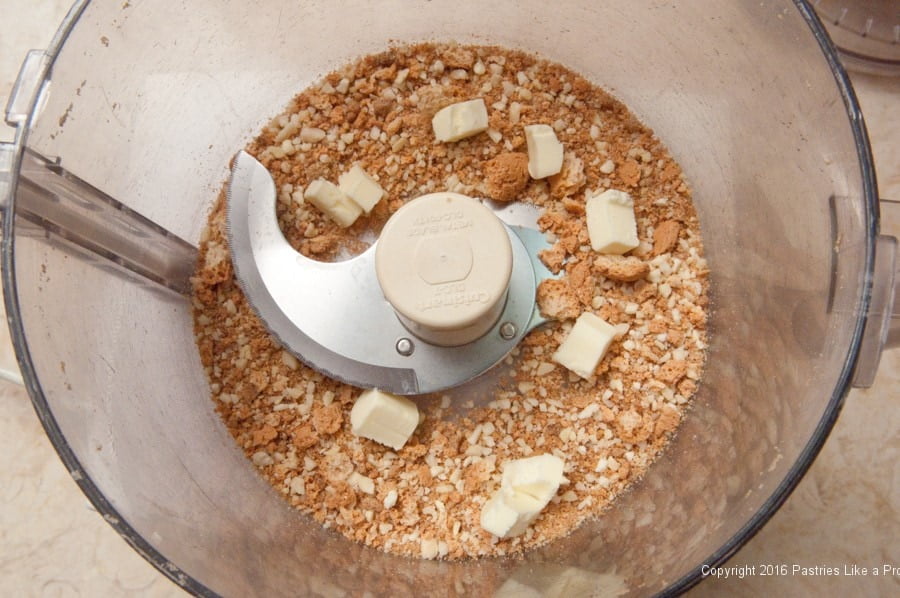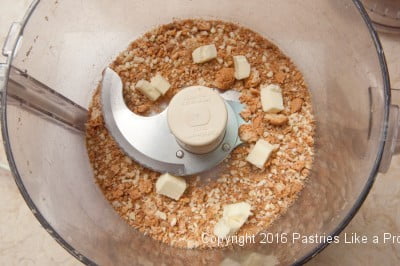 Pulse to make crumbs. Set aside.
Bring a pot of water to a boil, cut an X in the bottom of each peach skin and boil the peaches for 2 to 3 minutes until you can see the skin loosening.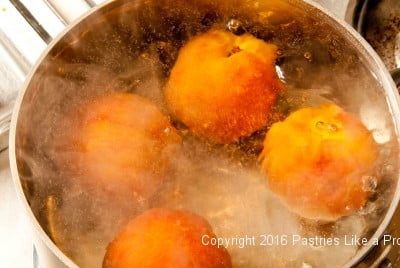 A quick touch will tell you the skin is ready to come off. Run under cold water. Slip the skin off.
Cut each peach in half along its dividing line.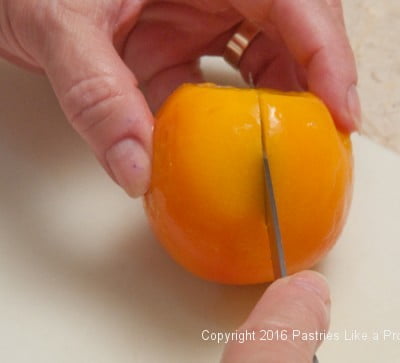 Pull apart and remove the pit.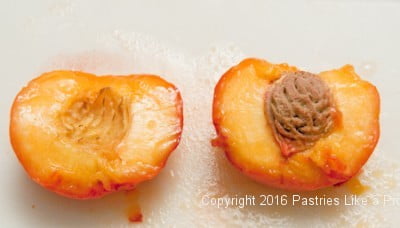 Place the peach halves, cut side up, on the tray. Fill the cavity with 2 heaping tablespoons of the amaretti crisp. Bake for 25 to 35 minutes, depending upon the size of the peach. They should be soft when tested with a cake tester or toothpick but not mushy. They should hold their shape.
Serve warm with ice cream.
Note: If you have leftover crisp, store it in the refrigerator for another time.