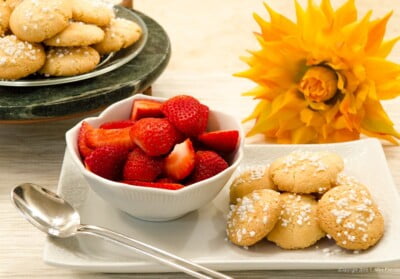 I haven't found anything to date made with almond extract that I don't love. These Amaretti cookies which are Italy's version of a macaroon are a perfect example. Crunchy, gluten free and low in fat, these are the perfect accompaniment to lightly sweetened or macerated fresh fruit or ice cream.
While these can be found in Italian grocery stores, it can be difficult to find them in state side grocery stores. But Amaretti cookies are so easy to make you don't have to search them out anymore.
There are several ways to make them. I prefer to use almond paste rather than ground almond. No matter how much the almonds are pulverized in the processor, they will never be as smooth as almond paste with its distinctive bitter almond flavoring. Do not use marzipan. While almond paste is an ingredient in marzipan, it is not pure almond paste. My store carries an eight ounce package which is perfect for this recipe.
To make these Amaretti cookies authentic, pearl sugar should be used to top them. It can be found on the internet or in many kitchen ware shops. It is a type of sugar that is intensely white in irregular, large pieces and it doesn't melt under heat. Perfect to finish a number of recipes including the Amaretti cookies. I use Lars Imported Swedish Pearl Sugar because it is locally available.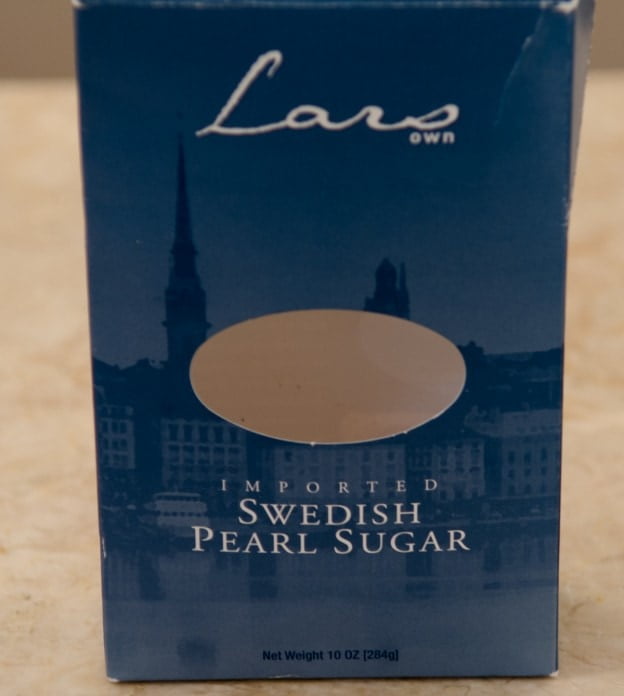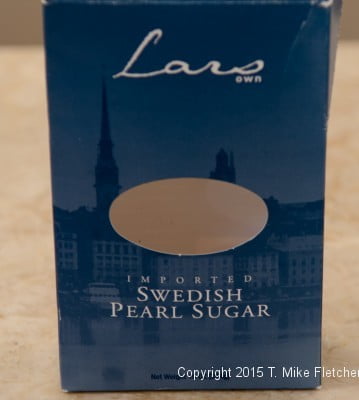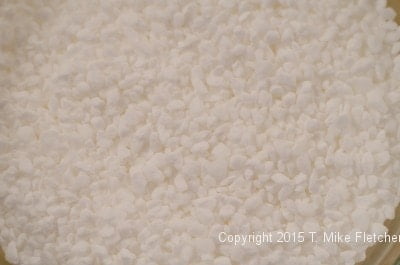 This is a classic recipe for Amaretti cookies which I found on https://www.joyofbaking.com/AmarettiCookies.html. While Stephanie describes her Amaretti cookies as crisp on the outside and soft on the inside, mine are the traditional crunchy all they way through variety. There is no right or wrong. There are only 3 ingredients for these delightful cookies – almond paste, egg whites and sugar. That's it. When making any meringue or macaroon, baker's sugar is preferred for its fine grind that is accepted by the egg whites more easily. However, it can be very difficult to find if you don't have access to professional ingredients. Or you don't want 25 pounds hanging around. But it is easily made in a processor. Simply put the sugar in the processor and process until very finely ground. There you are – baker's sugar.
While these Amaretti cookies can be made in a mixer, the processor is the better of the two for this recipe. The almond paste can be difficult to get mixed completely with the sugar so one cannot be seen from the other.
For another version, sandwich two cookies together with chocolate.
Amaretti cookies are literally minutes away and require very little work for such a special treat. These will keep almost indefinitely in a closed tin.
Amaretti Cookies
1 cup sugar (200 grams or 7 ounces)
8 ounces almond paste (225 grams)
2 large egg whites (60 grams or 2 ounces
Swedish pearl sugar or granulated sugar
Preheat the oven to 375°F. Line two baking sheets with parchment paper and set aside.
Place the sugar in the processor and process until finely ground.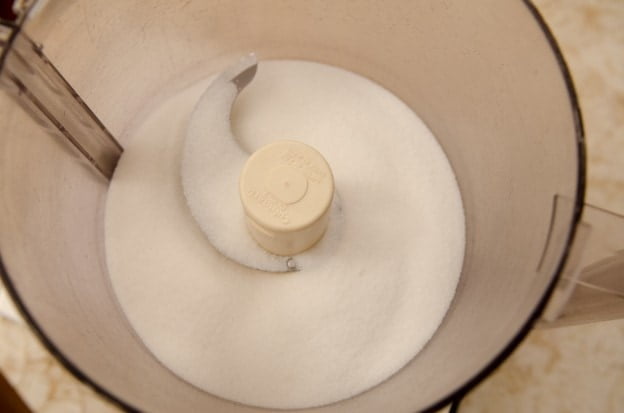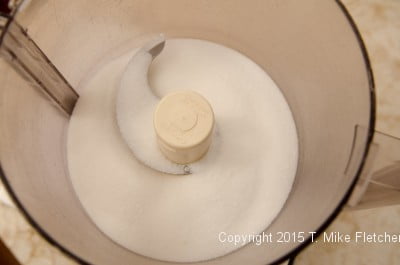 Cut the almond paste into small pieces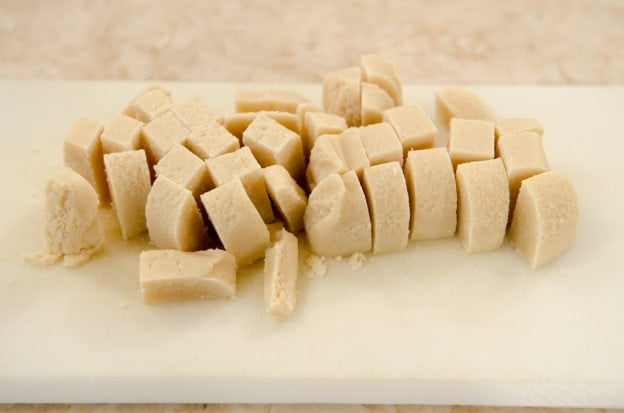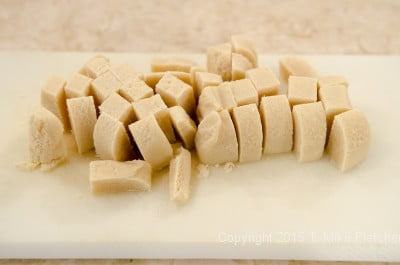 and add it to the sugar.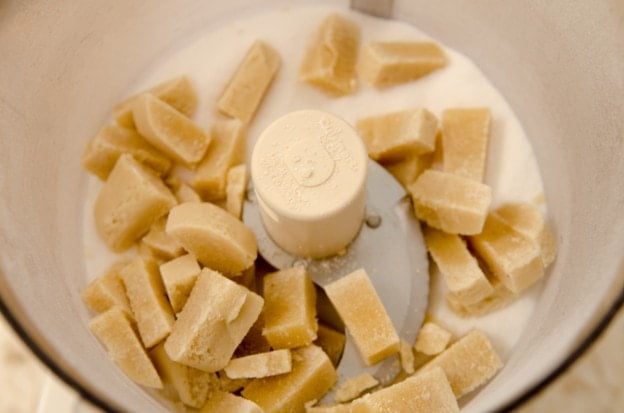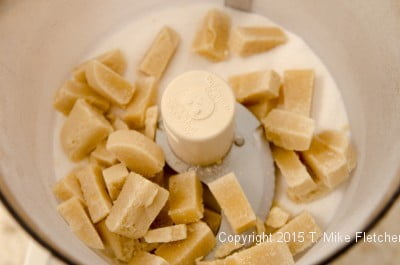 Process until the two are indistinguishable from each other and it is fluffy.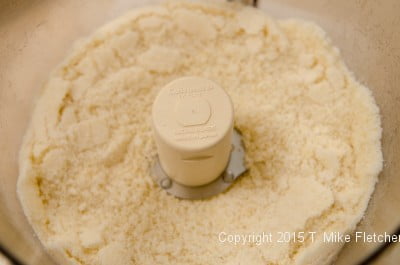 Add the egg whites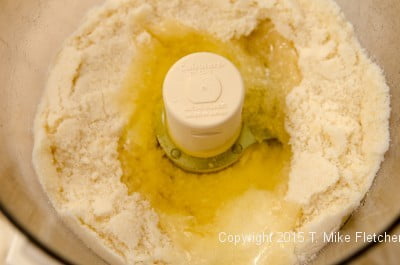 and process until a thick batter forms.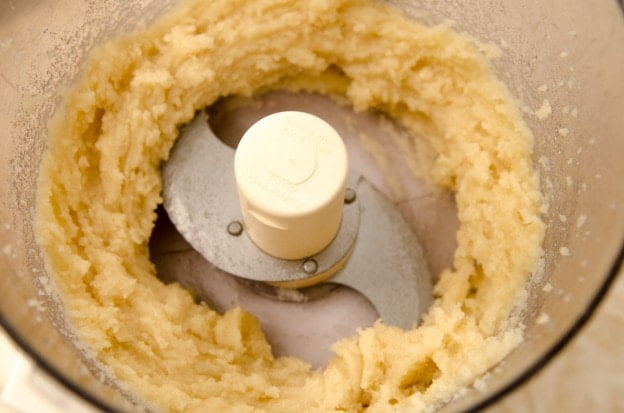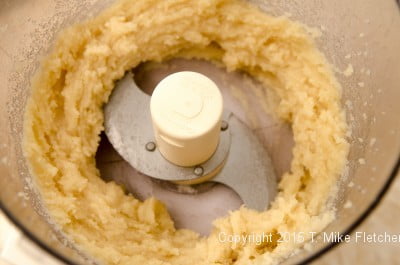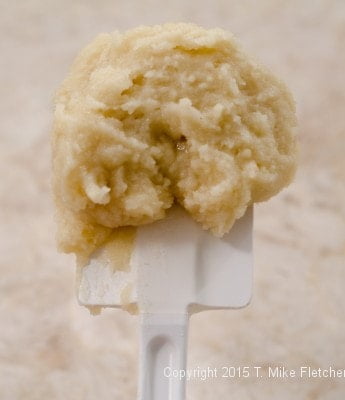 Fit a piping bag with a ¾ inch plain tip. Fill the bag with the batter and pipe 1 ½ inch mounds about 1 inch apart.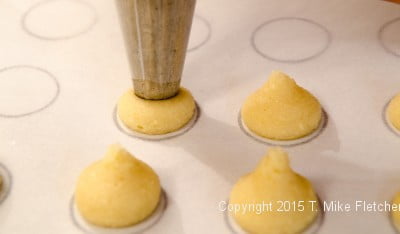 Since I am not particularly good at getting piped cookies all the same size, I use a plain 1 ½ inch round cookie cutter to draw circles with a marker on parchment paper. I place this on the baking sheet and cover it with a second piece of parchment. Then just hold the bag about ½ inch up from the baking sheet and pipe to fill the circle. There you have it, perfect little Amaretti cookies.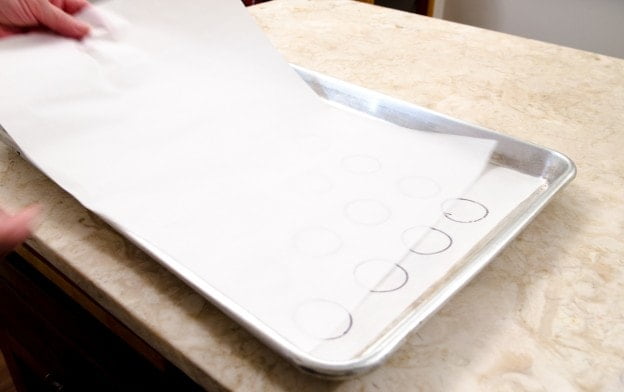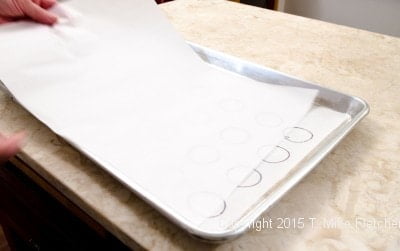 You will have a point on the top of your piped cookie where you pull the bag away.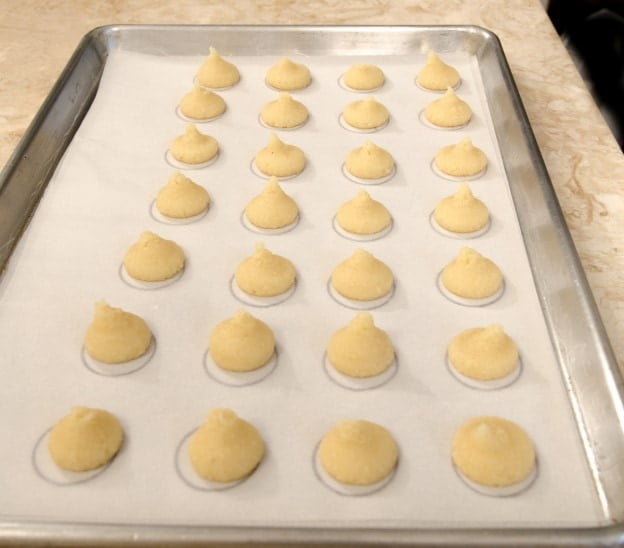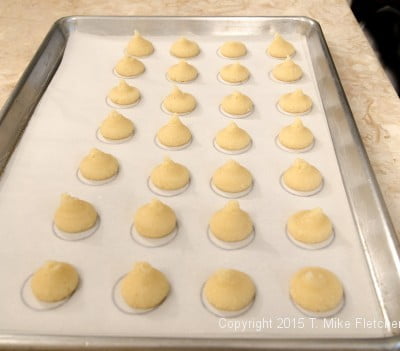 To make these cookies dome shaped without the point, wet your finger and gently press the point down even with the rest of the cookie.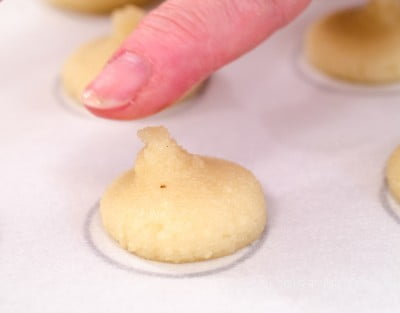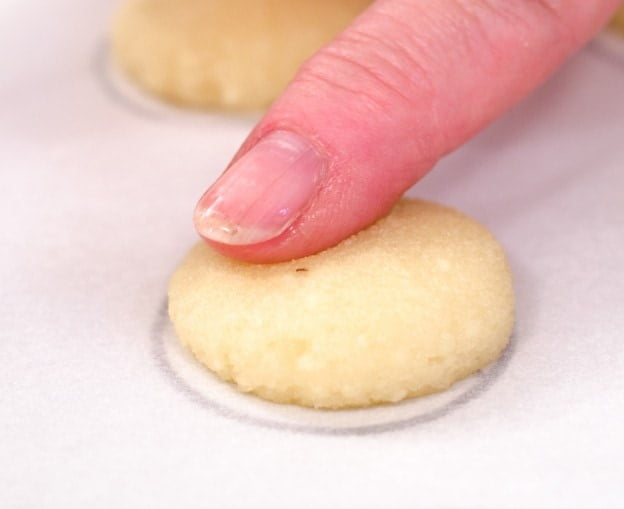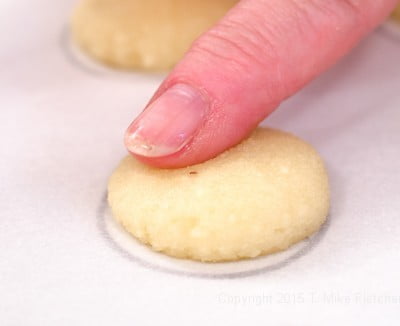 Sprinkle with the pearl sugar or, lacking that, regular granulated sugar.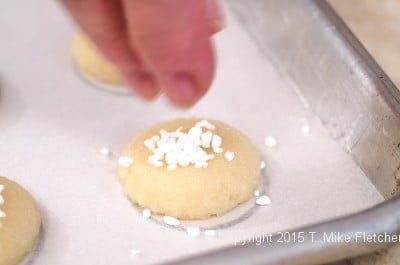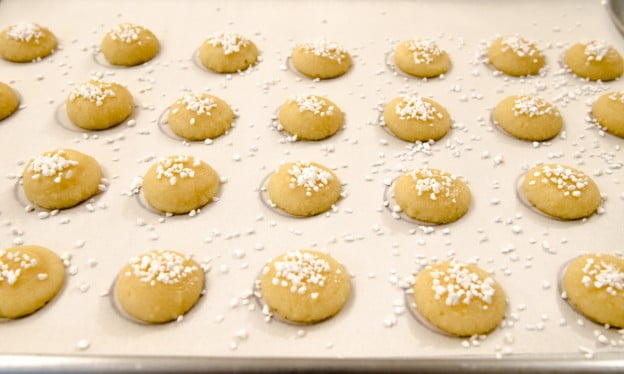 Bake for about 15 to 18 minutes until deeply golden brown and little cracks appear on the top of the cookie.
Let them cool completely on the parchment. They should remove very easily if baked long enough. If they stick, you can go under them with a spatula or turn the whole sheet over and wipe the bottom of the cookies with a damp paper towel.
Yield: Approximately 40 cookies