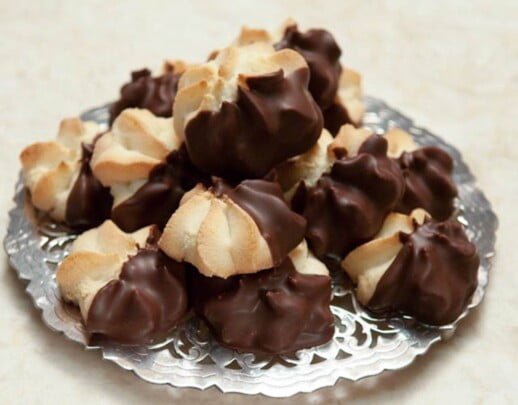 Almond Macaroons are simplicity itself and one of the easiest, fastest, most delicious cookies you can make.
Be sure to use almond paste and not almond filling or almond marzipan when making these. Each of those has other ingredients in them. Almond paste is made of almonds, sugar and almond extract with water to hold it all together. It is very smooth and is used to make marzipan which in turn is used in Europe to cover wedding cakes and make shaped candies or candy centers.
It is possible to make your own almond paste and several methods can be found on the internet. At the bottom of the article several sites are given if you are so inclined. Because we made a lot of these at the bakery we used pre-made almond paste and I still do. Several consumer brands are available in my area, the largest being Solo Pure Almond Paste and Odense Pure Almond Paste.
These should not be confused with Almond Macarons which usually are a filled almond cookie with the rounded tops and often colored.
Half dipping the Almond Macaroons is optional. The cookies are great all by themselves.
One of my caterers said he could live on steak and these Almond Macaroons. We use the Almond Macaroons along with macerated fresh fruit for a lactose or gluten free dessert. This is also a perfect dessert to end a summer barbecue.
Almond Macaroons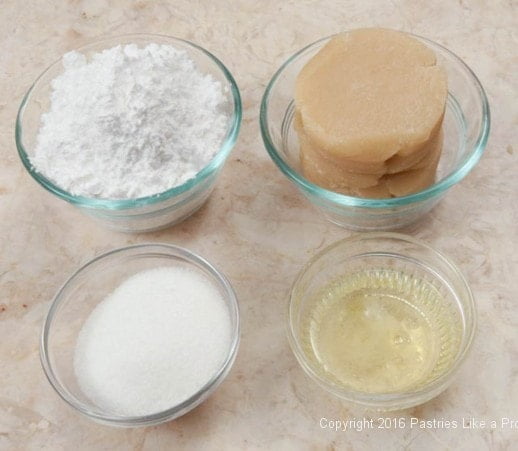 1 pound almond paste (454 grams)
1 ¾ cup sifted powdered sugar (225 grams or 8 ounces)
½ cup granulated sugar (100 grams or 3 ⅓ ounces)
Scant ½ cup egg whites
To make uniform Almond Macaroons, trace around a silver dollar or anything about 1 ½ inches in diameter on a piece of parchment spacing them about 1 ½ to 2 inches apart. This is your template and it should be placed on a baking sheet and covered with another piece of parchment on top. If you need more than one baking sheet, be sure to pull the template from underneath the cookies to use again. At the shop, we had various templates for different items that we saved and used over and over again.
Place the almond paste in the bowl of a mixer or food processor fitted with the steel blade.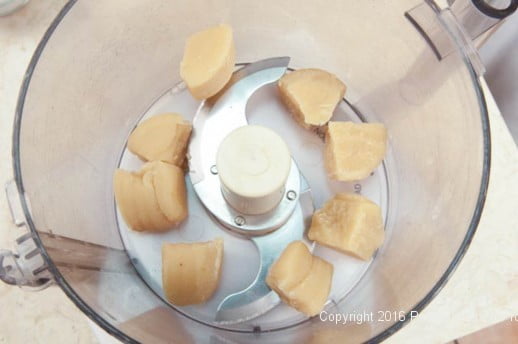 Add both sugars.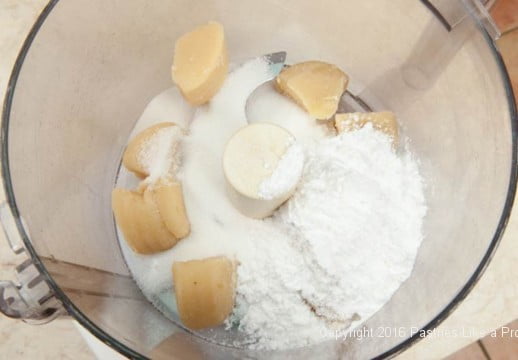 Process or beat until the mixture is mealy.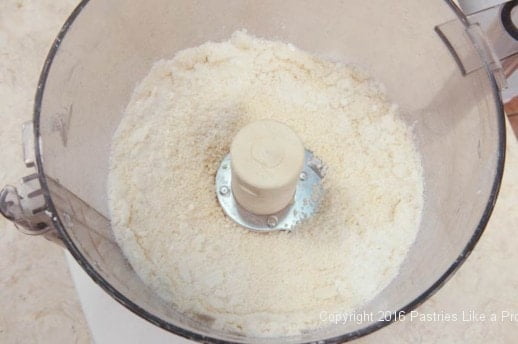 With the mixer or the food processor running, pour the egg whites in and continue mixing until it no longer looks wet. If using the food processor, do not turn the machine off until the ball forms or it is completely mixed.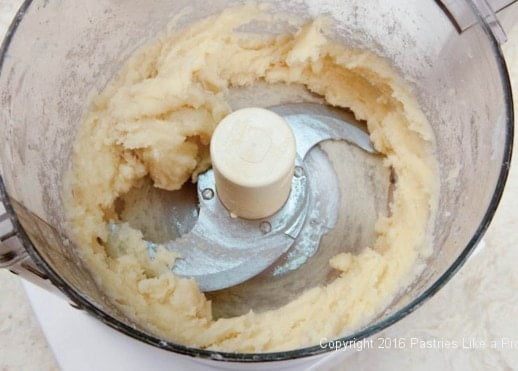 Fit a piping bag with a # 8 or # 9 open star tip.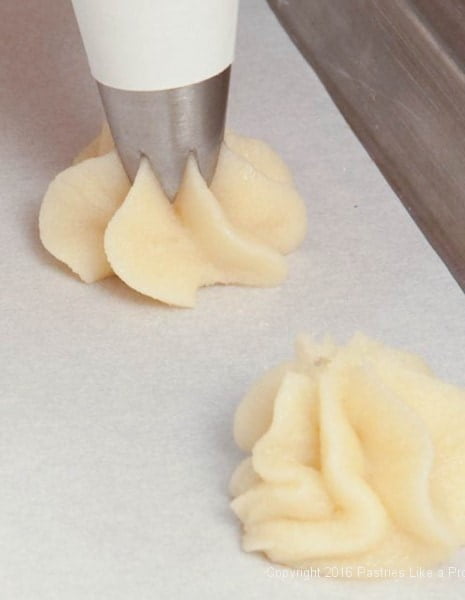 Pipe 25 macaroons about the size of a half dollar onto the baking sheet. Let dry for 30 minutes.
In the meantime, preheat the oven to 350 degrees. Bake about 15 to 20 minutes until a deep golden brown. Cool completely.
Chocolate for Dipping, optional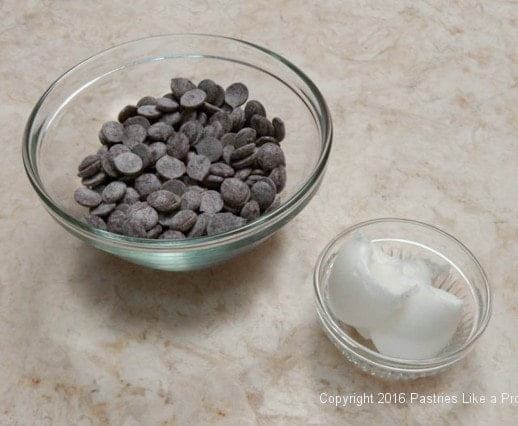 6 ounces semi sweet chocolate, melted (170 grams)
3 tablespoons shortening
Combine the chocolate and shortening in a narrow bowl. If the bowl is too wide, the chocolate won't be deep enough to dip half the Almond Macaroon.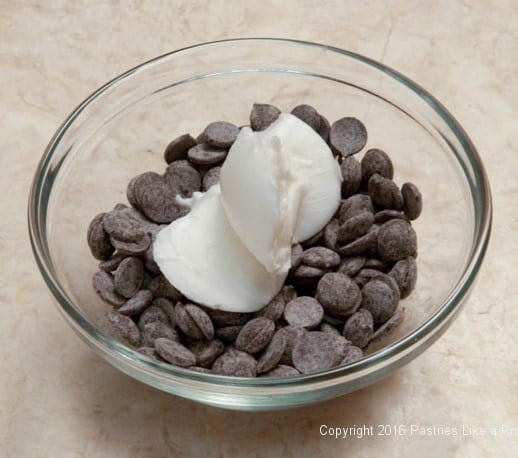 Microwave or heat over a double boiler until they can be stirred or whisked smooth.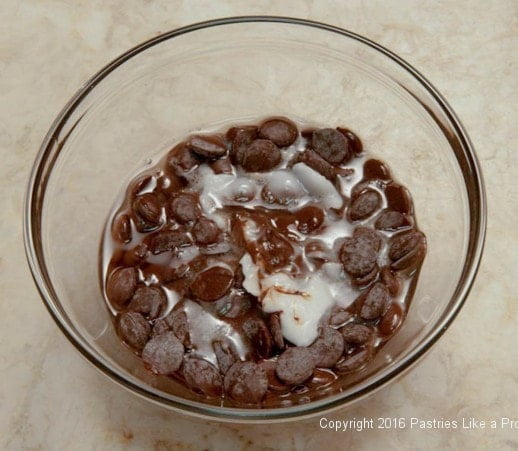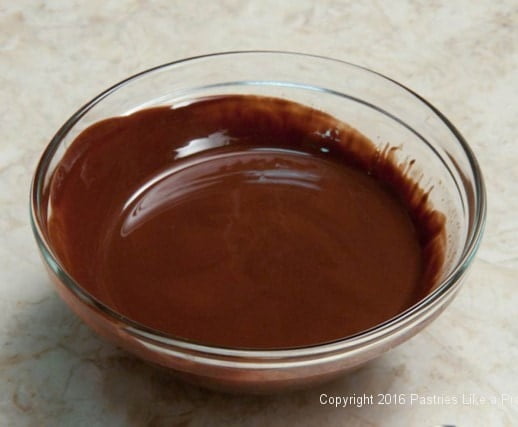 Half dip each macaroon into chocolate.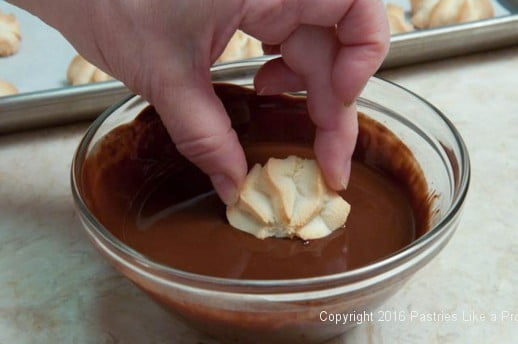 Allow the excess chocolate to drip back into the bowl.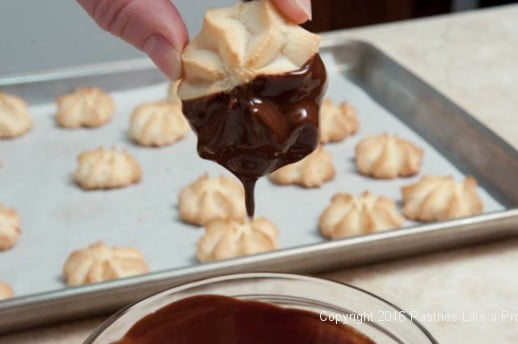 Place on parchment or waxed paper to set up for several hours or overnight. To speed up the chocolate, place them briefly in the refrigerator.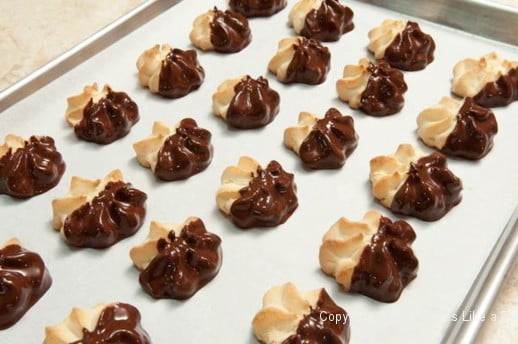 To Make Ahead: The baked cookies may be frozen for several months before dipping in chocolate. Thaw on racks; dip in chocolate after completely thawed.
Note: These may be piped smaller if desired. Use a # 5 or #6 open star tip. Dry and bake as above except reduce the amount of time baked.
The following blogs have recipes for making your own almond paste. I have not tried any of them but they all seem to have it right:
https://www.tasteofhome.com/recipes/homemade-almond-paste
https://www.epicurious.com/recipes/food/views/almond-paste-15551
https://theseasidebaker.com/how-to-make-homemade-almond-paste/
https://www.food.com/recipe/almond-paste-15869