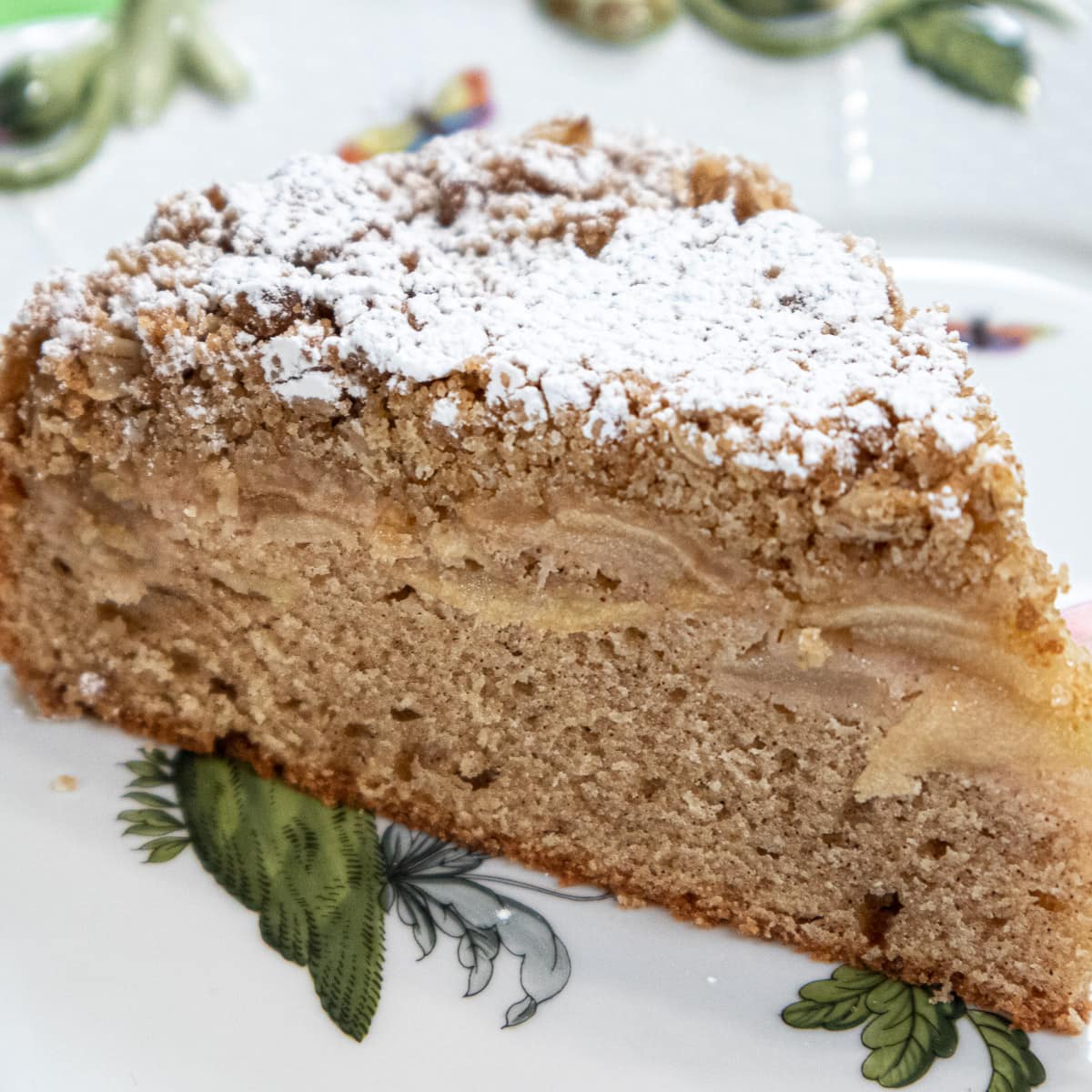 This Irish Apple Cake was the end result of a search for an Irish dessert for St. Patrick's day.
What I'm excited to share is a wonderfully moist cake filled with apples and topped with a streusel. There are several versions online, mostly without the topping. That is what drew me to this recipe. I love streusels and crumb tops. Gemma Stafford posted this on her blog under the title, "My Mum's Irish Apple Cake Recipe". Her opening line is, "It doesn't get much better than my mum's Irish Apple Cake recipe" and she couldn't be more right. Lucky for us!
The Apples
Granny Smith apples are specified for this Irish Apple Cake and I stuck with those. While Gemma's recipe calls for "one even layer" of apples, I took that to mean a single layer as in most of the other recipes. However, after peeling, coring and slicing 3 apples as called for, I added all of them, in one even layer.
I'm also going to show you a quicker way to core an apple for slicing. After peeling the apple cut it in half from top to bottom. Cut each half in half again making 4 quarters.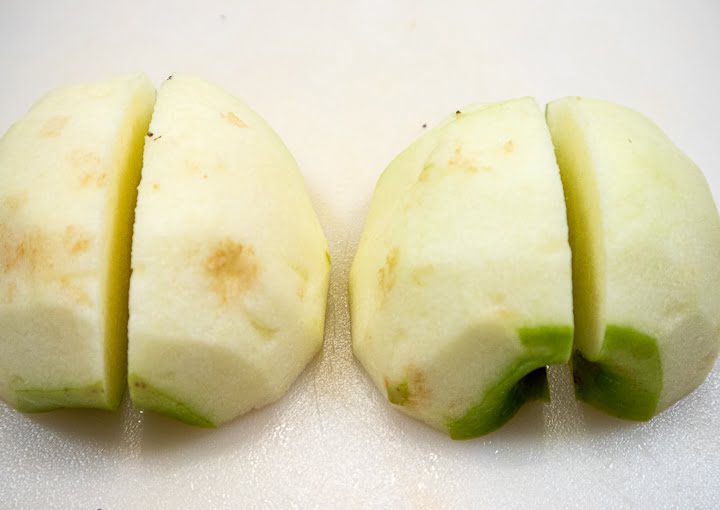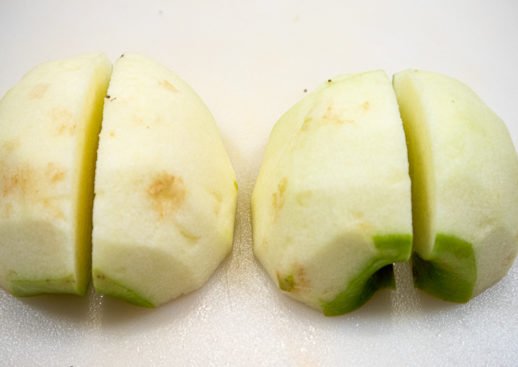 Place the knife at an angle just above the seeds and slice down. Once you get the hang of it, it is much faster than scooping out the seed pod.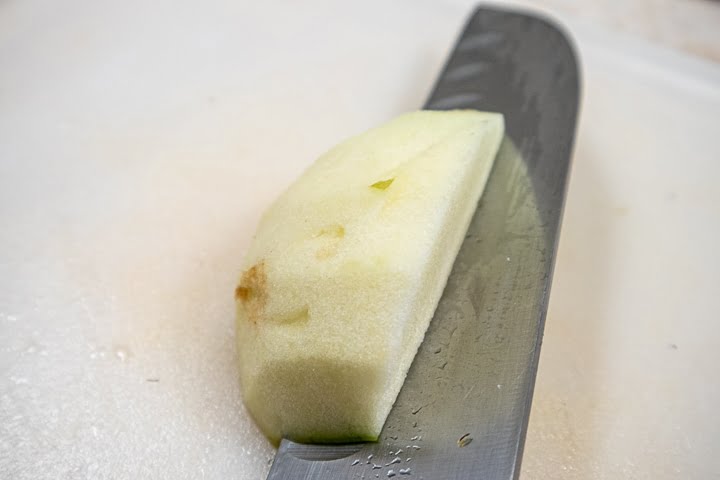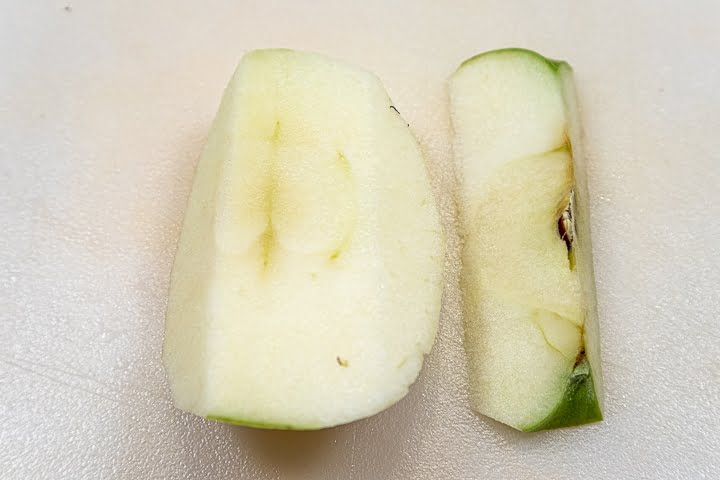 Irish Apple Cake Layer
I made a few minor changes like using brown sugar instead of granulated in the streusel and a bit more butter to ensure it holds together in the oven. The good news is there is lots of streusel topping.
I felt it was only fitting to use Kerry Gold salted butter if I was going to make this authentic.
The cake itself is cinnamon flavored backed up with vanilla. It's a snap to put together. Don't be put off by the relatively small amount of batter when spread in the pan. By the time the apples and streusel are added there is a full 2" layer of cake.
This cake is ideal served anytime of day. We especially liked it in the morning with a cup of tea. It's not too sweet, the apples are soft but not mushy and the streusel adds one more layer of flavor. For me, this is a perfect coffee cake or snack cake.
The Conclusion
You don't want to let this Irish Apple Cake go by.
If you like crumb topping as much as I do, take a look at these recipes:
Warm Chocolate Lava Cake with Bailey's Sauce
Easily Made Raspberry Ripple Coffeecake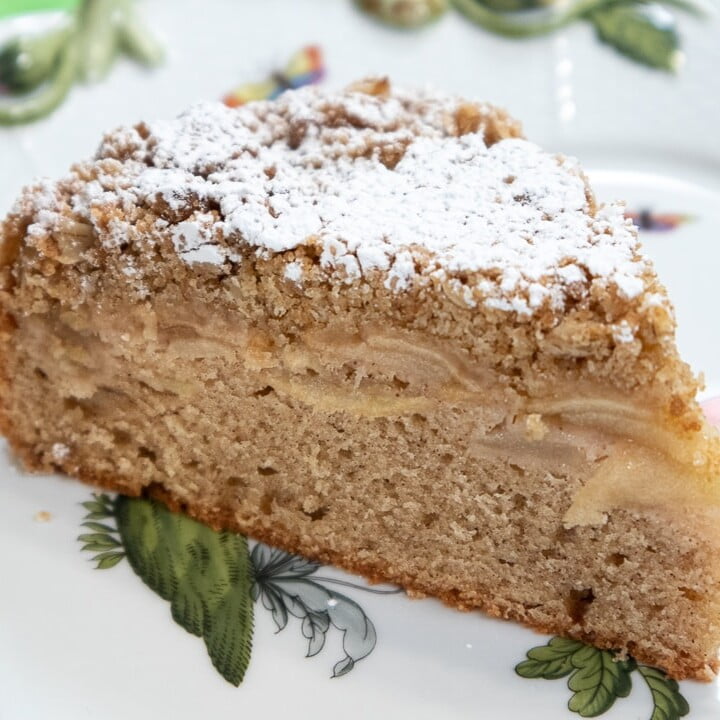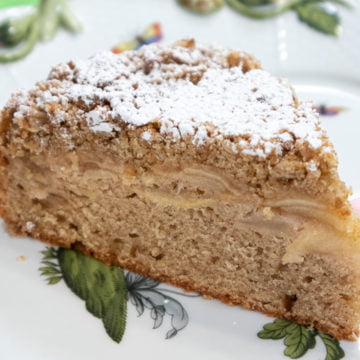 Irish Apple Cake
Irish Apple Cake is the perfect St. Patrick's day dessert. Tart Granny Smith Apples cover a moist cinnamon cake all topped off with a brown sugar streusel.  This is a keeper for sure.
Ingredients
Streusel Topping
½

cup

salted butter, cold (114 grams or 4 ounces or 1 stick)

¾

cup

all-purpose flour (105 grams or 3 ¾ ounces)

¼

cup

rolled oats (21 grams or ¾ ounces)

½

cup

brown sugar (100 grams or 3 ½ ounces)
Irish Apple Cake
3

medium Granny Smith apples

1 ¼

cups

all-purpose flour (175 grams or 6 ⅛ ounces)

1

teaspoon

baking powder

1

teaspoon

cinnamon

¼

teaspoon

salt, use ½ teaspoon if using unsalted butter

½

cup

salted butter (114 grams or 4 ounces or 1 stick)

½

cup

granulated sugar (100 grams or 3 ½ ounces)

2

teaspoons

vanilla extract

2

large

eggs

3

tablespoons

milk
Instructions
Streusel

Spray a 9 x2 inch round cake pan with non-stick baking release.  Set aside.

Cut the butter into small pieces. 

Combine the flour, oats, and brown sugar in the bowl of a mixer. Add the butter.

Beat on medium until crumbs form.  Be careful not to overbeat and turn it into a paste. 

Refrigerate while preparing the cake layer.

Irish Cake Layer

Preheat the oven to 350°F.  Spray a 9x2 inch round cake pan really well.  Set aside.

Peel, core and slice the apples very thinly. 

Place in a bowl and cover directly with plastic wrap.  They may still brown a bit, but that is fine.

Whisk the flour, baking powder, cinnamon and salt together in a bowl.  Set aside.

Without cleaning the mixing bowl, cream the butter, sugar and vanilla in the bowl of a mixer until light and fluffy. 

Beat the eggs in one at a time.  They will most likely curdle.  Add half the flour mixture and beat on medium low. Add the milk. Add the remaining flour.

Spread the batter in the prepared pan.  Place the apples on top in a flat layer. 

Cover the apples with an even layer of streusel.

Bake for about 65 to 75 minutes.  A tester will come out cleanly and the apples will be soft.

Cool the cake in the pan.  

To serve, dust with powdered sugar, cut into slices and get ready for a real treat. 

Store the cake, covered, at room temperature for 3 to 4 days.  Ours barely lasted until the next day!!
Nutrition
Calories:
488
kcal
Carbohydrates:
62
g
Protein:
6
g
Fat:
25
g
Saturated Fat:
15
g
Polyunsaturated Fat:
1
g
Monounsaturated Fat:
7
g
Trans Fat:
1
g
Cholesterol:
108
mg
Sodium:
334
mg
Potassium:
169
mg
Fiber:
3
g
Sugar:
33
g
Vitamin A:
824
IU
Vitamin C:
3
mg
Calcium:
74
mg
Iron:
2
mg