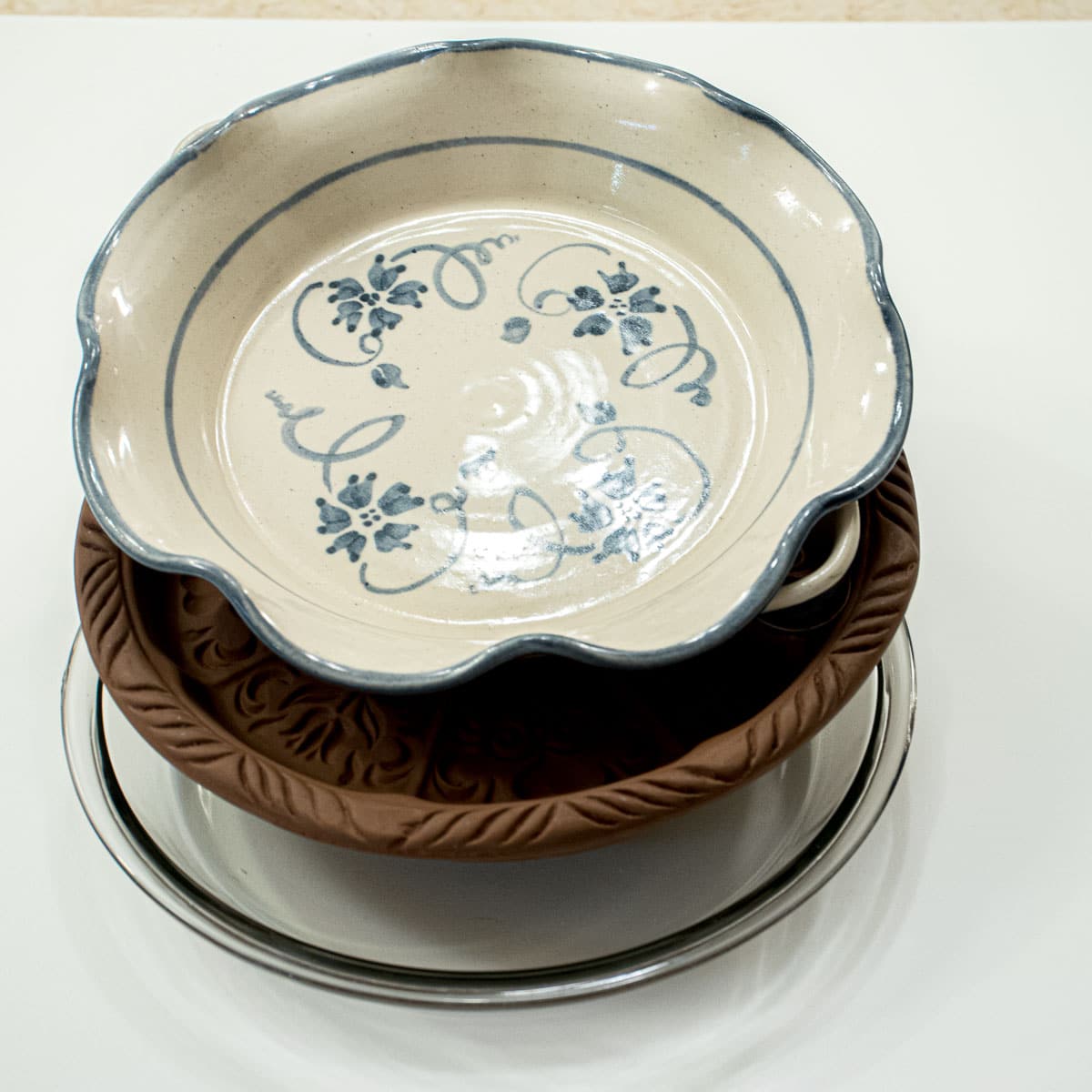 This weeks' post about Baking Pans comes as a result of my blog, Chocolate Cranberry Quick Bread. A question was asked about what type of 9x5" pan I used and whether it made a difference. So this week, I want to talk a little about the differences between baking pans.
In the long-ago days, there weren't many equipment choices for home baking. You bought this or that if you were lucky. Most baking pans for cakes, loaf cakes, and pie pans were and still are, made of aluminum. Commercial strengths were usually heavier than those made for consumers but unavailable. Today we are luckier and have choices of materials and weights.
Aluminum is still used commercially today for its longevity and its ability to maintain even heat. It neither slows down or speeds up baking times. Some of my baking equipment is 25 or 30 years old. I used it at the bakery and I still use it at home. Several of the oldest pans I own are my 9x5 loaf pans which I wouldn't trade for anything. They have seen a lifetime of service (and look like it) and still produce the best looking loaves.
Other materials such as ceramic, glass, stainless steel, tin, or enamel coated cast iron such as Le Creuset will react differently when heated because of the material with which they are made.
Materials Used for Baking Pans
Copper– mostly used for cooking but it is very expensive and a pain to keep clean. It was used mostly in baking for whipping egg whites as the copper was thought to increase the stability of the whites. Today, we use cream of tartar, a bit of lemon juice or vinegar to provide the acid for stabilization if needed.
Aluminum– Most used for baking. It conducts heat evenly. It is best to hand washed to keep the color. However, the discoloration does not affect baking in the pans. Look for heavy gauge aluminum to prevent warping which can occur if it is a lighter gauge.
The one bug-a-boo with aluminum is that it discolors if put in the dishwasher. It doesn't affect the quality of the pan, only the looks by turning them darker. You can see in the photo below that, at some point, I used this pan as a bain marie. Up to the water line, it is darker. That's what happens in the dishwasher.
Cast Iron– Heats evenly and holds the heat but it is very heavy and if uncoated needs to be seasoned. Today cast iron baking equipment is coated in enamel for looks and ease of cleaning.
Stainless Steel – Poor heat conductor and is not good for baked goods.
Glassware – While it is slower to heat up, glass becomes very hot once it does heat.Glass gets hotter than other materials and anything baked in it requires a reduction of heat by 25°F. For instance, if a recipe states 350°F, the temperature should be reduced to 325°F and baked for the same amount of time given. However, it is a good idea to check the item earlier than normal to see if it is done. The main advantage is that you can see the coloring as the item bakes if the glass is clear. I use glass pie plates for this reason. Glass bakeware is also very inexpensive. Some, but not all, will go from the freezer to the oven with no problem. Check the tag if you buy glassware
Silicone – while gaining in popularity for its ease of releasing items, especially sticky ones, as well as its ease of cleaning, it is a poor conductor of heat and can fail to properly brown items. It can also be difficult to move as it is wiggly and unstable when filled with batters or near liquid batters.
Tinned Steel - this material is used a lot for tart pans which come in various sizes. They are shallow, have fluted sides and removable bottoms making it easy to release the item. They heat evenly and are used for quiches and tarts among other things. The downside is they much be hand washed and dried immediately or they can and will rust.
Dark baking pans vs. light baking pans
I am not a fan of dark pans. They cause the item to brown more quickly often resulting in overbaked edges that are too crispy and less tender. While many claim to need no releasing sprays, the products can still stick. There is a mid-range gray pan which I have used but given a choice I will always go to light colored aluminum or tin.
Thick vs. Thin Baking Pans
While less expensive pans are tempting because of the cost, thicker gauge pans of any kind will last longer, most a lifetime if well cared for. The thinner pans can warp easily and don't go from the freezer to the oven very well. There will often be an audible snap as the pan twists in the heat.
BASIC BAKING PANS
With this set of baking pans, you will be able to bake just about anything. There are other specialty pans, each with their own use but this will more than get you started.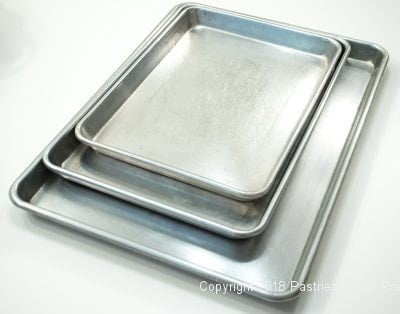 Sheet Pans There is a variety of sizes but the most important is the half sheet pan. This is the workhorse of baking pans. The rimmed edges keep things from accidentally falling off and parchment paper can be bought in half sheet sizes. For more information on sheet pans go here.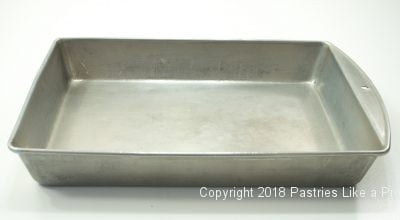 9x13x2 inch Pan This pan is especially good for single layer cakes, bars, and brownies such as the Santa Fe Brownies, Hazelnut Crunch Bars, and Pecan Bars.
9x9x2 inch square pan If you bake square cakes, you should have two of these. Otherwise, one is fine. The Stuffed Focaccia was made in this pan as was Cocoa Brownies.
8x8x2 inch square pan This size is invaluable if you want to cut a 9x13" recipe in half as I often do since there are two of us. No Bake Peanut Butter Bars use this size pan.
Muffin Pans The regular size come in 6, 12 and 24 hole pans. Good for muffins, cupcakes, individual quiches and frittatas among other things. They also come in the large Texas muffin pans which are really big but great for individual desserts. They also come in mini muffin sizes which are especially good for brunches but not really necessary. Fall Muffins and Orange Bread Pudding are good examples of multiple uses of this pan.
9" round cake pans I have used Parrish Magic Line Pans for over 30 years including at the bakery where we had over 100 of them. They are the best cake pan I have ever found. They are very reasonably priced, a good weight and last forever. I have some of the original pans at home now. They come in 2" or 3" depth. Since I bake my layer cakes in single layers and don't slice them, I use the 2" depth. The pans range from 6" to 24" in diameter. If you bake in single layers, I would suggest having 4 of them. A few of the many examples on this blog are: Cake Pan Prep or How to Get a Flat Cake Layer, From 1 Recipe Comes Multiple Layers or Gluten Free Turtle Cake with Salted Caramel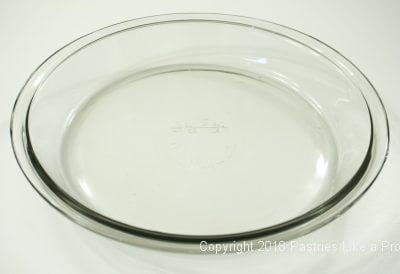 9" Pie Plates This is where I like to use glass bakeware. They come in the standard size or deep dish. Last I looked, Walmart's has them for under $5.00. Here's a couple of pies in my favorite pie plate: Double Banana Caramel Cream Pie and Lemon Meringue Pie.
Loaf Pans These come in a variety of sizes from mini pans to 8.5 x 4.5 x2.5 inches to 9x5x2.25 inches and larger. The most used size in the 9x5. Four in One Amazing Quick Breads and My Chocolate Babka use this pan.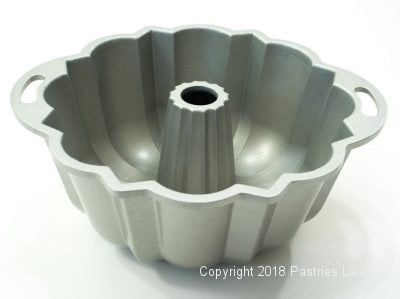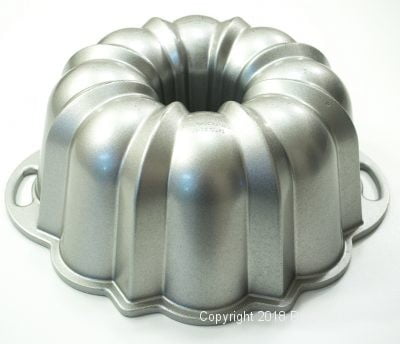 Bundt Pan There are so many designs of bundt cakes but I still like the original bundt pan. When we sold our house I had to get rid of about ⅔ to ¾ of my baking equipment and pare down to what I would need for home baking. I had brought a lot of my professional equipment when I no longer had the bakery. Well, for some reason, my original bundt pan went with a lot of my other equipment. I had it for at least 40 years. When I replaced it, I did so with the original design in the light, but heavy aluminum pan. It has served me just as well. The Citrus Pound Cake and the Lemon Rum Bundt Cake are two examples of cakes using his pan.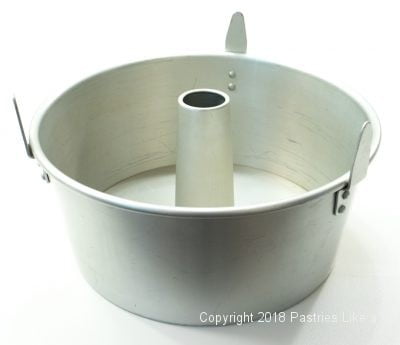 Angel Food Pan This two piece pan is used for Angel Food Cakes but also for pound cakes and yeast dough recipes. The hole in the center allows the heat to penetrate evenly. The cakes bake without the outer edges over baking before the middle is done. Here is an easy version of several angel food cakes where you don't have to fold the dry ingredients in. It's the only way I make my angel food cakes now. Another version of this cake is the Toasted Angel Cake. This Creamy Pound Cake was also made using this pan.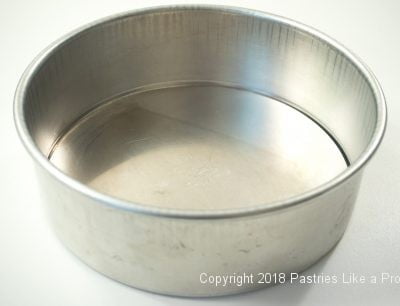 Cheesecake Pan This pan is my preference over the springform pan because of its flat bottom and solid sides. We used these at the bakery for cheesecakes but also for assembling cakes with wiggly fillings. They were refrigerated or frozen until set to make finishing much easier. The Apple Crisp Cheesecake, Unbelievable Cheesecake, and the Chocolate Strawberry Mousse Torte are good examples of this pan.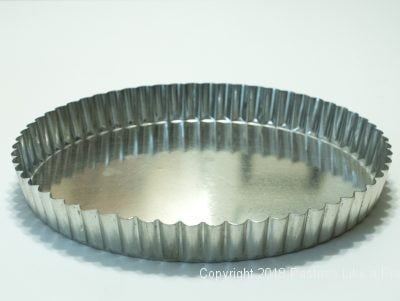 Tart Pans Although these tinned tart pans come in different sizes, the most used is the 9x¾" pan. It has a removable bottom enabling the baked pastry to be removed easily. This is the perfect tart pan. Tarts differ from pies in that they are generally not enclosed in pastry and the pastry used is quite often the French pate brisee which, as far as I am concerned, has no equal. I used this pan as well as the 12" size for my book, "European Tarts-Divinely Doable Desserts with Little or No Baking" which features no-bake tarts. The book is available in paperback and as an e-book.
Additional information regarding baking equipment can be found at:
Baking Equipment and Utensils– This post describes everything I could think of that would show what the equipment and utensils look like in a serious baking kitchen.
Baking Basics – Equipment– The most important pieces of equipment for best baking.
Double Panning – Preventing Over Browning in the Oven