Cake Pan Prep or How to Get a Flat Cake Layer is one of the most asked about aspects of baking .It is frustrating to spend time making a scratch cake and waiting for it to bake - only to have layers that are humpy in the center. Of course, they can be trimmed flat but why not bake them that way to begin with? In a professional bakery, trimming takes time and wastes money.
Traditionally, cake pans have been greased and floured or sprayed with a releasing agent. And therein lies the problem. When cake layers are baked, the edge bakes first as the heat takes time to travel to the center. When pans are prepared in this traditional manner, the edges rise, and because the rest of the cake isn't baked yet it can't support the edges, so they slide back down the greased pan resulting in a humpy cake. This assumes the recipe or formula being used is balanced.
By preparing the pans without greasing them, the cake edge will rise and then stick to the pan because they can't slide down. They wait there while the center catches up, resulting in a flat cake layer. When I discovered this, we prepared all of the layers this way including the largest layers of a wedding cake. It saved us an enormous amount of time and we didn't waste cake that had to be removed. Think Angel Food Cakes.
Simply spray the center only of the cake pan.
Line the pan with a parchment paper round
Spray the center only of the parchment paper
Fill you pans with cake batter and bake as called for.
Notice it is not only flat, it is stuck to the sides of the pan, as it should be.
To release, use a small, flexible metal spatula and go around the inside edge of the pan.
Insert the spatula between the edge of the cake and the cake pan. Make sure to keep the spatula to the edge of the pan and not the edge of the cake to avoid cutting the cake layer.
After releasing the cake, place a cardboard round over the top of the pan and flip it over. Remove the pan an pull back the parchment.
and flip it over.
Remove the pan.
Pull back the parchment.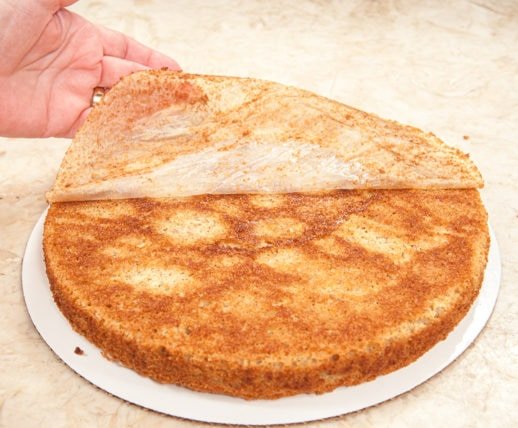 That's all there is. A simple but effective way to get flat cake layers.