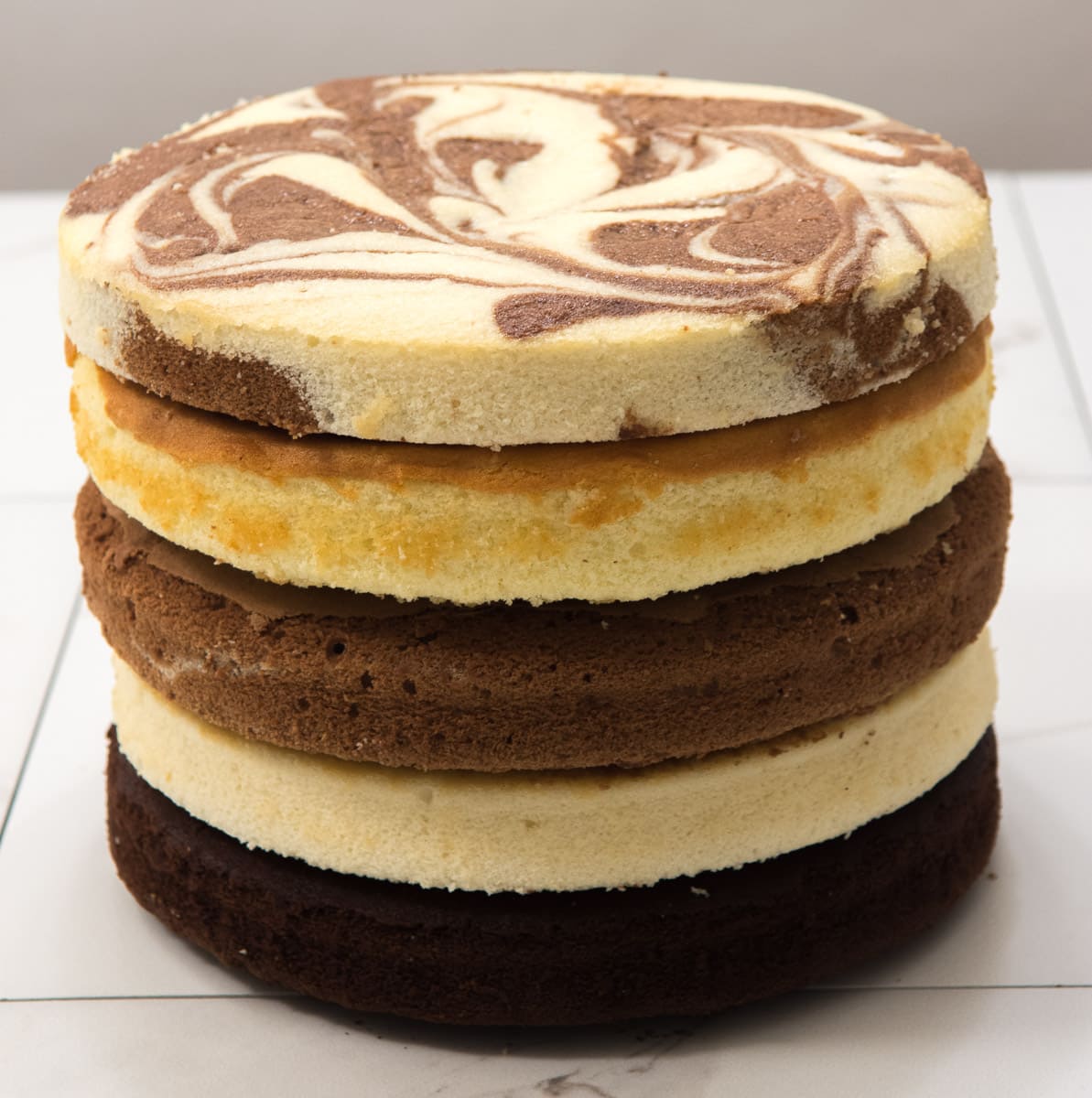 Many, many years ago when I first opened my bakery, the challenge was finding recipes for cake layers that worked and could be scaled up. It seemed like all I did was test.
Then I discovered, as did everyone, "The Cake Bible" by Rose Levy Beranbaum. It was a game changer for anyone interested in baking and cakes. The explanations of what was going on and why in each recipe helped us understand baking better. At that point in time (1988) there was not a lot of information on the science of baking, which made this book all the more valuable.
I found the recipes in her book for cake layers to be the recipes I was looking for. Although I used recipes from many sources, including those I came up with, "The Cake Bible" was always my back up.
This recipe is a slight variation of her White Velvet Cake. I have used it before in my Spirited Marble Cake.
One day, when I was thinking about blogs that particularly help people, I remembered comments from the Base Cookie blog I wrote. It seemed readers appreciated having one base recipe that could be turned into many different cookies. So this base cake layer blog came about with the help of Rose.
The recipe is one of the easiest cake layers to make. However, the technique is a bit different from the usual creaming of the butter and sugar. In this recipe, the dry ingredients along with the butter and a portion of the liquid is combined with definite mixing times to create a very thick batter, to which the remainder of the liquid is added in three additions. It is that easy.
The one point that needs to be stressed in this cake layers recipe is the temperature of the butter. As you will see, the recipe states softened. That can mean a lot of different temperatures. I have seen recommendations by several prominent authors that 68°F is the ideal temperature for softened butter. However, I find that is still too cold to blend or cream well with sugar. I got a sandy texture but not one where I would call it creamed.
The temperature of the butter I use for creaming or when calling for "softened butter" is 70°F or 72°F. At this temperature, it will mix completely. It is important in this recipe as the butter is being combined with a large amount of flour, sugar, and liquid. If you don't have an instant read thermometer (and you should) the best I can tell you is that it will feel soft when you press it in the package but not mushy. In no case should it be liquid. This happens a lot when butter is microwaved to soften it, but at too high a temperature. I usually remove butter the night before if I am baking in the morning. I also keep my house around 74°F in the summer.
Flavoring for the white cake layers can be all vanilla, all almond extract, half and half or more of one than the other. My favorite for white cake layers is mostly almond with some vanilla, as you will see below.
In addition to the White Cake layers, Rose changes out the egg whites for egg yolks for her Yellow Downey Cake. In addition, it is easy to add citrus zest, marbleize the cake and make a chocolate cake.
The Chocolate cake test was really interesting. I made one recipe of the white cake and split the batter in half by weight. I added cocoa to one layer and melted and cooled chocolate to the other layer. The two cake layers couldn't have been more different. The one with the chocolate was much paler and had less of a chocolate taste. It was more like a German Chocolate batter. The cocoa layer was very dark and tasted more of chocolate. I am including both for your reference.
In this recipe, I call for two cake layers. However, the batter can be divided into 3 or 4 if desired. Just make sure to reduce the baking time and test with a tester. The approximate weight of the batter is included, so dividing by weight should be easy. The reason for the approximate weight is the size of the eggs can throw off an exact weight. Even though large eggs are recommended, even those can vary in size. The standard is 24 ounces per 12 eggs, but within those 12 eggs, the weights can vary.
Before you ask, the photo above shows only 5 layers, the citrus flavors were not included.
I have also collected buttercreams from throughout my blog for instant reference to fill whichever cake layers you make.
One last note, all of the cake layers freeze extremely well. All of these were frozen for photography and suffered not at all in taste or appearance, as you can see.
Buttercreams from Pastries Like a Pro
Base White Cake

4 large egg whites (128 grams or 4 ½ ounces)
1 cup milk
1 ½ teaspoons almond extract*
1 teaspoon vanilla extract
3 cups sifted cake flour** (300 grams or 10 ½ ounces)
1 ½ cups sugar (300 grams or 10 ½ ounces)
1 tablespoon + 1 teaspoon baking powder
¼ teaspoon salt
12 tablespoons unsalted butter, softened (170 grams or 6 ounces)
*The flavoring can be 2 teaspoons almond extract, 2 teaspoons vanilla extract, half vanilla and half almond extracts as you please.
**If not weighing the flour, which is preferred, place a dry measure on a piece of wax paper. Sift cake flour into the cup until it is overflowing. With scrape the overflow off with the back of a knife. Repeat 2 more times.
Preheat oven to 350 degrees. Line two 9x2 inch round cake pans with parchment.
Spray center only (like our cake pan prep shows) of each parchment.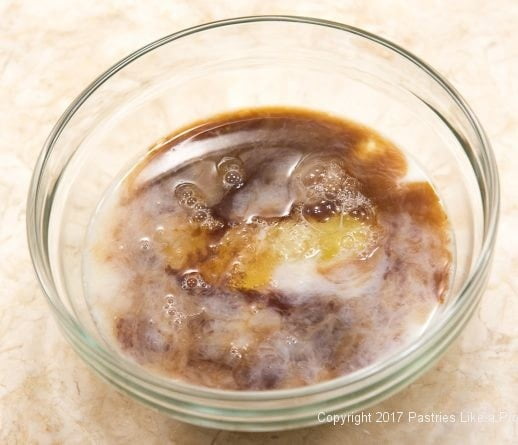 In a bowl, lightly combine the egg whites, ¼ cup milk, almond extract and vanilla. Set aside.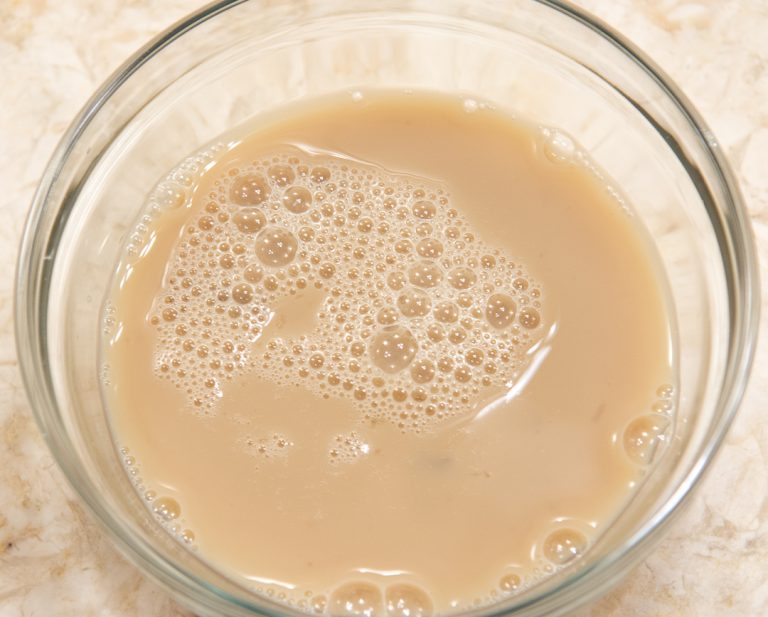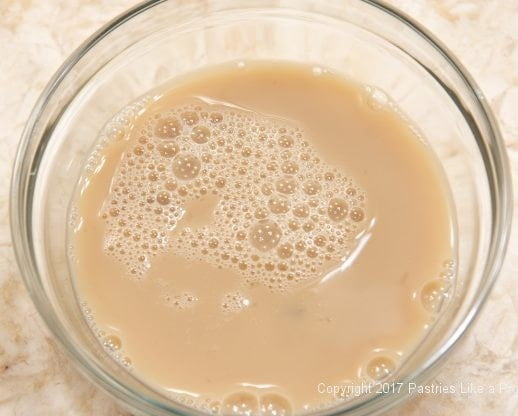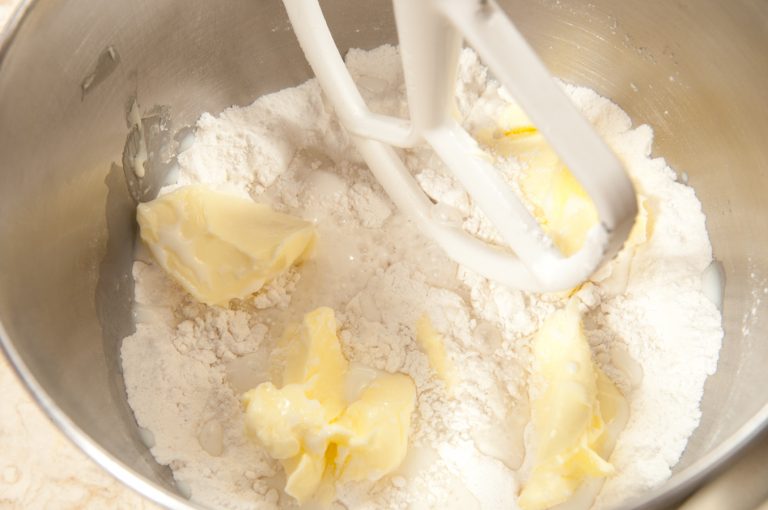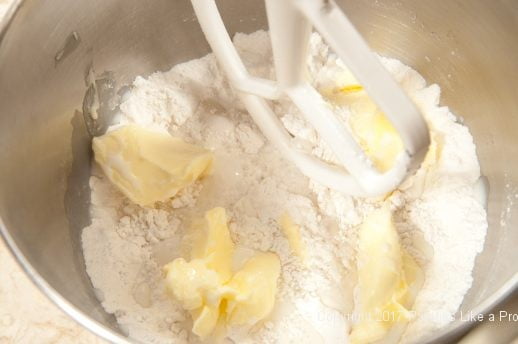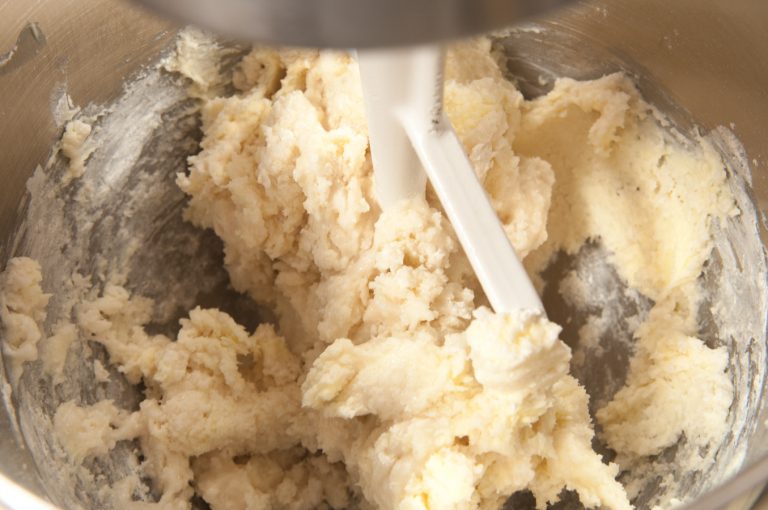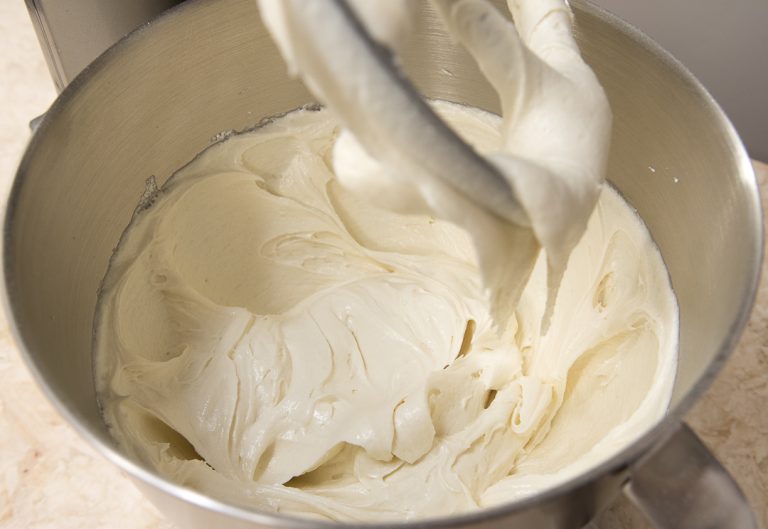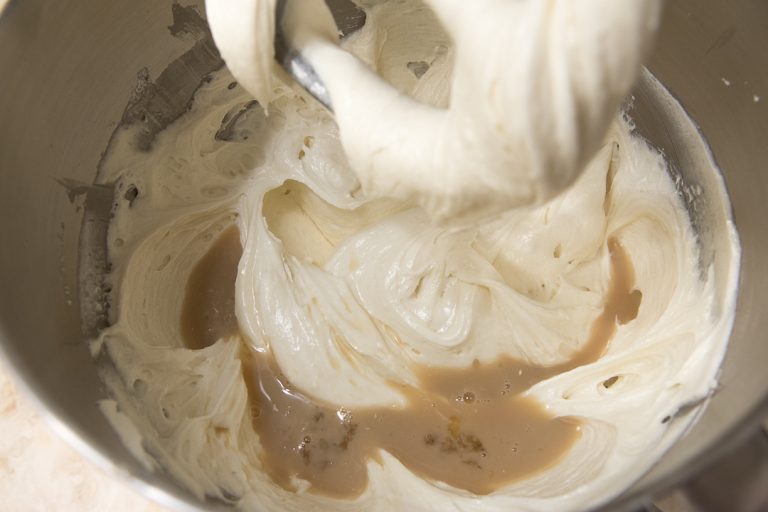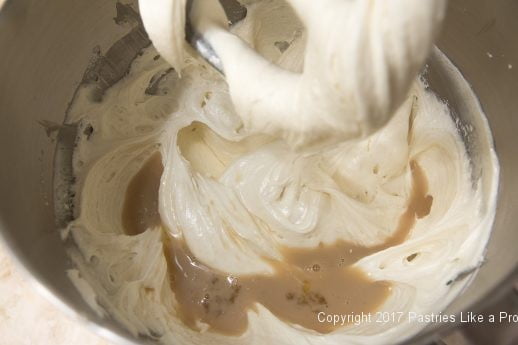 In a large mixing bowl, combine the dry ingredients and mix on low speed for 30 seconds to blend. Add the butter and remaining ¾ cup milk. Mix on low speed until the dry ingredients are moistened. Increase to medium and beat for 1 ½ minutes. The batter will be thick and luxurious. Gradually add the egg mixture in thirds, beating about 30 seconds each time.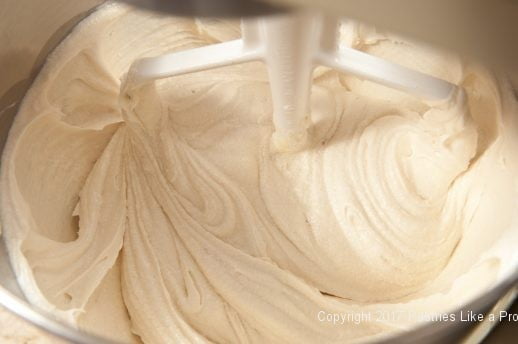 Finished batter weighs about 1110 grams or 38 ½ ounces.
Divide the dough between the two prepared pans (555 grams or 19 ⅓ ounces each).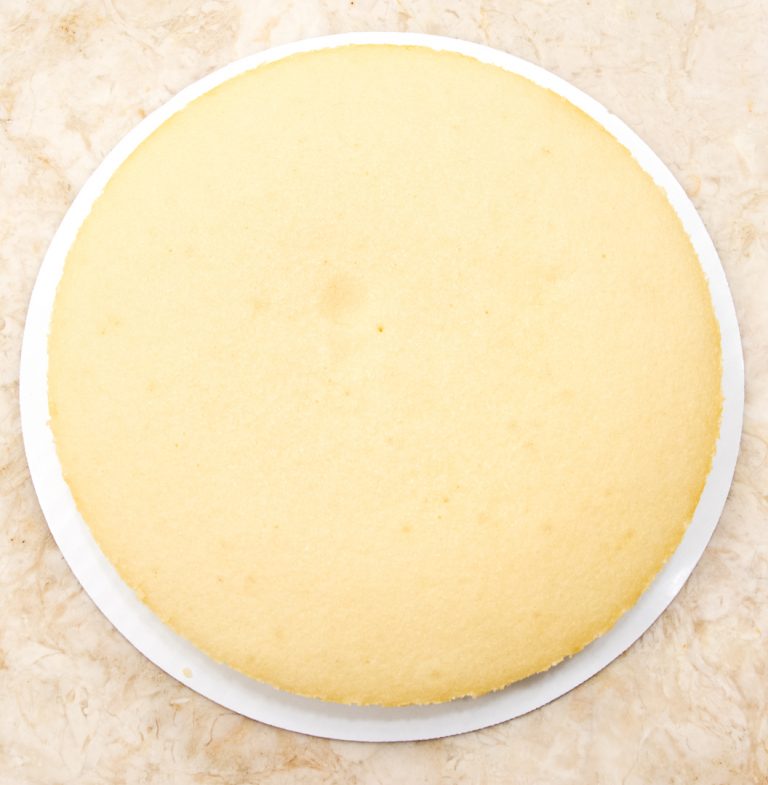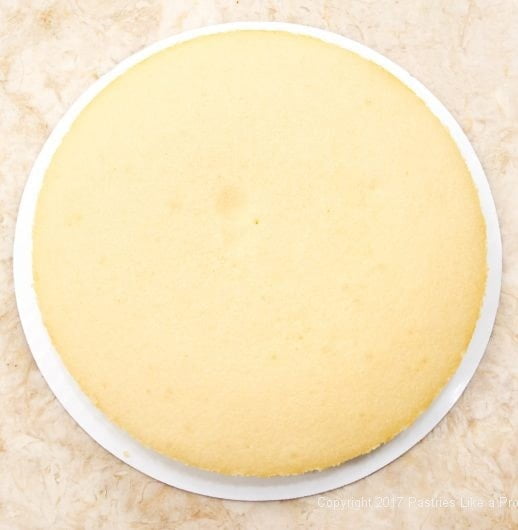 Bake for 18 to 22 minutes until a tester comes out clean.
VARIATIONS OF BASE CAKE LAYERS
Yellow Cake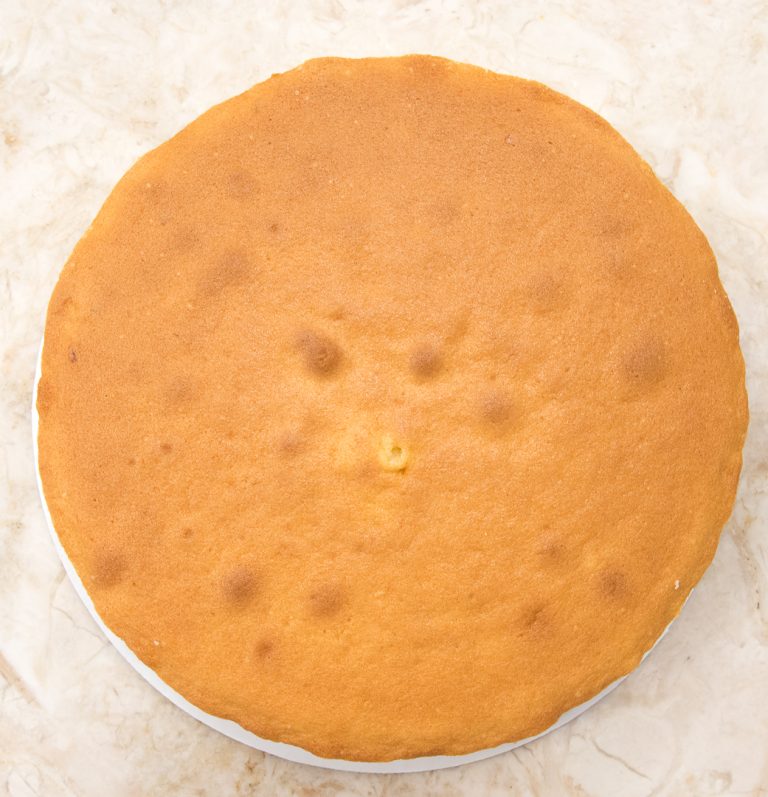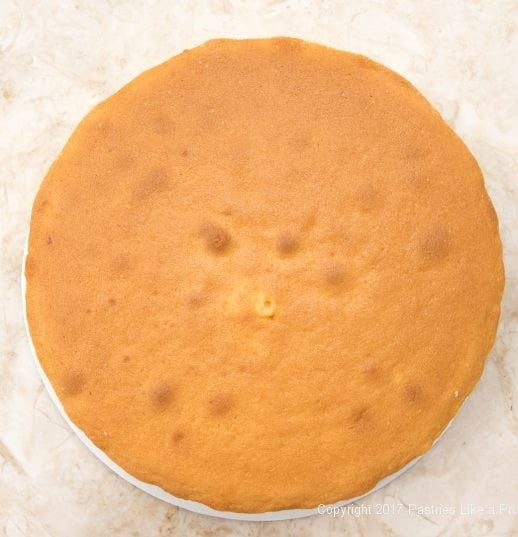 Substitute 3 egg yolks for the egg whites. All the rest remains the same.
Marble Cake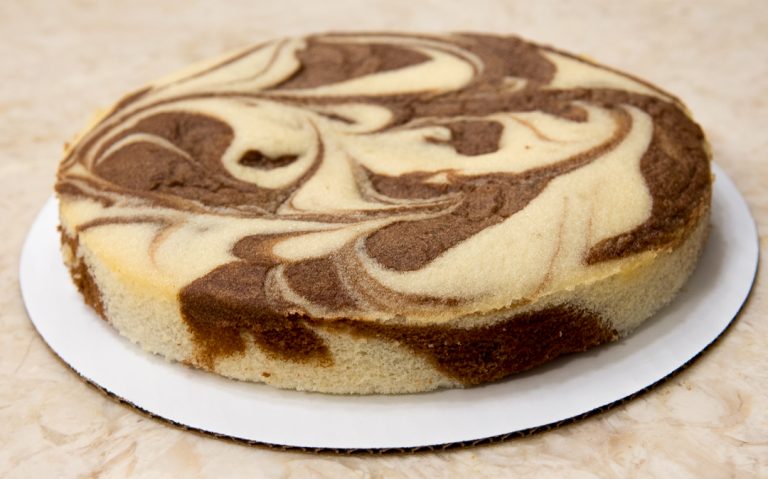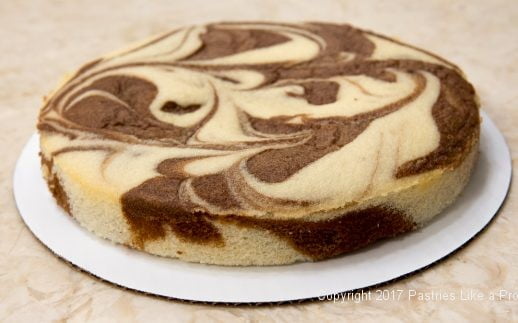 Divide the white batter in half. Add 3 ounces of melted chocolate to one half of the batter. For how to photos, see Spirited Marble Cake.
Chocolate Cake – There are two versions of this because I was happy with both and each has their own application.
Chocolate Cake with Cocoa – This is the darkest and most intense of the two chocolate cakes. It tastes the most chocolaty. I used 60 grams (2 ounces) of dutched cocoa and 240 grams (8 ½ ounces) of cake flour in place of all flour. Place in the mixing bowl with the remainder of the dry ingredients. All the rest remains the same.
Bake for 24 to 26 minutes.
Chocolate Cake with Chocolate - This cake is lightly flavored with chocolate and emulates a German Chocolate Layer.
For this cake, you whisk in 6 ounces (170 grams) of melted bittersweet or semisweet chocolate into the finished batter. The chocolate can be melted in a bowl over hot, but not boiling water or microwaved at half power for about 2 ½ minutes. Stir and, if not melted, microwave briefly at half power in 15 second bursts.
This cake, for some reason, has a very, very thin meringued layer on top. Simply brush off the loose pieces and frost it.
The layers for this cake will weigh about 1200 grams (42 ounces) total or 600 grams (21 ounces per layer.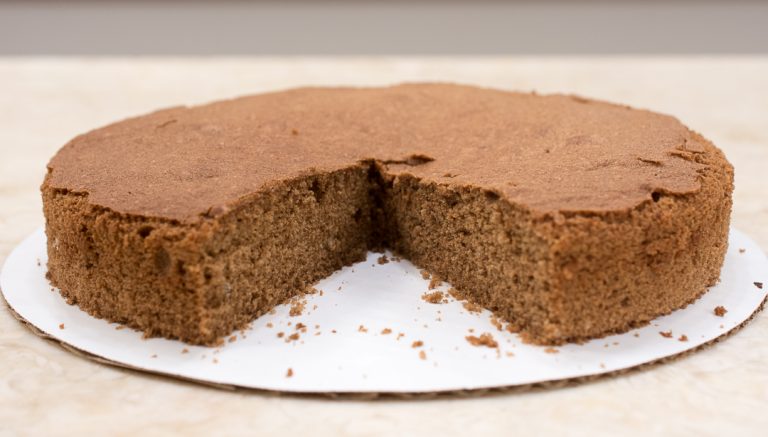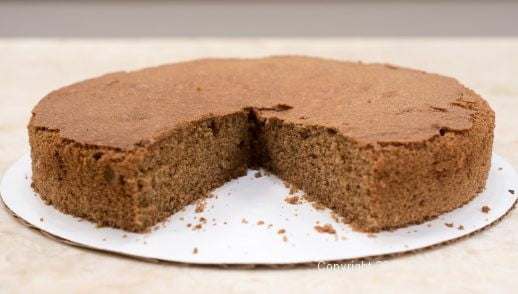 Bake for 24 to 26 minutes.
CITRUS FLAVORED LAYERS
Lemon Cake – Add the zest of 3 large or 4 medium lemons to the batter of the yellow cake, using all vanilla in the batter. Add it with the dry ingredients in the mixing bowl. All the rest remains the same.
Orange Cake – Add the zest (orange part only, do not use the white pith below) of large navel oranges to the white batter using all almond extract. Add it with the dry ingredients in the mixing bowl. All the rest remains the same.
Juice oranges will not provide enough zest because of their thin skin.
Citrus Cake – Use the zest of 1 navel orange, 1 lemon and 2 limes. Add them to the dry ingredients in the mixing bowl. All the rest remains the same.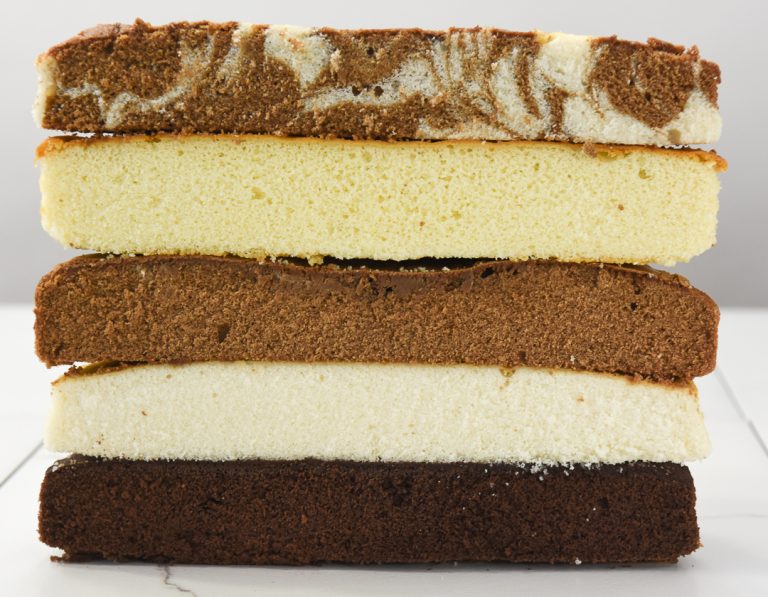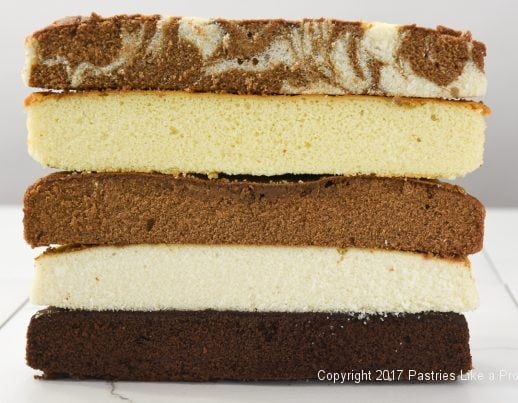 Bake these layers for 18 to 22 minutes until the center springs back when lightly touched or a tester comes out clean.SaveSaveSaveSaveSaveSaveSaveSaveSaveSaveSaveSaveSaveSaveSaveSave