This Espresso Fudge Cake consists of four layers of moist chocolate cake filled with a coffee buttercream highlighted with brandy. I am not one to drink coffee and when I do it has lots of cream and sweetener. But I could easily eat this buttercream all day long - so if you hesitate because of the coffee, I encourage you to try this anyway, The combination of a chocolate fudge cake and a coffee buttercream makes this Espresso Fudge Cake a stand out.
Both the cake and the buttercream are very easy to make. This cake uses an American Buttercream which essentially is a matter of adding all the ingredients to a mixer bowl and beating until light and fluffy.
This Espresso Fudge Cake was the most popular cake we made at the bakery for restaurant service. We would make 16 of these at a time at the bakery using 64 layers in the process.
Espresso Buttercream
¾ pound butter (3 sticks), room temperature
1 tablespoon brandy
2 teaspoons instant coffee
5 cups powdered sugar, sift if lumpy (570 grams or 20 ounces)
4 layers Chocolate Cake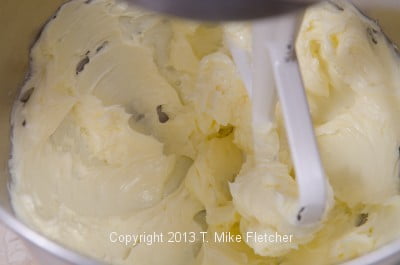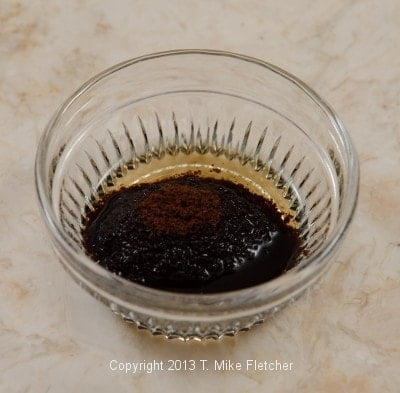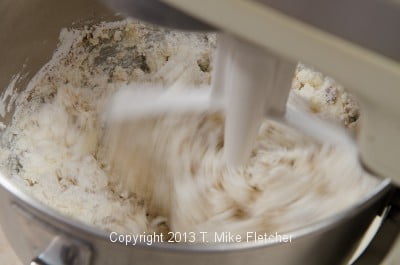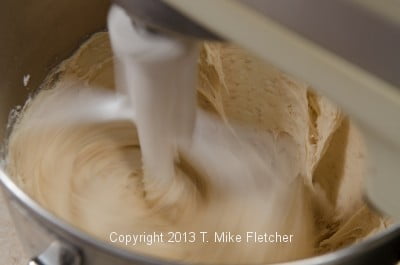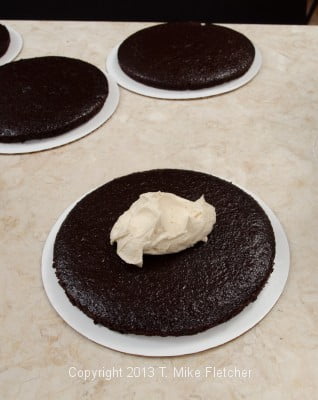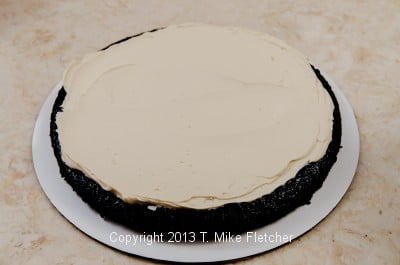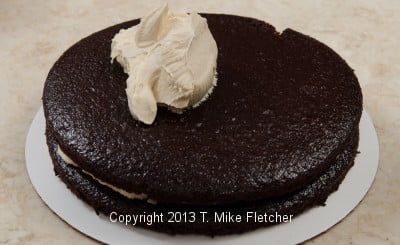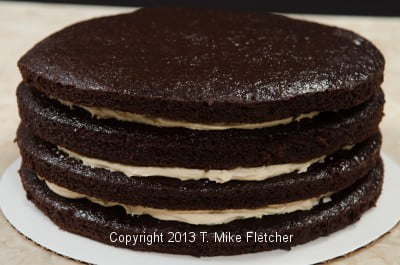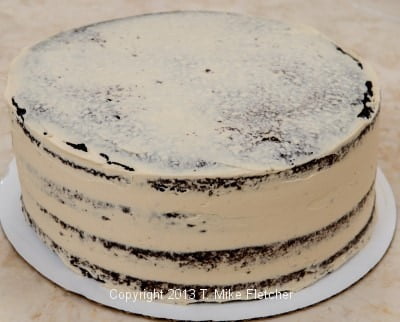 Beat butter until soft and smooth. Dissolve coffee in brandy and add to butter along with the powdered sugar. Beat on low to combine and then raise the mixer to medium to medium high and beat until very light in color and texture.Spread ¾ cup (130 grams or 4 ½ ounces) between each cake layer. Crumb coat the sides by spreading just enough icing to trap the crumbs. You don't care if the crumbs show through.Clean finish the top edges of the cake by bringing the buttercream in towards the center. Refrigerate.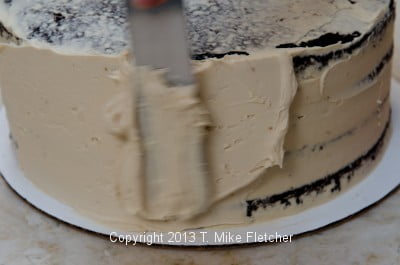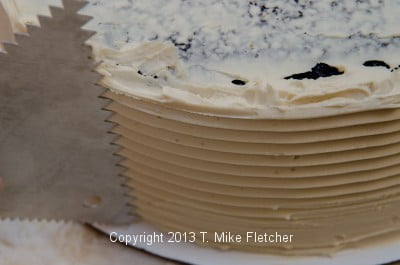 When cold and set, spread the remaining buttercream on the sides and finish with a decorator's comb - or leave plain. Refrigerate for several hours or overnight.
Cream Glaze - how to photo's for glaze
½ cup cream
4 ounces semi sweet chocolate, cut into small pieces (114 grams)
Heat the cream to a simmer, but do not boil. Remove from heat and submerge the chocolate under the cream. Let it sit without stirring for 5 minutes. Whisk the mixture until the chocolate is completely smooth. Let the glaze cool until it is pourable, but thickened. You want the glaze to flow down the sides about half way, but not run down to the bottom of the cake if possible.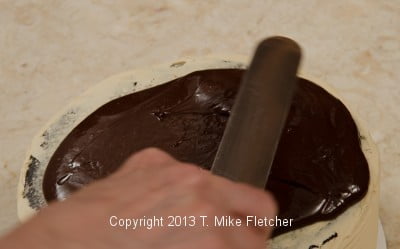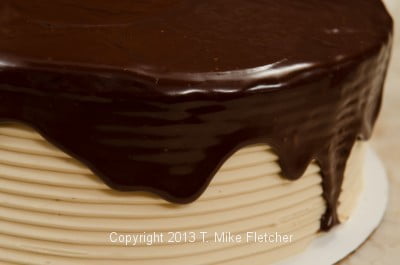 Pour the glaze in the middle of the top layer of the cold cake. With a spatula, push the glaze to the outside edge and let it flow down the sides of the cake. It should stop ½ to ⅔ of the way down the sides. If this seems like too much of a hassle, let the glaze sit at room temperature for several hours until thick enough to spread and spread it on the top.
Refrigerate to set. After the glaze is set the cake can sit at room temperature.
Yield: 14 to 16 servings. We cut this cake into 16 pieces for service.