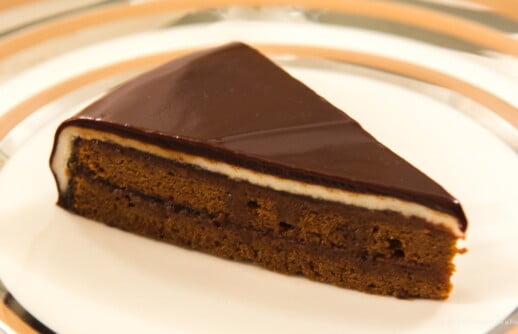 This Chocolate Raspberry Marzipan Gateau is a prime example of French baking. I can't remember where this comes from, certainly I did not come up with it. The three hole paper is turning yellow with age so it has to be when I was learning and becoming interested in pastry as a profession.
A note on the bottom says, "This is a wonderfully moist and flavorful combination." I love finding little notes on old recipes.
European pastries are often short, especially this marzipan gateau, in comparison to the skyscrapers of cakes we make in the States. This is about 1 ¼ inch tall but is intense in flavor. The key to this dessert is marzipan. Whenever I first made this, I had to have used packaged marzipan since I didn't know how to make almond paste, much less marzipan.
As to the origins of marzipan there is a great read, far more interesting than just the dry facts, on a fascinating blog by David Prater called Davey Dreamnation. He has several blogs on the subjects but this one is the shorter version. He weaves his words well giving us both the popular origins and the real one. Spoiler alert –It orginated in the Orient.
Marzipan, in its current form uses almond paste as its base. There is some confusion here as many recipes use the terms almond paste and marzipan interchangeably, which they are not. Marzipan starts out as almond paste which is equal parts of almond flour and powdered sugar along with a bit of simple syrup and almond extract. Additional powder sugar, flavoring and corn syrup are added to make a sweeter, more intensely flavored version of almond paste.
I start with my almond paste using the simple syrup version. I prefer this over recipes that use egg white as the binder for the almonds and powdered sugar. For me it comes down to shelf life and a consideration for uncooked egg whites. While it's true you can use pasteurized egg whites, they fall from grace once they are no longer refrigerated.
When I was researching this Chocolate Raspberry Marzipan Gateau, I was surprised to read in Rose Levy Beranbaum's, "The Cake Bible" that she tried various ways of making almond paste but was never satisfied with the results. I'm not sure what she did, but my almond paste made with almond flour or meal is every bit as smooth, pliable and tasty as the very expensive ones sold in grocery and speciality food stores as well as on line.
So, armed with my almond paste recipe I proceeded to marzipan. Additional powdered sugar and almond extract are used along with some corn syrup. For this recipe I cut the original in half as that is all you will need for the Chocolate Raspberry Marzipan Gateau. However, this can be doubled or tripled if desired.
This marzipan is ideal if you have an urge to make those adorable little fruits and animals so popular around the holidays as it has no egg white and is perfectly safe stored at room temperature.
As to the rest of this Chocolate Raspberry Marzipan Gateau, the recipe for the cake is indeed very moist. The layers are each only about ½ inch tall. When baked, the tops will have a thin, meringue like layer. I remove the loose part and leave the rest attached. This is also a rare cake that I assemble with the layers inverted. While I use a raspberry filling that I have available to me, seedless raspberry jam or preserves work equally as well. A final flourish of the marzipan rolled out to fit the top layer of the cake adds a flavor unequalled by anything else and the perfect foil for the Dark Satin Ganache.
Many of the component parts of this Marzipan Gateau can be made well ahead, in fact all of them. Assembly is quick and easy. The finished gateau can be held for several days in the refrigerator so long as there are no strong smells sharing the space as the chocolate will pick them up.
Chocolate Raspberry Marzipan Gateau
I am listing the recipes in the order they are needed to complete the Gateau.
Almond Paste with Simple Syrup and Almond Flour - how to photos are here .
½ cup +1 tablespoons almond meal or almond flour (70 grams or 2 ½ ounces)
½ cup +1 tablespoon powdered sugar (70 grams or 2 ½ ounces)
1 ½ tablespoons simple syrup – recipe below
1 ½ teaspoon almond extract
Combine the almond flour and powdered sugar in the processor bowl. Process briefly to mix well.
Combine the simple syrup and almond extract. Stir well. Pour over the dry ingredients in the processor in a circle. Process until it looks like sand. It will not ball up.
However, it should come together when a small amount is pinched. If it is too dry, add more simple syrup very sparingly, just a bit at a time.
Pour it our onto a work area and push it together. Knead it several times; then shape into a log. It can be used immediately as it is very firm. This can be stored well wrapped at room temperature for a week or so. Store in the refrigerator or freeze for longer storage.
Yield: 340 grams or 12 ounces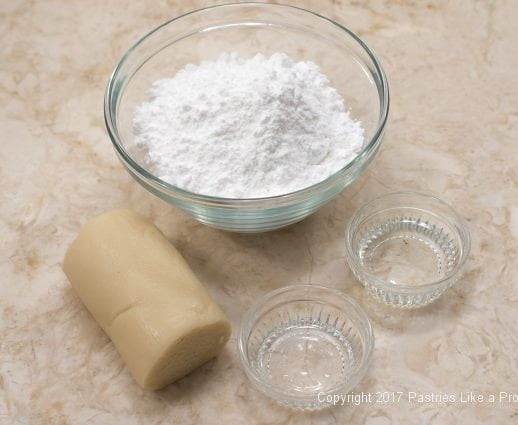 Marzipan – can be a bit tricky. Humidity can be a problem, using volume instead of weighing can affect the outcome. So it may need a bit more of liquid or powdered sugar to make a smooth ball that can be rolled out. This should be made at least a day ahead and can be stored as the almond paste above.
Almond Paste from above or bought (170 grams or 6 ounces)
1 ½ cups powdered sugar (190 grams or 6 ⅔ ounces)
2 tablespoons amaretto (highly recommended) or water
1 tablespoon corn syrup
1 teaspoon almond extract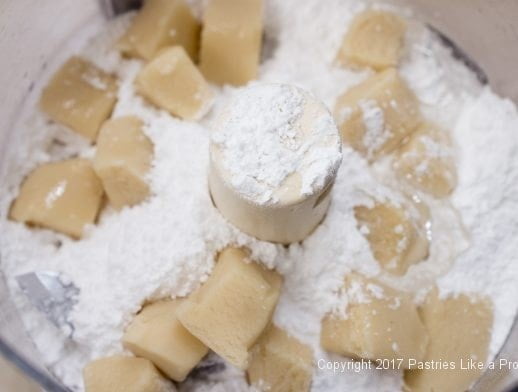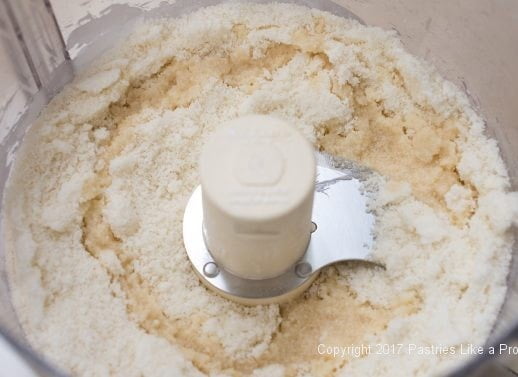 Cut the almond paste into small pieces and put in the processor along with the powdered sugar. Process until it becomes mealy. Add the amaretto (or water), cornsyrup and almond extract. Process until it comes together in a ball. If, after processing for a minute or so, it does not come together add a teaspoon of water and process again. Add water as necessary but just a little at a time.
Conversely, if it is sticky, add a bit more powdered sugar to firm it up.
This can be made a week or two ahead, wrapped in film and stored in the refrigerator. It can also be frozen for six months.
Yield: About 365 grams or about 12 ¾ ounces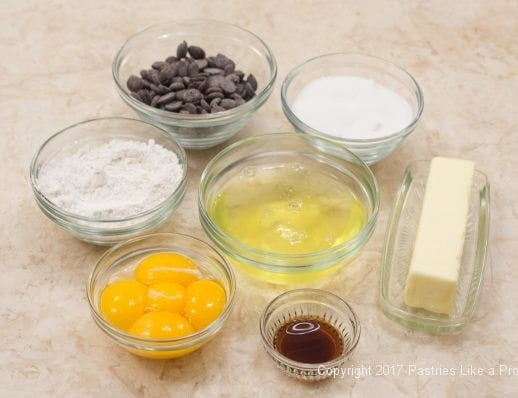 Chocolate Cake5 ounces bittersweet or semisweet chocolate (140 grams)
½ cup butter, softened (114 grams, 4 ounces or 1 stick)
⅔ cup sugar (125 grams or 4 ⅓ ounces)
5 eggs, separated
1 teaspoon vanilla
½ cup cake flour (60 grams or 2 ounces)
Preheat the oven to 350°F. Prepare your pans by spraying the center only of two 9x2" round cake pans. Line with parchment rounds and spray the center of the paper only. Set aside.
Melt the chocolate over hot water or at half power in the microwave. Cool to room temperature.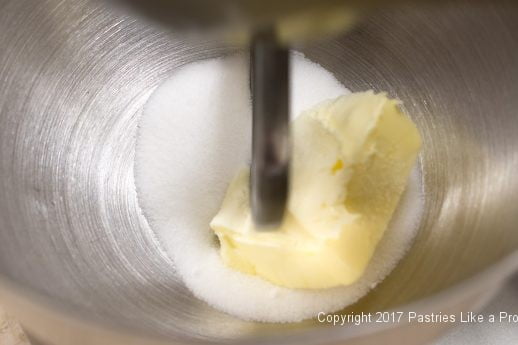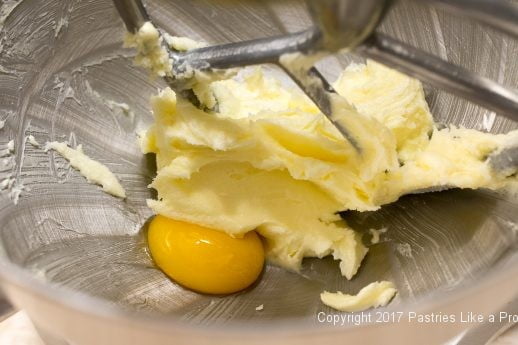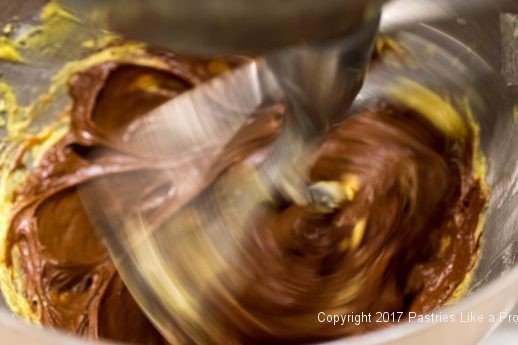 Cream the butter and ⅓ cup sugar (62 grams or 2 ¼ ounces) until light and fluffy.Beat in yolks, one at a time. Beat until very light. Add the chocolate and vanilla and beat until combined.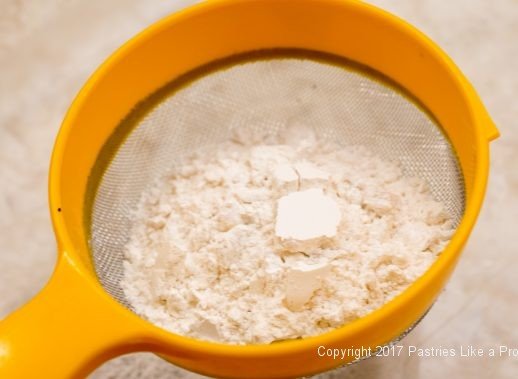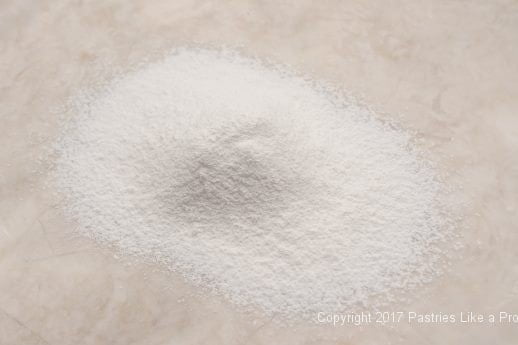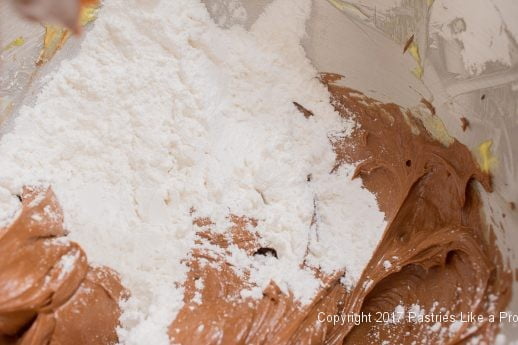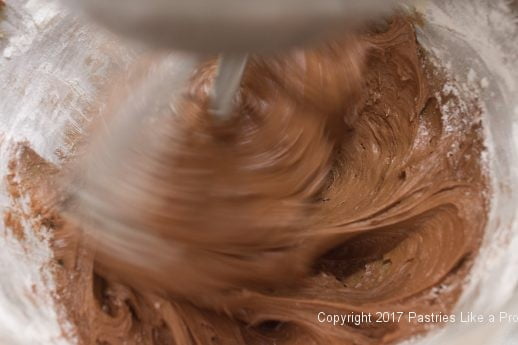 Sift the flour and add to the chocolate, beating to combine If there is some flour clinging to the bowl, use a rubber spatula to get all of the flour into the mixture.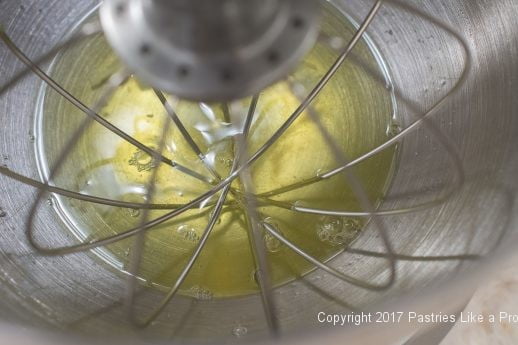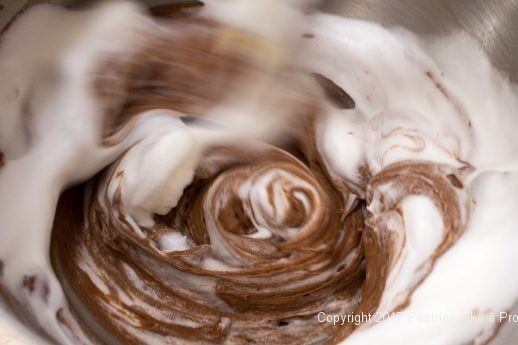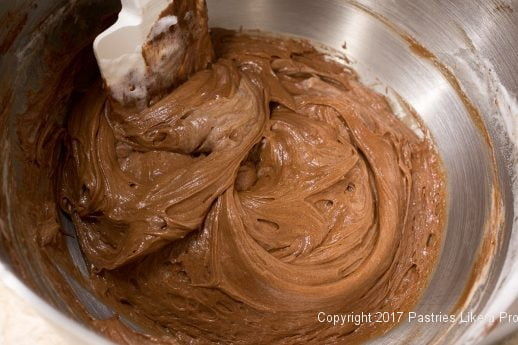 In a clean mixing bowl, add the egg whites. Beat to soft peaks. Add the remaining ⅓ cup sugar (63 grams or 2 ¼ ounces) slowly. Beat until fairly stiff peaks form.Stir one fourth of the whites into the chocolate batter. Fold in the remaining whites.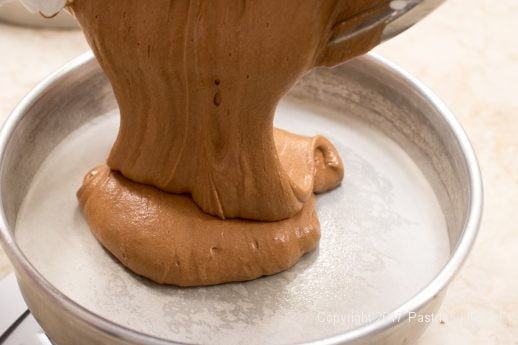 Divide between the two prepared pans, approximately 340 grams or 12 ounces each.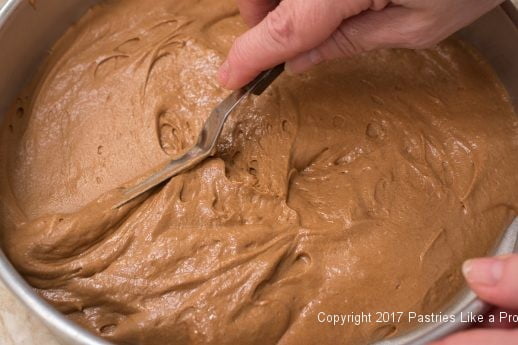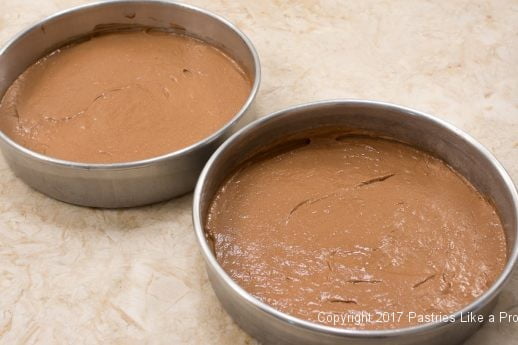 Smooth the batter. Bake for 12 to 15 minutes until a tester comes out clean. Do not over bake or these an dry out.
Cool in the pan. There will be a thin chocolate meringue layer on top which will crack. Just move off the loose pieces (read eat these) and leave the part attached to the cake.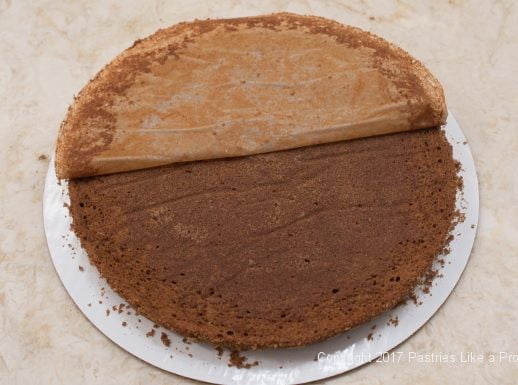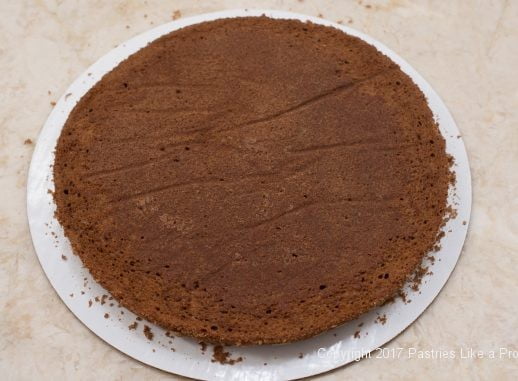 When cooled, turn the cake out onto a cake board. Remove the parchment carefully. Leave the cake layers upside down for assembly. Use immediately or freeze then wrap well and freeze for up to 3 months. Thaw before assembling.
Dark Satin Ganache – for how to photos go here.
½ cup 40% cream
¼ cup corn syrup (70 grams or 2 ½ ounces)
10 ounces semisweet chocolate (285 grams)
5 tablespoons butter (75 grams 2 ½ ounces)
In a small saucepan, bring the cream and corn syrup to a boil. Submerge the chocolate and butter and let sit for several minutes until the chocolate and butter melt. Whisk gently to mix completely.
You will not need all of this but it is difficult to cut it down. Refrigerate the remainder and use it for another purpose. It is also good over ice cream!
Yields: 2 cups or 510 grams or 18 ounces
Assembly
Marzipan
2 Cake Layers, thawed if frozen
¾ cup seedless red raspberry jam or preserves
Dark Satin Ganache
Fresh Raspberries, optional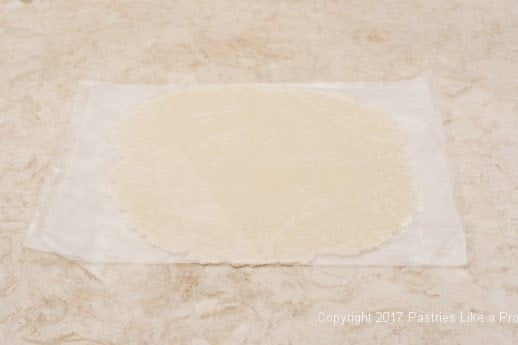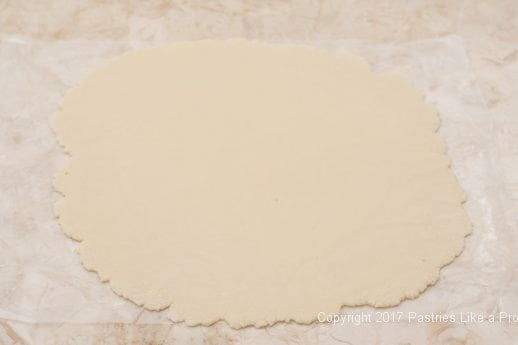 Between 2 pieces of waxed paper or film, roll the marzipan into a 12 inch round. Set aside.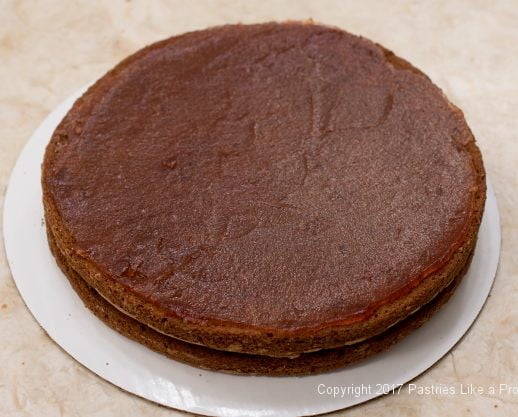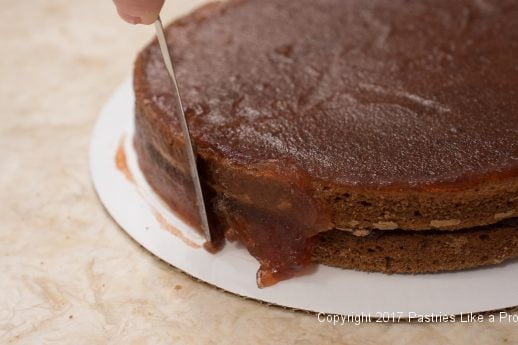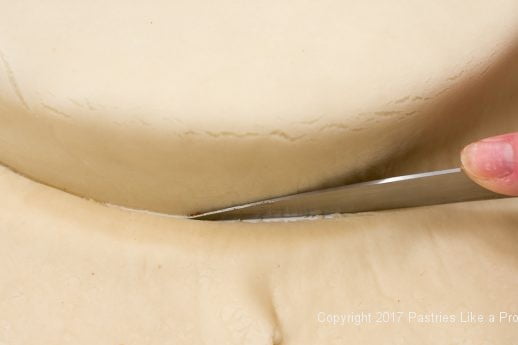 Place a cake layer on a 10" cake board. Spread with ¼ cup raspberry jam.Place the second layer on top and spread with another ¼ cup of the jam. Spread the remaining jam in a thin layer over the sides.Remove the top piece of waxed paper and position it in the air over the center of the cake. Lower the marzipan evenly over the cake. Smooth it over the top and the sides. Trim the excess marzipan from the bottom.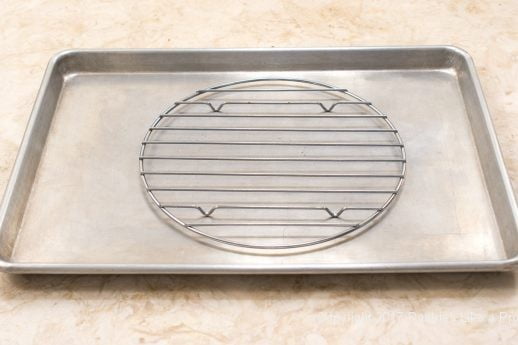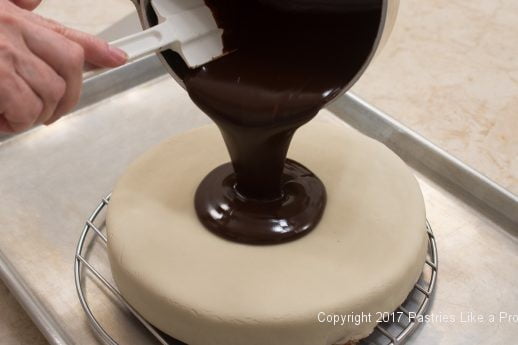 Place a cooling rack in a rimmed baking sheet.Remove the cake from the board and place it directly on the rack. Pour the ganache in the middle of the cake. Using an offset spatula, spread the ganache so the excess runs down the side of the cake. For a photo tutorial go here. Let sit for a few minutes. Remove the cake from the rack and place it on a cake board. If using the raspberries, place them on the cake before the glaze sets. Chill to set the glaze. Transfer to a serving plate.
Makes a 9" cake that serves 10 to 12.