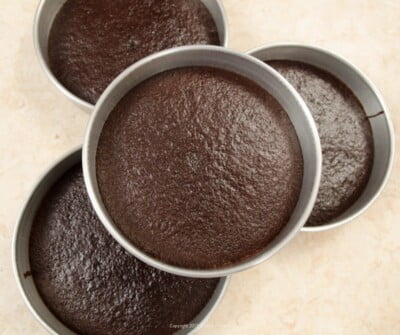 A chocolate cake to die for is the only thing you can say about these deep, dark, delicious layers waiting for myriad fillings and finishes. These chocolate cake layers start moist and stay moist for days making them ideal whether you are producing one cake or 20 cakes.
I can't remember how long ago I found the original recipe in a Good Housekeeping magazine. Rose Levy Beranbaum was commissioned to make a celebration cake for the magazine and it was all chocolate (what else do you celebrate with?). It was around the time I was first starting my bakery, Truffes. When I first started I thought that every cake had to be made with butter because I was upscale. Big mistake! What I actually found was that cakes made with butter have a shorter life span and stale quicker than cakes made with oil. Since I was selling to restaurants and hotels which need a longer shelf life than caterers (to whom I also sold) a longer shelf life was necessary. As much as you want to believe all of your hard work and deliciousness is selling out immediately, it generally isn't - unless it's a catered event. So of ultimate importance is shelf life.
Oil in a cake insures a moist outcome. Think carrot cake, quick breads and items you may have made that retain their moistness and flavor for days. Additional ingredients that assist in longevity are buttermilk and sour cream. Roses' original recipe used buttermilk and we used it that way for years. The only thing I didn't like about this chocolate cake was that it was a cake that crumbed a lot which could make it difficult to finish and cut. It definitely needed to be undercoated to insure a good finish. However, the taste and texture, as well as its shelf life made it our base chocolate cake - the go to chocolate cake.
A simple change in one ingredient in the cake helped with the crumb problem. I changed the buttermilk to sour cream and in doing so firmed up the texture of the cake somewhat while keeping all the best things about the original chocolate cake.
It is very important to mix on low the entire time and add the ingredients in the order listed. This will keep the cake tender and the layers perfectly flat when baked. We once had a problem at the bakery where we used this chocolate cake in varying heights from two to four layers. We made a batch and they all came out having risen in the centers. If you have been reading my blog for a while you know how to prevent humpy layers. We prepared the pans as usual, but no matter what we did the results were not flat layers. What I finally realized is the baker changed the speed of the mixer and was mixing much too fast. By changing the directions to specify mixing on low, we never again had a problem.
I have included the weights and baking times for 2, 3 and 4 layers as well as cupcakes.
Next week, we'll be making the Espresso Fudge Cake using this chocolate cake. Believe me, you won't want to miss this one!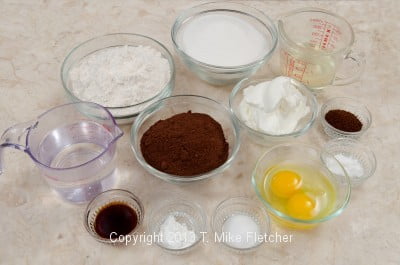 Chocolate Cake Base Layers
1 cup hot water
2 ½ teaspoons instant coffee
2 cups sugar (400 grams or 14 ounces)
1 ¾ cup sifted all purpose flour (245 grams or 8 ½ ounces)
1 cup dutched cocoa (85 grams or 3 ounces)
1 teaspoons baking soda
1 teaspoons baking powder
1 teaspoon salt
½ cup vegetable oil
1 cup sour cream (225 grams or 8 ounces)
2 eggs
2 teaspoons vanilla
Preheat the oven to 350 degrees. Spray the center only of the desired number of round pans. Line the pans with parchment rounds and spray the centers only with cooking spray. Set aside.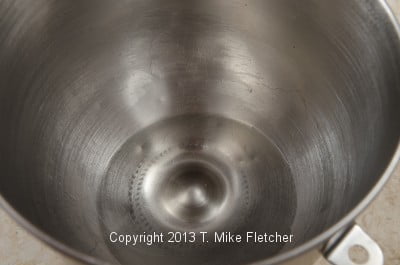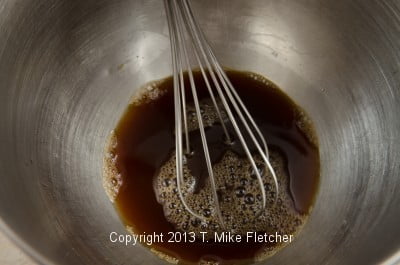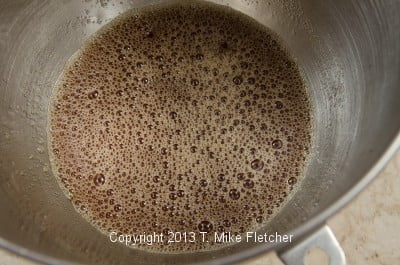 In a mixing bowl, place the water and coffee; whisk to mix and dissolve the coffee. Add the sugar and whisk just until incorporated. It will become very syrupy.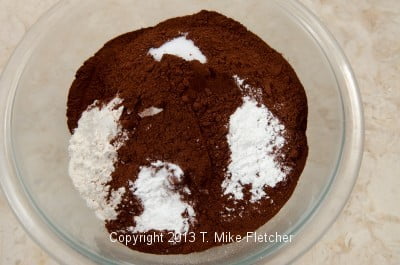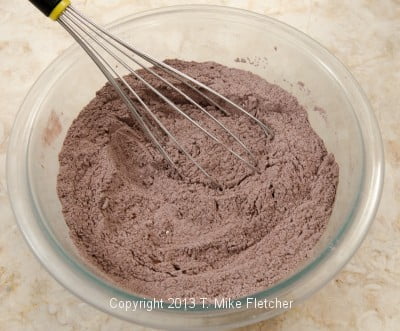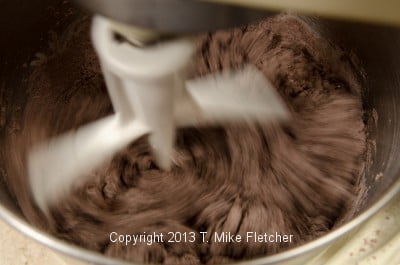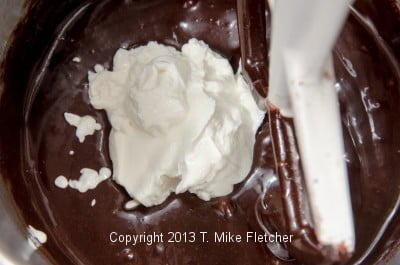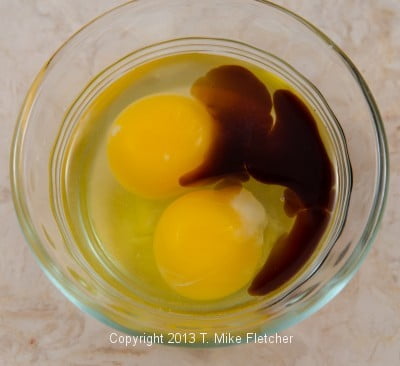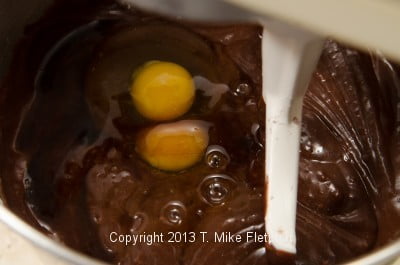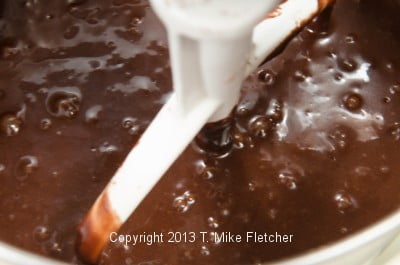 Whisk together flour, cocoa, baking soda, baking powder and salt. Add to the coffee mixture and using a paddle attachment mix on low to incorporate – about 2 minutes. It will be very thick. Add the oil, mixing on low, next add the sour cream and then the eggs and vanilla each time mixing completely – about 30 second each.
Divide the batter between the pans (see weights below).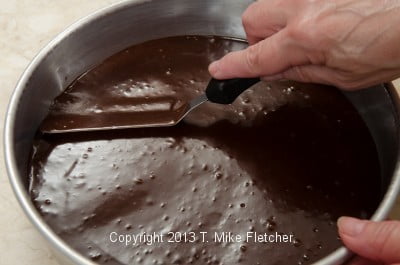 Level the batter in the pans.Bake for the times listed or until they spring back when lightly touched or a cake tester comes out clean.Yield: 1320 grams or about 46 ounces.
2 – 9x2 inch layers equals 670 grams or 23 ½ ounces each. Bake for about 28 to 33 minutes. Baked layers are about 1 inch tall.
3 – 9x2 inch layers equals 440 grams or 15 ⅓ ounces each. Bake for about 20 to 25 minutes. Baked layers are about ⅔ inch tall.
4 - 9x2 inch layers equals 330 grams or 11 ½ ounces each. Bake for 11 to 13 minutes. Baked layers are about ½ inch tall.
18 normal size cupcakes about ¾ full 18 to 22 minutes.
For 6" cake layers that are thin use 150 grams per pan. Makes 4 pans. Good when filling with whipped cream, etc.