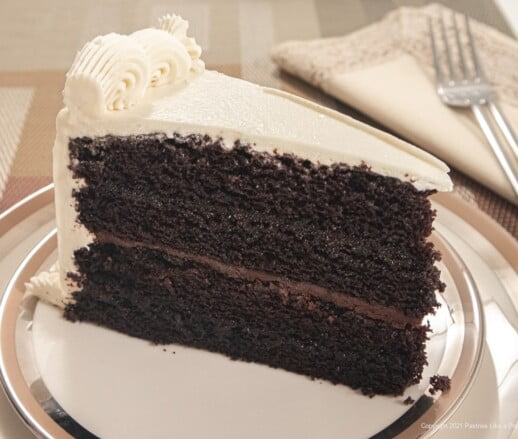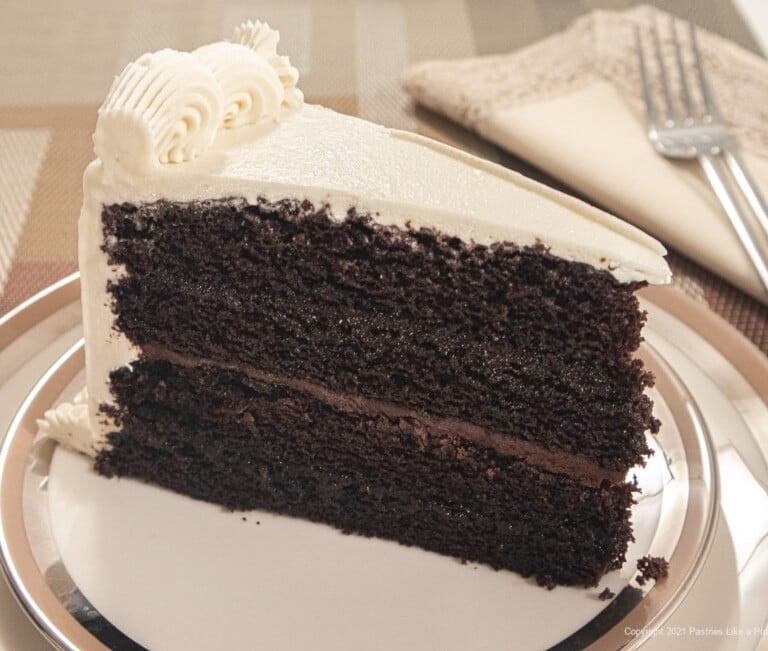 This Chocolate Raspberry Truffle Cake was not only one of our most popular wedding cakes, it was also enjoyed as a groom's cake. Consisting of four layers of chocolate cake, two layers of raspberry jam and one layer of chocolate truffle, it stands tall and stately.
The wedding cake was usually finished in Italian Buttercream as shown, but the groom's cake was more often glazed in a deep chocolate. Chocolate curls were often the final finish.
It's interesting to me that changing one ingredient made the cake cut so much better. This was our base chocolate cake used at the bakery for many cakes. Because it is made with oil and not butter, it stays moist and soft for days. Dutch cocoa gives it the darkest of colors and a strong chocolate flavor.
I'm not sure why or when I decided to change the original buttermilk to sour cream. It may have been as simple as I didn't have buttermilk. But it made a great difference in the texture of the cake. The original cake crumbed a lot when cut. The sour cream holds the cake together better and as a result the slices look better when cut.
The Italian buttercream is a great contrast both in looks and flavor to the deep, dark Chocolate Raspberry Truffle Cake. It remains one of my favorite frostings. While it can be flavored many ways, I have always used equal parts of vanilla and almond providing a more complex flavor.
An Italian buttercream is simply a meringue made with simple syrup, into which a lot of butter is added. The buttercream itself can be made a week ahead and refrigerated tightly closed, or it can be frozen. My post on Swiss and Italian Buttercreams has everything you ever wanted to know and more about these classic cake finishes, including how to make them ahead and reconstitute them to their silky finish after being refrigerated or frozen. The entire recipe is shown in step-by-step photos that take any intimidation out of making these.
Decorators love using this buttercream because it goes on smoothly and holds a great edge when piped. It cuts perfectly at room temperature. We would set up wedding cakes from 4 to 6 hours ahead of time and there was never a problem. However, the one caveat is that a cake with Italian buttercream does not withstand a lot of heat, so outdoors in the hot summer is not recommended.
It is important to serve this Chocolate Raspberry Truffle Cake at room temperature for all of the flavors to be appreciated.
Base Chocolate Cake
How to pictures for Chocolate Cake
1 cup hot water
2 ½ teaspoons instant coffee
2 cups granulated sugar (400 grams or 14 ounces)
1 ¾ cup all-purpose flour (245 grams or 8 ½ ounces)
1 cup Dutch cocoa (85 grams or 3 ounces)
1 teaspoons baking soda
1 teaspoons baking powder
1 teaspoon salt
½ cup vegetable oil
1 cup sour cream (225 grams or 8 ounces)
2 large eggs
2 teaspoons vanilla
Preheat the oven to 350 degrees. Line the desired number of round baking pans with parchment rounds and spray centers only with cooking spray. Set aside.
In a mixing bowl, place the water and coffee; whisk to mix and dissolve the coffee. Add the sugar and mix just until incorporated. It will become very syrupy.
Whisk together the flour, cocoa, baking soda, baking powder and salt. Add to the coffee mixture and mix on low to incorporate – about 2 minutes. It will be very thick. Add the oil, mixing on low, next add the sour cream and then the eggs and vanilla, each time mixing completely – about 30 second each.
Divide the batter between the pans (see weights below). Bake for the times listed, or until they spring back when lightly touched or a cake tester comes out clean.
Yield: 1320 grams or about 46 ounces.
2 – 9x2 inch layers equals 670 grams or 23 ½ ounces each. Bake for about 28 to
33 minutes. Baked layers are about 1 inch tall.
3 – 9x2 inch layers equals 440 grams or 15 ⅓ ounces each. Bake for about 20 to 25
minutes. Baked layers are about ⅔ inch tall.
4 - 9x2 inch layers equals 330 grams or 11 ½ ounces each. Bake for 11 to 13 minutes
minutes. Baked layers are about ½ inch tall.
Chocolate Truffle Filling
½ cup heavy cream
2 tablespoons unsalted butter (30 grams or 1 ounces)
2 tablespoons sugar (25 grams or scant ounce)
5 ounces semi-sweet chocolate (140 grams)
1 teaspoon vanilla
Heat the cream, butter and sugar until steaming and the butter is melted. Whisk gently to make sure the butter is melted, and the sugar is dissolved. Remove from the heat and add the chocolate and vanilla, submerging the chocolate under the cream.
Let sit for 4 to 5 minutes. Stir with a rubber spatula to incorporate all of the chocolate. Gently whisk to smooth out any unmelted chocolate. Using a rubber spatula, go around the bottom edges to make sure all of the chocolate is incorporated.
Cool to room temperature. If it is too soft, refrigerate to set up. This may be made days ahead and refrigerated. Bring to room temperature to use.
Assembly of the Chocolate Raspberry Truffle Cake
4 layers Chocolate Cake Base Layer
1 cup seedless red raspberry jam
Chocolate Truffle Filling
Italian Buttercream, below
Place one layer of cake on a cake board. Spread it with ½ half cup raspberry jam.
Place a second layer on top and spread that with the truffle filling.
Top with the third layer of cake and spread with the remaining ½ cup raspberry jam.
Place the last layer of cake on top.
Place in the freezer to set the fillings making the cake less wiggly to finish. It can be frozen at this point, but thaw in the refrigerator before finishing.
Italian Buttercream
How to pictures from Italian Buttercream
Adding the sugar to the egg whites as they are beating stabilizes them and allows them to be held while the sugar syrup reaches the correct temperature. Whipped egg whites should never stop being beaten if other ingredients are to be added, as they can granulate which makes them unusable.
If the proper stage of the egg whites has been obtained and the syrup is not ready, simply turn the machine to one or low and keep the mixture moving in the bowl. This is all you need to hold them. However, this technique is not successful unless they are stabilized with the sugar to prevent them from drying out.
6 tablespoons water
1 cup sugar (200 grams or 7 ounces)
¾ cup egg whites (about 5 whites from large eggs)
¾ teaspoon cream of tarter
¼ cup sugar (50 grams or 1 ¾ ounces)
1 tablespoon vanilla
1 tablespoon almond extract
1 ¼ pounds unsalted butter (5 sticks or 570 grams), softened to between 72°F and 75°F but not runny.
This small amount of sugar syrup comes to temperature very fast after it reaches 220 degrees. Watch is carefully to prevent it from going too high. Place the water in a small saucepan. Add the sugar and stir; bring to a boil. Wash down the sides of the pan with a brush dipped in cold water to prevent crystallization. Boil to 250 degrees on a candy thermometer.
Simultaneously, place the egg whites and cream of tartar in a 5-quart mixing bowl fitted with the whisk attachment. Beat until soft peaks form. Gradually add the ¼ cup sugar. Beat until stiff on high, then immediately turn them down to low or #1 to hold them.
When the sugar syrup is ready, raise the mixer to medium and slowly pour it over the whites. Aim for between the whisk and the side of the bowl. Do not pour it over the whisk as it will not incorporate into the egg whites. Also, make sure it is poured in slowly to prevent the syrup from sinking to the bottom of the bowl, from where it cannot be incorporated.
Beat until completely cool.
Add the butter a couple of tablespoons at a time. Do not add more butter until the preceding butter is incorporated. When all the butter is in, add the extracts and beat to incorporate. Continue beating until very light in texture.
Yield: 2 pounds
Note: This scales up in direct proportion.
Finishing the Cake
Trim the sides to even them if necessary.
Undercoat (using these instructions) the top and sides of the cake. Refrigerate to set up.
Overcoat and finish as desired.
If you enjoyed this cake, you might find these interesting as well:
Chocolate Truffle Raspberry Curd Tart
Raspberries and Cream Cake
No Bake Chocolate Raspberry Truffle Tarts