This No Bake Chocolate Raspberry Truffle Tarts is an easy, sophisticated looking but easy to execute tart. While especially nice for Valentine's day, it is good anytime.
The no bake press in crust is filled with a chocolate truffle filling and can be made weeks ahead and frozen. Thaw in the refrigerator. Several hours before serving, let the tart come to room temperature and top with the raspberries.
While I have used 4 ¼ inch heart shaped pans with removable bottoms, a single 9 x ¾ inch quiche pan with a removable bottom may be used for this No Bake Chocolate Raspberry Truffle Tarts.
Chocolate Crumb Crust
1 ⅓ cups graham cracker crumbs (170 grams or 6 ounces)
¼ cup cocoa - (25 grams or 1 scant ounce)
½ cup unsifted powdered sugar (55 grams or 2 ounces)
1 stick unsalted butter, melted (114 grams or 4 ounces)
Whisk the crumbs, cocoa and powdered sugar together,until cocoa and sugar lumps are gone.
Add butter and toss with a fork until crumbs are completely coated.
Spray the individual pans with a releasing spray. For each heart shaped pan use ⅓ cup (50 grams or 1 ¾ ounces). Press ⅔ of the crumbs against the sides of the pan and ⅓ on the bottom. Press in firmly. As you can see, I use gloves when doing this.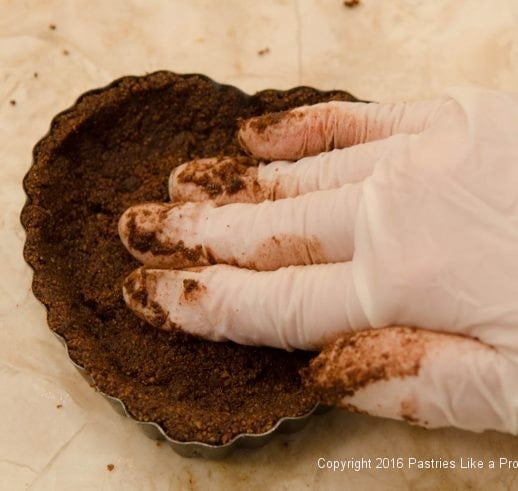 For the 9x¾ inch pan, use all of the crumbs and press ⅔ against the sides and ⅓ on the bottom.
Yield: 6 heart shaped pans or one 9x¾ tart.
Filling
¾ cup 40% cream
4 tablespoons unsalted butter (58 grams or 2 ounces)
¼ cup sugar (50 grams or 1 ¾ ounce)
10 ounces semi sweet chocolate (285 grams)
1 teaspoon vanilla
Bring the cream, butter and sugar to a simmer over medium heat. Whisk gently to make sure butter is melted and sugar is dissolved. If it is not, reduce heat and continue whisking until all is mixed and mixture is very hot, but not boiling - about 180 degrees on a candy thermometer.
Remove from heat; add chocolate and vanilla. Submerge chocolate under cream mixture and let sit for about 5 minutes.
Whisk gently until smooth. Using a rubber spatula, go around all the bottom edges of the pan to make sure all of the chocolate is incorporated.
Ladle about 2 ½ ounces of chocolate filling into each shell making sure to stay just under the top of the shell. Chill to set.
Use all of the filling for the large tart. Chill to set.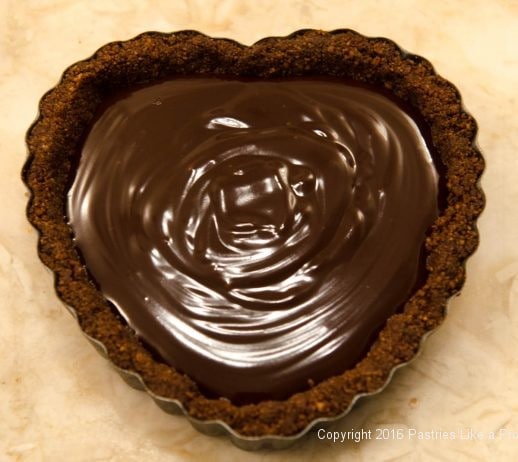 Release the tarts by gently pulling the sides down. If they are stuck at all, use a hair dryer arund the edges to warm them. Use a spatula to release the tart from the bottom shell. If making ahead store in the refrigerator. For how to pictures see Triple Chocolate Heart Tarts.
Several hours before serving, fill the tarts with raspberries.
Yield: 6 heart shaped No Bake Chocolate Raspberry Truffle Tarts or one 9 inch tart.
Note: The tart, without the raspberries can be made several days ahead and stored in the refrigerator. It can also be frozen and thawed in the refrigerator the day before serving.
Continue as above.