Valentine's Day Desserts? How did we get here so fast? I remember as a young child thinking 30 was old and as I approached 30 how I thought 80 was young.
Instead of one dessert this year, I have a selection of indulgent desserts from which to choose. I'll bet you'll be tempted by more than one.
Tortes and Cakes
Amaretto Truffle Torte - Comprised of a Reine de Saba base, caramel, roasted hazelnuts and a chocolate ganache infused with Amaretto it is as sleek and sophisticated as a torte can be. This can be made days or even weeks ahead if desired. My preference is to make the fudgy Reine de Saba base ahead of time and assemble the torte a few days ahead, storing in the fridge. Bring it to room temperature to serve.
This deeply dark Chocolate Strawberry Ruffle Cake is filled with an intense strawberry buttercream that only gets better as it sits. The cake if finished in a dark chocolate ganache, chocolate ruffles that are easier to make than they seem, and chocolate dipped strawberries. Everything you need for Valentine's Day.
Gluten Free Turtle Cake is naturally gluten free. There is no special flour or ingredients used.....and no one can tell it's GF unless you tell them. A deeply chocolate cake, homemade caramel that we used at the bakery, toasted pecans and a chocolate drizzle add up to a wonderfully decadent Valentine's Day dessert.
Updated Ultimate Chocolate Fudge Cake is another GF offering. Unlike so many flourless cakes, this is almost creamy in consistency. It's a simple cake, easily made and especially good served with creme anglaise, raspberry or caramel sauce.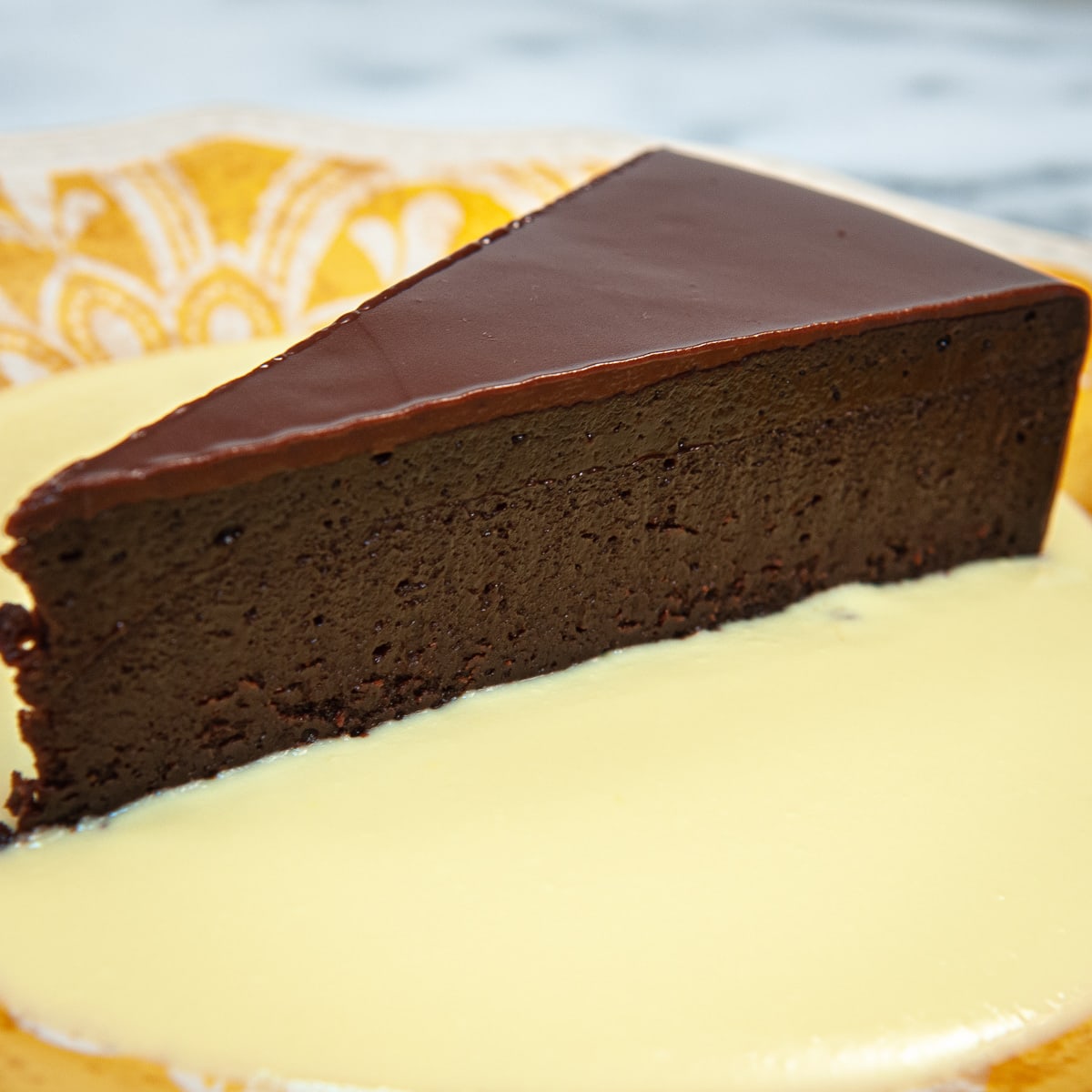 A Pie and a Tart
Chocolate Strawberry Pie - This is one of the fastest, easiest, most delicious pies around. The bottom of a blind baked pie shell is covered in chocolate ganache. Fresh strawberries cover the chocolate, and more chocolate covers the strawberries. MMMM, all those chocolate covered strawberries!
This unusual Chocolate Truffle Raspberry Curd Tart features a raspberry curd along with the chocolate truffle filling. This is a no bake tart that is perfect as a Valentine's Day Dessert.