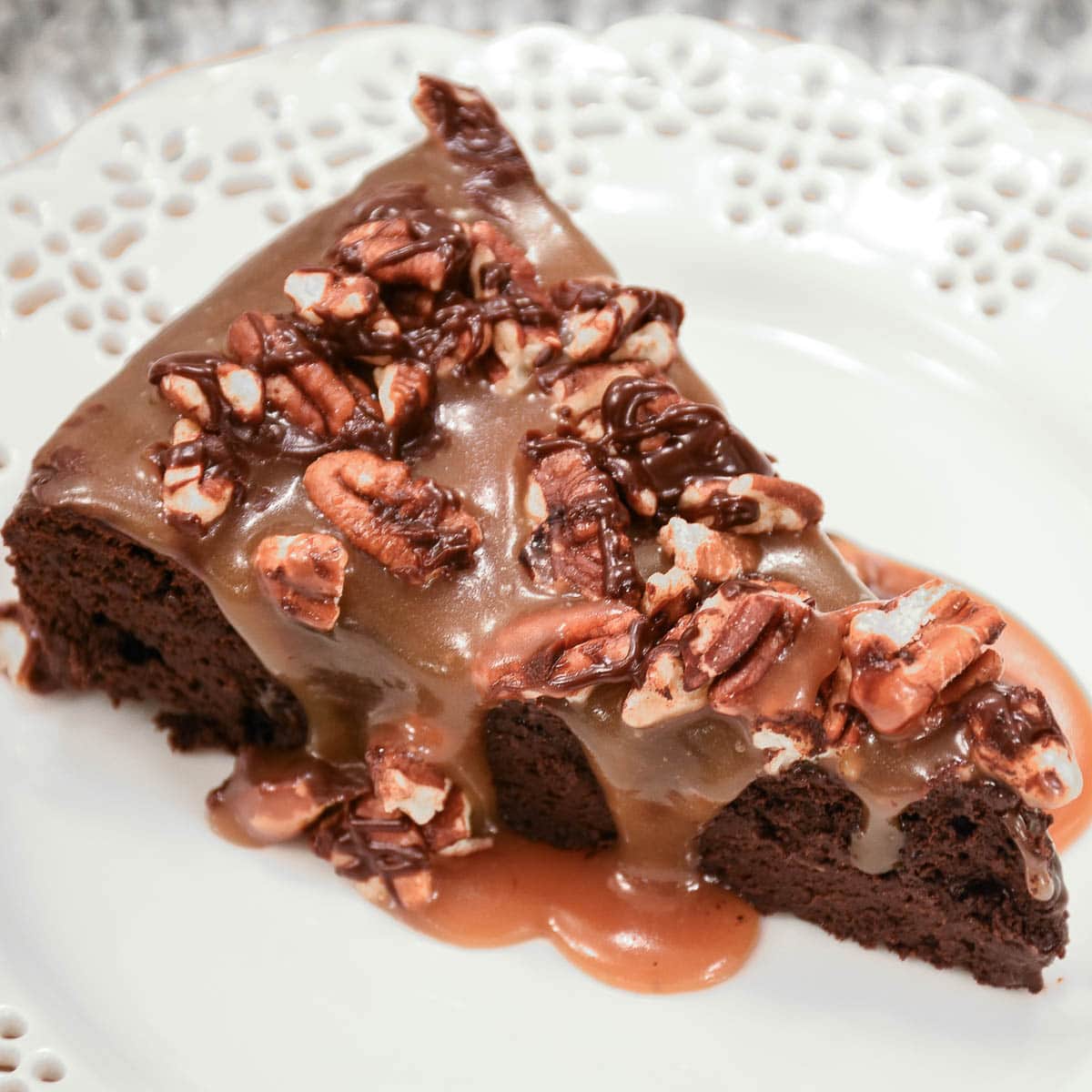 This Decadent Gluten Free Turtle Cake was supposed to posted last week. But I ran into a problem. Actually six problems. Six gluten free chocolate cakes later, here is the recipe.
I have a son who was recently diagnosed as celiac. Although he lives about 300 miles away, I try to think of things for him. I was determined to make this chocolate cake gluten free. I had a recipe in mind, but I had to ditch the flour. Easier said than done for sure! To make it more of a challenge, I didn't want to use a gluten free flour substitute. In the end, I used cocoa which gives the cake an edge, but a delicious one.
The first chocolate cake for the Gluten Free Turtle Cake was excellent, but too short. When I doubled it, it was not so excellent. Some were dry, some were absolutely tough, one had nuts instead of flour, but it looked like a crater when it cooled. Although Mike isn't one to question my persistence, I'm sure he wanted to as he watched the cakes, neatly wrapped in foil, stack up on the counter.
I thought of using the Ultimate Chocolate Fudge Cake but in the end decided it would be too rich. The caramel is so luxurious which means the cake has to be rich and deeply chocolate but not too sweet. This cake is dense, moist and as chocolate as it gets.
The caramel building block pastry for this Gluten Free Turtle Cake is the one we made at the bakery. I have used it in several recipes on the blog including the Apple Pie ala Mode with Salted Caramel. A bit of salt adds just the right nuance to the toasted pecans and chocolate ganache. The caramel for this Gluten Free Turtle Cake is cooked to a lower temperature, so it will flow but not be runny.
I am happy to let you know that each of the components of this Gluten Free Turtle Cake can be made ahead, so the final assembly is a snap. Leftovers should be stored in the refrigerator, and initially I thought it had to be served at room temperature, but I was wrong. It is absolutely fantastic cold (actually, I couldn't wait for it to get to room temperature).
Gluten Free Chocolate Cake
8 ounces semisweet chocolate (225 grams)
1 cup butter, softened (225 grams, 8 ounces or 2 sticks)
1 cup sugar (200 grams or 7 ounces)
6 eggs
2 teaspoon instant coffee
2 teaspoon vanilla
1 cup dutch process cocoa (90 grams or 3 ounces)
1 teaspoon baking powder
Preheat oven to 350°F. Line a 9x2 round cake pan with parchment and spray the center only.
Melt the chocolate and butter together over heat or in the microwave. Whisk to blend well.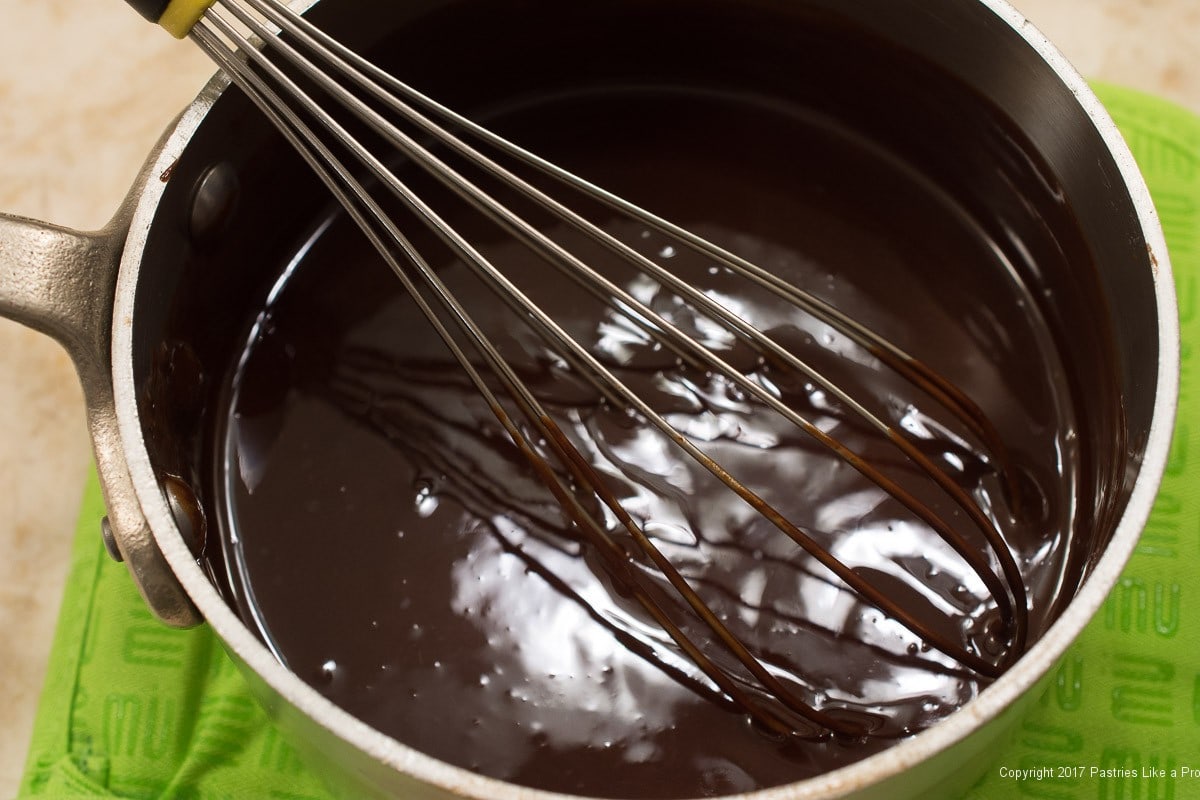 Beat the eggs and sugar with the paddle attachment, scraping underneath often.
Dissolve coffee in vanilla.
Because the cocoa has lumps that won't smooth out with a whisk, it is necessary to sift it. This is easiest done with a strainer.
Use a spoon to push the big lumps through.
Mix the cocoa and baking powder together.
Add the chocolate/butter mixture to the eggs.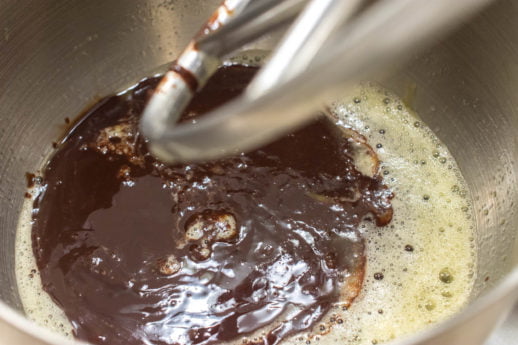 Add the remaining ingredients to the batter and beat on low until completely combined.
Pour into the prepared pan.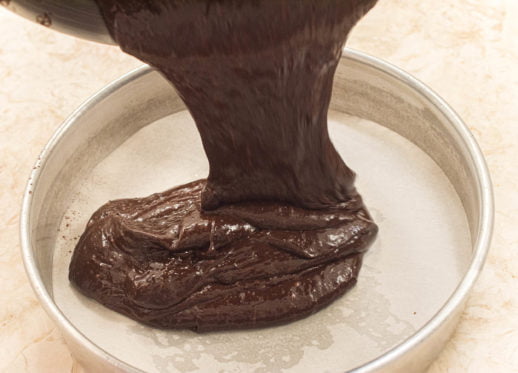 Bake 25 minutes. Do not overbake. Having said that I actually overbaked mine and it rose above the top of the pan dramatically and cracked equally dramatically.. As it cooled, it sunk but was still cracked. It doesn't matter.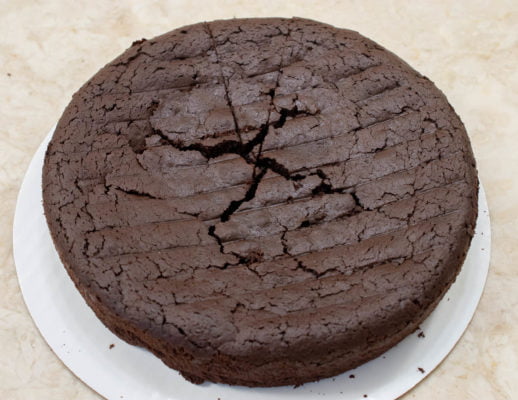 While the cake is baking, place the nuts on a small baking pan and toast for about 7 minutes until fragrant and toasted. Set aside to cool.
Pecans
1 cup large pieces pecans
Toast in a 350°F oven for about 7 minutes until fragrant. Set aside to cool.
The pecans can be toasted a week ahead.
Salted Caramel
Using the ingredients below see caramel pastry recipe for how to pictures
¾ cup cold water
1 cup + 2 tablespoons sugar (225 grams or 8 ounces)
2 tablespoon corn syrup
½ cup 40% cream, hot
5 tablespoons unsalted butter cut into 5 or 6 pieces (75 grams or 2 ⅔ ounces)
2 teaspoon vanilla
¾ teaspoon fine sea salt (or more to taste)
Place the water, sugar and corn syrup in a 2-quart saucepan. Stir over heat until the sugar is dissolved completely. Bring to a boil; wash sides of the pan down with a natural bristle pastry brush dipped in cold water, then boil without stirring until the mixture becomes a medium golden color.
Off heat, immediately add the butter and stir until it is melted. Pour the cream, vanilla and salt in all at once and stir. If some of the cream lumps up don't worry. Return to medium high heat and bring to a boil. Boil to 225 degrees on a candy thermometer. Pour into a bowl. Do not stir at this point, as it can become granular if you do. Allow to come to room temperature. Refrigerate for longer storage.
The caramel can be made a week or ten days ahead if desired. Bring to room temperature to use.
Dark Satin Ganache
For how to photos go to Lamington Torte
2 tablespoons 40% cream
1 tablespoons corn syrup (70 grams or 2 ½ ounces)
2 ½ ounces semisweet chocolate (75 grams)
1 tablespoons butter (15 grams or ½ ounces)
In a small saucepan, bring the cream and corn syrup to a boil. Submerge the chocolate and butter and let sit for several minutes until the chocolate and butter melt. Whisk gently to mix completely. Chill while preparing the remaining recipes.
You will not need all of this, but it is difficult to cut it down anymore. Refrigerate the remainder and use it for another purpose. It is also good over ice cream!
This can be made a week ahead if desired. Microwave briefly so it can be drizzled.
Assembly of the Gluten Free Turtle Cake
Gluten Free Chocolate Cake
Caramel
Toasted Pecans
Dark Satin Ganache
Turn the cake out of the pan. Remove the parchment paper. Turn it right side up and place it on a cardboard round. Place this on a large piece of parchment or foil I didn't do this and here is the mess it made when I finished the cake.
If the caramel seems a bit stiff, microwave it briefly to loosen it up. Don't let it become liquid. Use as much or little of the caramel as you wish. I used it all and shoved it over the sides with an offset spatula. Some sides got covered and some of the caramel just dripped down. There is no right or wrong.
Immediately cover it with the toasted pecans so they get stuck in the caramel.
Then drizzle with as much or little of the ganache as you wish.
At this point, you want to refrigerate it. This will be easiest to do by lifting the parchment or foil with the cake on it and place it on a baking sheet. After the caramel and glaze have set, remove the cake from the parchment or foil and place the cake on a serving plate.
Yields: 10 to 14 servings
To Make Ahead: This Gluten Free Turtle Cake can be made ahead and held in the cooler for a few days.
Be sure to check out the Warm Chocolate Lava Cakes with Bailey's Sauce
SaveSave