Apple Pie ala Mode is one of my favorite desserts but once the boys were out on their own one of my biggest challenges was what to do with full size desserts. Even more so today since Mike has diabetes and the last thing I need is a whole pie! The neighbors can only eat so much!
So I came up with an Apple Pie ala Mode ala minute. A way to have apple pie, with or without the ice cream, at a moment's notice. And what an apple pie –spiced apples, pate brisee crust and vanilla ice cream all topped off with a salted caramel sauce.
The salt can be omitted from the sauce if desired or more can be added. But this is, hands down the best caramel sauce to be found. It's also one of the easiest. You don't even need a thermometer. Think of everything you can do with it. World class turtle sundaes, apple slices dipped in the sauce, or just drizzled (heavily!) on vanilla ice cream. It tastes just like my favorite ice cream, Hagan Das Caramel Cone ice cream. How much better can this sauce get. Oh, did I mention it only takes about 15 minutes to make. Easy enough to always have on hand.
This sauce is from Averie Cooks who has a great blog. She is correct in that is is a really easy recipe to make. Just make sure you take the sugar syrup dark enough.
Salted Caramel Sauce

¼ cup water
1 cup sugar
2 tablespoons light corn syrup
½ cup 40% or heavy cream
2 tablespoons unsalted butter
½ to 1 teaspoon fine sea salt, or to taste
2 teaspoons vanilla
In a heavy saucepan that is at least 4 times as big as the ingredients, place the water, sugar and cornsyrup.
Bring to a boil, stirring until it comes to a full boil.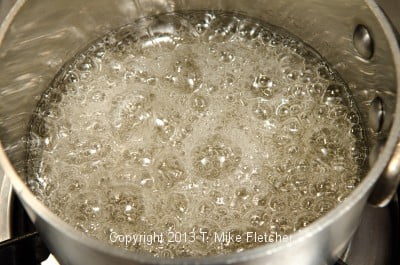 Boil until it becomes a deep golden color.
Remove from the heat immediately and add the cream very carefully as it will boil up furiously. The photo below shows the steam coming from the boiling mixture.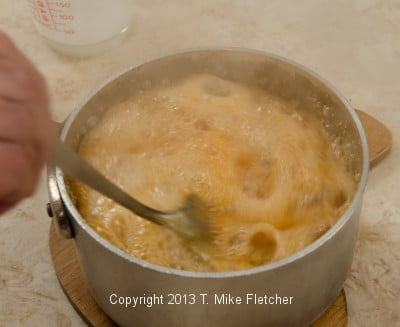 If the cream clumps up in the bottom, put the pan over the heat again and heat over low, stirring constantly, until it is smooth. Stir in the butter, salt and vanilla.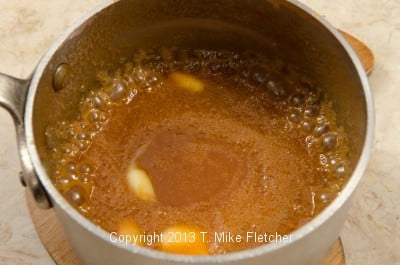 Pour into a container.
Store at room temperature for several days or hold for longer in the refrigerator.
Makes about 1 cup.
Pate Brisee Pastry
See A French Pastry for the recipe and how to photographs.
Preheat the oven to 350°F. Line two baking sheets with parchment. Set aside.
Roll the pastry to about ⅛ inch thick.
Cut 4" rounds of pastry and place on the baking sheets.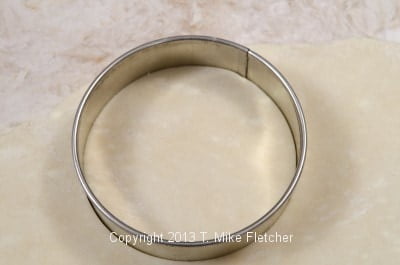 Re-roll the pastry and cut out additional rounds. You should be able to get 12 pastry rounds between rolling the pastry out twice. The re-rolls will be a bit denser than the first rolls. however, they will be just as good.
Chill the dough until firm, but not frozen, then prick well with a fork.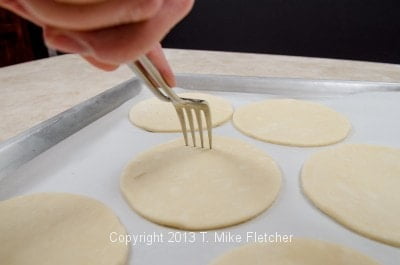 Double pan and bake between 20 and 25 minutes until golden brown.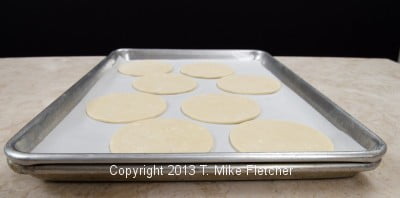 If you are not going to use all 12 rounds, place the extras in the freezer and add several minutes to the baking time when needed.
Apple Filling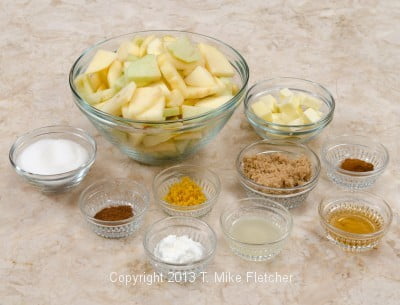 1 ½ pounds apples, before prepping (454 grams or 1 pound or 4 cups when prepped)
¼ cup sugar (50 grams or 1 ¾ ounces)
2 tablespoons brown sugar (25 grams or ¾ ounce)
¼ teaspoon cinnamon
¼ teaspoon nutmeg
1 teaspoon lemon rind
3 tablespoons butter (45 grams or 1 ½ ounces)
1 tablespoon brandy
1 tablespoon lemon juice
½ teaspoon cornstarch
Peel and slice the apples about ¼ inch thick. Cut the slices in half.
Combine the sugar, brown sugar, cinnamon, nutmeg and lemon rind. Add to the apples and mix well.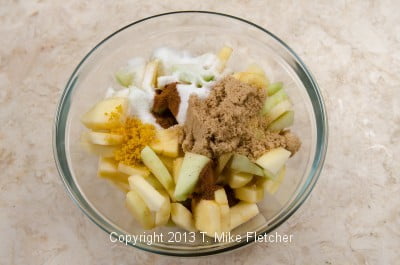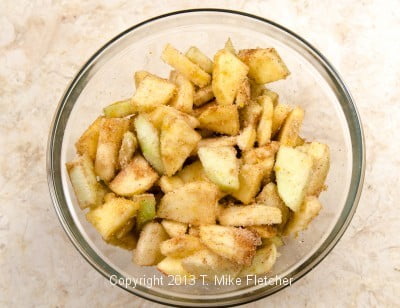 Melt the butter in a sauté pan.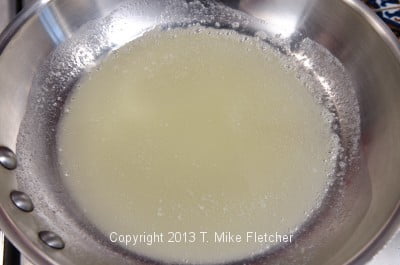 Add the apples.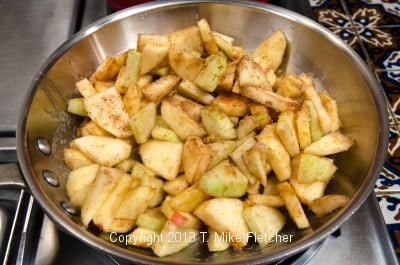 Stir well. Bring to a boil and place a lid on top. Lower the heat to a simmer and cook until the apples are tender but still have some body.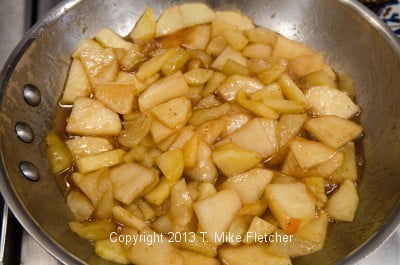 Combine the brandy and lemon juice. Whisk in the cornstarch.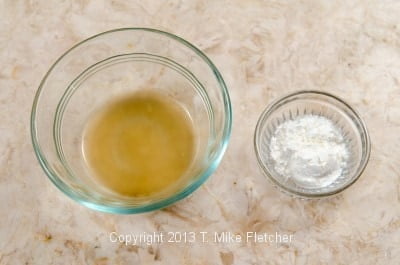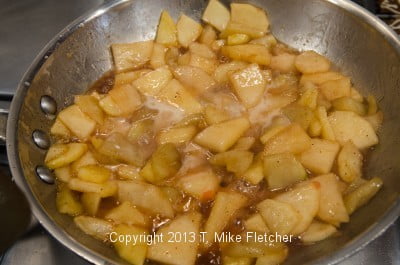 Add to the apples and cook at a boil for 1 minute.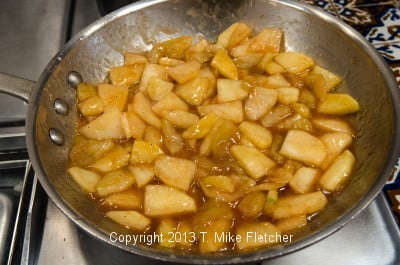 Cool completely. To cool them quickly, spread them out on a tray.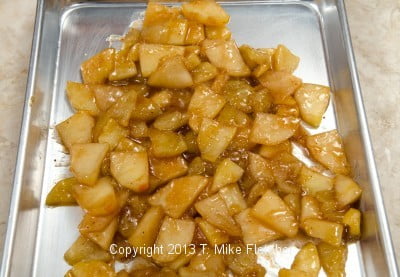 Yield: 4 to 6 servings.
Assembly
Pate brisee round
Apple filling
Vanilla Ice Cream
Salted Caramel Sauce, warmed slightly
Place pastry round on the plate. Top with Apple filling. Place a generous scoop of ice cream on top of the apples and spoon on the salted caramel sauce.
Serve at once.