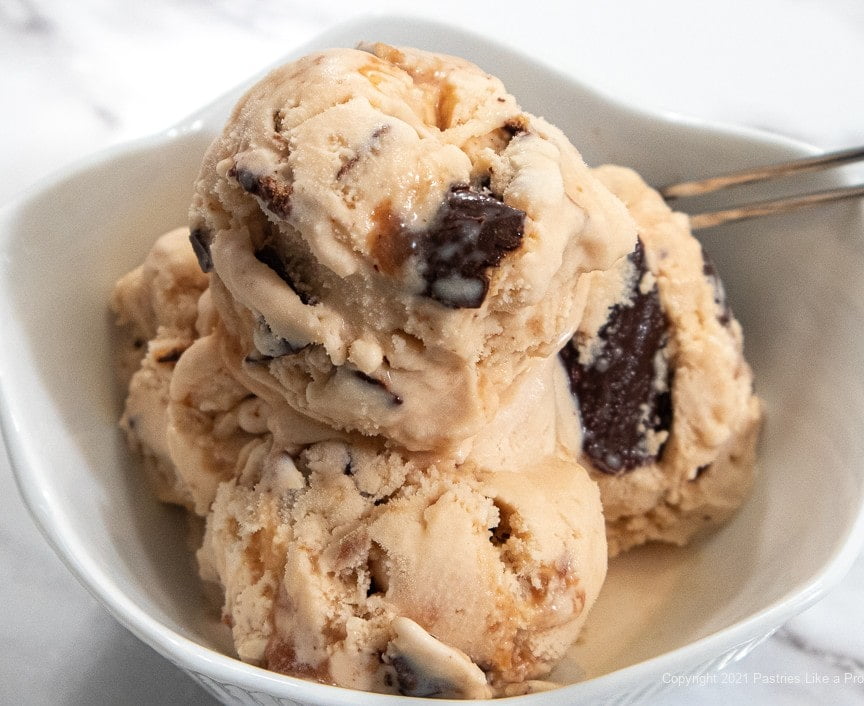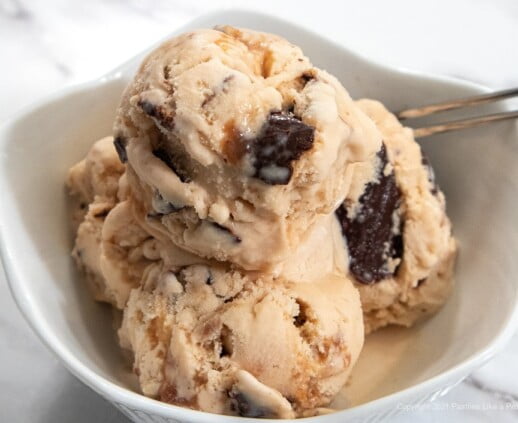 One day, my son brought me this Caramel Cone Ice Cream from Häagen-Dazs®. It instantly became my favorite ice cream. Caramel ice cream, swirled with caramel and then loaded with chocolate sugar cone bits, is better than eating a cone of caramel ice cream.
The fact that the caramel is part of the ice cream mix makes all the difference in the world. If it were just drizzled into vanilla ice cream, it would be good, but not as good as the Caramel Cone Ice Cream.
Chocolate Sugar Cones
Sugar cones can be found in grocery stores, usually close to the ice cream. Instead of trying to coat the inside of the cone with the chocolate it is so much easier to just brush it on the outside. After it is coated, pop it into the freezer if there is room. If not, let them set up at room temperature and then freeze them for several hours before smashing.
Once frozen, smash them into small pieces. I left some of mine too large and the ice cream machine had a problem churning them in. Just make yours smaller.
Caramel
While I make my own caramel, I would venture a guess you could use two packages of Werther's soft caramels. It is the closest to homemade. Place the caramels with 3 tablespoons cream and microwave or heat until they are liquid. If they are not liquid enough to pour, add a bit more cream.
I use a bit of sea salt in my caramel to cut the sweetness of the finished Caramel Cone Ice Cream. It's optional but very good. The caramel can be made a week ahead, as can the smashed chocolate cones. Just keep the smashed cones in the freezer.
If you don't have an ice cream machine, here is a link to instructions on making ice cream without one. I haven't tried it but it seems reasonable.
This is the perfect summer dessert and no one will believe you made it!
Salted Caramel Sauce for the Caramel Cone Ice Cream
¼ cup water
1 cup sugar (200 grams or 7 ounces)
2 tablespoons light corn syrup
½ cup 40% or heavy cream
2 tablespoons unsalted butter (30 grams or 1 ounce)
½ teaspoon fine sea salt, optional
2 teaspoons vanilla
In a heavy saucepan that is at least 4 times as big as the ingredients, place the water, sugar and corn syrup. Bring to a boil, stirring until it comes to a boil. Wash down the sides with a brush dipped in cold water. Boil until it becomes a deep golden color.
Remove from the heat immediately and add the cream very carefully as it will boil up furiously. If the cream clumps up, put the pan over the heat again and heat over low, stirring constantly, until it is smooth. Stir in the butter, salt and vanilla. Pour it into a container.
Store at room temperature for several days or hold for longer in the refrigerator.
Yield: About 1 cup
Chocolate Sugar Cones
4 ounces semisweet chocolate (4 ounces)
7 to 10 purchased sugar cones for ice cream
Melt the chocolate at half power in the microwave or over a double boiler. Stir until smooth.
Brush onto the outside of the sugar cones. Freeze.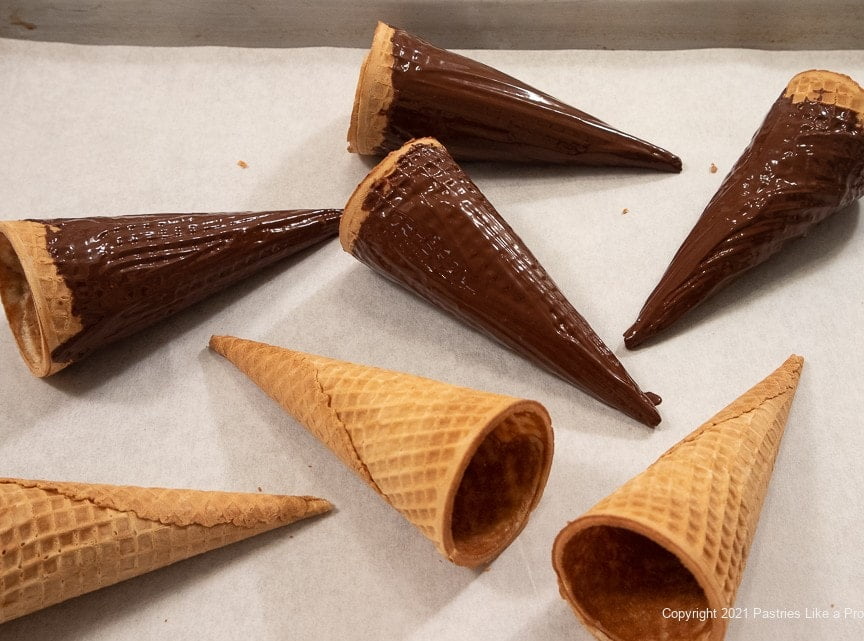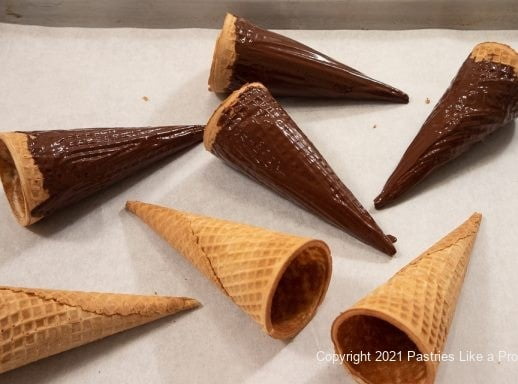 To use, smash into small pieces but keep frozen. You need about 2 cups.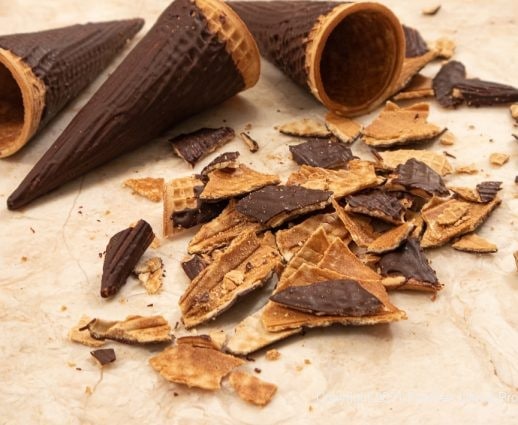 Caramel Ice Cream
1 ½ cup heavy cream
1 ½ cups whole milk
⅔ cup caramel from above
2 cups finely smashed Chocolate Sugar Cones
Combine and refrigerate until very cold. I usually leave this in the refrigerator overnight while I chill my ice cream container in the freezer.
When ready to churn, pour it into the container of your ice cream machine.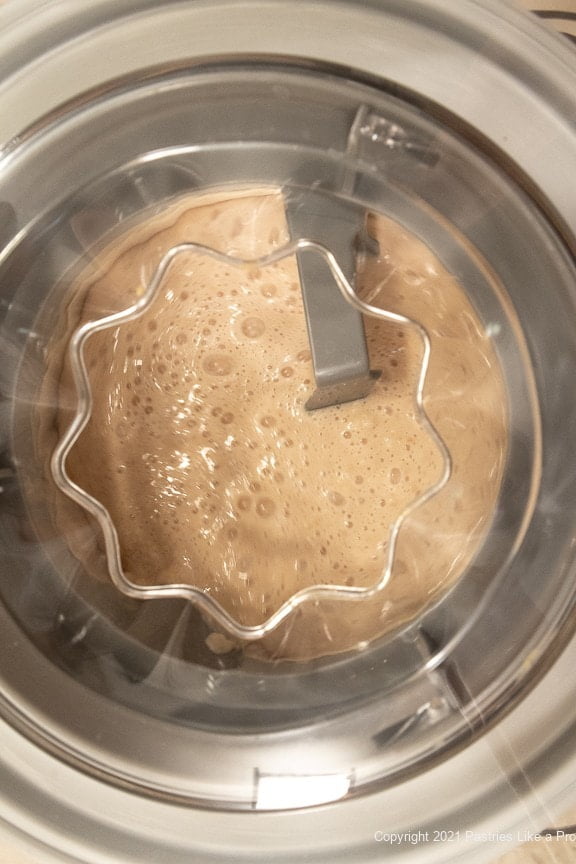 Follow the directions given with your ice cream maker. It usually takes about 25 to 40 minutes to churn the ice cream. During the last 5 to 10 minutes add the smashed chocolate sugar cones.
Final Assembly of the Caramel Cone Ice Cream
Ice Cream from the ice cream machine
Remaining caramel sauce
When the ice cream finishes churning and the chocolate sugar cones have been added, remove half of the ice cream to a container. Drizzle with half of the remaining caramel.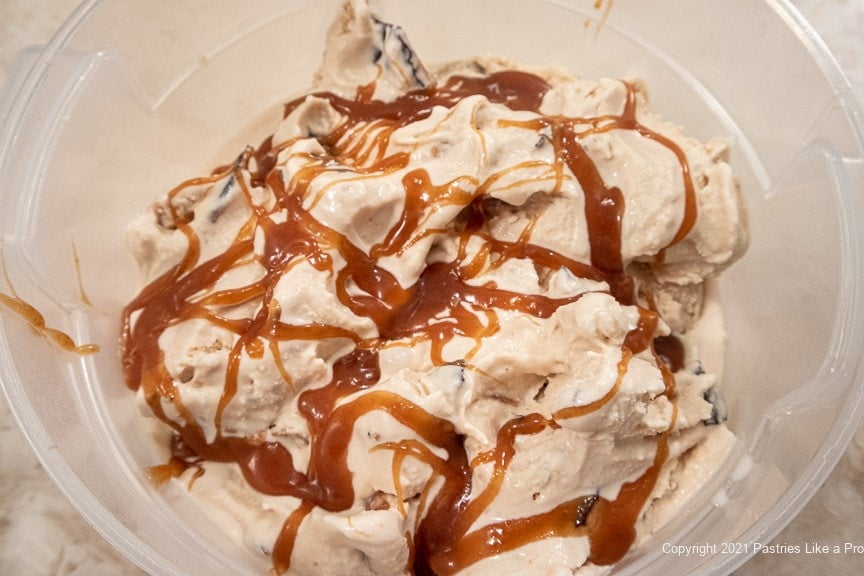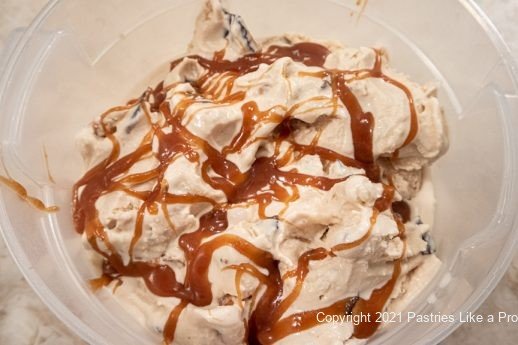 Add the remainder of the ice cream and drizzle with the remainder of the caramel. Swirl a spatula through briefly. Freeze until hard.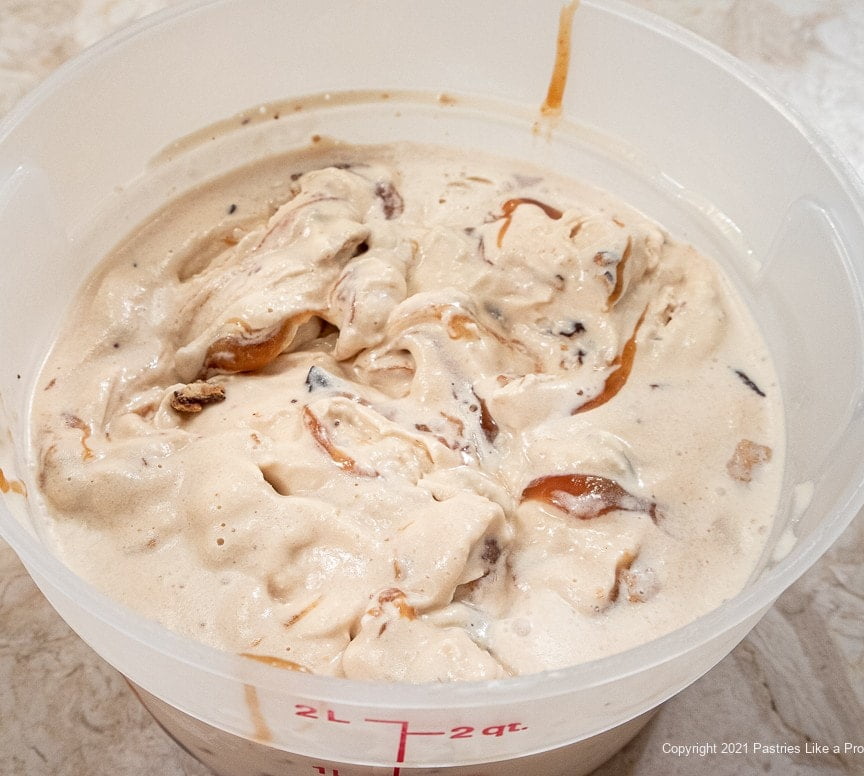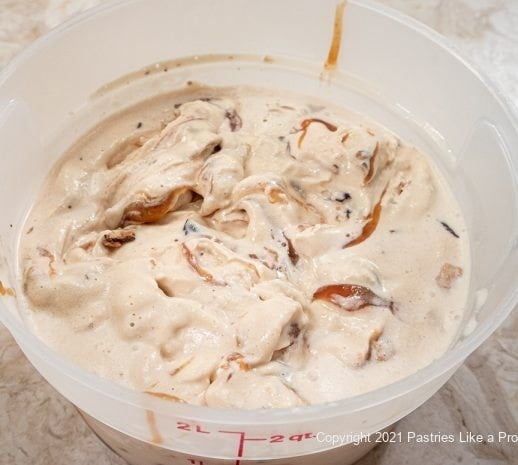 There's nothing to do now but enjoy your Caramel Cone Ice Cream.
If you enjoyed this recipe, you might want to check these out.
Vanilla Bean Cheesecake Ice Cream
L'Opera Ice Cream Cake
Apple Pie ala Mode with Salted Caramel